Want to know about different types of facials so you can choose the one that suits your skin concerns? You have arrived at the right place!
With all these skincare routines and celebrity looks, it often gets difficult to decide on the best facial for our skin type. Facial spas and beauty salons offer a wide range of services for various skin concerns. This is why it gets highly confusing.
But we here have come to save you from all the hassle and time-consuming choices. We bring you twenty-six different types of facials to choose from for your skin. So, without much further adieu, let's begin.
Unique Types of Facials for Different Skin Issues
Some of the different types of facials are:
1. Classic Facial
As the name suggests, a classic facial is the most common and most basic kind of facial. Popularly known as European facial, this facial is the simplest of all. It consists of simple exfoliation, massaging, followed by some serum application and moisturizer, and you are done.
A classic facial is so simple that one can add it to their skincare routine. The best part is – it suits most skin types. However, if you face skin irritations or allergies, consult your physician.
As this classic facial involves easy steps, one can easily customize it depending on their skin type. If you are getting it professionally done, make sure the spa or parlor you are visiting has the classic facial that will suit your skin type because oftentimes, spas have different facial kits and steps involved.
Recommended for: All skin types
2. Laser Resurfacing
It is the most popularly used type of facial. Laser resurfacing involves making patterned microscopic wounds through beams of laser directed on the skin. The sole purpose of this facial is to stimulate and activate the healthy cells near the wounded cells, leading to the healing or recovery of the wounded cells.
Laser resurfacing is mostly done for acne, acne scars, people suffering from pimples, enlarged pores, and more textured skin. This remedy does not give instant results, but you will see the results after a few days. Some people may be prone to redness or swelling up. Still, it goes away once the damaged layers of cells are washed off. However, one needs to be consistent to see effective results.
Recommended for: Acne-prone, pigmented and uneven skin
3. Lymphatic Massage Facial
Also known as lymphatic drainage massage, it is one of the relaxing types of facials. Being a part of the classic facial, it only involves massaging. This massaging is usually done around the face and neck area to stimulate lymph nodes and drain toxins, removing tension and puffiness from your skin. The lymphatic massage increases blood circulation, which tends to give your skin a natural flush and deliver more relaxation.
Recommended for: All skin types
4. Microcurrent Facial
Moving on towards a little more advanced and not-so-basic facial is the microcurrent facial. It targets aging issues such as fine lines, wrinkles, sagging skin while improving facial muscle tone. With the word current, I hope you got a little bit of an idea, and that is – it involves electricity. But it is completely safe for the skin.
Just because it involves electricity doesn't necessarily mean you will experience any kind of discomfort. Microcurrent facial is pain-free and does not cause any discomfort.
Recommended for: Aging skin
5. Galvanic Facial
A galvanic facial is a kind of microcurrent facial but not entirely the same. It uses galvanic current to make the skin absorb liquids to improve ingredient absorption., The purpose of this facial is not only to make your skin feel rejuvenated, but it also uses the current to shape your face.
With the help of an electronic device, you can reshape your cheeks or create some lifts in your face in this facial. It is most popularly used for eyebrow lift or jawline sharpening, cheeks remodeling, removing wrinkles, skin tightening, and highlighting the face's bone structure.
The galvanic facial is a non-surgical facial that gives you a 'facelift' effect. Although the results are seen within no time, it costs much to maintain those results for the future.
Recommended for: Dry, dehydrated, and sensitive skin
6. High-Frequency Facial
Yet another type of facial which uses electric current. A high-frequency electrode made of glass is applied to the skin's surface, which produces a mild electrical current. This is mostly done to kill the surface bacteria or the damaged layer of skin, which might have prevailed on the skin for some time.
The treatment prevents and treats stubborn acne, shrinks pores, and works on the appearance of aging signs on the skin. Along with that, it refreshes the under-eye area by reducing puffy eyes and dark circles. It purifies the face from any kind of bacteria and impurities, allowing the healthy growth of new layers of skin.
Recommended for: Aging and acne-prone skin
7. LED Light Therapy
LED therapy is the most defined facial therapy. This type of facial involves different lights, each with a different wavelength to treat different kinds of skin issues. For example, You can use blue light to cure inflammation, whereas you can use red to heal the damaged and worn-out cells of the skin.
Being so versatile, LED light therapy targets aging, uneven skin tone, dark spots, and acne and suits all types of skin types. It caters t to different skin issues, each having a different but absolute remedy.
Recommended for: Aging, acne-prone skin
8. Microneedling
Microneedling is a facial method that involves pricking the skin with tiny needles. Also known as Collagen Induction Therapy, the process may be painful but has its own benefits. Microneedling is through a derma roller or a derma pen.
An aesthetician can do this facial, or one can DIY it at home by purchasing a microneedling pen. Usually, a numbing cream is applied to make the area anesthetized where the needles are to be injected. The needles go deep in the skin and promote collagen growth, elastin growth, proper blood regulation, and relieve stress, which is a bonus. All these help skin tightening, skin brightening, and prevent the skin from all kinds of aging symptoms.
Recommended for: Scarred skin, stretch marks, and aging skin
9. Acupuncture Facial
This is a kind of facial that comes under Microneedling. I am sure most people have seen this or heard about this. It involves injecting tiny needles on your face. The thought of a needle might be scary, but it does not cause any pain. It is regarded as one of the relaxing types of facials since it uses an all-natural technique. Performed by professionals, and the sole purpose is to make your skin better and relieve you from stress.
These tiny needles help skin tightening, improve blood circulation, minimize aging symptoms, and stimulate collagen growth. Although it involves injecting more than one tiny needle through your skin, it is not that complex as other facials require a follow-up routine. In this, you will no pain and only be more relaxed.
Recommended for: Acne-prone skin, uneven skin tone
10. Anti-Aging Facial
An anti-aging facial is only for people who are showing aging symptoms. This facial uses a combination of other different kinds of facials like microcurrent therapy or injections and many more.
You can use an anti-aging facial for people who show signs of wrinkling, drooping skin, and even marks or spots. This facial helps to tighten the skin and make it more textured and toned. This has to be continued, however, to see effective results for a long period.
Recommended for: Aging skin
11. Brightening Facial
Brightening facial is done for treating skin with complexion issues. These issues can be hyperpigmentation, dull complexion, or uneven skin tone. This helps to brighten up the skin and improves issues related to the complexion.
A brightening facial can easily be done at home using some key ingredients, including some citrus fruits, milk, and curd or yogurt. Citrus fruits are rich in vitamin C, while milk, curd, and yogurt have their own additional benefits enriching the skin, causing its exfoliation. It is usually done before parties or special events; however, it can be a part of your daily skincare routine.
Recommended for: Pigmented, dull skin
12. Hydrating Facial
Just like we have hydrating masks for keeping the skin hydrated. Hydrating facial is also used for keeping the skin hydrated and preventing it from getting dry. It can be a part of classic facial or can be done separately.
Hydrating facial includes the usage of ingredients that will provide moisture to your skin and make it supple and nourished. After this facial, you will see instant results because the results are so obvious. You can see your skin being more radiant and healthier.
Recommended for: Dry and dehydrated skin
13. Hydrafacial
Although the terms hydrafacial and hydrating facial may seem similar, they differ in their process and purpose entirely. Hydrafacial is a medical-grade treatment used to remove blackheads, whiteheads, and any kind of skid marks from your skin. The device used is like a vacuum cleaner as it sucks up the impurities and excess oil from your skin.
The process is done by moving the pen-like device all-around your skin in circular motions till the skin is free of all the unnecessary grim. Once done, the same device is also used to add moisturizer, serum, and healthy oils to your skin to keep it hydrated and glowy. It suits all skin types; however, the after process may vary because the serums to be added depending on the skin type of the individual, which varies from person to person.
Recommended for: Oily and acne-prone skin, aging skin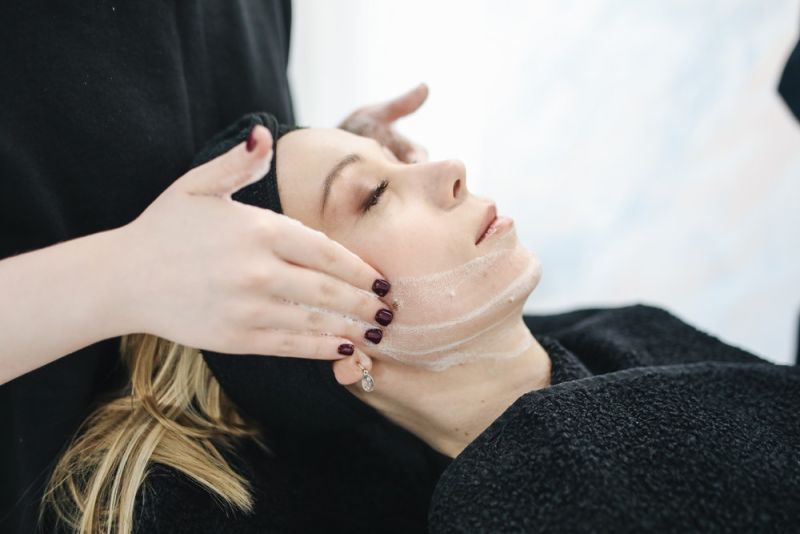 Microdermabrasion is another facial which uses a small handheld device which removes the topmost layer of the skin that and repair damaged cells and impurities from the skin. This device works like a vacuum cleaner, but it has a more precise tip like a diamond or triangle. However, it does not cause any pain.
It promotes skin tightening, skin brightening, growth of healthy cells, removal of dead cells and impurities, and removing dark spots and acne scars. Although this leaves your skin reddish, and it takes some time to go away gradually.
Recommended for: All skin types especially damaged skin, pigmented skin, and stretch marks.
15. Chemical Peels
Chemical peeling is the skin-resurfacing process of using chemical solutions to perform facials that help skin rejuvenation and skin cell turnover. Just like microdermabrasion, chemical peel removes the top skin layer. This facial takes time because the process involves many mini-steps of application. After the skin grows back, it becomes smoother and radiant.
Since chemical peels involve using chemical substances, including some concentrated acids, it is best to consider them first with your dermatologist. Different components can be used for different people depending on their skin type. Sometimes it leaves a mild pain and itching sensation, but those are natural and part of the facial, but if the skin issues worsen, it is best to consult with your doctor.
Recommended for: Aging skin, Scars
16. Oxygen Facial
Oxygen is an essential constituent for regulating proper blood circulation and maintaining skin cells, which in turn affects our complexion. Habits like smoking and using an excessive amount of makeup, and environmental skin damage can lead to a lack of oxygen in the skin.
In an oxygen facial, a device ejects out pressurized oxygen at high pressure on the skin. Along with oxygen, other substances for exfoliation, skin tightening, and pore cleansing are also involved for added benefits. It then is followed up by using serums or oils depending on your skin type to hydrate it as the high pressure may leave your skin dry.
Recommended for: All skin types
17. Dermaplaning Facial
Dermaplaning facial involves a more advanced device, and that is – a surgical scalpel. However, it is not painful at all. The scalpel is used to gently scrape off the hair and top layer of your epidermal skin, which may be infused with dirt, dead skin cells, or unnecessary impurities. Scraping it off allows the formation of new, healthy skin along with the ability for a deeper skin product penetration.
Dermaplaning is not recommended for people with cystic acne because the scalpel may cause more damage than benefit. It may be painful as running the scalpel over requires no uneven or rough surfaces. It is followed up by moisturizers and oil to promote the faster growth of healthy cells.
Recommended for: All skin types except acne-prone
18. Enzyme Facial
Enzyme facials are a long process that follows a specific procedure. The process starts with a basic cleanup, steaming, and exfoliation, followed by applying moisturizers and face masks. It is one of the best types of facials since face masks are naturally obtained from fruits containing different enzymes. Different enzymes have different nutritional benefits for the skin depending upon the skin type and skin requirements. Enzyme facial is useful for skin rejuvenation, skin tanning, skin blemishes, and mild scarring.
Recommended for: Tanned skin, Scarred skin
19. Thermage Facial
It is a non-invasive, skin-tightening facial that uses rejuvenation techniques. Thermage facial is specially curated to enhance the natural contours of your face, neck, and body while also tightening the sagging skin restoring the natural elasticity. Hollywood stars like Jennifer Aniston and Gwyneth Paltrow swear by this non-surgical treatment.
The aesthetic improvement in this technique is achieved by using a radiofrequency device. This device uses the tip to pass over the face, keeping in contact with the skin's surface. The radiowaves are controlled to provide proper heat to seep in the deeper layers of the skin, thereby collagen production. All skin types can use it, and the benefits are often long-lasting.
Recommended for: Aging skin, especially over 35
20. PRP Facial
Beauty enthusiasts also call it vampire facial. The full form of PRP is platelet-rich plasm, a facial. Experts draw your blood in this facial and put it in a special machine. This method is done to create platelet-rich plasma. Once this is done, the highly concentrated form of proteins is then infused back into your skin with the help of micro-needling.
PRP facial enables the improvement of collagen production in your skin, improving your skin texture and tone. The vampire facial is perfect for those looking to tighten their skin and reduce the signs of aging.
Recommended for: Aging skin
21. Deep Cleansing
Deep cleansing goes beyond the traditional classic facial as it focuses more on exfoliation, thereby being a catalyst for deep cleansing. The facial expects you to steam your face to open up the pores, and then there is an extraction of clogged pores, blackheads, and whiteheads. Afterward, a healing mask or pore cleansing treatment is applied to improve the dermis and epidermis layers of the skin.
A deep cleansing facial can clean your face better than other treatments. Since it focuses on exfoliation, it removes dead skin cells and encourages new and brighter skin to appear. After this facial, you will find your skin smooth and radiant.
Recommended for: Oily and acne-prone skin
22. Aromatherapy Facial
The aromatherapy facial is quite relaxing. It starts with a basic steaming and cleansing and then uses a concoction of essential oils to massage the areas.
The therapeutic essential oil relieves the stress from your body, making you feel calm and relaxed. It suits all skin types as aromatherapy nourishes the skin with rich antioxidants. After the facial, you will feel your skin to be energized, replenished, and refreshed.
Recommended for: All skin types
23. Diamond File Facial
One of the supreme facials, the diamond file, is a medical-grade tool made of stainless steel, which has actual diamonds crushed that exfoliate the skin. It might sound like rubbing sandpaper on your skin, but in fact, it is a highly controlled treatment with an adjustable intensity over the skin.
The diamond file facial is beneficial for shrinking large pores, skin discoloration, firming the skin around the mouth and eyes, and fading away dark spots and acne scars.
Recommended for: All skin types, including rosacea, eczema, psoriasis but not active acne
24. Firming and Contouring Facial
This facial does exactly what its name says – firming and contouring skin. Firming and Contouring facial uses infrared light and bipolar radiofrequency energies to reconstruct the skin's deep layer and thus stimulate fresh collagen growth.
It provides long-term improvement of wrinkles, active acne and scars, skin texture, pigmentation, and face and neck contours. This facial can be super relaxing and effective if you are looking for a more sculpted face.
Recommended for: Active acne and scars, stretch marks, and aging skin
25. Decongesting Facial
Just like the name sounds, it is a very professional pore extracting facial. Decongesting facial is specially curated to eliminate whiteheads, blackheads and extract excess sebum to unblock your pores.
After this facial, you might feel your skin to be flushed, but it is nothing extreme and does not hurt. Decongesting facial also uses acid peels like AHA or lactic to dissolve dead skin cells to keep the pores clean. It generally has a long-term effect, and your face will feel smoother and brighter.
Recommended for: All skin types
As one of the most bizarre types of facials as it sounds, a snail facial surely exists. This anti-aging K-beauty facial includes placing live snails to roam around your skin. The snails leave a mucus, aka snail mucin, full of proteins, antioxidants, and natural hyaluronic acid. The facial leaves with hydrated, plump, and dead-skin free skin. Beauty experts also recommend snail creams made of snail slime that give you the effect of a snail facial.
Recommended for: All skin types, especially dry and aging skin
FAQs on Types of Facials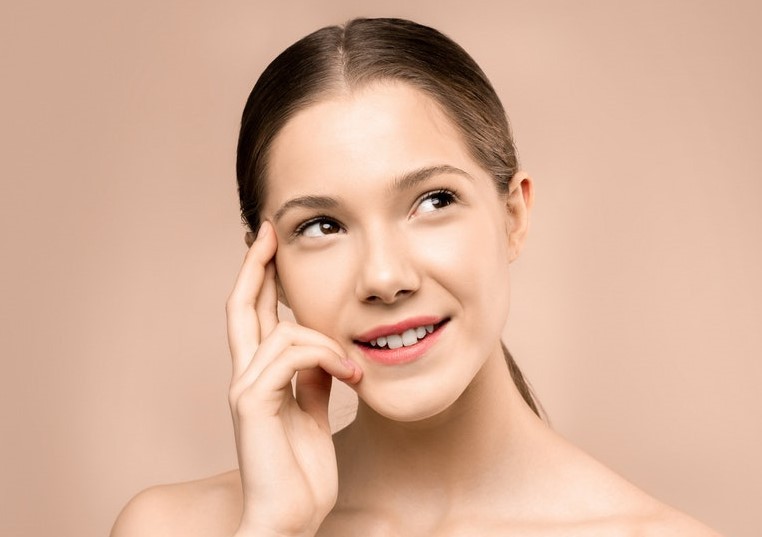 Which facial treatment is the best?
There are a hundred types of facials available that target different skin concerns. No facial treatment is the best since each has a unique benefit for a specific skin type. It is always best to research the facial that solves your current skin issues.
How many times should we do facial?
According to skincare experts, one should opt for a professional facial about every three to four weeks since it is the period a skin takes to renew its cell growth and exfoliation.
Are facials worth it?
Facials are beneficial but on a minimum level. Whether a facial is worth it or not depends on the severity of your skin issue and whether you see visible results after opting for a few decent sessions. You can save a few bucks by DIYing some simple facials, but advanced facials require a professional. Whether you want to do it at home or going to a professional, it is up to you.
How many days does it take to glow after facial?
You can immediately see skin glow after a facial that is non-invasive. Still, those that are invasive such as microneedling, which induces a skin injury, takes few days to heal, after which a glowing, toned, and textured skin appears.
How long do facials last?
Typically, facials last for 3 days after the treatment. Afterward, the skin follows up on the treatment giving long-term benefits such as a healthy glow, hydration, and restoration until the next session.
With this, we come to the end of this post about types of facials. If you have any face concerns and looking for a facial according to skin type and skin concern, you should try these different types of facials mentioned above.