Are you looking for the best snail cream? Your search should end here. Anyone who is a skincare addict will definitely know what the Korean beauty trend is all about.
No doubt, Korean women have got the best skin in the world. Their skin reflects like glass, and is as dewy as it will put even highlighters to shame. Yes, they have such naturally radiant skin.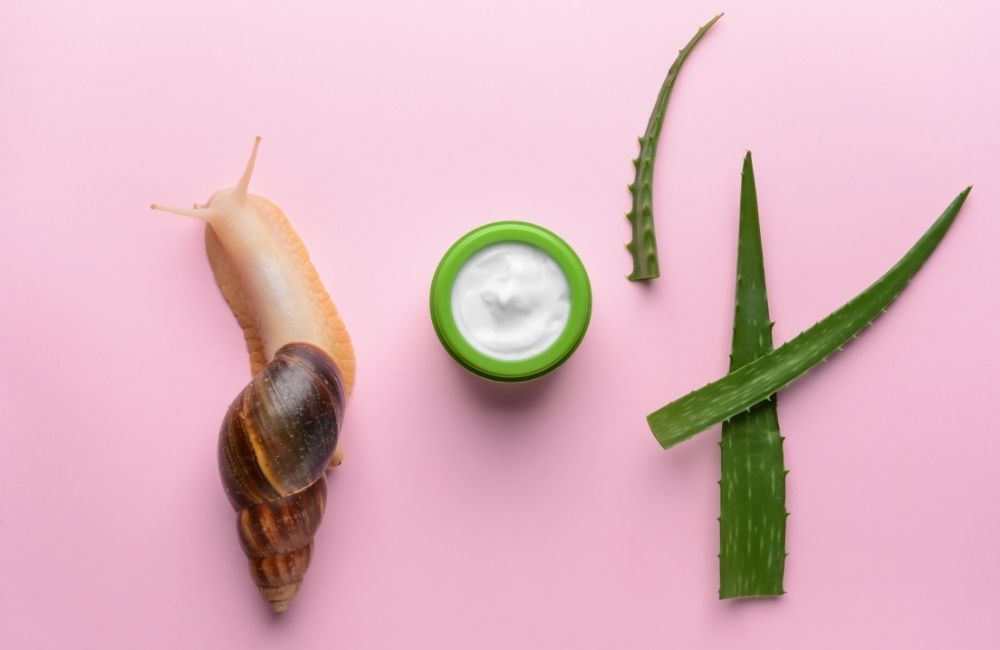 If you are interested in the Korean beauty game and know more about it, you must know about Snail craze.
Snails, as you all might know, are the tiny goopy insects who crawl on your garden at night but would you ever think of rubbing them on your skin? I am sure not.
But what we will talk about today is different, of course, in a good way! We're talking about the best snail creams that will take your K-beauty game to another level!
Snail oil or snail slime, which is technically known as snail mucin or snail filtrate, is one of K-Beauty products' best ingredients. Snail mucin is highly beneficial for your skin as it increases skin vitality and aids in restoring lost glow. It is a star ingredient in many Korean skin products that target aging.
The best part about snail mucin is – it works for all skin types. You will be amazed to see the snail face cream before and after effects on your skin once you thoroughly use it!
What is a Snail Cream?
In layman's terms, snail face cream is basically the mucin extracted from snails. Snails walk on the ground with their body exposed, and they need to protect them from various dangers, such as bacterias, UV damage, etc. And this is exactly why snail mucus is used in several face creams, serums, and masks.
The exclusive snail face cream is a definite and potent concoction of glycoproteins, peptides, hyaluronic acid, and antioxidants known to maintain healthy skin, thereby stimulating the skin cells.
The snail face cream is also known to retain moisture and boost collagen production, increasing elastin in the body and reducing fine lines and wrinkles.
Is Snail Cream Good for Your Skin?
Yes, snail cream is highly beneficial for your skin as it has anti-aging and anti-microbial properties. It is loaded with the goodness of antioxidants known to fight free radicals, thereby protecting your skin from the sun's harmful rays.
It can also boost collagen production, an essential component of maintaining skin elasticity and keeping it firm and taut.
Regular snail cream usage can lead to visibly smoother and softer skin, thereby keeping it young and supple for a longer period of time. The hyaluronic acid present can feely moisturize your skin and nourish it from within, thereby locking in the moisture and keeping your skin hydrated.
Snail Extract – A Short Walk down the History
Snail extracts have been used in the ancient Greece era for several internal ailments like cough, indigestion, cold, skin inflammation, and lack of immunity.
In Chile, snail farmers were surprised when they noticed that their hands were smoother and their wounds healed quickly after handling snails.
The Korean beauty industry has come up with a variety of Snail products which are now paving their way to the US and other parts of the world. Places in Thailand, Asia, and Europe are known for snail facials as well.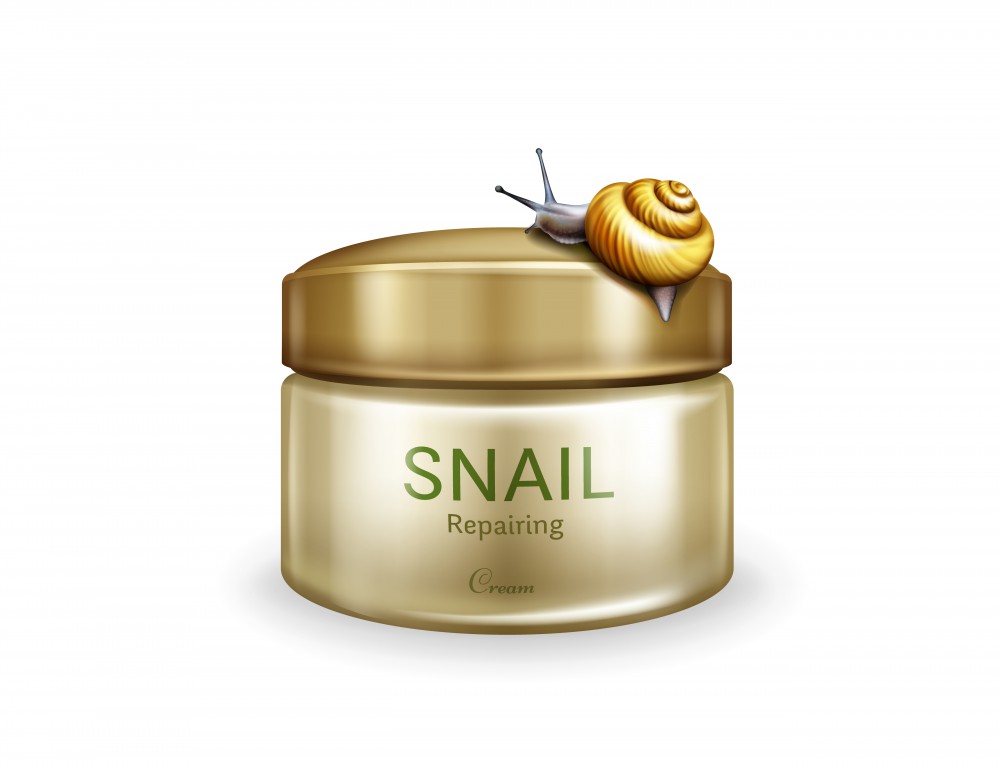 Best Snail Creams to Splurge on!
You will come across several products that claim to have snail cream extracts but have a second look at the ingredient list. It will help you to understand and gauge if your product contains snail cream or not. And you can determine if it is real snail cream or artificially created snail cream.
Readers like you help keep The Beautyholic running. When you buy through links on our blog, as an Amazon Associate, we earn from qualifying purchases at no extra cost to you.
Let's have a look at some of the best snail creams in the market!
This snail-clad cream reduces skin damage and strengthens skin as it is enriched with baobab trees, deep seawater, and botanical stem cell extract. It works best for the aging skin as it increases the skin's firmness by deeply hydrating it.
According to the reviews:
It has a gel texture and a slightly strong cucumber-like smell.
It absorbs into the skin pretty fast, provides day-long moisture, and suits all skin types, especially the sensitive and oily ones (you won't have to wake up with super oily skin after you use it at night).
After usage of at least a month, it makes skin clearer, feel supple, and bouncy!
Some even claimed that their redness on the skin was gone after the regular application of this cream.
Overall, it is that one product ladies with mature skin won't mind repurchasing!
Seoul Ceuticals is a multipurpose snail cream that can be used as a moisturizer and night cream. It contains 97.5% of Snail Mucin extract, which is too good! This cream is 97% natural and 72% organic, and most of all, its snails move around in an organic environment. The cream is jampacked with super nutrients and is non-comedogenic and anti-microbial. K-beauty brand Seoul Ceuticals is featured in The Strategist, New York Magazine, and Elite Daily.
According to the reviews: 
It has a heavenly smell of tangerine, and a little amount of it goes a long way.
It moisturizes the skin around the under-eye area, works well on fine lines on the forehead, and improves skin elasticity quicker than other creams.
Also, when applied underneath a foundation, it helps give you a flawless finish.
So far, skincare enthusiasts believe this product can give tough competition to high-end ones.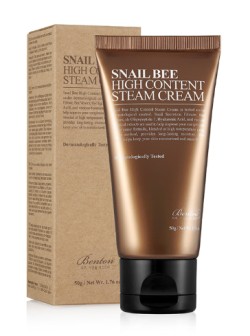 Here you get the combined power of snail mucin and bee venom in the form of a cream. It claims to be useful for inflamed and sensitive skin, which is more of a skin cooling cream. It takes care of acne and features in the list of one of the best snail creams for acne. Benton's steam cream contains snail secretion filtrate instead of water and is enriched with hyaluronic acid, Niacinamide, Adenosine, and botanical-based ingredients that brighten and lift skin.
According to the reviews: 
If you are looking for a fragrance-free, no-nonsense cream, try this.
It smoothens even the blotchiest of the skin. It is a cooling cream that helps your skin calm down if you have mild rosacea, acne, or similar skin troubles.
You might experience mild breakouts during the first use, but after a few uses, it will subside, and you'll notice plumpness in the skin.
This cream works like a charm when used with retinol since it helps you deal with the skin's peeling.
The best part – a dollop is enough for the whole face, and it will last more than three months.
Mizon Snail Recovery Gel is one of the best snail gel creams, which is loved all across the beauty blogosphere. It is non-sticky, refreshing, and lightweight, so those who are prone to regular breakouts can use this snail face cream. It contains 74% snail secretion filtrate, and one can use it as a sleeping pack, skin cooler, and moisturizer.
According to the reviews:
This slimy-textured snail gel cream works wonderfully under makeup and a perfect last step to seal in your K-beauty regime.
Some ladies claim it to be their holy grail product as it suits all skin types.
Despite being super hydrating, this works well for oily skin, too, owing to its super-quick absorbent properties.
It helps in diminishing the skin redness without making your skin look tacky.
To achieve the best results from this cream, you need to use it along with your other K-beauty products.
This cream contains 60% snail mucus filtrate and yam mucin. Apart from protecting and healing skin from wrinkles, it brightens and hydrates even the most problematic skin. It is free from fragrance, artificial coloring, and paraben. This snail cream is hypoallergenic and ideal for sensitive skin.
According to the reviews:
This nice-smelling cream is slightly heavier than most snail creams and best used after applying serum, essence, and ampoule as a final step.
Due to its viscous nature, you need to pat it really well to make it absorb better.
When used regularly, this cream improves skin evenness, battles acne, and smoothens skin.
A peanut-sized amount each time goes a long way. All in all, it's a perfect cream to lock up all the moisture.
Enriched with 92% natural snail mucin, it also had Hyaluronic Acid, Glycoproteins, Proteoglycans, Peptides, Adenosine, Tropolone, Beta-glucan, and plant extracts that regenerate skin. This anti-aging snail cream protects the skin from damage, tiredness, irritation. It resurfaces skin texture along with minimizing fine lines and wrinkles. It claims to brighten skin, making it healthier, radiant, and younger.
According to the reviews: 
This cream is a holy grail for sensitive, acne-prone skin.
It is a high-quality cream that even acts as a primer underneath the makeup.
It is non-greasy, light, and hydrating. Plus, there's a light scent to it.
Some users of this cream claimed that it helped them fade their acne scars, improved skin texture, and firmed it for better! Therefore, it is a wonderful addition to a skincare routine.
Benefits of Snail Cream
The snail face cream is all the rage in the beauty industry nowadays, and it can work awfully well for your skin. Here are some benefits of using snail mucus on your skin:
It has copper peptides and anti-microbial properties that combat dryness, disease, form a protective layer on the skin and prevents it from UV damage. It also contains hyaluronic acid, as already discussed, which hydrates the skin along with antioxidants that fight free radicals and protect the skin from any further damage. If you don't have luxurious money to spend on a facial, you can obtain these benefits by buying a snail gel cream.
Snail mucin consists of 91-98% of water. It is thoroughly filtered to guarantee the cleanliness of the filtered product and improve the concentration. Many snail gel creams contain almost 97% of the authentic snail filtrate, thereby guaranteeing its quality.
The snail mucus used in snail gel or cream for skincare is usually lab-grown snails known as Cornu aspersum. It is obtained from hysterically grown snails, not the snails found in your gardens.
Fights sunburn – Snail mucin can provide hydration and restore damaged cells. It contains antioxidants that fight free radicals and also protect the skin from UV damages.
Heals burns – Just be handling snails; your burns on the skin will heal in no time. There is even a study that proves this claim!
Anti-aging benefits- Snail cream can boost elasticity and collagen production in your skin, thereby keeping it firm and young. Snail protein is also known to tighten the skin since it is rich in protein, similar to the ones present in egg white. You can also use it to treat rosacea, pimples, stretch marks, wrinkles, and razor burns. Did you know that snail extracts are also rich in hyaluronic acid? They are known to repair your dead skin cells and regenerate your skin, thus reducing fine lines and wrinkles.
Smoother skin – The regular usage of snail gel cream can make your skin noticeably smoother and improve your texture, thereby eliminating all those bumps and uneven skin.
Takes less time to show results – Snail mucin is loaded with benefits; however, it is not advised to do DIY experiments with snails, and also, when you buy snail gel cream, always do an allergic test. The benefits of this can take at least two weeks to be noticeable.
Helps with pain – Snail slime has been used for years as a topical anesthetic. According to research, not only it helps with burns but also reduces the pain.
Heals acne and spots – You might be surprised to find that snail creams actually help your acne to heal and fades the dark spots caused by it.
Are Snails Killed for Snail Cream?
The idea of snail cream might bring the thought that millions of innocent snails might be killed during extracting snail mucin and making a snail face cream. However, this is not true.
The snails are grown in farms or labs, and they are properly fed and taken care of. They are placed over a dark mesh net for about 39 minutes in a dark room during extraction. The snails roam about freely on the net, leaving their mucin on it as they move.
They are not tortured or forced in any way to extract mucin. After the extraction process is done, they are again left on the farm for about 2 months to rest and eat properly to get back healthy again.
There is no external force applied for mucin production, and definitely, no snails are killed during the process.
Does Snail Cream Work For Scars?
Snail cream is an amazing solution for acne scars, and you will be surprised to know how well it works.
It is loaded with anti-inflammatory properties and antioxidants that repair damaged tissues and tones the area of the scars, which is how it works to reduce your scars.
It conditions your skin, thereby boosting your skin's collagen production and also improving cell turnover. The rapid cell turnover sheds all the dead skin cells and replenishes new skin, which fades your scars.
It also prevents further breakouts and reduces scars' appearance by rejuvenating, replenishing, and moisturizing your skin.
Does Snail Cream Works For Wrinkles?
Snail cream has several anti-aging properties which reduce the appearance of pores, wrinkles, fine lines and is also beneficial for removing tan.
Snail cream is rich in peptides and is a complex cocktail of several important components found in most anti-aging creams.
They boost collagen production and increase cell turnover, maintaining your skin elasticity, thereby keeping it firm and bouncy.
It also calms, soothes, and repairs your skin by shedding all the dead skin cells and exposing new skin to light. It protects your skin from photodamage, thereby slowing down the aging procedure.
So if you are looking for something for healthy and glowing skin, then a snail cream is definitely worth it.
Word of caution
Now, here comes the stop sign. Everything has two sides of the coin, and you must know the bad too about the Snail beauty game.
First and foremost, snail extracts are good for your skin but taking environmental considerations, the process of extraction also determines if they are perfect and beneficial or not.
Check for the ingredients and look for the percentage of snail extract in it. It will specify the amount of concentration of snail extract. If the same is not specified, you need to understand that the percentage is tiny, and you won't get proper benefits with this one.
An effective snail cream must have a concentration of at least 60%. If not, better give it a pass and look for the ones who have adequate concentration. It is best to go with good reliable brands when you are talking about snail extracts.
Bottom line
Here we end our compilation of the best snail cream for K-beauty lovers! I'm sure you'll find your holy grail product from this list. If you've tried any of these or would like to recommend a snail cream you've used, do share it in the comments. 🙂