Many people are switching to organic for a lot of reasons – animal welfare, sustainability, health benefits, etc.
You don't have to follow an organic lifestyle just in the kitchen!
For those who may be feeling a little uneasy about the sustainability of standard beauty treatments, as well as wondering exactly how good their ingredients actually are for us, then organic treatments are a fabulous option.
Keep reading for some of the best organic beauty treatments. You can enjoy them at your own convenience, and they are as good for the planet as they are for you!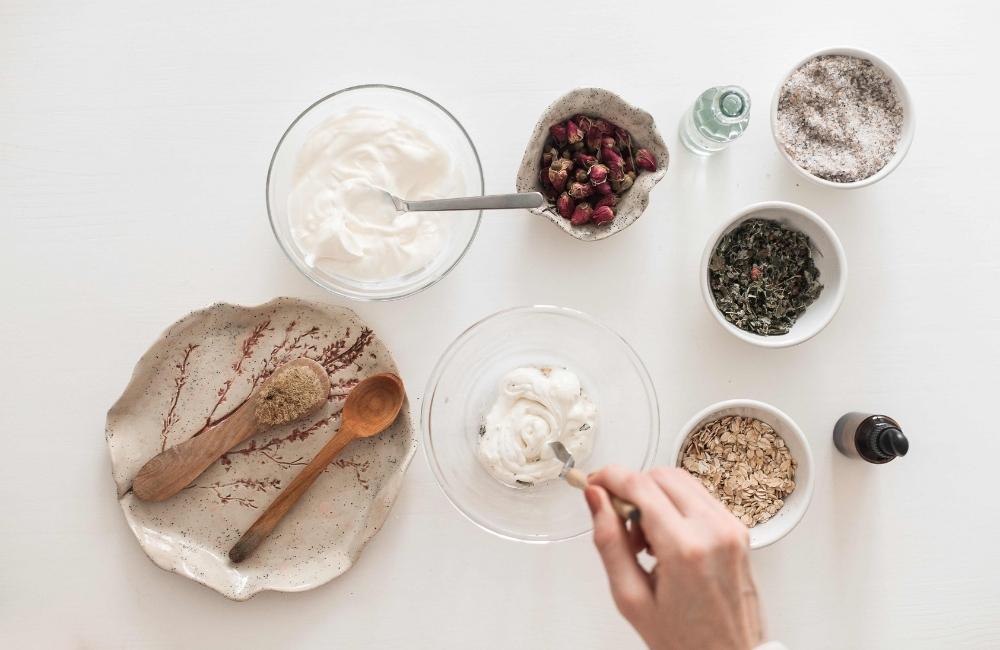 #1 Organic Face Masks
For a sumptuous weekly treat, try whipping up an all-natural, organic face mask that'll have your skin glowing with health and feeling refreshed.
Smash a ripe banana in a bowl.
Mix in a tablespoonful of honey and a tablespoonful of yogurt – choose organic options for each item.
Apply the mix to your face, relax for about fifteen minutes, and then rinse thoroughly with cool water.
Bananas can deliver amazing benefits to the skin: their high levels of Vitamin A will give you a natural glow while also improving skin elasticity and tone.
Alternatively, opt for a soothing oat face mask: for this one, all you need is organic oats and an organic lemon.
Mix two tablespoons of oats with two teaspoons of honey to make a thick paste.
Apply this to your skin and leave to work for about twenty minutes.
After this time, rinse off with warm water and pat dry.
Oats are rich in Vitamin E, which will naturally moisturize the skin and is a cleansing agent, too, so it can help to reduce the appearance of blemishes and prevent outbreaks.
#2 Organic Hair Mask
Treat your hair to a regular hair mask for smooth, shiny, healthy locks. If you swim regularly or spend a lot of time in the sun, this can be especially helpful to seal in moisture and prevent hair from drying out.
For a homemade organic hair mask, you just need two ingredients – an organic egg and an organic lemon.
Mix the egg white and the juice from half the lemon in a bowl, and then smooth over the hair from the roots to the tips.
Leave the mixture on for at least thirty minutes – if you can make an hour, even better!
Rinse off thoroughly with lukewarm (not hot) water.
This mask is particularly good for those whose hair is prone to becoming greasy. It will keep it fresher for a noticeably longer period, so you shouldn't need to wash your hair every day as a result.
Check out our interesting egg hair mask recipes.
#3 Organic Under-Eye Treatment
Many of us are prone to dark circles or patches under our eyes, especially after a few late nights.
While there are numerous eye creams and serums available for this particular problem, if you would prefer an organic, homemade option, then you may be surprised to know that all you need is a sprig of mint leaves!
Simply mash the leaves – or pop them in the blender if you prefer.
Gently apply to the undereye area, being careful to avoid direct contact with the eyes.
Relax, and leave the mashed mint in place for about twenty minutes.
Not only will you see a difference in your dark circles, but you'll also notice how fresh your eyes feel.
#4 Organic Hair Removal
For fans of all things organic, there is now a range of choices when it comes to hair removal.
Natural wax sugaring products are a great, inexpensive option, while more spas than ever before are offering fully organic waxing, using products that contain no parabens, GB, or toxic ingredients.
Organic sugaring paste, shea butter shaving soap, bamboo razors, and organic cold wax strips are also all available for smooth skin that doesn't cost the earth.
#5 Organic Teeth Whitening Treatments
Most teeth whitening treatments contain a multitude of strong ingredients, making them off-putting for those who are keen to follow an organic lifestyle. However, organic options are now available, meaning you can get a gleaming smile without the strong chemicals.
Have a look here for Primal Life Organics teeth whitening reviews for a company that offers this type of service; the gel that forms part of their teeth whitening kits incorporates natural ingredients, such as extra virgin olive oil, and aluminum-free sodium bicarbonate, wintergreen leaf oil, and chamomile oil.
The results are also fast, with many users seeing a noticeable difference in the whiteness of their teeth after their first treatment – which is just sixteen minutes long.
Benefits of Organic Beauty Treatments
Organic beauty treatments have a long list of benefits that can make you look and feel your best. The natural ingredients used in organic beauty treatments are free from harsh chemicals, which can leave your skin feeling dry and irritated.
Better for your skin
Many organic beauty treatments also include beneficial ingredients like antioxidants that are good for your skin, which can fight against the signs of aging. Also, they don't contain any harsh chemicals, which can damage your skin so they can be used on all skin types, even sensitive skin,
Environmental benefits
Most ingredients in organic beauty treatments come from plants, which means they don't require any harmful pesticides or fertilizers. This is better for the environment, and it also means that the ingredients in these products are more likely to be effective and safe.
Low cost
Organic beauty treatments are usually less expensive than traditional ones. This is because organic ingredients are generally cheaper than synthetic ingredients.
If you want an affordable way to improve your appearance, organic beauty treatments may be ideal for you.
Bottom line
Choosing organic beauty treatments can benefit the environment and your health; products are natural and don't contain the sort of nasties that can be hiding in our favorite go-to beauty brands.
Organic skincare works with the skin rather than against it, helping it repair, regenerate, and glow. Incorporating some regular treatments, like the above, into your routine is a lovely way to nurture yourself and help alleviate stress and tension.
Related Posts