Do you wake up in the morning with deep bags under your eyes that make you look like a panda? When that happens, your best bet should be organic eye creams. We will share the honest reviews of the best natural eye creams you should choose for your delicate under-eye skin.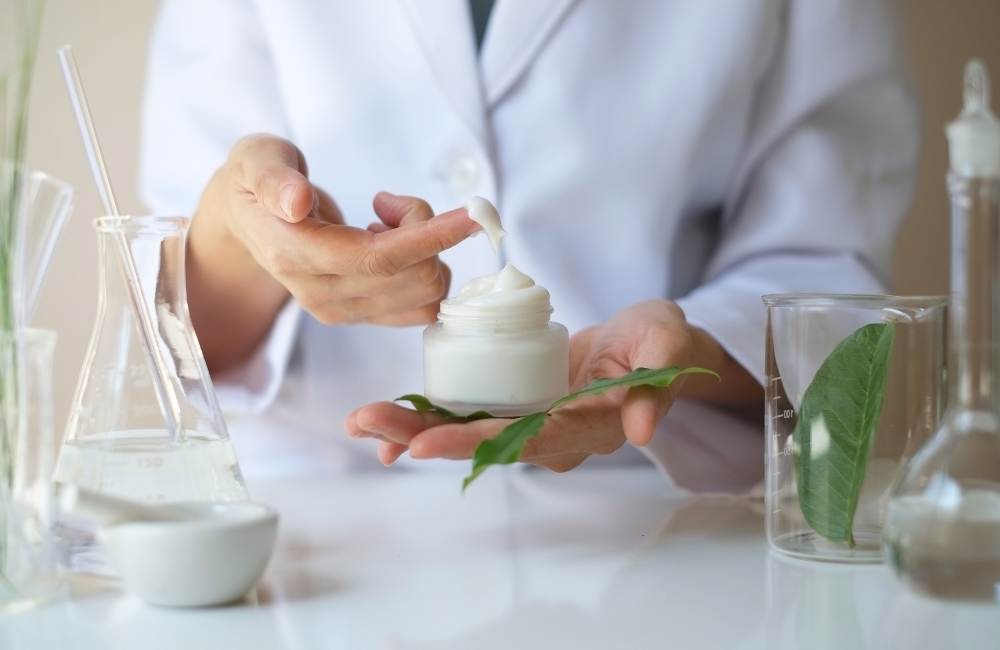 What are the different types of under-eye problems?
Dark Circles –  The most common reasons are lack of sleep, taking too much stress or excess melanin production around the eyes. Lack of sleep causes congestion in your blood vessels, causing them to turn bluish, giving the area around your eyes a dull appearance.
Puffy eyes – It happens due to the pooling of fluid under your eyes when you're asleep. It reduces throughout the day as a result of gravity and time.
Fine lines and wrinkles – As your body ages, elastin production reduces. This makes your skin lose elasticity. Eventually, your skin appears to concentrate on a single area, and in some areas, it hangs loose. This especially happens beneath your eyes, making them wrinkly. Fine lines are the initial stages of wrinkles.
Crow's feet – Wrinkles stretched around the corner of your eyes, giving it the appearance of a crow's feet.
Top Editor Recommended Natural Eye Cream Picks
In case you are in a hurry, here are the best five eye creams that we recommend:
Best 5
Name
How does it look?
Why do we recommend?
Price
1
BeeFriendly Face and Eye Cream
- All in one product
- Little quantity goes a long way
- Works nice on eczema
Check Price on Amazon
2
Burt's Bees Renewal Firming Eye Cream
- Dermatologist and Ophthalmologist tested
- Reduces wrinkles, fine lines and especially dark circles
- Absobs quickly
Check Price on Amazon
3
Christina Moss Naturals Organic Eye Cream
- Non-greasy and suits sensitive skin
- Unscented, Cruelty-free and Vegan
- Rich, hydrating and velvety texture that penetrates deeper into the skin
Check Price on Amazon
4
Tata Harper Restorative Eye Crème
- Works great under makeup
- Farm fresh
- Smoothens out roughness
Check Price on Amazon
5
Eavara Organic Eye Cream
- Award winning cruelty-free eye cream
- Reduces sagginess, puffiness and wrinkles
- Women over 60 love this!
Check Price on Amazon
Listed below are some of the best natural eye creams that you can choose from:
Readers like you help keep The Beautyholic running. When you buy through links on our blog, as an Amazon Associate, we earn from qualifying purchases at no extra cost to you.
Burt's Bees Renewal Smoothing Eye Cream
Burt's Bees products are known for their organic goodness. Their Renewal Smoothing eye cream has been known to work effectively for users.
This product claims to be 99% natural, infused with hibiscus and apple rejuvenating complex. It claims to pump up the skin cells by locking in the moisture, making your skin visibly tighter.
This eye cream is 99% natural, dermatologist-tested, ophthalmologist-tested, and without parabens, phthalates, petrolatum, or SLS.
What's good?
A little goes a long way. A pea-sized amount on your ring finger suffices your daily need.
Easily absorbs into your skin without leaving any greasiness or shine.
All-natural ingredients are used, and therefore, there is hardly any chance of side effects.
What's not so good?
It takes time to work. You won't be able to see the results overnight. It'll take at least a month for the results to show.
Some people with extremely sensitive skin might sense a sort of irritation or a kind of stinging effect.
Tata Harper Restorative Eye Crème
This, one of the best natural eye creams, is a product that claims to be 100% natural. Being a multi-correctional product aims to prevent dryness, dark circles, fine lines, and wrinkles in your under-eye area. Rich in Neuropeptides and Buckwheat wax, this cream helps with puffiness under the eyes. It is non-toxic and free from all fillers, synthetics, artificial colors, and fragrances.
What's good?
Only half a pump is required to moisturize your under-eyes. Hence a little goes a long way.
Regular usage is known to brighten dark circles.
Hydrates your skin and makes it feel smooth and supple.
Keeps the fine lines from appearing.
Quickly absorbs into the skin.
Works great under makeup
What's not so good?
It has a strong smell that seems very artificial. This might be irritating for some.
It can irritate those who have extremely sensitive eyes.
100% Pure Coffee Bean Caffeine Eye Cream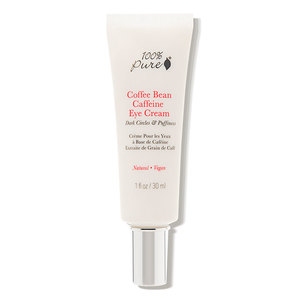 This product from the house of 100% pure is enriched with the goodness of green tea, caffeine, rosehip oil, Vitamin C, and anti-oxidants.
It is anti-inflammatory and claims to work on wrinkles, under-eye puffiness, and dark circles.
It is devoid of cheap fillers to water down formulas, synthetic preservatives, artificial fragrances, synthetic chemicals, or other toxins.
What's good?
It is a cruelty-free product and is 100% vegan.
The caffeine content in the product works quickly to eliminate dark circles.
Green tea content promotes the circulation of anti-oxidants, keeping away wrinkles and fine lines.
De-puffs your eyes.
Works on Crow's feet.
What's not so good?
Quantity is very less as compared to other products at this price range.
ACURE Radically Rejuvenating Eye Cream
This product from the house of Acure is 100% natural. It is completely free of Parabens, Sulfates, and Mineral oil, Petrolatum, and Formaldehyde.
Edelweiss and Chlorella extracts maintain the moisture barrier of the skin, keeping it hydrated and young. This eye cream works on all skin types, especially sensitive ones.
What's good?
It is 100% cruelty-free and vegan.
It is free from paraben.
Edelweiss and Chlorella extract to seal the moisture inside.
Prevents the appearance of fine lines and wrinkles.
Suits sensitive skin
What's not so good?
Has a thin consistency and therefore requires a lot of product to cover your under-eye area.
It is not moisturizing enough. For those with dry skin, this might be a problem.
It has an unpleasant smell that might irritate some.
The Sage Witch Eye Cream
Spirit Nest products are known for their purity and effectiveness.
The Sage Witch Eye Cream is another product from the house of Spirit Nest that claims to revitalize the eyes, making it look lively and free of any dark patches, crow feet, bags, or puffiness.
The ingredients are all-natural and dermatologically tested. It is safe on dry, damaged, oily, or irritated skin and is a unisex product.
What's good?
The product is vegan and 100% cruelty-free.
All the ingredients used are natural.
It has a light and non-greasy formula and is easily absorbed into the skin.
Safe for all skin types ranging from dry to oily.
It is very economical since a little goes a long way.
What's not so good?
It has been known to irritate some users who have extremely sensitive skin.
The consistency could have been a bit thicker.
Rose Mira Organics Bella Rose I Renew Eye Cream
This cream is enriched with the goodness of rose essential oil. It is specially formulated for matured skin. It claims to renew and regenerate cellular membranes making the skin look and feel young to the core. Bella Rose eye cream tightens, tones, and calms sensitive skin along with smoothening fine lines and crow's feet around the under-eye area.
What's good?
The consistency is perfect. Neither too thick nor too thin and caters to all skin types.
The key ingredient is the Chinese Pearl Powder. It has been the traditional beauty secret to young skin used all over Asia for ages. It imparts brightness to your under eyes.
Jojoba oil content in the cream deeply nourishes and moisturizes your skin from within.
Cures Crow's feet.
What's not so good?
There are no cons known as of yet.
Christina Moss Organic & Natural Eye Cream
This handcrafted product from the house of Christina Moss Naturals is a 100% natural product that claims to give your eyes a lift.
It is the best natural eye cream for dark circles, which also helps with dryness, prevents wrinkles, and de-puffs your eyes.
It is made of certified organic ingredients and is free from SLS, SLES, Propylene Glycol, Propylene Glycol Derivatives, Parabens, Sulfates, Dyes, and Preservatives.
What's good?
100% vegan and cruelty-free.
Unscented
It contains plenty of antioxidants that fight off free radicals keeping the skin under your eyes young and soft.
Prevents Crow's feet under your eyes.
Very rich and hydrating.
Suitable for sensitive skin.
A little goes a long way.
What's not so good?
Although it claims to be non-comedogenic, it does clogs pores and turns out cakey under your eyes.
It does not easily absorb into the skin and hence is not recommended for oily skin.
Pai Skincare Echium & Argan Gentle Eye Cream
With its unique blend of Stearidonic acid and Gamma-Linoleic acid, this eye cream claims to brighten up your eyes and prevent fine lines and wrinkles.
It is certified organic by the Soil Association, Vegan Society Registered, and BUAV (Leaping Bunny) accredited.
It also claims to protect the eyes from environmental stress factors.
What's good?
Intensely hydrating.
Suits easily irritated eyes.
Works on wrinkles and fine lines.
What's not so good?
Not suitable for sensitive skin. It has been known to cause puffiness and red scales under the eyes due to allergic reactions.
Might irritate the eyes.
BeeFriendly Face and Eye Cream
This USDA-certified natural eye cream from BeeFriendly claims to be an anti-aging miracle that takes care of all your fine lines and wrinkles.
This is deeply hydrating, and the key ingredient beeswax is a natural ingredient for collagen production and cell regeneration.
It's a multi-purpose eye cream that You can use on the eyes, face, and decolletage.
What's good?
100% natural ingredients are used to make this product.
Beeswax is a natural hydrating agent that stimulates collagen production.
Has a mild honey scent.
No need to purchase an eye cream separately. This will suffice for both eyes and face. This makes it economical.
Cruelty-free product.
Paraben-free.
What's not so good?
Might be allergenic to sensitive skin.
Era Organics Pumpkin Papaya Extra Nourishing Eye Cream
This is a product from the house of Era Organics. It claims to be 100% natural.
Enriched with the goodness of papaya, jojoba oil, sunflower oil, shea butter, and raw honey, this cream claims to keep your dark circles and puffiness away, prevent premature aging, rendering you young and beautiful skin.
It is a non-GMO, paraben-free, cruelty-free, non-toxic, chemical-free, fragrance-free, and hypoallergenic product.
What's good?
Cures dry and chapped skin under your eyes.
Reduces fine lines and wrinkles.
Softens crow feet and nourishes under-eyes
Works effectively on dark circles and puffiness under your eyes.
The product is cruelty-free.
Soothes sensitive skin
What's not so good?
The consistency is very thick, and therefore, it becomes hard to apply and is not easily absorbed into the skin.
Leaves your skin greasy. This makes the product unsuitable for oily skin.
Mary Ann's Naturals Organic Handcrafted Eye Cream
This natural under-eye cream is from the house of Mary Ann's Naturals is infused with organic oils that claim to make your under-eye area free of puffiness, dark circles, wrinkles, and fine lines.
Made with organic ingredients, it is free from GMOs, soy, and gluten. It also aims to work as a nourishing facial moisturizer.
The combination of Rosehip seed oil, Sunflower oil, and cocoa butter leaves your skin smooth and nourished.
What's good?
The cream is 100% organic.
Works as a moisturizer for your face as well.
Since the consistency is thick, a little goes a long way.
It cures fine lines and wrinkles effectively.
What's not so good?
The consistency is too thick and thus is not suitable for morning use or under makeup. It renders that unwanted shine to your skin. However, it is a great cream for night use.
The product can cause an allergic reaction to sensitive skin.
Eavara Organic Eye Serum
This award-winning product is a creamy serum that aims to remove all the puffiness under your eyes, including those deep dark bags that you might have.
The combination of calendula, coconut oil, orange peel oil and kukui nut oil makes this paraben-free product especially suitable for mature skin.
By stimulating the production of elastin and collagen, it keeps the skin young, soft, and supple.
What's good?
Cruelty-free product.
100% natural ingredients are used.
The serum is extremely hydrating.
Hyaluronic acid stimulates the production of collagen that helps with wrinkles and fine lines.
What's not so good?
It does not work on dark circles.
It has a strong smell, which some might find irritating.
Tetyana Naturals Eye Gel
This natural eye cream a gel-based formula infused with the magic of Hyaluronic acid, Chrysanthemum, Japonica extract, Vitamin C, and Aloe from the house of Tetyana Naturals. It is not tested on animals and claims to fight with puffiness, darkness, and fine lines around the eyes.
What's good?
It is a gel-based formula and hence is easily absorbed into the skin.
Gives a cooling effect to the skin
Keeps away wrinkles and fine lines.
Brightens dark circles.
De-puffs your eyes.
What's not so good?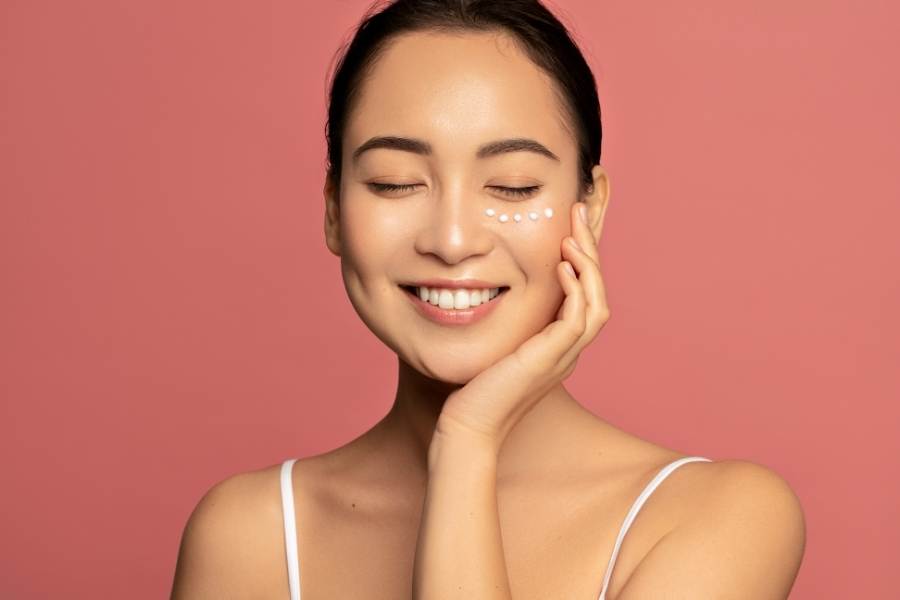 Why Should You Choose a Natural Under Eye Cream?
The stress that you undergo daily is first to show up under your eyes. All those late-night projects that keep you awake takes the form of an ugly puffiness under your eyes.
As your body ages, you will notice your under-eye is the area where the first signs of aging become noticeable.
You so desperately try to avoid the wrinkles and fine lines by heaping bottles of creams on your face betray you because ultimately, your under eyes get affected. It gives out your age even though you maintain a foolproof skincare routine daily.
A little extra effort on your part can help you get rid of those dark puffy bags that keep you from feeling beautiful.
What are the ingredients that you must look for in an eye cream?
When choosing your best natural under-eye cream, you cannot afford to be careless as it can cause you long-term damage.
While selecting an under eye cream, take a quick look and check for the following ingredients' availability. If it has all or at least some of the following, purchase it without a worry.
Hyaluronic acid is naturally occurring in our body, acting as an agent that binds to water. Hyaluronic acid on our skin has amazing benefits. Firstly it helps in water retention making the skin soft and supple. Secondly, it keeps the skin from signs of aging. HA can easily combat wrinkles. It promotes the elasticity of the skin. Lastly, it can also speed up wound healing. Since the area under our eyes is delicate, it is easily exposed to micro-cuts and fine damages, which can be taken care of by hyaluronic acid.
Ceramides – A skin protector that resists skin damage from pollution and other external factors that damage your skin. It strengthens your skin barrier seals the moisture inside.
Retinol – It's a derivative of Vitamin A. Retinol imparts tightness to your pores and gives your eye area brightness. It improves blood circulation, stimulates new blood vessels, and ensures skin tone improvement if you have dark patches under your eyes. It also boosts collagen production, making your under eyes less vulnerable to fine lines and wrinkles. Make sure you use retinol-based eye care products in limited amounts since excess use of retinol can make your skin dry and flaky.
Neuropeptides – Neuropeptides can be a good alternative for those who have ultra-sensitive skin and can't use retinol. Neuropeptides boost collagen production, reduces dryness, effectively reducing fine lines and wrinkles under your eyes but are significantly mild on the skin.
Vitamin C – Vitamin C is rich in antioxidants that reduce the effectiveness of free radicals that wear out your skin, making it prone to aging. It effectively improves the tone of your skin while maintaining its elasticity.
Vitamin E – Also known as tocopherols, Vitamin E, is one key ingredient you must find in every skincare product. It is a skincare compound that protects those cells that produce elastins rendering elasticity and strength to your skin. It is also a deep moisturizer that nourishes your skin from within.
What should you avoid doing when using an eye cream?
Do not use too many products on your under eyes. It's a small area to cover it so that a pea-size amount would suffice.
Don't apply pressure to your under eyes. Take a little amount of the product on your ring finger and gently pat it on your under-eye area. Do not tug or pull.
Do not apply your eye cream too close to your eyes. It might get into your eyes and irritate.
Use your eye cream as a preventive method rather than a cure. Do not wait for signs of aging to show up before you start using an eye cream. Incorporate it in your daily regime to prevent dark circles, eye bags, puffiness, fine lines, or wrinkles.
Use your eye cream not only at night but also in the morning. You can apply your cream under your makeup. Ensure you give the cream some time to absorb into your skin, after which you can apply your make-up without worry.
There are various types of under-eye problems – puffiness, bags under the eyes, dark patches, wrinkles, etc. If you are unsure which issue you have, find out creams that address all of the issues. It is always wiser to go for an all-in-one solution.
Price doesn't equal quality. Instead, check for the ingredients and purchase your product accordingly.
Use organic-certified eye products. Harsh chemicals often wear out your skin instead of making it better.
How to use an eye cream?
Take a pea-sized amount on your ring finger and pat it gently under your eyes before going to sleep at night.
Apply it in the morning and underneath your makeup (if you want to wear any) before you go out to work. This will protect your eyes from the pollution and the harmful UV rays of the sun.
What is the right age to start using an eye cream?
There is a myth that under-eye creams should only be used after 30 when you start getting those fine lines. This, however, is not true.
When it comes to skincare, prevention is always better than cure. Therefore start taking care of your under eyes before those lines get a chance to appear. The ideal age should be between 24 to 28.
Ways to Take Care of Your Eyes
By now, it's clear that you should incorporate a separate eye care routine in your daily skincare regime.
Along with using an eye cream, you can go for homemade DIY under eye care methods if you have time.
Here is a quick guide that will tell you how to take care of your eyes using easily available products at home.
Remove your makeup – The first step to under-eye care is ensuring you remove all your makeup before retiring to bed. Take a few drops of micellar water in a cotton pad and dab it gently on the eyes. Do not tug or pull as you might end up getting micro-cuts in your skin if you are too harsh. Thoroughly remove all traces of your eyeliner or eye shadow.
Use tea bags – Tea contains caffeine, and just as it works to energize our body, similarly, it can enliven our skin under the eyes. Especially, green tea works like magic in this context. It has anti-inflammatory properties that help in reducing under-eye puffiness. Follow these steps to use tea bags as a cure for your eye bags.
Soak the tea bag in hot water for 2 to 3 minutes.
Refrigerate the tea bag for about half an hour
Take them out of the refrigerator and put them on your eyes for about 20 minutes. While doing so, close your eyes and relax. You can listen to some smooth and calm music.
Remove the tea bags and wash your eyes.
Make sure you apply a moisturizer.
Cut down your salt intake – Salt causes puffiness in your body, so reduce the consumption of salt to keep your under-eye area free of puffiness. Cutting down your fluid intake during the night to reduce puffiness in the morning.
Eight hours of sleep – Dark circles and eye bags are directly related to stress. Getting a plentiful amount of sleep is the best natural antidote to dark circles. It will allow your body to relax and reduce the stress healing your dark circles.
Using a cold press – This is the easiest home remedy to brighten up your eyes immediately. Soak a cotton pad in cold water and put it on your eyes for 20 minutes. Your eyes will feel relaxed and look lively.
Sleep at night with your head elevated – This will keep the fluids from flowing to the eye area and keep your eyes from appearing puffy in the morning.
Quit smoking – If you're a chain smoker, then try and quit smoking as fast as possible. Smoking causes aging more quickly by reducing the production of elastins in your body. Fine lines and wrinkles are unavoidable if you're a smoker.
It might happen that even after doing all the above, you're still not able to get rid of those eye bags. Then you might be needing a little extra. Countless natural under-eye creams are available in the market. But while choosing them, you must know what you want.
Bottom Line
We highlighted the importance of under-eye care as a part of your beauty regime. We listed the best natural eye creams that open up to you plenty of options from where you can choose your ideal one.
Keep in mind to check for the ingredients and make a purchase accordingly.
Regular care of your under-eye area will guarantee you wrinkle-free, bright, and beautiful skin.
Related Posts