Under the eyes and when you want to smile! These are the areas that show up when you are aging. The skin around your eyes is sensitive and ages faster than the rest of the body. Hence, you need to take extra care. Since ages, women have been trying various ingredients readily available in the kitchen to treat skin issues.
Coffee for skin has been one of the choices as results have spoken for itself. Caffeine constricts the blood vessels and helps in reducing puffiness, especially inflammation under the eye. Having said that, it is not practically possible to follow a coffee skincare routine. Hence, coffee under eye cream gets the attention that it deserves.
In this post, we will walk you through all that you might want to know about taking care of the skin under the eyes, ways, and benefits to using an under-eye cream and brand that has been flawlessly making way to the side table and hearts of various women.
First things, first! Let's tell you how to use it correctly.
The prime purpose of eye cream is to moisturize and help you even out skin tone. All this so that you look fresh and it just takes a minute to put it on correctly. Often the under-eye cream is either used in too much quantity or used around the wrong area. Experts suggest it must be applied gently near the eyes, leaving the areas of the eyelid. Very importantly, it must be applied using the ring finger.
Benefits of using an eye cream with caffeine
If not many, let's tell you the top 3 benefits of using an eye cream that has caffeine as the prime ingredient.
It prevents damaging of the skin through antioxidant action.
It hydrates the cells under the eye.
It stimulates vasoconstriction. In simple words, it slows down the process of narrowing of blood vessels.
Best ingredients to look for in an eye cream
While caffeine tops the list, there are a few more recommended ingredients that your skin would love. Hence, when you buy your eye cream, here's what you can preferably look for on the label:
Green Tea: It carries antioxidants to reduce under-eye bags and repair DNA helping your skin to recover from UV damage
Retinol: It carries anti-aging benefits. It is nothing but vitamin A that regenerates new cell growth.
Hyaluronic Acid: It carries moisture-retaining properties.
Neuropeptides: It is for the ones who cannot tolerate retinol. Neuropeptides are gentle to the skin. It increases collagen and elastin production.
Alpha Lipoic Acid: It is a powerhouse of an antioxidant that is approximately 400 times powerful than vitamin C and E
Polyenylphosphotidyl Choline (PPC): It is a natural moisturizer that helps in healing dry and chapped skin
Step by Step Guide on Using an Under-Eye Cream
You've spent in buying the right product. You now want to know the correct way to use it. Here's giving you step by step instructions to apply under eye cream effectively.
Step 1: Take a single pump at a time. The quantity has to be pea-sized.
Step 2: Using your ring finger apply small dots under your eye and around your brow bone.
Step 3: Gently rub and let it sink in your skin.
So, when is the best time to use under eye cream? Experts suggest, once in the morning and once before you sleep in the night. Many even use it just before their makeup for a concealer to look better. Ensure you use the eye cream on a clean face.
Recently I received an under-eye cream from mCaffeine and have been using it lot lately. Before we move into the product, let me tell you a little bit about mCaffeine.
mCaffeine is a new age personal care brand that offers body care, face care, and hair care products based on caffeine. Their products are gender-neutral and free from SLS-Paraben-Cruelty. Some of the popular picks include Body Scrub, Foot Scrub, Body Polishing Oil, Hand Cream, Face Scrub, and Under Eye Cream. Apart from these, you can also find gift kits popularly known as Coffee Mood – Gift Kit, Be Date Ready – Body Polishing Gift Kit, Coffee Look – Gift Kit, and many more. Their products are SLS and Paraben free, vegan, cruelty-free, and Made Safe Certified.
My Experience with mCaffeine Coffee Under Eye Cream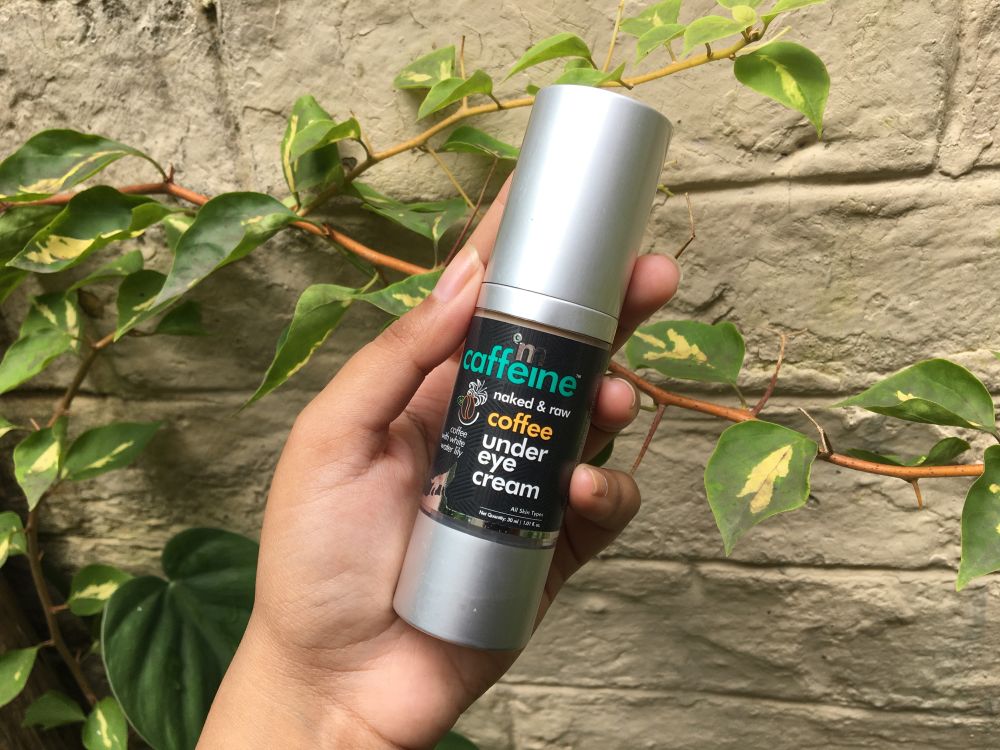 mCaffeine offers an incredible product in the under-eye cream category – The mCaffeine Naked and Raw Coffee Under Eye Cream. It is a coffee-infused under eye cream that helps in lightening dark circles and depuff the under-eye area. It further helps in sun damage recovery and keeps your skin hydrated.
Ingredients
Considering coffee for skin is a proven ingredient for the best treatment, mCaffeine uses Pure Arabica Coffee in their Under-Eye Cream.
Arabica Coffee is rich in antioxidants that help you get rid of wrinkles. Since coffee is a natural source of caffeine, the under-eye cream helps you give your eye area a healthy glow.
Another essential ingredient in the mCaffeine under eye cream is the White-Water Lily, which also helps say goodbye to wrinkles, further nourishing your skin.
The cream also has Vitamin E and Sweet Almond Oil, which helps in soothing the skin.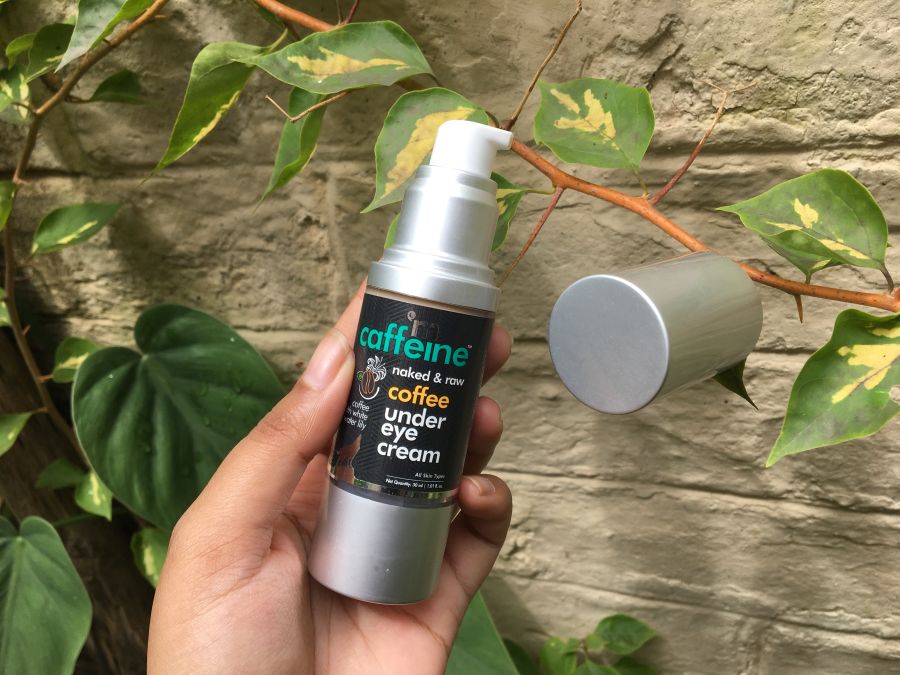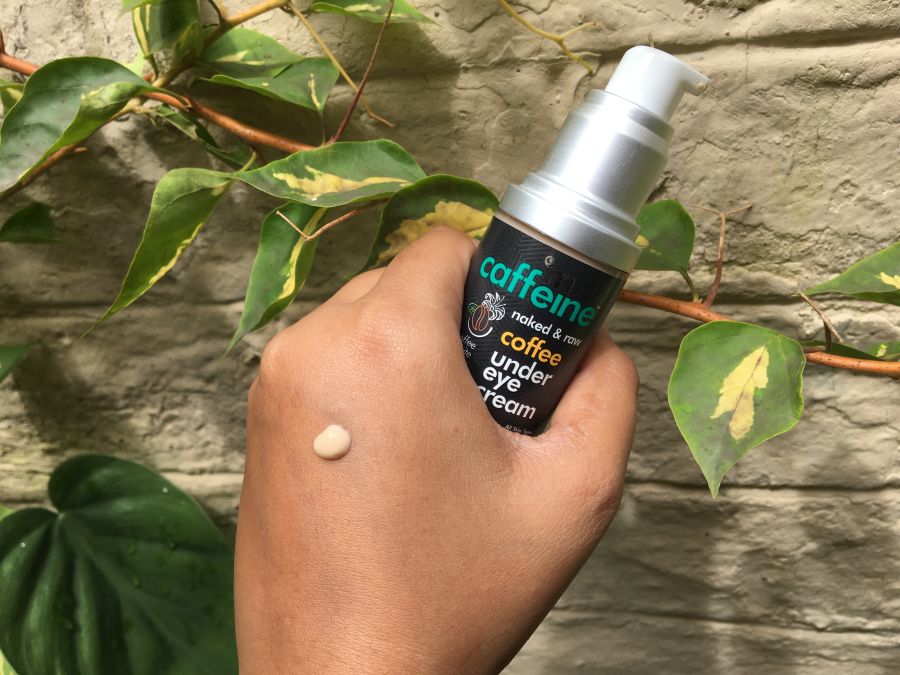 This eye cream has a light fragrance that I could smell only when I sniff it. Honestly, I expected a coffee fragrance, but anyhow, the fragrance isn't a nice ingredient for a sensitive area like under the eye. I take a peanut size of this caramel-colored cream, and it spreads out quickly due to its watery consistency.
Post application, my under-eye area gets a cool sensation, and that is relaxing at the same time. The fragrance is minimal and non-overpowering. I like the fact that it's vegan, cruelty-free, without paraben and SLS. At first, I felt like I've taken out a lot of product when I massage it, it absorbs into the skin, making it appear firm and less baggy. I like using this eye cream day and night to wake up my tired eyes. It works well under makeup too!
When you love coffee and a product like mCaffeine Coffee Under Eye Cream is easily available, why deal with the age-old traditional methods to use coffee for skin? You can check out mCaffeine Coffee Under Eye Cream here. mCaffeine's eye cream is available in a 30 ml pump packaging, making it easy for you to carry wherever you go. All in all, for me, this eye cream by mCaffeine is lightweight, non-greasy, hydrating and will suit all skin types.
Related Reviews