Do you love coffee? Well, most of us do but are you a big fan of the cuppa? Like, you can indulge in anything that has 'coffee' in it? Then this post is exclusively for you as I'm going to talk about MCaffeine Naked & Raw Coffee range which has coffee infused products.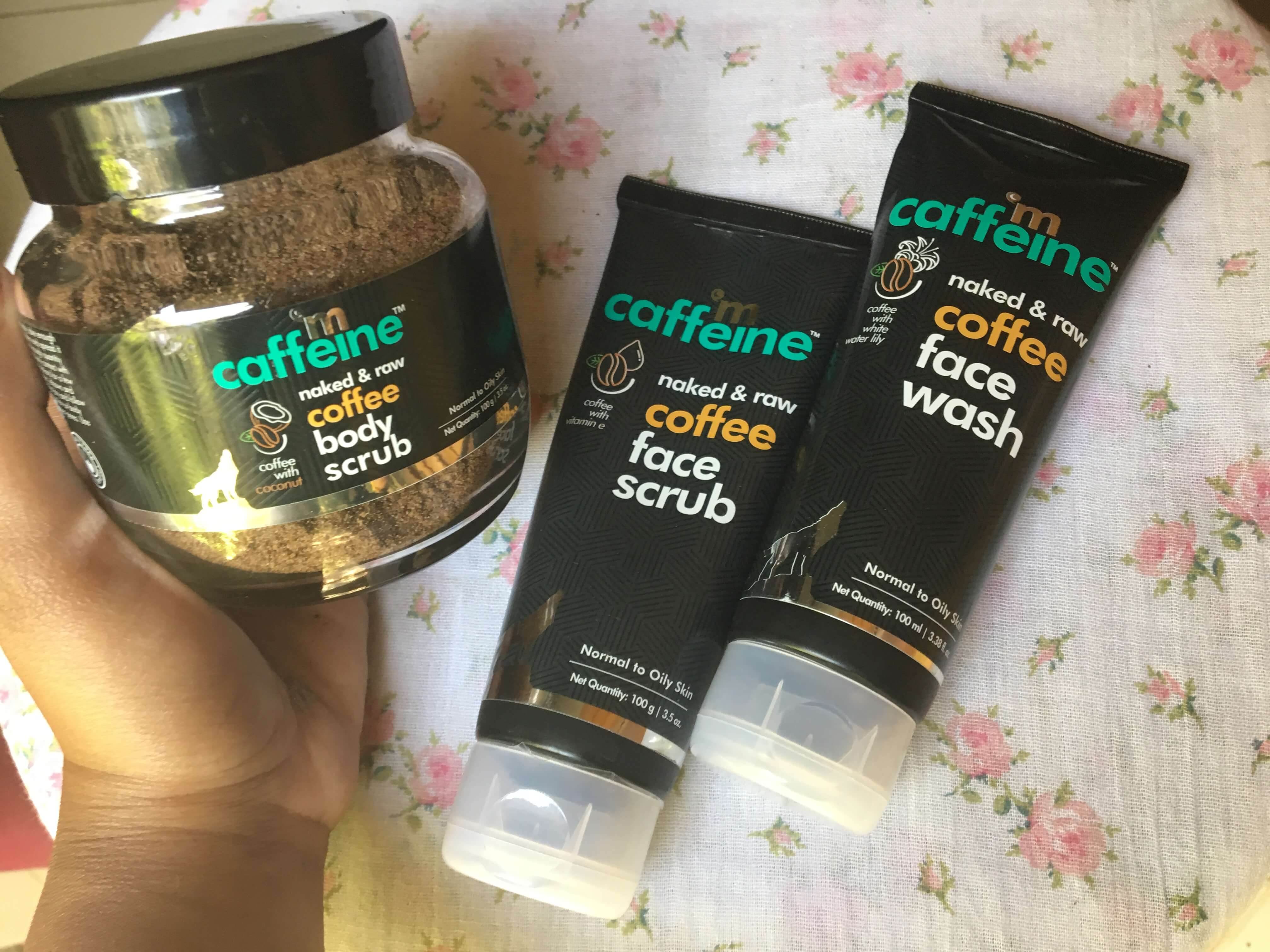 As the brand name suggests, all of their products are infused with your favorite booster – Pure Arabica coffee which is loaded with high amounts of caffeine. The best thing is that they are free from Paraben, SLS, and Cruelty-free (a perfect combo for natural skincare enthusiast like me).
It was not a long ago when I received these products for using and giving my honest opinions on. So, I'm going to review the Face Scrub, Face Wash and Body Scrub from this skincare range.
About MCaffeine 
MCaffeine is India's first skincare range infused with caffeine. Their complete range includes: Hibiscus Caffeine Body Lotion, Hibiscus SLS Free Caffeine Shampoo, Hibiscus Caffeine SLS Free Conditioner, SPF 30+ PA++ Sea Ferns Sunscreen, Shea Butter Caffeine Cold Cream, Silver Caffeine Glow Gel, Neem Caffeine Glow Gel, Neem Caffeine Face Wash Cleanser, Fresh Pop Caffeine Face Wash Cleanser, Caffeine Shower Gel, Cool Jazz Caffeine Hair Cream for Men, Caffeine Body Butter, Bouncy Techno Caffeine Shampoo, Uplift Trance Caffeine Face Cream.
Readers like you help keep The Beautyholic running. When you buy through links on our blog, as an Amazon Associate, we earn from qualifying purchases at no extra cost to you.
MCaffeine Naked & Raw Coffee Face Scrub Review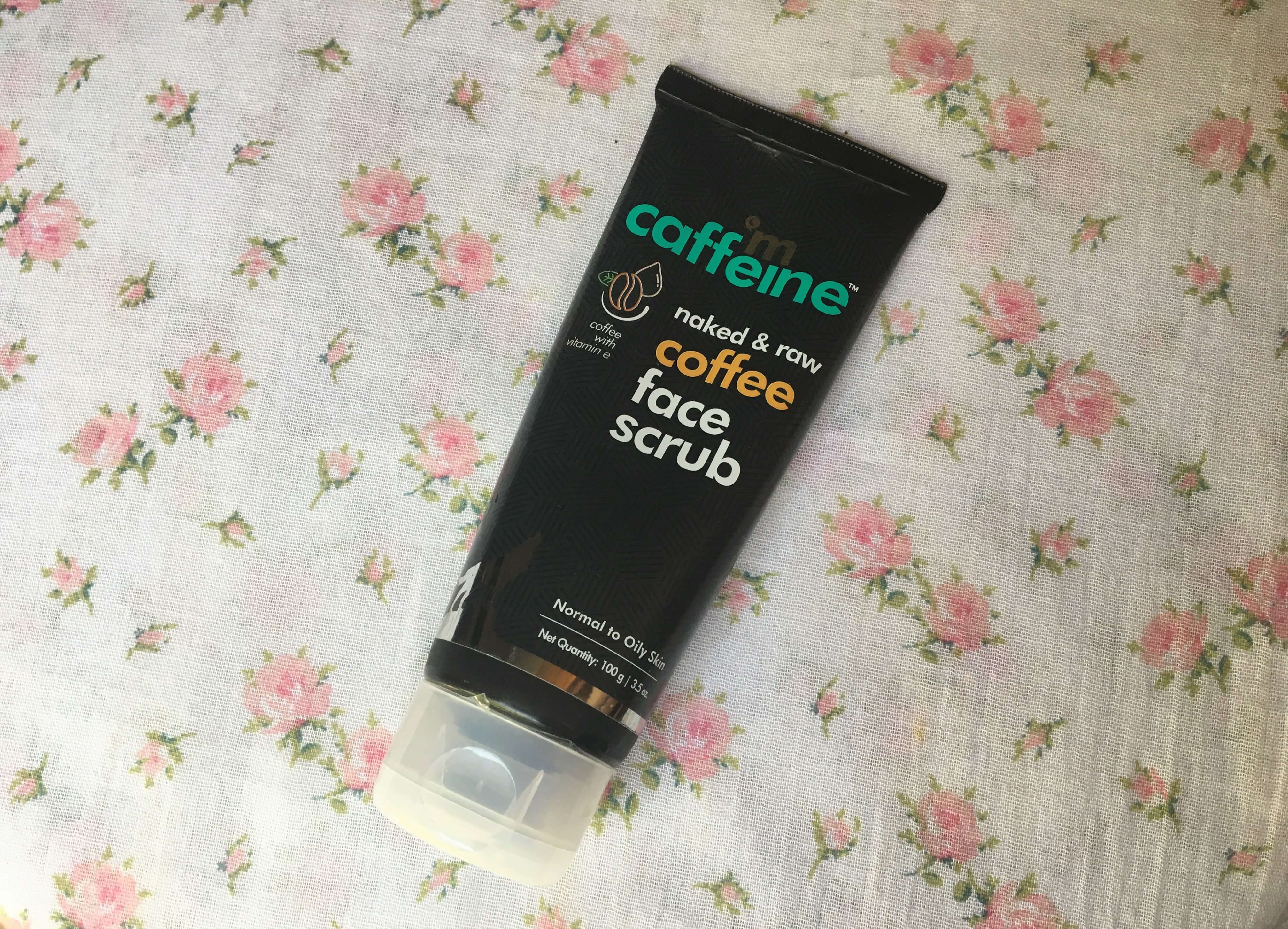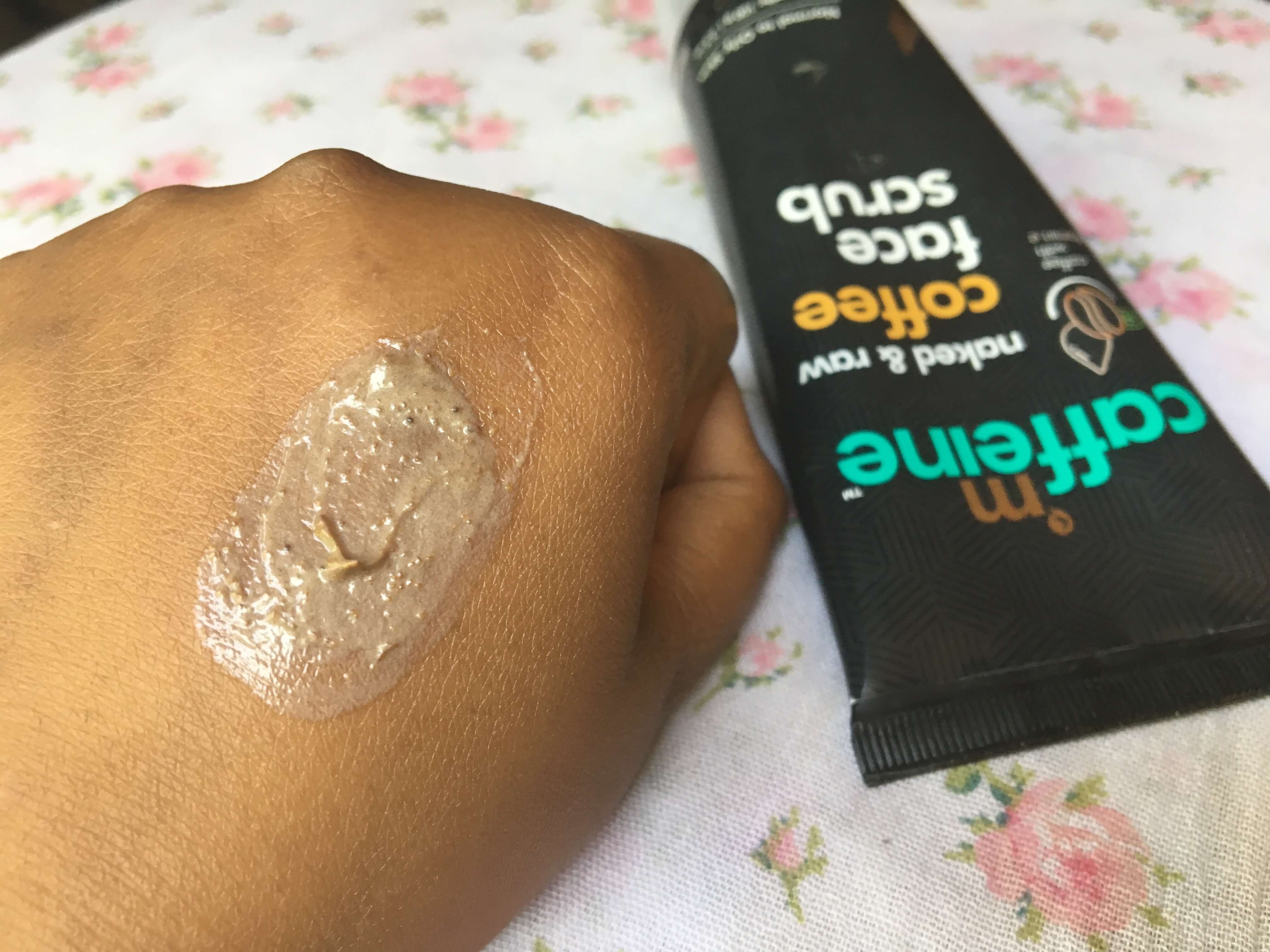 Key Ingredients: Pure Arabica Coffee, Hibiscus, Vitamin E, Argan Oil, Walnut and Caramel.
Price: Rs. 349/- for 100gms | Get it from Amazon here
My Experience: First of all, I love how clay-ish this scrub looks. The fragrance is so fresh and muddy that you'd want to soak up in it. It is infused with hibiscus and vitamin E as both are anti-aging ingredients. It has got perfect sized granules which help in scrubbing off dead skin. After a good 3 minute session of exfoliation, it gives me clear skin with a layer of moisture.
Since I have oily skin and I need a rigorous scrub, this is apt for me. But for sensitive skin type, it might come off as a harsh scrub but if you exfoliate with a light hand you'll face no problems. Nonetheless, this face scrub is for normal to oily skin types.
MCaffeine Naked & Raw Coffee Body Scrub Review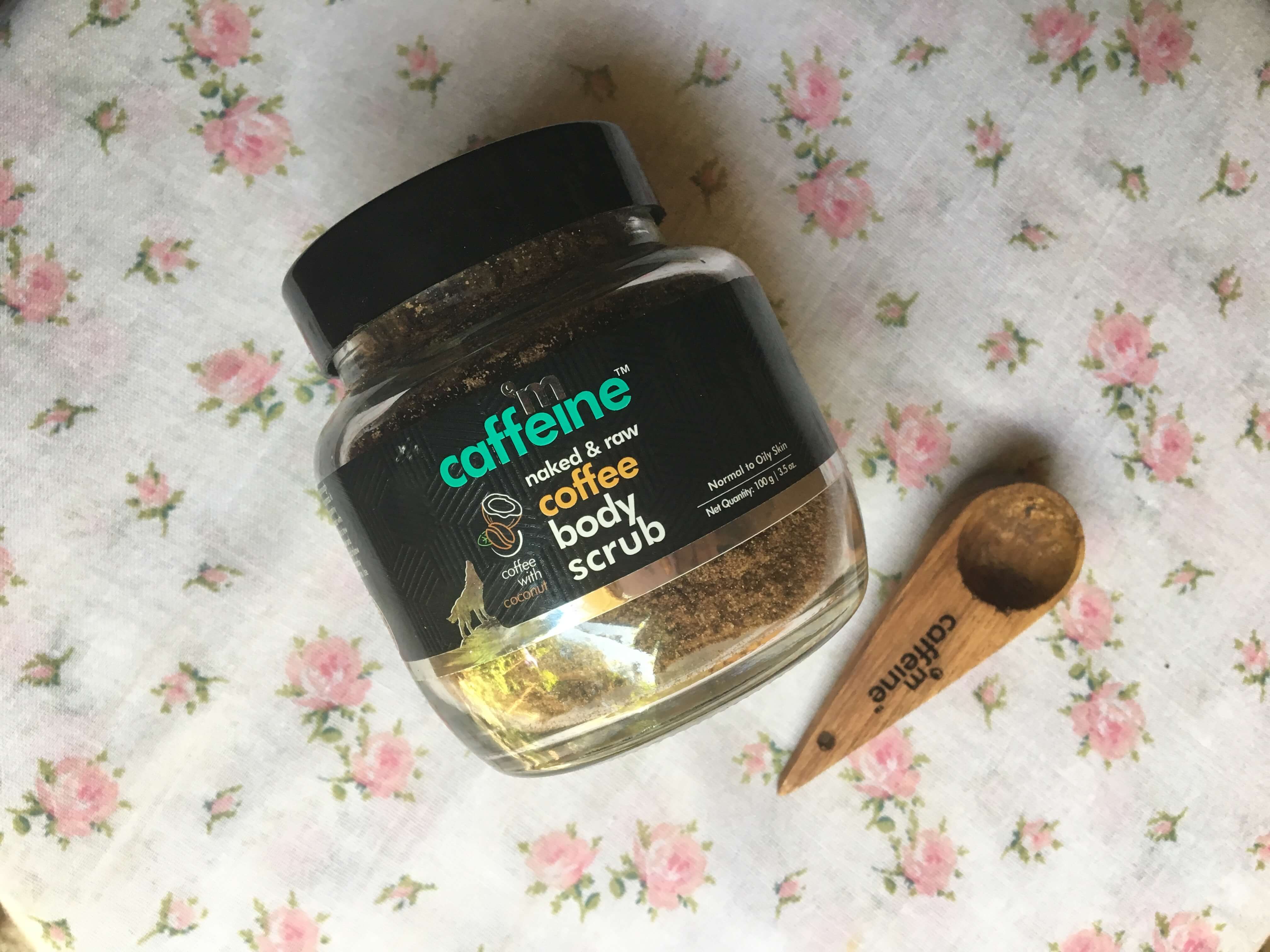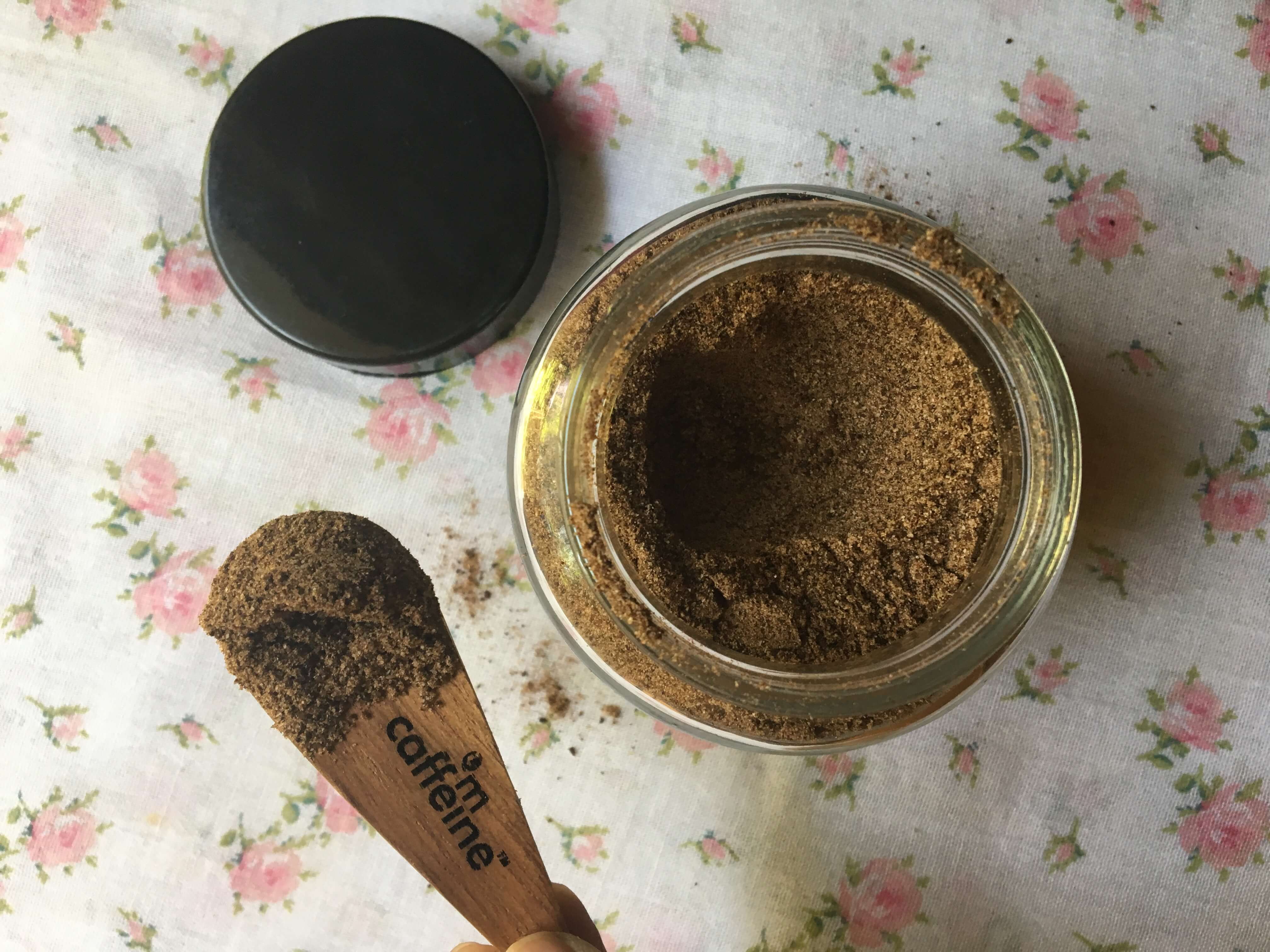 Key Ingredients: Pure Arabica Coffee and Cold Pressed Coconut Oil.
Price: Rs. 449/- for 100 gms | Check price on Amazon here
My Experience: Let's admit it none of us have perfect bodies and those little imperfections are what makes us perfect. This body scrub is made of ground pure Arabica Coffee and cold pressed coconut oil. The glass packaging has a luxe appeal to it and comes with a wooden spoon that helps scoop out the scrub without contaminating it. Before the shower, I take a spoon full into a bowl rather than taking from this scrub right away. This helps in preventing water from entering into the scrub.
The scrub smells heavenly and reminds me to have coffee every time I use it. It exfoliates well especially on my knees, elbows, back of the neck. I also use it on my thighs as coffee scrub helps in getting rid of cellulite. Though it would take months of regular use to show results.
It gets me rid of the dead skin and sloughs off perfectly. After every use, my skin feels refreshed and bright. This scrub is also best for removing tan from the body. I have noticed that dry body scrubs in powder form work better than those creamy scrubs.
MCaffeine Naked & Raw Coffee Face Wash Review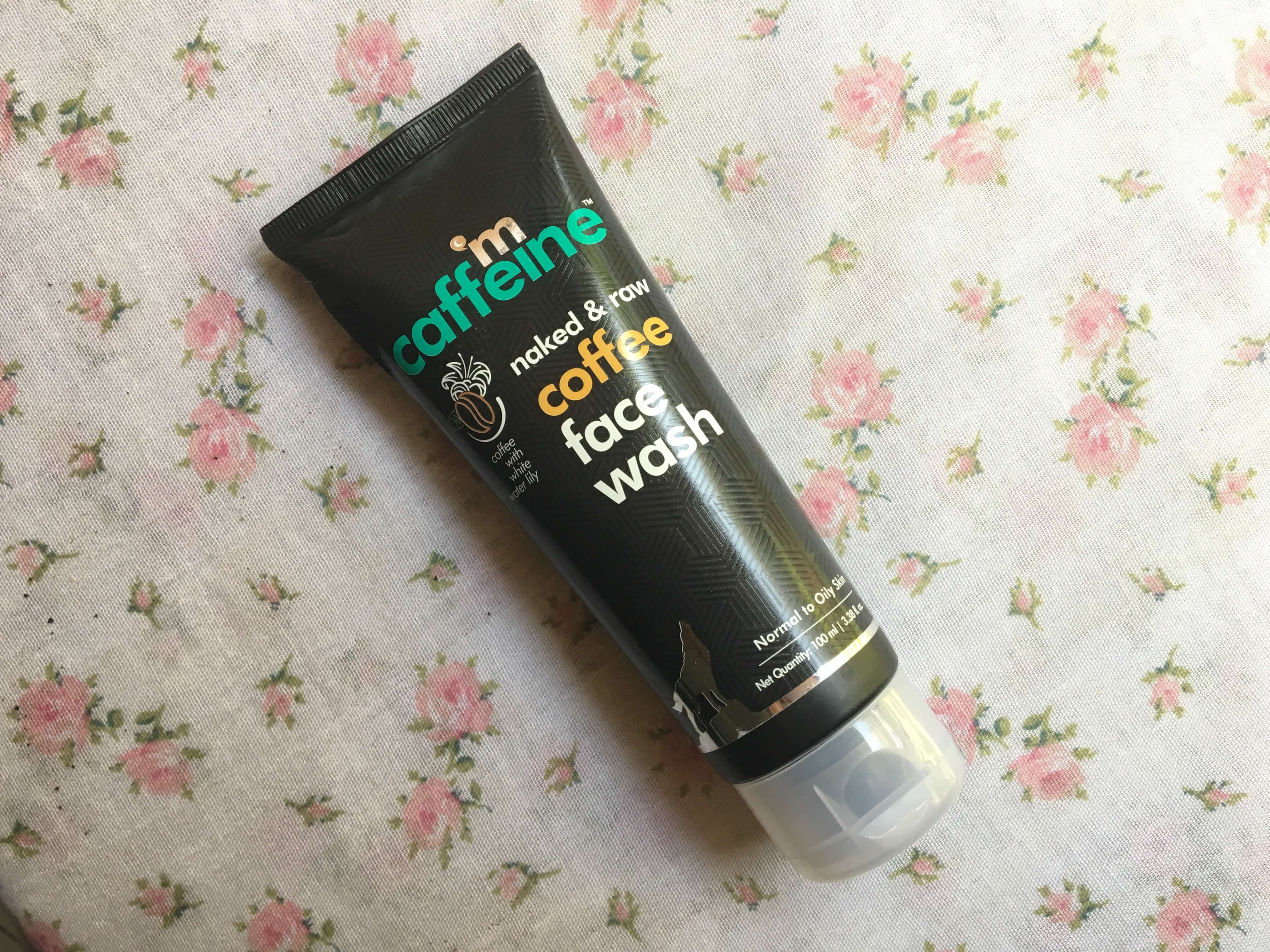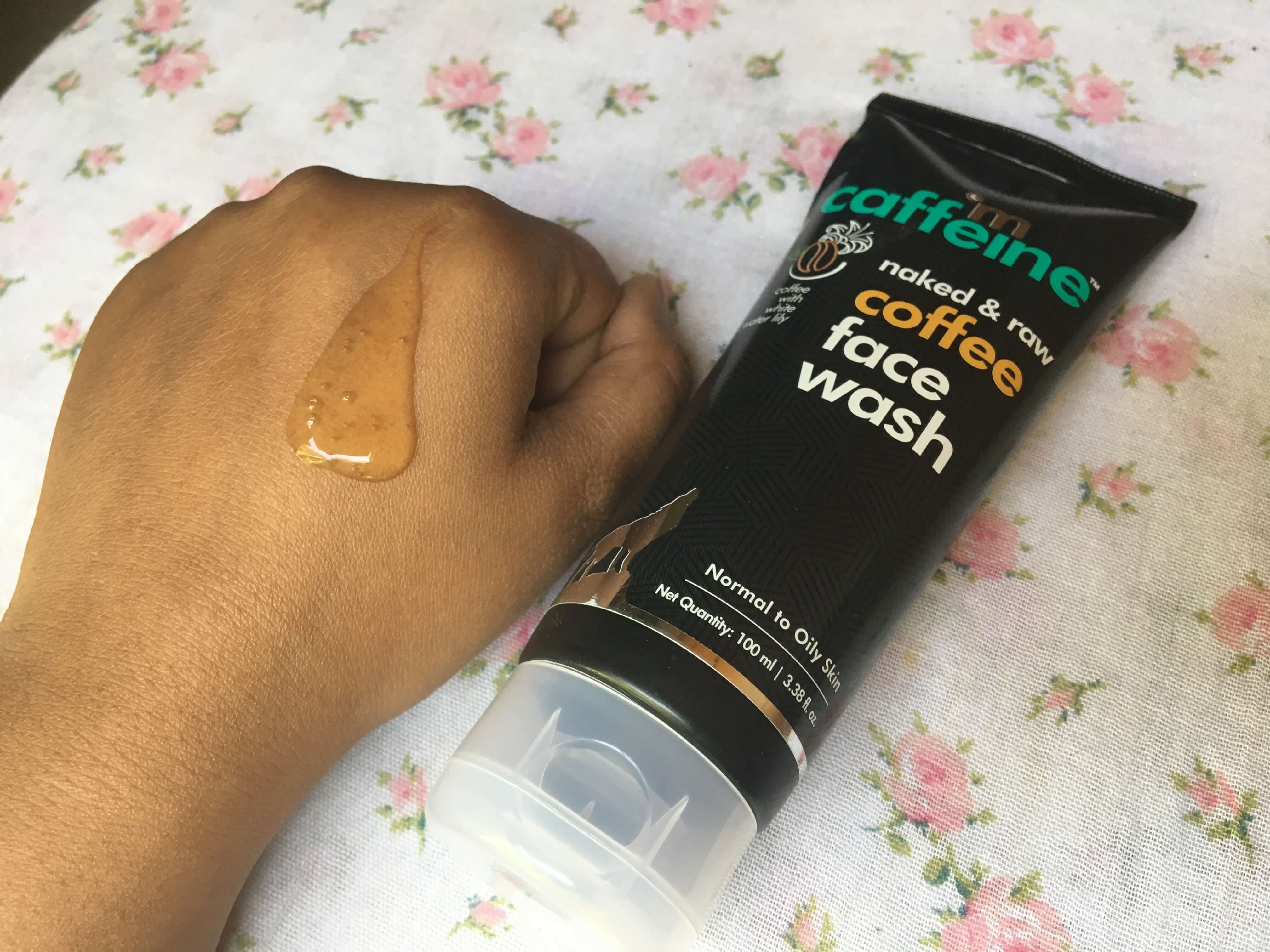 Key Ingredients: Pure Arabica Coffee, White Water Lily, Aloe Vera, Seaweed.
Price: Rs. 349/- for 100 ml | Check the price on Amazon here
My Experience: This face wash has a runny, gel-like consistency. I have noticed that it has an overpowering smell which can be overwhelming sometimes. The fragrance gives me aquatic vibes which I love. Like the whole range, it comes in a black plastic tube with a flip cap.
I take two pea-sized amounts of this face wash to wash my face and neck. It gets washed off without feeling sticky and gives a clean skin post-wash. Due to Seaweed and White Water lily, it gives a boost of freshness to my skin by cleansing it of impurities and oiliness.
MCaffeine Naked & Raw Coffee Skincare Range
Final Word
I liked using all the products from this range. Face scrub and Body scrub from this range stand to be my personal favorite. The smell of pure coffee from their products is to die for. This range is perfect for coffee lovers who want their skin to soak up the caffeine too. For lazy mornings, these products can surely liven up your mood and senses. Being cruelty-free and made of natural ingredients is another reason to give this range a shot. I recommend it!
Thanks, MCaffeine for curating skincare products for coffee lovers like me. Are you a coffee enthusiast too? Would you like your product to be infused with caffeine? Share it with us.