Have you ever glanced at your black hair and sighed to yourself over your inability to jump on board the highlight train? Well, believe it or not, this hair brightening technique isn't exclusively reserved for brunettes and blonde ladies. If you have jet black hair and you've convinced yourself that they aren't a perfect cut out for highlights, you need to reconsider your thought.
Whether or not you desire to add some depth or just perk up your hair color while not jumping into a full-on hair dye job, highlights are the ultimate solution to tweak up your look. Are you all set to get in on the multi-hued bandwagon? Here are some breathtaking highlight ideas for your black hair you can totally go for. Keep scrolling.
Looking for natural-looking highlighted strands? Or are bright pops of color too much for you? There are a myriad of highlight choices for you to settle on if you've got black hair. Turn over in your mind that adding highlights to black hair will look quite a dramatic hair color change. Your best bet is to go to an expert hair colorist, as this might need bleaching and multiple sessions to attain your required hair color.
Purple Highlights on Black Hair
7 Gorgeous Highlights to Go For If You Have Black Hair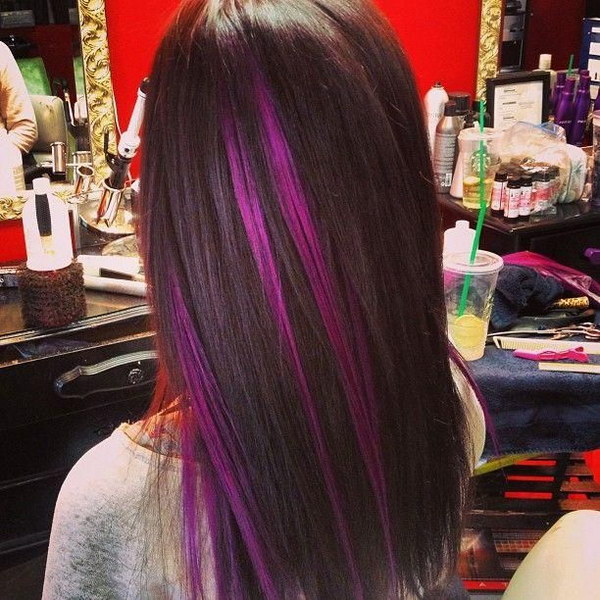 I believe this is a new hot highlighting color trend. Purple looks fabulous on dark hair, I reckon that! If you're bored of trying the usual hair color shade on your dark hair and desire a shade that speaks up to your soul, purple is something you can try!
Try red highlights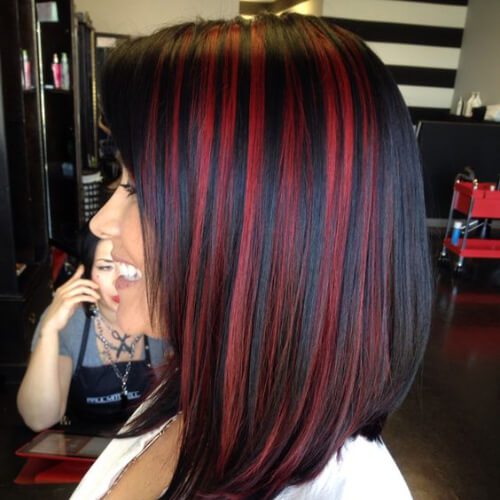 Even though it's one of the rarest natural hair colors in the world, red is one of the first popularly requested shades in salons worldwide. Once it involves infusing red highlights into black hair, search for a professional.
The genius trick to rocking red is to seek out the proper shade to match your skin tone. Usually, if you've got light skin, a bright orange-red or reddish-brown can look the most gorgeous, whereas medium skin tones look best with copper and golden reds and deeper skin tones look stunning with blue-red tones.
Platinum highlights for a Savage look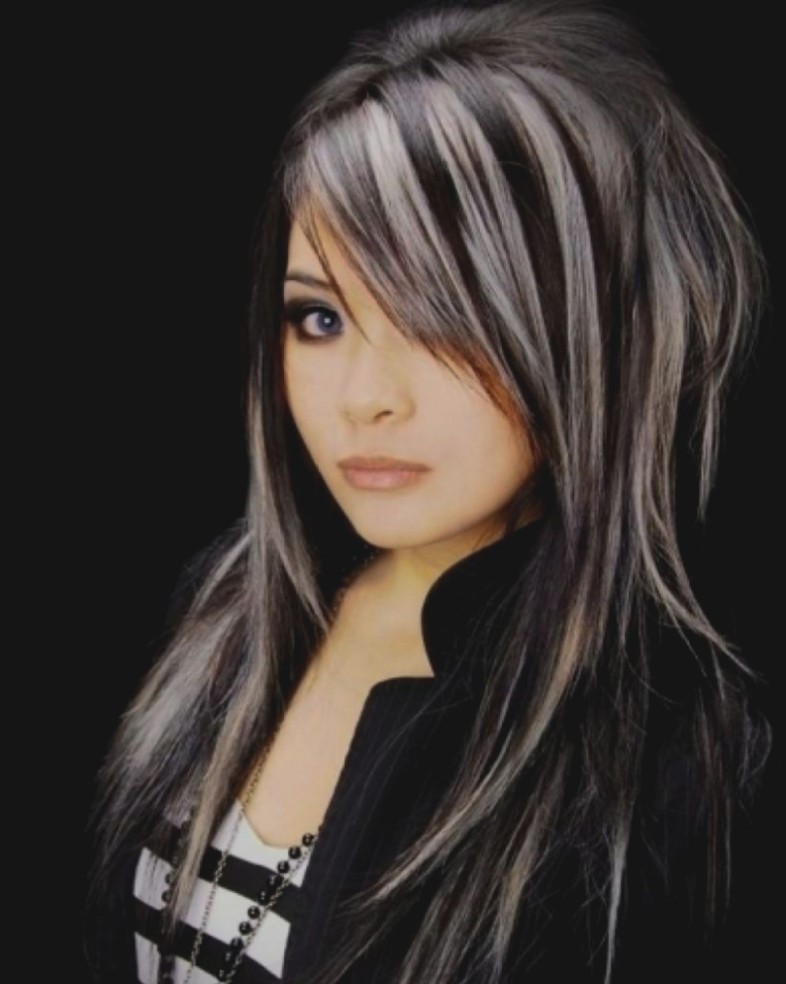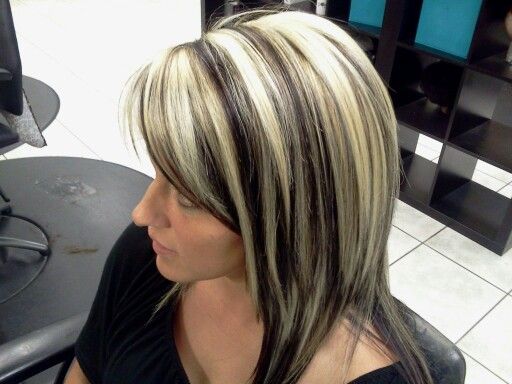 Trying to reveal your inner punk? Platinum blonde highlights can do the trick. Your platinum highlights together with black tresses can give you a high street style look which will flip heads wherever you go!
Navy Blue Highlights for Black Hair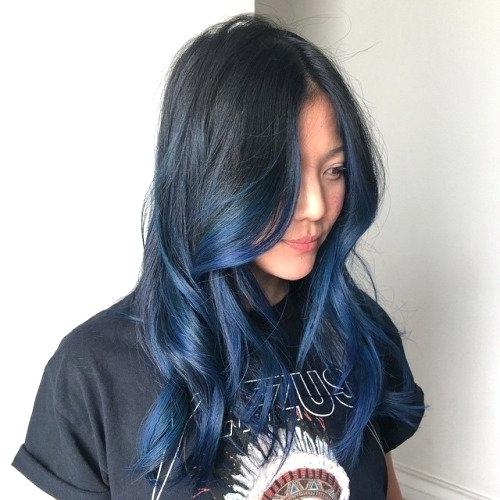 7 Gorgeous Highlights to Go For If You Have Black Hair
Okay, I personally adore this shade. Navy blue screams sexy, cute, grunge, and IDGAF if you know what I mean. 😉 Owing to its dark hue, it goes seemingly perfect with black hair. It's one of the shades you can't go wrong with. A stellar shade to try on your lovely dark hair.
Chocolate Brown Highlights for a Natural Look
7 Gorgeous Highlights to Go For If You Have Black Hair
Ever got envious of brunettes for having sexy chocolate hair? Now you won't have to! The trick for achieving a sultry look on black hair is to pick chocolate tones that will most firmly resemble the look your hair gets when sunlight reflects on it.  For dusky beauties you can go for ash brown highlights while fair to medium ladies will look stunning in the light brown and honey shade. It entirely depends on you how much you want to lighten the brown shade. But keep in mind that the more contrasting the color combination is, the less natural it will look.
Peacock Green Highlights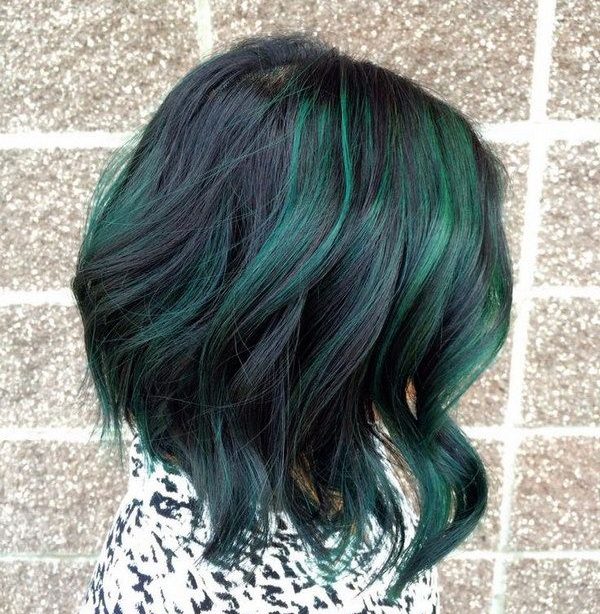 Want to reveal the inner hippie in you? Try peacock green highlights. This dark hue will create a soulful contrast between black and green. This is the perfect shade you desire something funky and sober at the same time.
Good Ol' Burgundy Highlights on Black Hair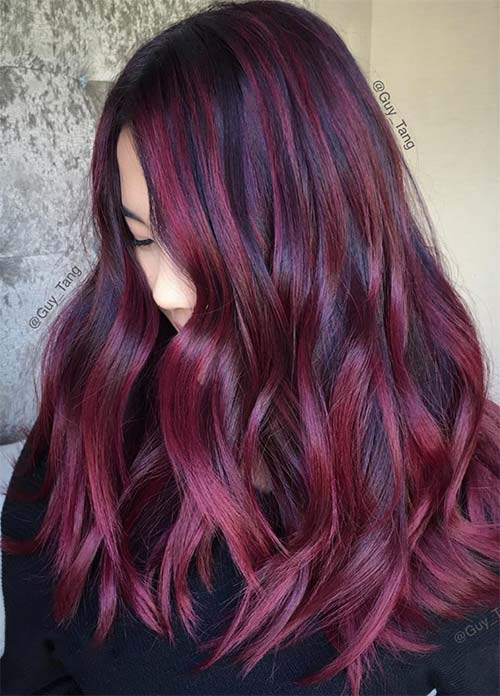 Select this shade if you want your hair to sprinkle sophistication. In recent runway shows, burgundy highlights on black hair are setting the trend. it's one of the hottest shades ever to pair up with black hair. No doubt, they'll look simply amazing!
I hoped you loved these highlight color ideas for your dark hair! Get ready to rock on, gorgeous <3
References:
https://www.lorealparisusa.com/beauty-magazine/hair-color/hair-color-ideas/highlights-for-black-hair.aspx
Related Posts