No matter how old you are or how often you wear makeup, if you are an Indian woman, I can bet that you have a kajal in your makeup stash. India's love affair with kohl-rimmed eyes dates back to times immemorial.
The product has come a long way from something women made in their homes, to the highly expensive ones by luxury brands. Kajal can instantly change your makeup game and give you a put-together yet sultry look.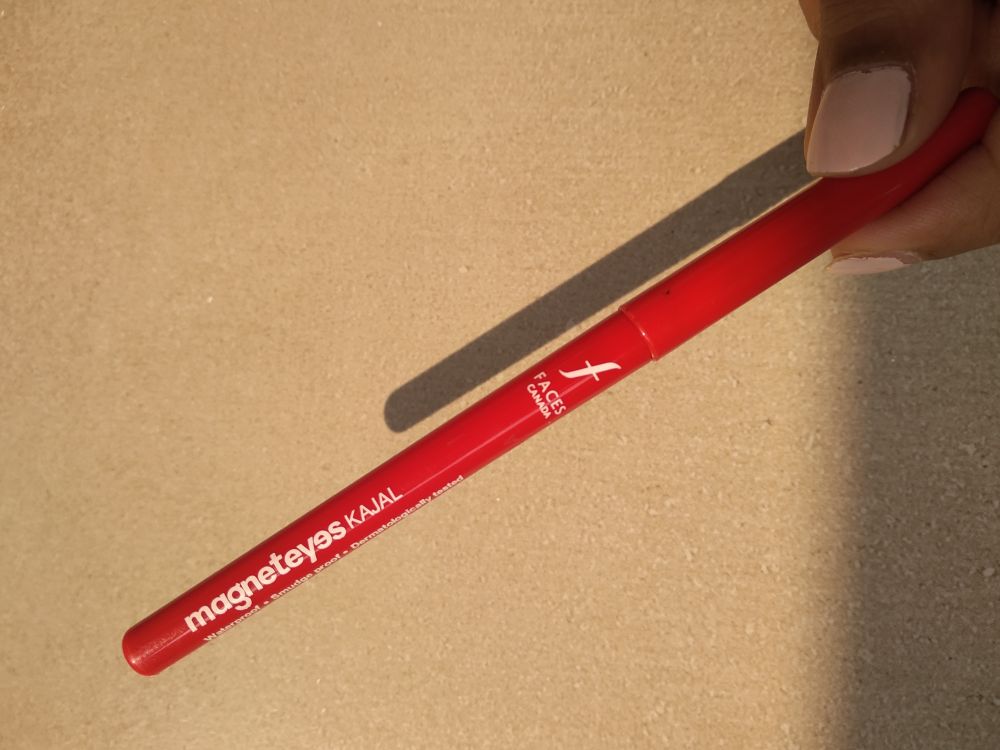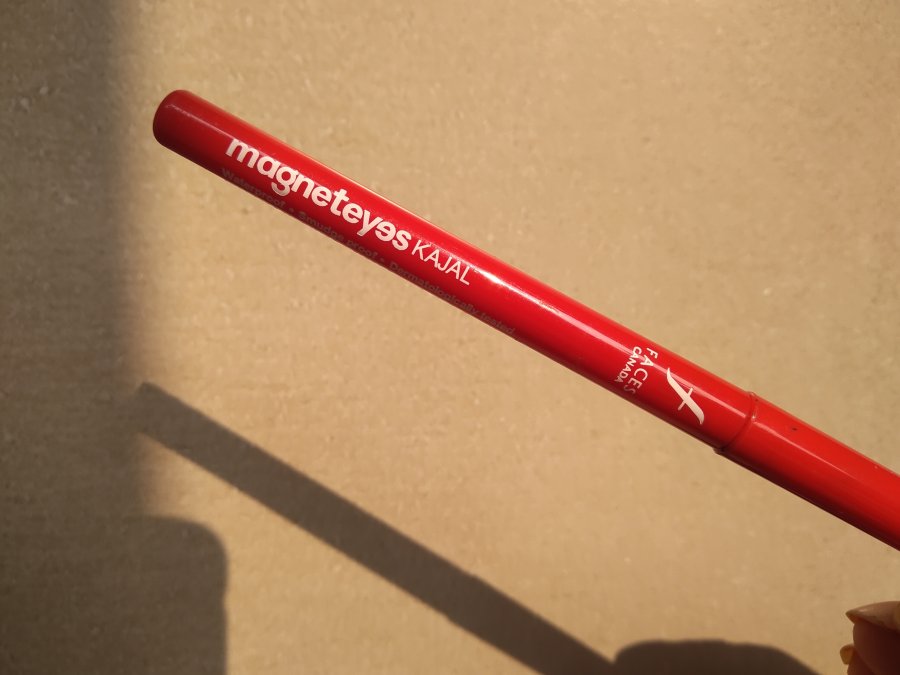 The best part about this product is that you don't need to spend a fortune on it, as the drugstore offers some unbelievably amazing kajal. One such kajal I've been using lately is the Faces Canada Magneteyes Kajal, and I'm going to review it for you guys today. 
About the Product: No budging! No smudging! A super pigmented kajal which will hustle with you. Enriched with the natural goodness of Vitamin E, minerals and antioxidants, slay the perfect looking Eye while caring for them. This best-selling brilliant black kajal is sure to become your best buy. Paraben and cruelty-free, this product is available in stylish packaging and at an attractive price.
Readers like you help keep The Beautyholic running. When you buy through links on our blog, as an Amazon Associate, we earn from qualifying purchases at no extra cost to you.
Price: Rs. 179/- | Buy it on Nykaa or Amazon
Key Claims and Benefits:
Smudge-proof

24-hour stay

Deep black finish

Fade proof
Ingredients: The ingredients have not been mentioned on the product or on the Faces website.
My Experience with Faces Magneteyes Kajal Deep Black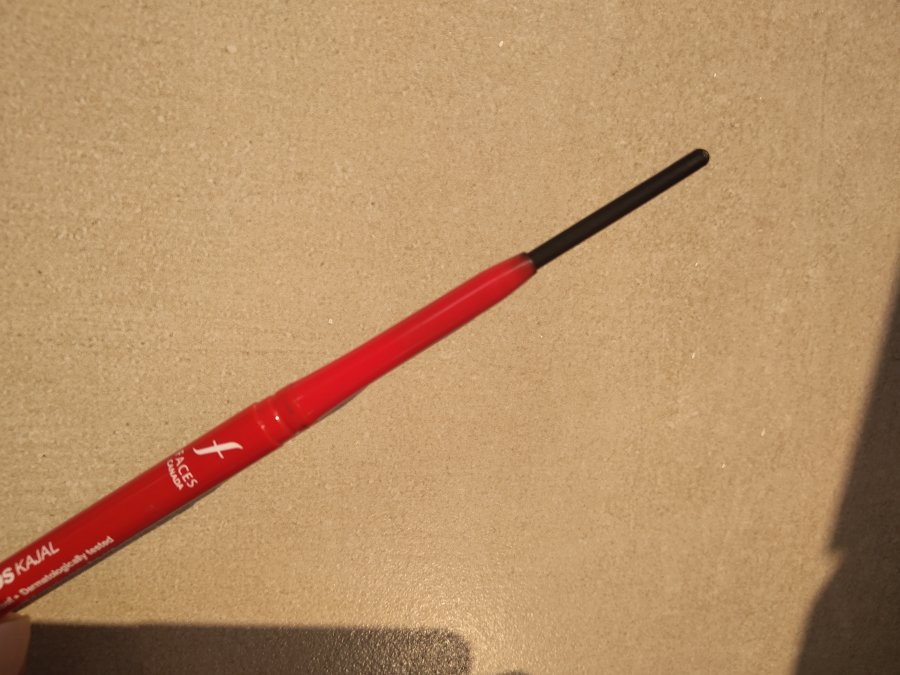 The Faces Magneteyes Kajal comes with an outer cardboard packaging, like most drugstore kajals. This one has bright red coloured packaging, which I really like because it makes it very convenient to spot the product amongst my other eye products, most of which have black packaging. It is a retractable kajal, which means that there is no product wastage. The cap is secure and shuts tight with a click. The pencil is slim and lightweight and is extremely travel friendly. 
This product offers jet black pigmentation in one swipe. I never have to drag this kajal along my lash line or waterline, and that is a big plus point because too much pressure can irritate the sensitive eye area. I picked this up at a local store, where I swatched multiple other drugstore kajals, and no other kajal seemed as black to me as this one. The formula is extremely rich and creamy, and just glides on effortlessly. 
One of the main claims of this product is that it is smudge proof, and that is certainly true. The kajal takes a couple of minutes to set. But once it sets, it will not budge throughout the day. Before I discovered this product, one of my biggest qualms with wearing kajal was that I ended up with panda eyes at the end of the day. That is not the case with this one. It is also waterproof to an extent.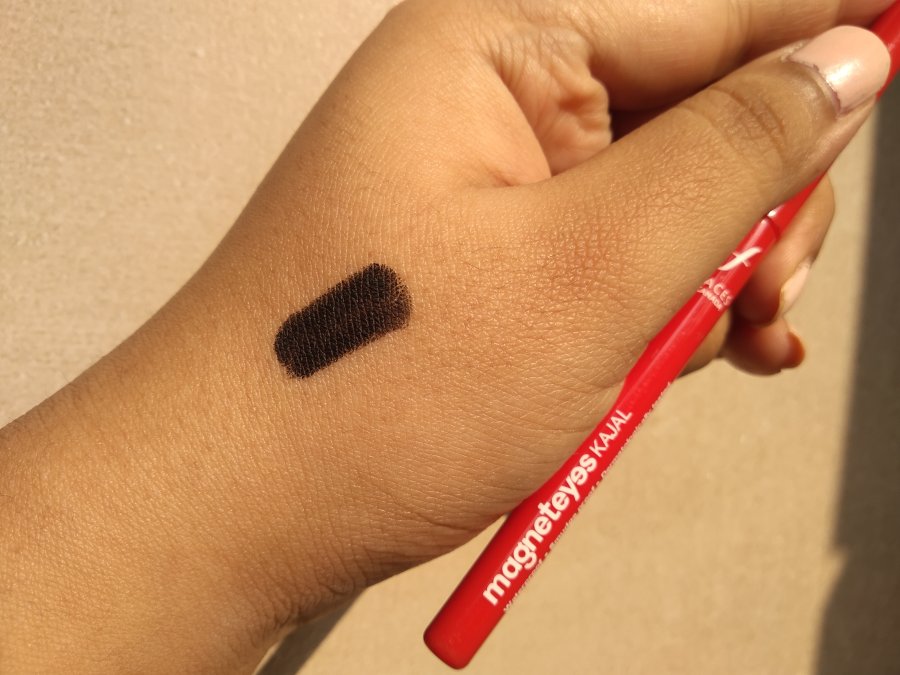 However, I find that the Faces Magneteyes Kajal is not completely fade proof. After 5-6 hours of wear, there is significant fading on the waterline. This can easily be fixed with reapplication and I personally don't mind it because of how inexpensive this product is and how well it performs in all the other areas. It is worth mentioning that it does not fade on the lash line. 
The retractable nature of this kajal means that you don't need to sharpen it, which saves time and product. It's also quite thin so it is easy to apply it in the smaller areas of the eyes. Moreover, this is not a kajal that requires intense rubbing for removal. It comes off easily with any oil-based makeup remover. 
Another thing that I noticed is that this product never irritates my eyes. Certain kajals, especially the strongly pigmented ones, tend to irritate my eyes and make them watery. This is a very impressive quality because it makes it safe to use this kajal every day. 
At just Rs. 179, I think that the Faces Magneteyes Kajal is one of the best in the drugstore. Faces Canada's products are easily available at all major online stores and are often on great discounts. If you are able to get it during a sale, it is an absolute steal. The brand also has an excellent offline presence and you can easily check out the product before you purchase it. I think that it's the best option for college girls or for anyone looking for an affordable kajal that performs well. 
Pros:
Buttery smooth application

Smudge-free

Jet black pigmentation

Single stroke application

No sharpening required

Non irritating

Transfer proof

Affordable

Easily available online and offline
Cons:
Faces Canada Magneteyes Kajal Deep Black
Final Word
The Faces Canada Magneteyes Kajal offers a deep black colour in just one swipe. It is smudge-proof, very creamy, non irritating, retractable and highly affordable. The red packaging is quite a standout from the other kajals in the market. What else can one ask from a kajal at this price? I highly recommend this product, and will certainly repurchase it.
Related Reviews