Hi, Guys! How are you all? I'm good and hope the same for you! Kajals (or Kohls) is so important to finish off our eye makeup and enhance the beauty of our eye. Today Kajal pencils come in a lot of colors viz. The Regular Black, Jet Black, Turquoise, White, Emerald etc but the black kajal is not new to this makeup world. It has been one of the oldest eye cosmetics. Queens and Royalty never failed to intensify their looks by outlining black pigment in their waterline, lash-line, and eyelids.
Me-On Eyepnotyz Auto Kajal Pencil Review
It was widely applied by the women of Middle East, Asia, and Africa not only to look beautiful but to also protect their babies from evil eye and to use it as a beauty treatment to disinfect their eyes. These days, there are numerous brands that offer Kajal but not every Kajal is worth using. Some of them contain high compositions of contaminants such as lead which is highly harmful to our eyes. So, it is really important to research about a Kajal before buying and bluntly using it.
Most girls in India literally don't step out of their homes without Kajals. Even if they're in a hurry, they outline their eyes, put a dab of lipstick and they're ready to go. However, it's really important to see if the Kajal you're using is not harming your fragile and beautiful eyes in any way.
So today I am sharing my review about Me-On Eyepnotyz Auto Kajal Pencil with you all which is easily available in the market and on almost all online shopping portals and is affordable. Read this post till the end to see if its worth the hype and its price so that it's easier for you to decide…
Me-On Eyepnotyz Auto Kajal Pencil
Claims:
Stays for 12 hours
Single stroke action
Super glide pencil
Waterproof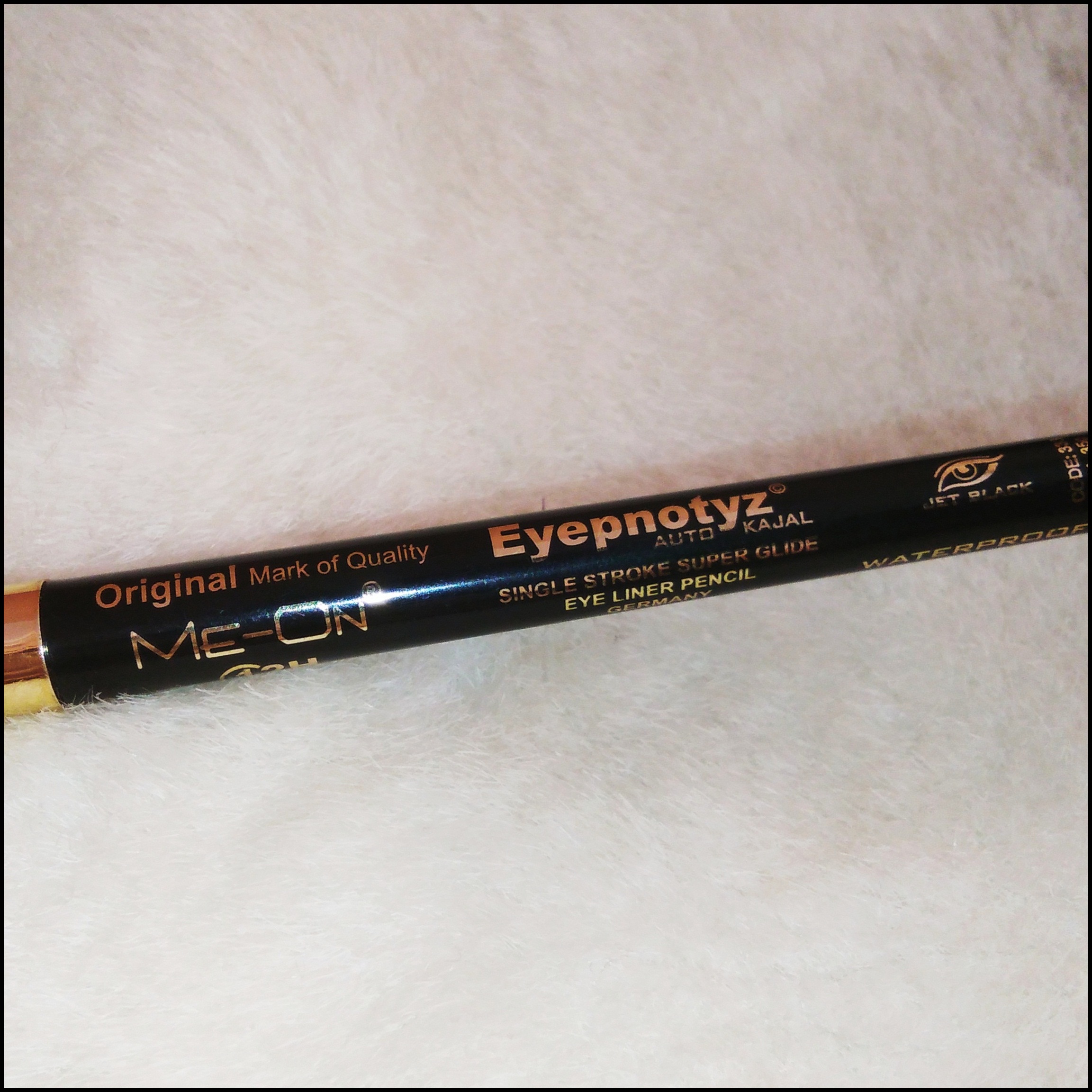 Ingredients: Not mentioned
Cost: This Kajal Pencil doesn't have an MRP which is a major turn-off for me and is usually available for as low as Rs. 150 and as high as Rs. 349 for 0.35 g of product. I bought it for Rs. 150 from a local store.
Readers like you help keep The Beautyholic running. When you buy through links on our blog, as an Amazon Associate, we earn from qualifying purchases at no extra cost to you.
Availability:
Buy it on Amazon
Packaging: This Kajal Pencil comes in no card-packaging that I highly wish it had unlike almost all Kajals available in the market today. Since there is no outer packaging, no ingredients, shelf life or MRP is mentioned which is a really very big turn-off for me. Coming to the actual packaging of the product, this pencil is cling wrapped, basic enough to keep the product safe and secure. The pencil has a plastic body with a plastic, golden-colored cap that can be pulled out to get your hands on the tip. The tip of this Kajal is safe inside the pencil and has a twist-up sort of opening. The overall packaging is sturdy, definitely lightweight, travel-friendly and has good quality.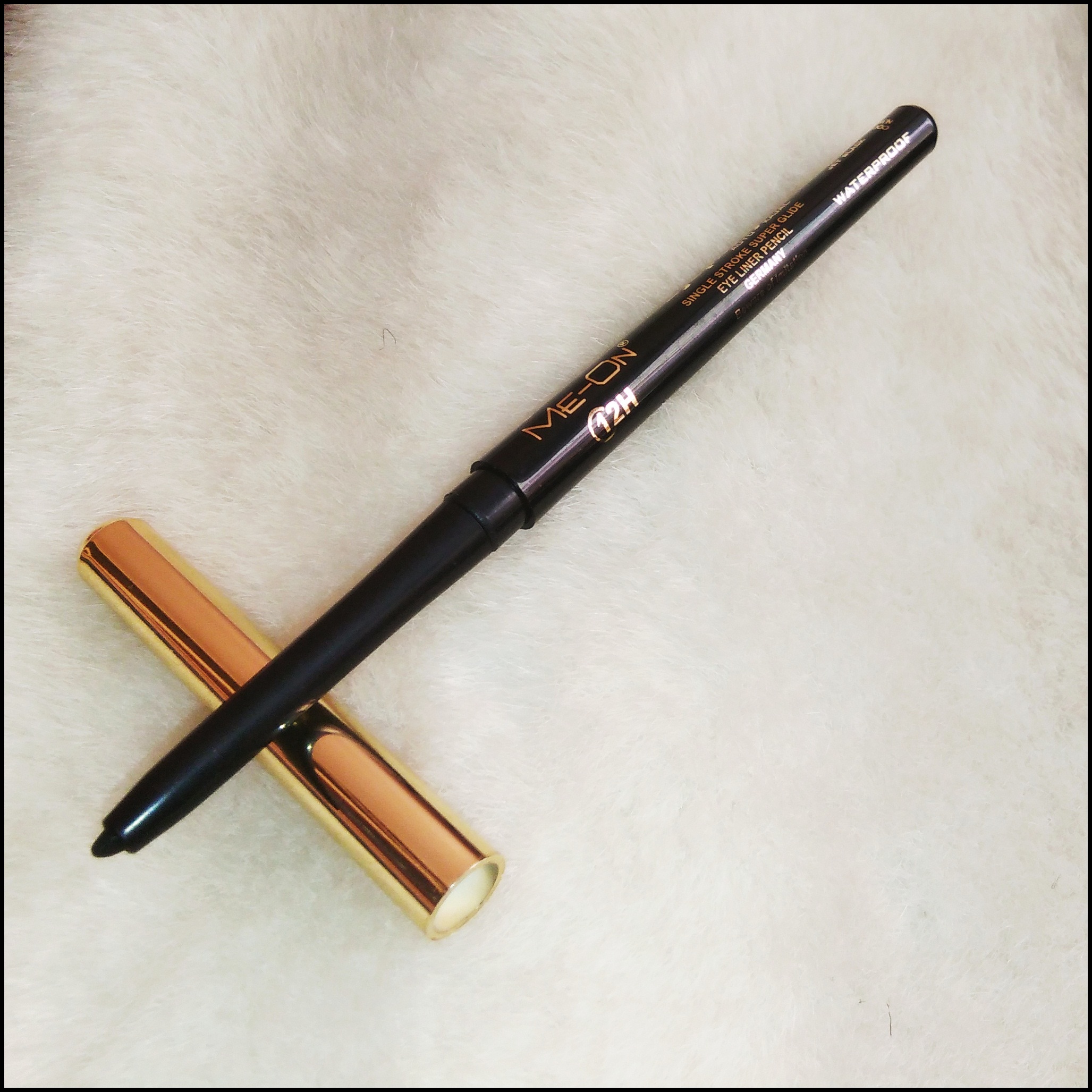 Color: Jet Black
Finish: Matte
Me-On Eyepnotyz Auto Kajal Pencil
Me-On Eyepnotyz Auto Kajal Pencil Review
Rather than calling this my experience, I wanted to call it my mother's experience because she puts on Kajals wherever she goes and bought it for herself. I have oily eyes and my Kajal always smudges and doesn't look good on me according to me, so I stay away from them. When my mother applied Me-On Eyepnotyz Auto Kajal Pencil for the first time, she was overall happy with the packaging, the color, the application quality and staying power but when she came back home, she had red irritated eyes. Since she went to a party with high lighting, we completely ignored the Kajal factor and considered lighting to be the cause.
She then applied this Kajal after around a week to attend another event and the same thing happened. We couldn't realize the cause even then and the same thing happened for the third time. Each time she would apply this Kajal, her eyes would badly sting and become red, itchy and irritating. She realized it herself that whatever was causing this problem to her was nothing but this Kajal but I wasn't too sure of my mum's complaint. I thought she is aging and there maybe an infection in her eye which is unable to bear eye cosmetics. I asked her to consult a doctor and get a check-up done but everything was fine according to the doctor. It was clear that this Kajal wasn't suiting my mum and she immediately stopped using it after then.
Before posting her very negative review on this blog, I wanted to do complete justice to this product. I didn't want to say bad things about it without trying it myself even though what happened to my mother was in front of me.
I decided to give it a try and one fine morning went ahead and applied it to my eyes. It glides on effortlessly and has a jet black color that stays waterproof and smudge-proof but if you ask me the staying power of my eyes, I cannot answer this. I can't believe how my mum bore the irritation it caused for three freaking times.
For the first two hours, I was completely normal and happy inside that this Kajal is not bad. I thought maybe it just didn't work for my mum but after around 2.5 hours, my eyes started to tear up so badly and turned completely red. It was really uncomfortable and I immediately took it off. The irritation continued for the next four hours and I had a terrible time wiping my tears and flushing my eyes with lukewarm water.
Me-On Eyepnotyz Auto Kajal Pencil | Swatch of a single swipe
I must say that the staying power was good until I put it on and the swatch on my hands as well as on my eyes was waterproof and smudge-proof but these factors just do not matter at all if this product is harming your eyes.
Smudge Free? Yes
Waterproof? Yes
Staying Power? Long enough (no one can keep it up for 12h I guess)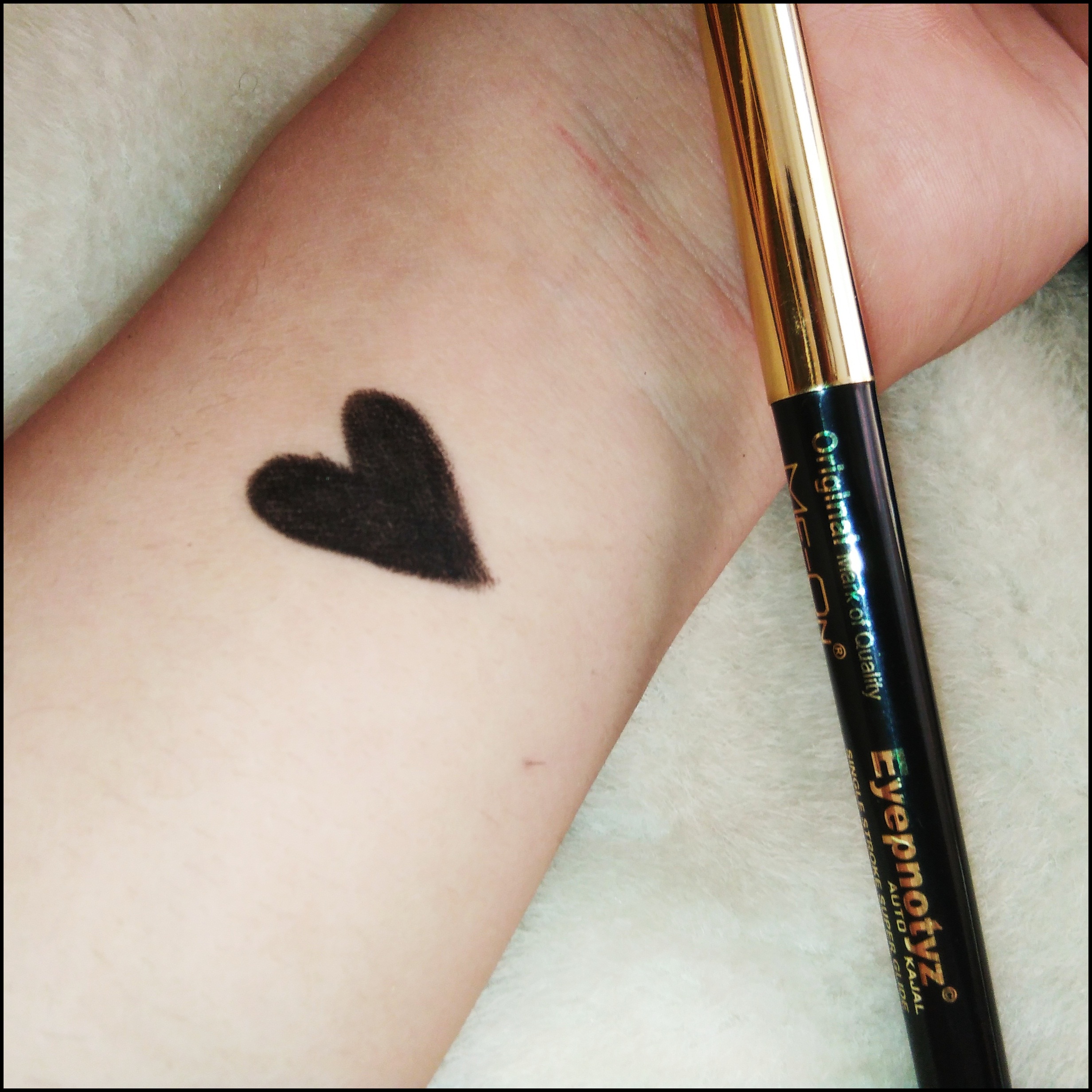 Swatch of double swipes
Pros of Me-On Eyepnotyz Auto Kajal Pencil
Waterproof and smudge-proof
Long staying power
Jet black color
Glides on effortlessly
Easily available
Affordable
Good for girls having oily lids
Cons of Me-On Eyepnotyz Auto Kajal Pencil
No MRP
No shelf life
No ingredients list
Cheap packaging
Stings eyes really badly
Causes irritation and redness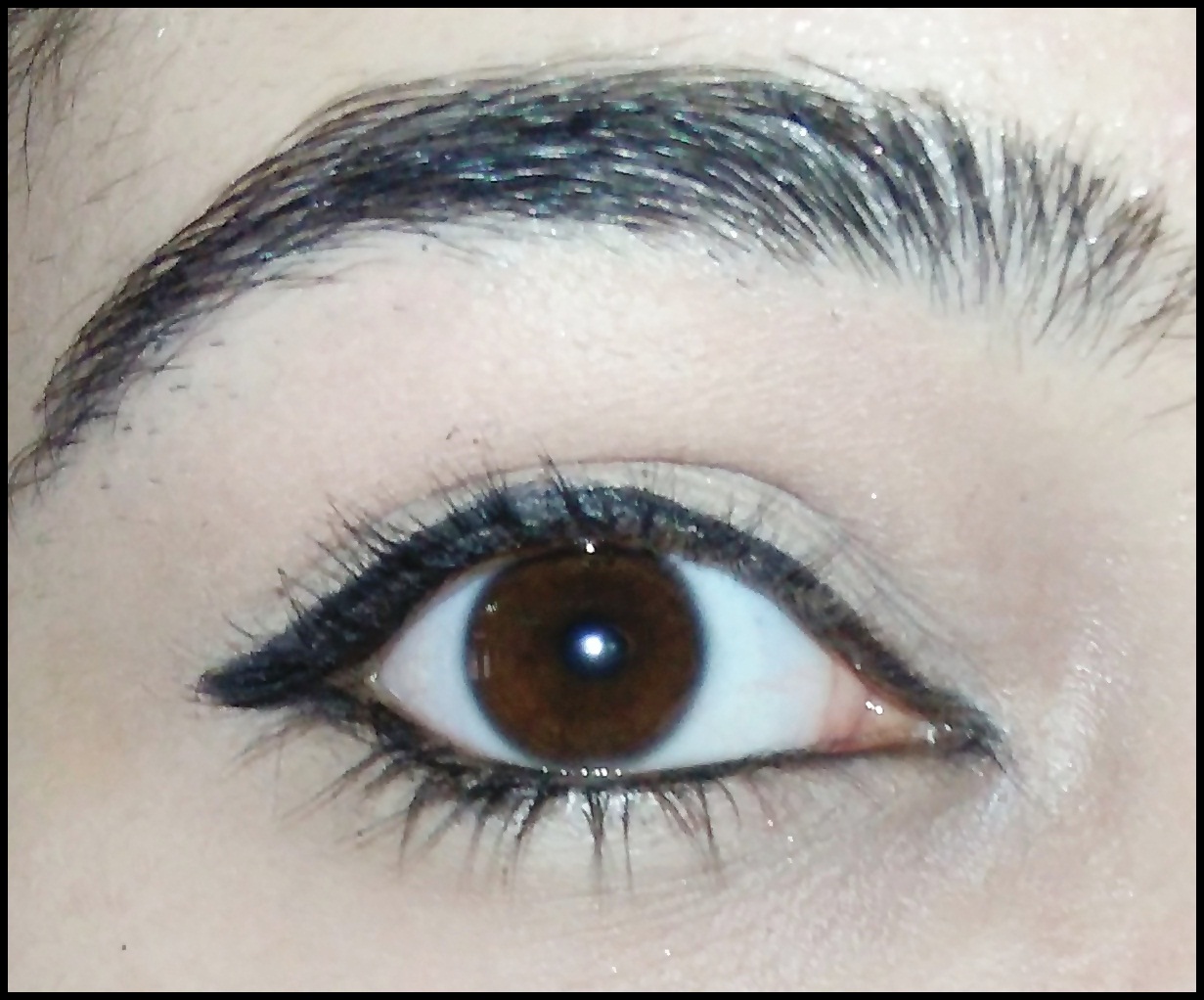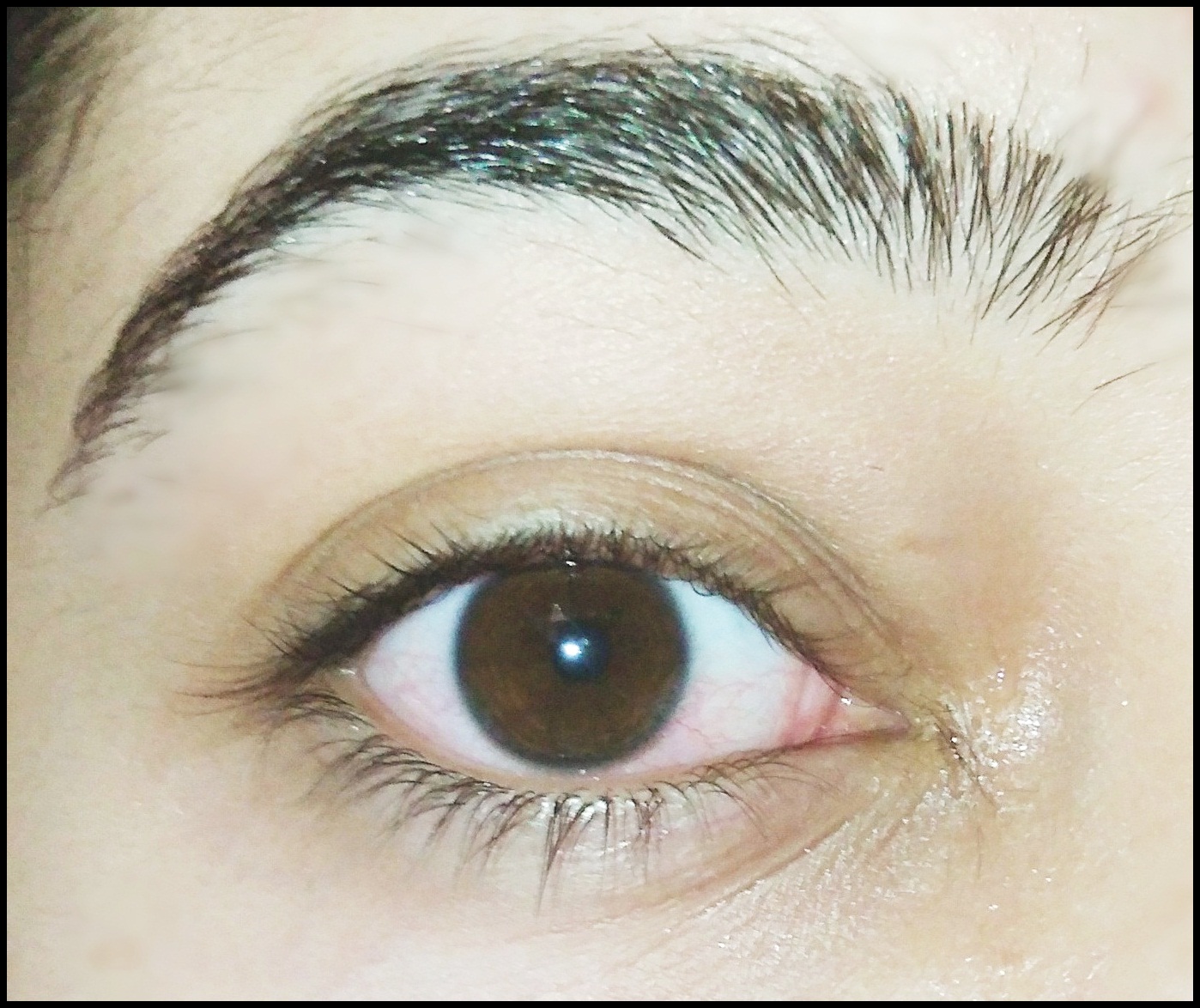 Reduced redness after four hours which allowed me to take this picture
Will I repurchase or recommend Me-On Eyepnotyz Auto Kajal Pencil? Is it worth the price?
The answer to all these questions is a big NO!
My Ratings: 0/5 (Even though the color and staying power is good, I cannot give them any stars because of the pain we went through due to it)
Related Posts
Me-On Eyepnotyz Auto Kajal Pencil
Final Word
I know a lot of you may think that maybe I got a duplicate product but it isn't so. The pencil has the original mark of quality and advises us to be beware of imitation but even if its fake or not, I cannot think of trying it. There are certain other amazing Kajals in the market out there in the same range and I would definitely buy any of those, but this one: NEVER!