In this recipe, I will be preparing a nice and unique face mask out of a coconut. As we already know, coconuts are loaded with antioxidants and nutrients. And it's quite helpful for your skin, especially during this time of the year.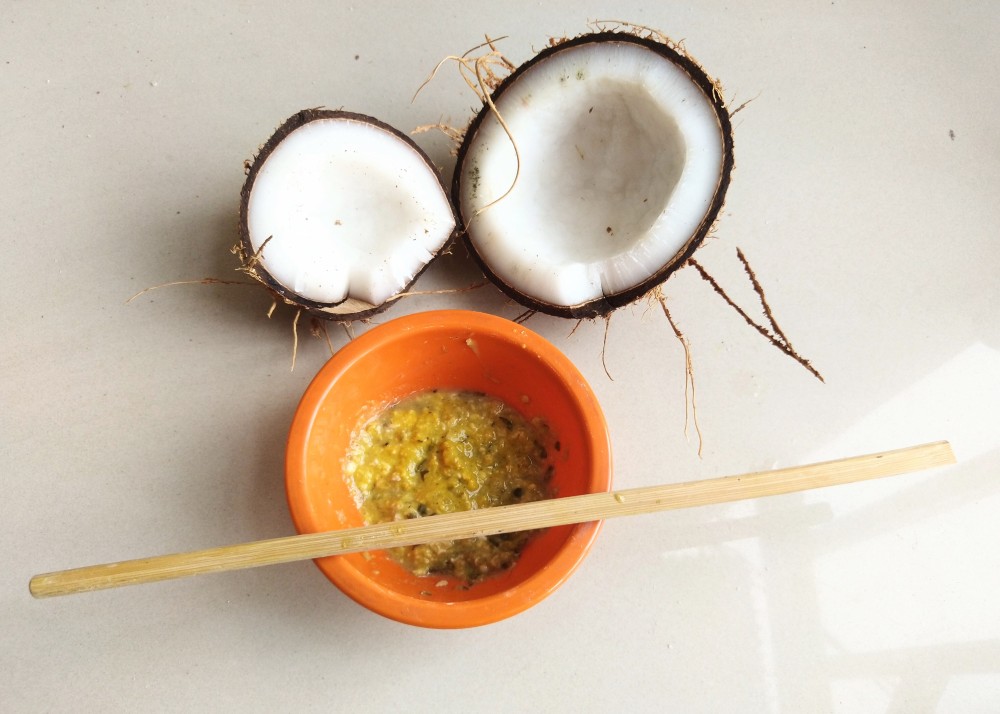 So I thought, why not prepare a homemade coconut face mask out of simple ingredients easily available in the kitchen.
Benefits of the Coconut Face Mask
Fights dryness and flaky skin
Gives you youthful and healthy skin
Reverses the effects caused by tanning
Works great for oily skin
Calms skin irritation
What you Need
Fresh coconut paste: 1-2 tablespoons
Turmeric powder: half to 1 tablespoon
Aloe vera gel: 3-4 tablespoons
Honey: half tablespoons
Lemon juice: 5-8 drops (you can skip it if you think it's too much for the skin)
Benefits of the Ingredients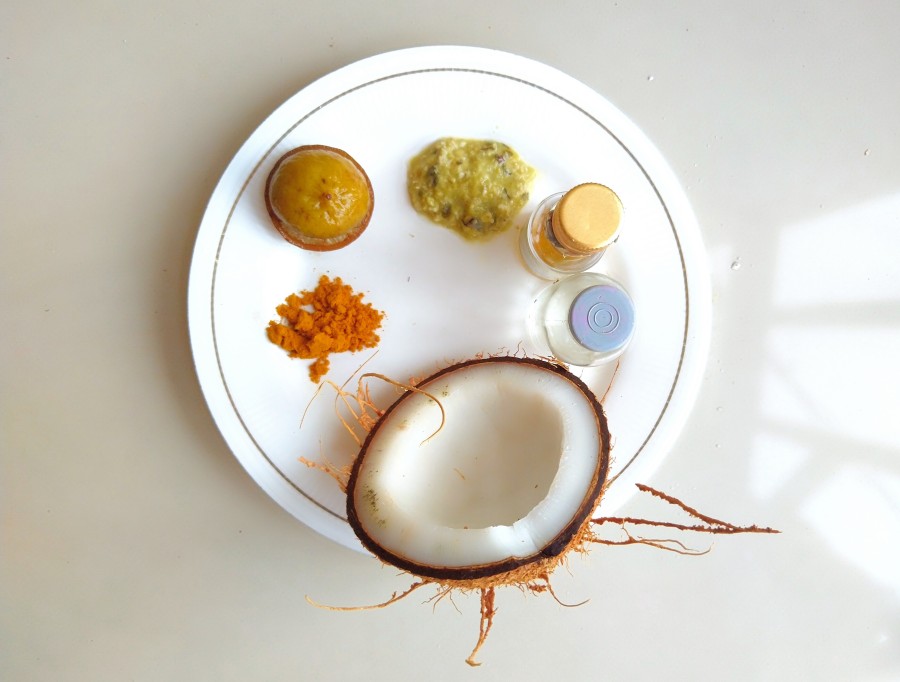 Coconut paste
It acts as a moisturizer for the skin and prevents dryness while deeply nourishing it. Furthermore, coconut reduces inflammation and contains antibacterial properties.
Turmeric powder
This golden power is loaded with antioxidants, antiseptic and antibiotic properties that help reduce inflammations. Turmeric can treat different skin problems like acne, pimples, and wounds. It is a natural brightener that gives a golden glow to your skin and evens it out.
Aloe Vera gel
Needless to say, it helps in fighting against bacterial, viral, and fungal diseases along with reducing irritation. Aloe vera fights against acne, blemishes, and breakouts and reduces the scars left by them. If you have puffy eyes and dark circles, it can effectively treat them. Aloe vera also has exfoliating properties.
Honey
It is a mild moisturizer for the skin that enhances its healing process. Honey is the most treasured skin remedy for all skin types. This sweet potion acts as a humectant for the skin without making it greasy.
Lemon juice
It's a great source of vitamin C and fiber. Lemon juice helps in maintaining skin quality and prevents skin damage and premature aging. Lemon juice has citric acid and vitamin C that helps to give a natural glow to the skin. It draws out excessive oil on the skin. Lemon juice also helps in skin brightening.
How to Prepare the Coconut Face Mask?
Take a bowl with coconut paste, add turmeric powder or paste, whatever is available to you.
Add aloe vera gel, honey and a few drops of lemon juice to it.
Give it a nice stir and let the ingredients mix up thoroughly.
Your coconut mask is ready to use!
How and when to apply this mask?
Apply this coconut face mask on your face and neck evenly.
Let it dry for 20-30 minutes and then with slow circular motions, massage your skin and wash it off properly with normal or lukewarm water.
If your skin feels dry, top it up with some moisturizer. But I guess you don't need one after using this mask.
Apply this face mask whenever you need deep skin pampering.
Finally, I would say that this coconut face pack or mask is highly recommended and followed by my mom and most of my friends. I usually use it in winter, or any time my skin demands instant hydration.
If you liked the face mask recipe and going to try it, I'll be happy to know your experience in the comments.
More Face Mask Recipes