To reduce dullness, we need to use hydrating moisturizers. Have you heard of the use of chia seeds for skin?
If you haven't heard anything about it, you are at the right place because today's DIY recipe is all about chia seed face mask and their skin benefits.
So, without further ado, let's dig into the ingredients first.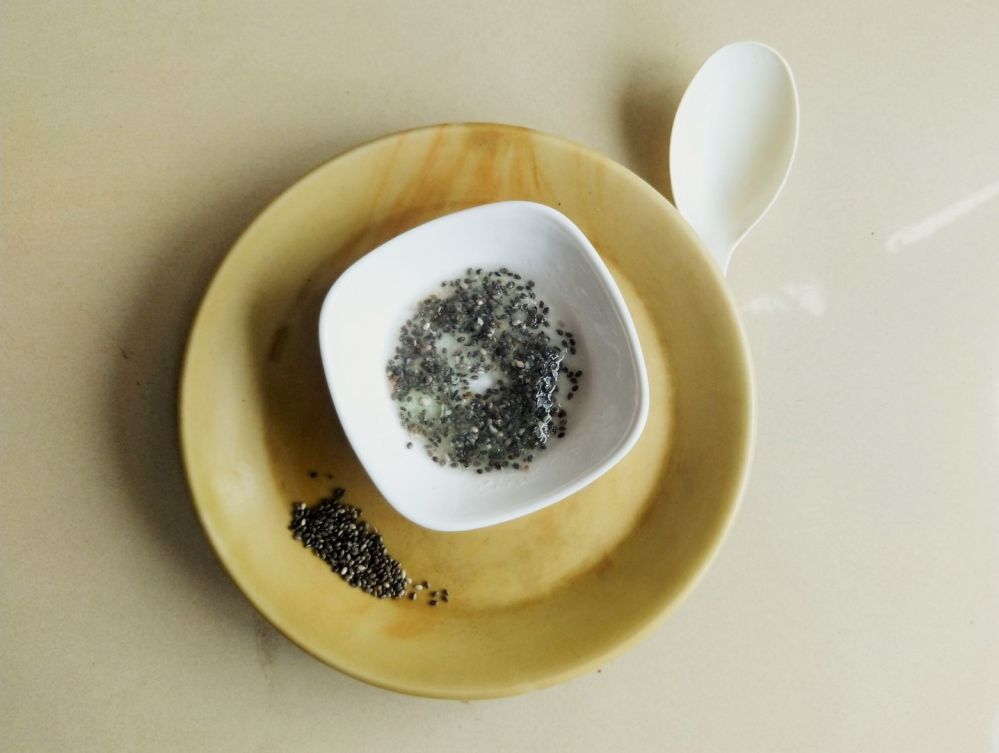 What you need
Chia seeds: 1 tbsp
Honey: 1/2 tbsp
Aloe vera gel: 1/2 tbsp
Coconut milk: 1/2 tbsp
Sweet almond or olive oil: 1/2 tbsp (of either one of them)
Lemon juice: 8-10 drops or 1 tbsp
Orange peel powder: 1 tbsp
Glycerine: 4 drops (optional)
Vitamin E: 1 capsule (optional)
Benefits of the ingredients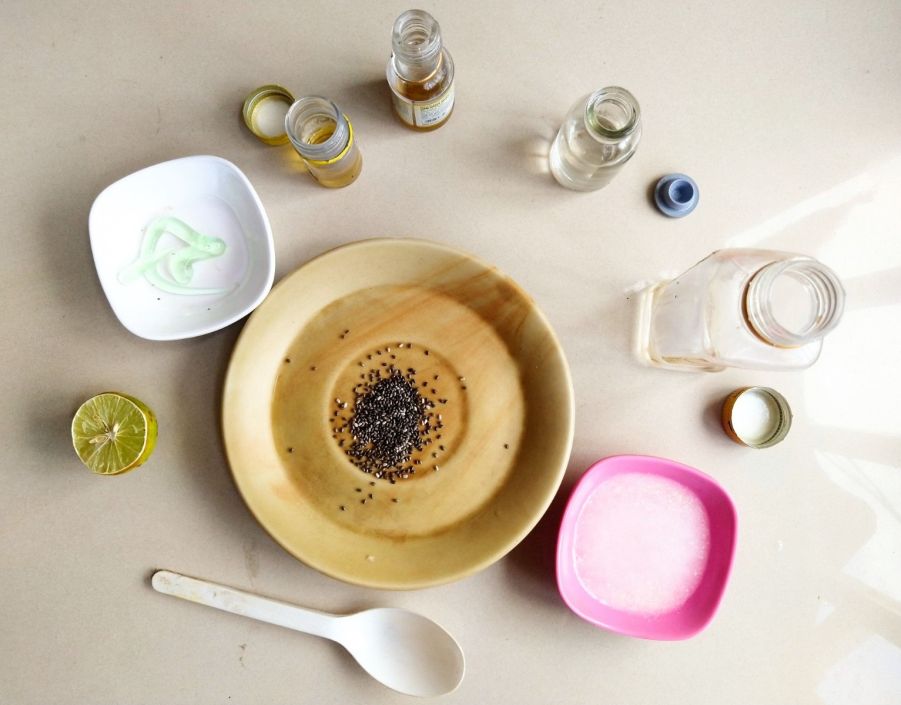 Chia seeds
Chia seeds are loaded with dietary fibers, calcium, and protein. It is loaded with iron, potassium, and omega 3 fatty acids, and antioxidants too. It's a great source of minerals and other essential nutrients.
Chia seeds help in enhancing skin, hair, and nails. You must be wondering – are chia seeds good for your skin? The answer is yes. They keep the skin healthy and maintains its tautness and firmness. With regular use, your skin clarifies and becomes radiant.
Chia seeds are popularly used in lightweight but hydrating moisturizers, eye serums, and body oils.
Honey
It treats skin problems like acne, eczema, etc. It's a great moisturizer for the skin. Honey contains antibacterial properties that help to reduce acne formation and breakouts. It boosts the skin healing process and reduces dark spots and scars. It works as a deep moisturizer.
Aloe vera gel
This water-loaded leaf helps to prevent skin dryness and keeps it moisturized. Also, it helps reduce the signs of aging. Moreover, it soothes acne and breakouts and the scars left by them. You can use aloe vera in almost any face mask, cream, or gel you make since it's every-skin-type friendly.
Coconut milk
It deeply nourishes the skin. With high levels of antioxidants and vitamin C and E, it maintains the skin's elasticity. Due to its nourishing properties, it soothes dry and irritated skin. Regular use of coconut milk on the skin leaves it firm and taut.
Sweet almond oil
Being rich emollient, it protects the skin from dehydration. Sweet almond oil is rich in antioxidants, vitamin E and A, omega 3 fatty acids, and zinc. It evens out skin tone and improves complexion. Retinoids present in the oil improves cell turnover to reduce acne. Go for a cold-pressed sweet almond oil for optimal benefits.
Lemon juice
Lemon juice is a great source of vitamin C and fiber. Not only does it makes a punchy lemonade, but it also enhances your skin. Lemon juice contains vitamin C that helps give skin a natural glow. It's loaded with antioxidants that work on premature aging and skin damage. For acne, lemon works as an astringent due to high pH to decrease inflammation and oiliness.  Always do a patch test before using lemon juice on your skin. Also, avoid using it before going outside in the sun.
Orange peel powder
It contains vitamin C that boosts collagen and elastin in the skin. Since it's in powder form, it does the job of buffing away dead skin. For oily skin, it unclogs and cleanses pores to reduce sebum production. Along with improving complexion, it works on saggy skin.
Glycerin
This sweet-tasting liquid provides hydration to the skin. It softens the skin naturally and helps prevent skin conditions like eczema, psoriasis, etc.
Vitamin E
It helps to treat acne scars and reduces pigmentations. This powerful and hydrating vitamin keeps the skin soft and smooth.
Steps to prepare Chia Seed face mask
Take a small bowl.
Add chia seeds, honey, and aloe vera gel.
Add coconut milk and sweet almond oil to it, mix them well. After that, add drops of lemon juice and orange peel powder.
Finally, add drops of glycerin and a capsule of vitamin E, or you can use vitamin E oil that would work too.
Mix all the ingredients well, and your chia seed facial mask is ready to use.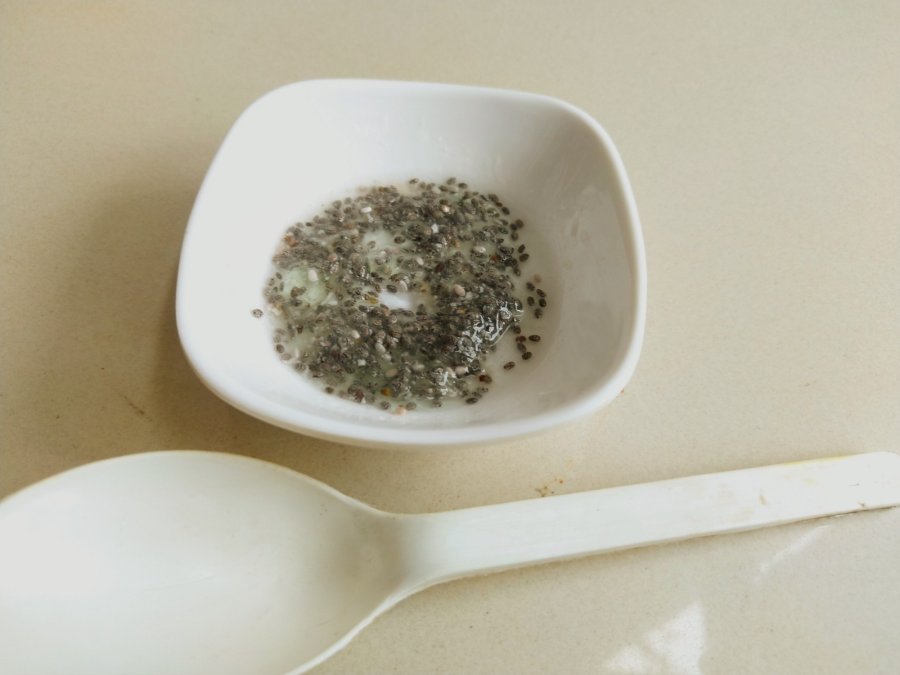 How to apply it?
Take a thick paste and apply it thoroughly over your cleansed face and neck. Let it sit for at least 20 minutes. Wash it off with normal water. If your skin feels dry, then apply moisturizer, but generally, this mask makes your skin soft and naturally moisturized. It is ideal for applying this face mask in the evening or night to reap maximum hydration.
Frequently Asked Questions on Chia Seed Facial Mask
Here, I'll try to answer some questions regarding the use of chia seed for the skin.
Can chia seeds improve skin?
Yes, since they contain healthy fatty acids and antioxidants, chia seeds improve your skin's appearance.
Does chia seeds benefit hair?
They are loaded with protein, fiber, calcium, magnesium, and omega 3 fatty acids, strengthening hair and improving thickness and shine with regular use. A weekly hair mask made of chia seeds does wonder for hair.
How to use chia seeds for glowing skin?
You can consume them as well as make a face mask. The best way is to consume one tablespoon of chia seeds every day and a weekly chia seed face mask.
How to eat chia seeds for skin?
You can have them raw, toss them into smoothies, soups, or salads. Since they are tasteless, you can be experimental and add them to any dish. Chia seed smoothie is my absolute favorite, though.
Do chia seeds cause acne or pimples?
Not at all. In contrast, chia seeds help reduce them since they contain healthy fat that does not contribute to breakouts.
Now we know that chia seeds have tremendous benefits for the skin. Finally, I recommend that my readers try this mask these days because this is the best face mask for this season. Try this chia seeds face mask out, and let me know how it works for your skin.
Related Posts