Finding the best foundations for rosacea and sensitive skin is quite challenging when your skin gets red and irritated easily. It seems like nothing suits you at all.
People with these skin types often look for a foundation that is not too heavy and provides good coverage. Blending these two qualities in a foundation is often tough, but as always, we have got your back.
In this post, we bring you some foundations that are specially formulated for sensitive and rosacea skin. They are curated, especially to ensure that they do not irritate your skin or contribute to flare-ups. These foundations are breathable and lightweight and stay for an incredibly long time.
So, let's dive in!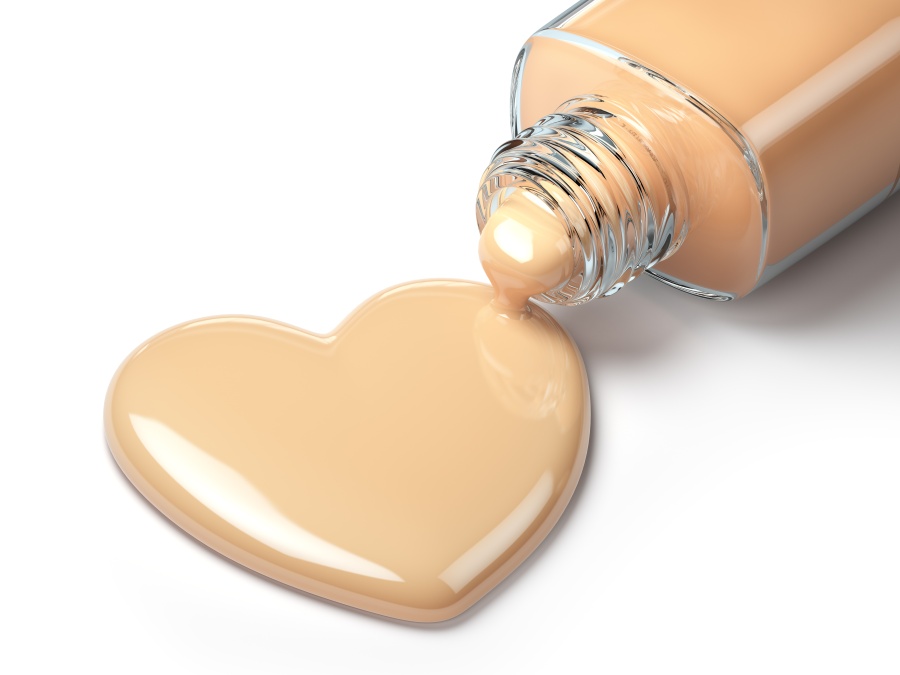 What is Rosacea?
Before we begin with our recommendations of foundations for rosacea, it is crucial to understand what this skin condition actually is.
Rosacea is a disorder that is quite common, and it is related to issues with the skin on the face. It can cause redness on the cheeks, around the nose area, chin and forehead. The redness can intensify with time, and the blood vessels on your face become visible, making you feel less confident.
Rosacea, in some cases, can also appear on the neck, chest, and back. It can cause a serious effect on the eyes and can make them irritated or watery, or even bloodshot. People who are affected with rosacea are also prone to acne. Their acne is often solid bumps or pimples filled with pus. Rosacea can also make your nose swollen or bulbous, and this condition is called rhinophyma.
However, the cause of rosacea is not known, but some aspects of this have been identified. Rosacea can be a reason for the disorders in your neurovascular system. A skin mite known as Demodex can often contribute to this skin condition. According to a recent study, there is a serious connection between rosacea and intestinal or cardiovascular disease.
Now learning so much about this skin condition, I am sure you must have understood why it is so important to choose the right kind of foundation for rosacea.
Foundations For Rosacea & Sensitive Skin
Now that we have seen what rosacea is and what it looks like, let us see some of the best foundations for this skin type. The choice may be difficult, but you will be glad to know that several foundations are made for this skin type.
Clinique Redness Solutions Makeup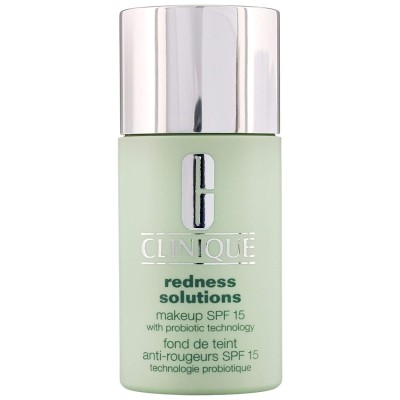 Clinique Redness Solution foundation is enriched with probiotic technology and is specially formulated for all skin types. It is specially curated for rosacea and sensitive skin and, hence, raved foundations.
This foundation is available in six different shades, which is not many but still enough to get your shade. It offers full coverage and feels lightweight.
It contains the bark extracts of Magnolia Grandiflora and has neutralizing pearls as ingredients. Also, it has extracts from mushrooms so that it can calm and soothe the skin.
This foundation is beneficial in reducing redness. This foundation also contains murumuru butter and caffeine, which claim to protect the skin's moisture barrier. Using this foundation also improves the health of the skin.
It is also enriched with sun protection to protect from the sun's harmful UVA and UVB rays. This foundation also is enriched with Vitamin E.
The best thing about this foundation is that it is non-allergenic and is 100% fragrance-free.
Dermablend Flawless Creator Full Coverage Foundation with SPF 25
We all have different skin, and all our relationships are different from the foundation we use. We all have different skin concerns and therefore have different needs for our foundation.
It is enriched with SPF 25, which offers decent sun protection.
Dermablend flawless creator is a new concept that comes in the form of concentrated foundation drops. It might be different from the traditional foundation you use, but it is a great foundation for sensitive skin.
This liquid foundation is oil-free and water-resistant, and they can customize it the way they want their foundation to look. Along with offering full coverage, it is super lightweight and has a silky formula that gives the skin a very natural finish.
It is available in 20 different shades and covers hyperpigmentation, redness, and any other imperfection.
Almay Clear Complexion Liquid Foundation
Buy it on: Amazon Ulta Walmart
This foundation is a boon for sensitive skin, which also suffers from breakouts. It is available in 14 different shades to match every skin tone.
Since this foundation is formulated with salicylic acid, users say that it enables them to minimize and treat acne and blemishes. It is a lightweight foundation that controls shine and also minimizes pores.
Salicylic acid also kills the acne-causing germs that might cause acne flare-ups, thereby preventing further acne breakouts and quelling redness.
The foundation has a soft matte finish, and it is also buildable without being cakey or flaky.
The formula is not irritating and is dermatologically tested. One of the best things about this foundation, according to the reviews, is that it is cruelty-free, fragrance-free, non-comedogenic, and hypoallergenic.
Physicians Formula The Healthy Foundation
This is what we call a healthy foundation. It is probably one of the best drugstore foundations for rosacea out there because it is long-wearing and breathable. It gives a satin finish and also provides buildable coverage.
The texture is lightweight, and it does not appear cakey or flaky. This foundation is infused with the goodness of Vitamins A, C, and E and also with Hyaluronic Acid.
The foundation works great for every skin, and some say it is more of skincare than makeup. It is also infused with SPF 20 and contains titanium dioxide, which means that it does provide a broad spectrum of sun protection.
Users like that this foundation is hypoallergenic, and it is not made out of any harsh ingredients.
Jane Iredale Liquid Minerals A Foundation
It is a mineral foundation, and naturally, it is a high-end yet effective foundation for rosacea. Its texture is more like a serum, and it provides medium to sheer coverage.
It is specially formulated to provide hydration, and it also minimizes the appearance of fine lines, wrinkles, and the first signs of aging. It also reduces pores and evens out skin tone.
The formula is long-lasting, and there is also less transfer. Since it is a mineral foundation, it is packed with active ingredients that allow the product to perform its magic. It is curated to deliver natural beauty and also uplift the health of the skin.
Pacifica Beauty Alight Clean Cool Foundation
This foundation gives a seemingly smooth, flawless photo finish with just one application. This is what makes it one of the best drugstore foundations for rosacea.
It has a huge variety of 30 different shades, which allows you to find the perfect match for your skin.
The coverage is buildable, and you get medium to full coverage.
As per the reviews, it covers the pores and gives a smooth finish. Also, it is long-lasting and stays for a really long time. Another thing that makes its users happy is free from parabens, silicones, alcohol, talc, and other harmful things that can cause skin damage.
Besides being oil-free and matte, it is 100% vegan and cruelty-free.
Oxygenetix Oxygenating Foundation for Rosacea
This is a little different from your regular traditional foundation. It is a good alternative for your regular foundation and is healthy, breathable, and it makes you feel beautiful.
It was originally curated for burn patients, which is exactly why it is one of the best drugstore foundations for rosacea. The foundation does not contain any occlusive oils, fragrance, water, and preservatives.
Users claim that it contains aloe vera that gives a very soothing feel to the skin. SPF 25 in it is a bonus. The foundation is proved to be safe for people with sensitive skin, and reviews also claim that they can use it even after laser resurfacing or any other skin treatment.
This formula is very lightweight and is very breathable, and it also stays for a reasonably good amount of time.
NYX PROFESSIONAL MAKEUP Can't Stop Won't Stop Full Coverage
This foundation is super pigmented and is lightweight and waterproof. It is long-lasting, and it gives full coverage as well. This is why it is one of the best drugstore foundations for rosacea.
It has a liquid texture and comes in a variety of 45 shades. The finish is super mattifying, and it controls the shine for almost the entire day.
Users claim that this foundation does not transfer and does not make the skin dry but gives a smooth finish.
It is cruelty-free and is also hypoallergenic. NYX foundation is also suitable for all skin types.
Clinique Women's Beyond Perfecting Foundation + Concealer
This is a powder foundation, and it also acts as a concealer. It camouflages the redness quite well, which makes this a recommended foundation for rosacea-prone skin.
It gives a very natural and flawless look. They say that this foundation provides the illusion of perfect skin and makes it look real but better.
Since it is in powder form, it covers the face quite thoroughly and does not even clog pores. The coverage is quite natural and works well for dark circles.
This foundation stays for the entire day, and it also does not give their skin that heavy feeling. It lets it breathe comfortably, and also, the color does not fade, thereby withstanding all the weather conditions.
Another great thing about this is that it is suitable for all skin types.
Neutrogena Healthy Skin Liquid Makeup Foundation
As we all know, Neutrogena is a well-known brand that manufactures a wide range of skincare products. Considering this, it makes one of the best drugstore foundations for rosacea.
The foundation from Neutrogena is enriched with vitamin E that provides beautiful coverage and also a healthy glow. Post application, it gives a very natural finish and makes their skin look young.
It also comes with the broad spectrum of SPF 20, which protects the skin from UVA and UVB rays of the sun.
The foundation is lightweight and non-greasy, which glides smoothly, giving a perfect and flawless finish.
It is suitable for all skin types, and the silky formula is enriched with the goodness of Vitamin E. It is a mineral foundation, and users say that it makes their skin look like they have no makeup at all.
Juice Beauty Phyto-Pigments Flawless Serum Foundation
This foundation is a skin-perfecting one, and it flawlessly covers all the imperfections, including redness and wrinkles. This is why it is considered to be one of the best drugstore foundations for rosacea.
It has an inbuilt age-defying serum that covers and conceals any signs of aging. Being plant-derived, it also contains phyto-pigments as one of its ingredients.
It is easily blendable and gives a flawless finish, thereby providing a flawless finish. The coverage is easily buildable, and it makes the skin smoother, giving a youthful appearance.
It has 11 different shades to suit every complexion.
This foundation gives a medium to full coverage and is loaded with antioxidants like Vitamin C and E to keep the skin protected.
It has a weightless texture and stays comfortably for a very long time.
E.L.F Cosmetics Flawless Finish
E.L.F is another foundation that gives a flawless finish and is great to conceal the redness caused due to rosacea. This product is the best selling because it is lightweight and oil-free.
This foundation easily blends and gives a semi-matte finish. Users also say that this foundation restores and brightens their complexion and also conceals uneven textures.
There is a wide range of shades available, and it is meant to suit every skin type and tone.
The foundation generally provides sheer coverage, and it gives more like a natural look. Another thing that the users like is that it is vegan and cruelty-free.
Estee Lauder Double Wear Stay-in-Place Makeup
Check Price on Amazon Saks Fifth Avenue
The foundation is meant to stay for a very long period on the skin. It essentially provides 15-hour long makeup wear.
Users claim that applying this foundation makes their skin look natural and flawless. Also, it tackles well with the redness caused by rosacea-prone skin. They say that this foundation can endure extreme weather conditions and still stay intact without fading or smudging.
A good thing about this foundation is that it does not oxidize, and it does not transfer. Also, it has flawless coverage.
According to the reviews, this foundation is extremely lightweight and super comfortable to wear. Ladies in their 60s swear by its formula.
It gives a semi-matte finish and lasts all day without any touch-ups.
Covergirl + Olay Advanced Radiance Age-Defying Foundation
This foundation is known to provide a youthful appearance and restore the skin instantly. It is a liquid foundation, and it provides a very smooth and flawless finish.
Users claim that this foundation improves their appearance and reduces fine lines, wrinkles, and aging signs. They also say that it conceals and covers any imperfections.
The foundation is available in various shades, and it is known to provide a radiant finish to all skin types.
The Covergirl foundation is a perfect foundation for beginners, and it provides a smooth base for all the products to glide on smoothly.
The foundation is curated with advanced techniques, and it is mainly a treatment to cure and treat skin issues like redness and sensitivity.
Skin2Spirit Better'n Your Skin Organic Liquid Foundation
This foundation is purely natural and is organic, and it does as it claims. This foundation claims to cover redness and conceal every imperfection, and it does the same.
It provides a smooth and silky finish to the skin. The foundation is extremely lightweight, and it makes the skin look very natural like you are not wearing any makeup at all.
It is non-toxic and conceals any imperfections caused by rosacea-prone skin. As per the reviews, the coverage is buildable. With vitamin E, titanium dioxide, and zinc oxide, it has an inbuilt SPF for sun protection.
It gives a dewy finish, which looks incredibly natural and makes the skin endure a very natural glow.
There is also an extensive range of shades to suit every skin type and make it look the best.
Things To Consider Before Buying A Foundation For Rosacea
Rosacea is a medical condition, and if you want to look into the underlying issue, you might want to visit a physician to treat it. But for the time being, makeup can improve your skin's appearance instantly and improve your self-confidence.
Here we bring some tips that can be very helpful while trying to choose the right kind of foundation.
Understand the concern of your skin
When you have rosacea, then your skin is ultra-sensitive. You might want to invest in a foundation for your rosacea-prone skin that does not have any comedogenic ingredients in them.
Also, make sure to stay away from ingredients that can flare up your skin condition and increase rosacea symptoms. Avoid ingredients like talc, mineral oil, fragrance, and alcohol. These are particularly irritants that can irritate your skin further. Look for active ingredients that can calm and soothe your skin condition.
When you have a skin condition like rosacea, it is best to stay away from foundations with too many ingredients. The more the ingredients, the more likely it is going to aggravate your skin condition.
So look for foundations that have fewer ingredients and include the ingredients that will benefit your skin rather than make it worse.
Chose the right type and texture
When you are suffering from rosacea or extremely sensitive skin, you might want to avoid a very heavy-duty foundation. Look for a foundation for rosacea that is lightweight and oil-free. This will offer you the right amount of coverage you need, and you can also build it if you want.
You can also start with tinted moisturizers if you are unsure of foundations. However, it will be best if you stick to mineral foundations. This is because mineral foundations are natural and are less aggressive on your skin. These foundations also contain SPF, which is a must for people with rosacea and sensitive skin. It acts as a skin shield and protects your skin from environmental or inflammatory factors.
Take the help of a makeup advisor
If you are a beginner in this makeup field and suffer from an aggravating skin condition, it is best to consult a makeup professional. They will provide the right assistance and enable you to choose the right kind of foundation for your skin.
They will help you determine your tones and undertones and will also tell you about the ingredients. This will enable you to choose the best foundation for rosacea and sensitive skin without aggravating your skin much. The makeup artist will also impart knowledge about the texture and finish that will suit your skin type.
How To Cover The Redness Caused by Rosacea?
Rosacea is a chronic skin condition, and battling it out every day is not easy. It is struggling to find the right treatment and the best foundation for sensitive skin to cover the redness and calm the irritation. Along with this, other rosacea symptoms, such as acne, seem to appear everywhere.
So in this article about rosacea, we bring to you some tips by which you can conceal the redness and make your skin look flawless rather than blotchy and patchy.
The first and foremost tip will be to start cleaning your face gently. Rosacea is a very aggravating skin condition, so if you use harsh and chemical cleansers, then the chances are that it will only make your condition worse. Choose a mild cleanser that has glycerin or ceramides in it. These ingredients will enable you to remove the impurities and provide moisture, thereby keeping the cheek's redness.
The next tip is to use an SPF. When you have rosacea, you surely can cover it up with makeup, but honestly, the sun is not your friend. UV rays are one of the biggest rosacea triggers, and they can aggravate your skin condition even more. Therefore choose a physical sunscreen containing white tea or chamomile, which are non-comedogenic and provide a broad spectrum of sun protection to avoid flushed skin.
Use a yellow base under your foundation. While green seems to be the ideal shade to conceal any skin imperfections, a yellow-tinted color corrector can cancel out the redness. If you don't do this, then you will appear strange, probably greenish or grayish.
If you are looking for a more natural look, then go for a mineral foundation for rosacea. This is because it provides instant coverage and is quite easy to use. These makeup products make your skin look flawless and do not allow the products to settle in your problem areas. They also provide decent buildable coverage so that you can conceal your redness.
If your skin is sensitive and you have acne, then you might want to use a foundation that is lightweight and non-comedogenic. Also, try to keep your makeup application uniform. If you are trying a different texture to conceal your redness and it does not coincide with the rest of your face, you will attract more attention to your red areas.
Makeup Tricks For Redness And Sensitivity Caused By Rosacea
Rosacea has several therapies and treatments available to cure it. But that can get expensive and even time-consuming. So until you figure out what to do with your skin in the long-term, here are some quick fixes that you can do to cover it up for the time being.
Here are some makeup tips that can help you cover your rosacea with makeup to make your skin look flawless.
Always start with a clean base. The first and foremost thing before applying any makeup is to start with a clean, fresh base. Cleanse your face and moisturize it, and always do your skincare before you do makeup. Treat your skin gently, and do not apply any extravagant force or pressure involving tugging and pulling the skin.
Do not use too many products on the skin. When you have a serious skin condition like rosacea, it is advised to use fewer products as possible. The more the products, the more the chances are to aggravate your skin.
A base of green tint is always a good choice for a base. It corrects the redness and sometimes also provides sun protection. As the sun can aggravate rosacea, using a good SPF is always a wise choice.
Apply your foundation and concealer lightly. Do not use too much pressure or do not drag down the makeup products as the bacteria from the foundation brushes, sponges, or your fingers can transfer into your skin, aggravating your skin concern. Also, be sure to blend well and do not forget your neck and chest. Use an oil-free and liquid mineral foundation for this purpose.
People who have moderate to severe rosacea can also use color correctors to conceal the redness and any other imperfections that might occur due to it. Try a yellow shade first to conceal the problem areas, and you can go in with other colors to match your skin's natural shade. Color correctors can cover any skin imperfections and can give you that flawless look.
If you are thinking about powdering your face to set your makeup, then use mineral powder. You can dust a yellow-tinted mineral powder over your face to get that protective shield and tone down the redness you get due to rosacea.
Blush is often a huge question, and for this, there are several mineral blushes available. However, since your skin will already be flushed due to your aggravating condition, be sure to go easy on the blush. There are several blushes formulated especially for sensitive skin, and also be sure to use anti-bacterial brushes.
Go for gentle and subtle eye makeup. You should take special care of your eyes while doing the eye makeup. If you have ocular rosacea, then you should use products that are dermatologically tested and are hypoallergenic. Look for neutral colors, mineral powder eye shadows, and also use mascaras and eyeliners that do not involve excessive rubbing, tugging, or pulling the eye.
It is always advisable to go for neutral lip color. This is because your skin is naturally flushed due to rosacea, and concealing might not always help redness. On top of this, if you use bold colors, especially red, it might enhance your skin's redness.
Ingredients To Avoid For Rosacea
When you are suffering from rosacea, you should choose your ingredients very carefully. Here is a list of ingredients that you should definitely avoid if you are suffering from rosacea.
Alcohol
Propylene Glycol
Witch Hazel
Fragrance
Menthol
Eucalyptus Oil
Camphor
Peppermint
Natural Ways To Take Care Of Rosacea Affected Skin
Rosacea is a very inflammatory skin condition. Therefore the treatment of this skin condition should be very gentle. The best way to take care of rosacea-affected skin is through natural remedies. Here are five natural remedies that can help you to take care of your rosacea-affected skin.
Use green tea. Green tea is anti-inflammatory, and it can reduce the redness of your skin. What you can do is brew a cup of green tea like usual and leave it for about 30-45 minutes in the refrigerator. After this, soak a clean cloth in the cup and massage it onto your face and the affected areas. For best results, do this remedy regularly.
Aloe Vera is another natural remedy that can treat the redness and probably reduce it. Aloe Vera is a miracle plant, and it is a very trusted remedy for all skin conditions. You can use fresh aloe vera juice directly from the plant, or you can buy the gel from the market and apply it gently to the affected areas. Wash it off with cold water after some time. Do this every day for the best results.
Honey is also an effective home remedy for the skin. It is a humectant, and it is very effective in reducing the redness of the skin. Honey provides moisture and can also lock in the moisture into your skin. Use honey on your face and massage it for about it 30 minutes. Rinse it off with lukewarm water for the best results.
Essential oils also can be very effective in treating the redness caused due to rosacea. Oils such as rose, lavender, jasmine, tea tree can be great choices. You can add 2-3 drops into coconut oil or almond oil and massage it gently onto the affected areas. Do this before sleeping for the best results.
SPF is an essential factor when it comes to rosacea. Sun can be very aggravating to rosacea, and sunburn is the worst thing that can happen to people to rosacea. Using a good SPF can keep the rashes and redness away.
Conclusion
Rosacea is a severe condition, and it might require medical treatment to cure it. But you can definitely cover it with make-up for the time being. Therefore, we shared with you some foundations that are friendly for people with rosacea. We also recommended some home remedies that you can try to keep the redness away.