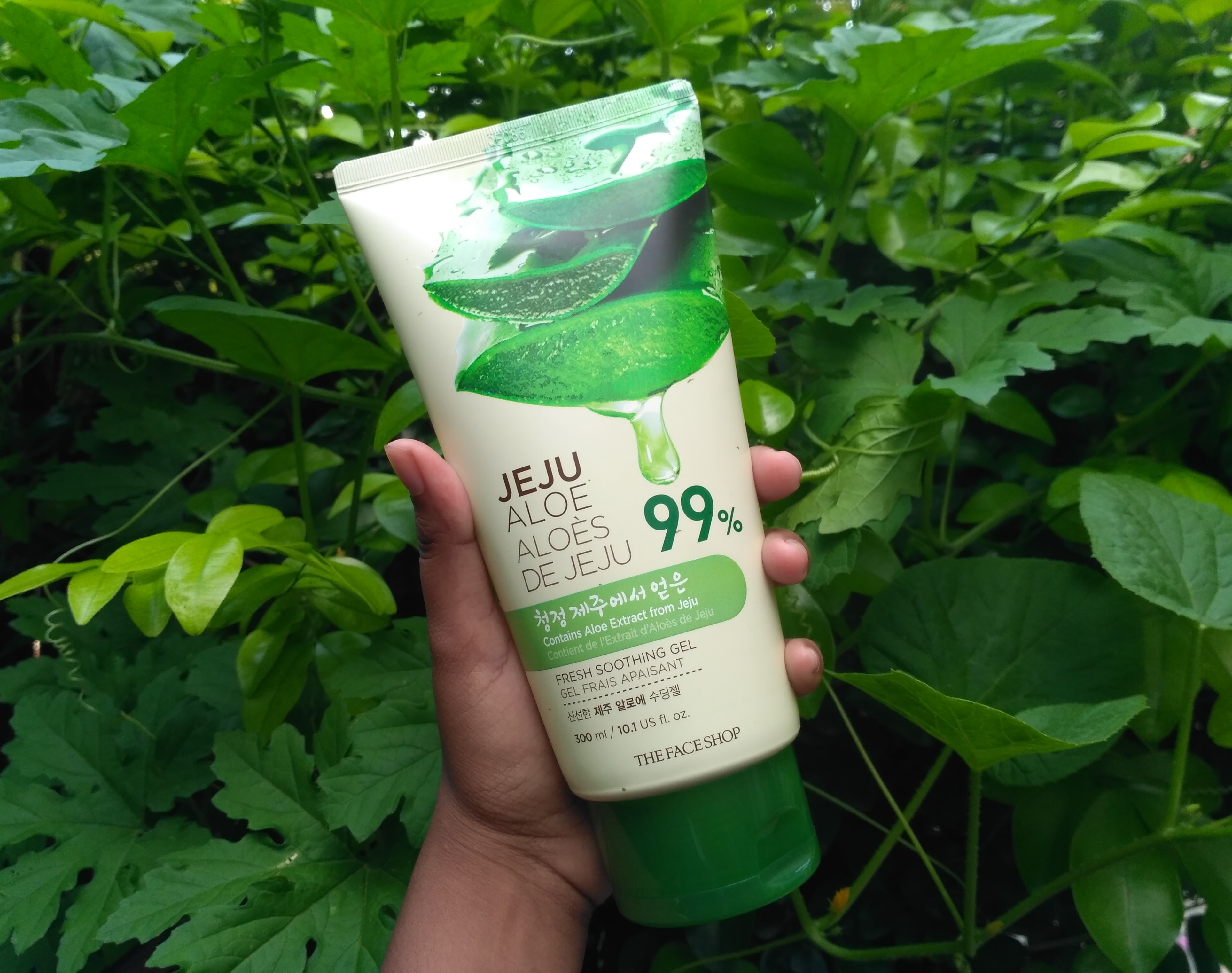 Today, I'll be reviewing about something that you all oily skinned beauties are going to love.
No, not just oily skin but every skin type beauty will love this.
I'm going to share my experience with The Face Shop Jeju Aloe Fresh Soothing Gel which I've been using for a few weeks.
It's an aloe vera gel made of 99% aloe leaf extract and suits my oily skin. If you don't know already, The Face Shop is a Korean skincare brand. Not to mention it focuses on chemical-free skincare products. 
Without further delay, keep scrolling to check out the review! 🙂
About the product: A moisture-rich soothing gel that contains aloe extract from Jeju Island, the Jeju Aloe Fresh Soothing Gel by Faceshop is your ultimate beauty bet. Enriched with the goodness of Aloe barb adenosis, this gel from Jeju Island is made up of 99% aloe leaf extract and also contains 9 ingredients extracted from natural plants. Known for its medicinal properties, aloe vera moisturizes and softens the skin. It can also be used as a face mask or for after-sun care. Its formula immediately relieves irritated skin after sun exposure.
The rich essence of Aloe moisturizes and softens the skin.
This product is dermatologically tested.
Created to give you a gorgeous Korean beauty experience.
Price: Rs. 390/- for 300ml | It's available in tub packaging now.
Readers like you help keep The Beautyholic running. When you buy through links on our blog, as an Amazon Associate, we earn from qualifying purchases at no extra cost to you.
Ingredients: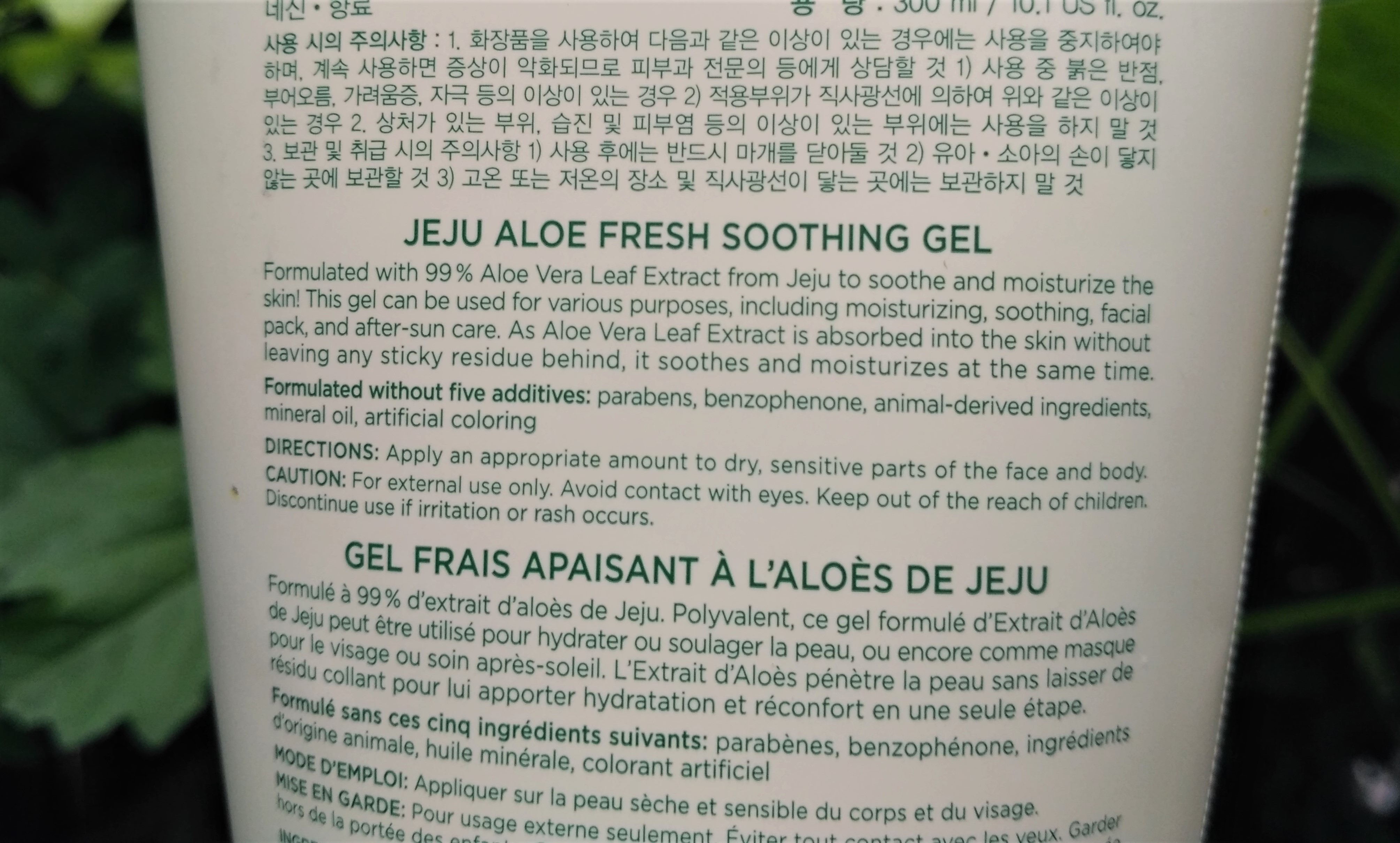 The Face Shop Jeju Aloe Fresh Soothing Gel Review
The Face Shop Jeju Aloe Fresh Soothing Gel comes in two kinds of packaging, one is a tub and the other is in the tube. So for many reasons, I picked the tube one as it was not that bulky and travel-friendly.
It comes in a green delicate plastic tube with a green flip-top cap. Overall packaging is just too charming!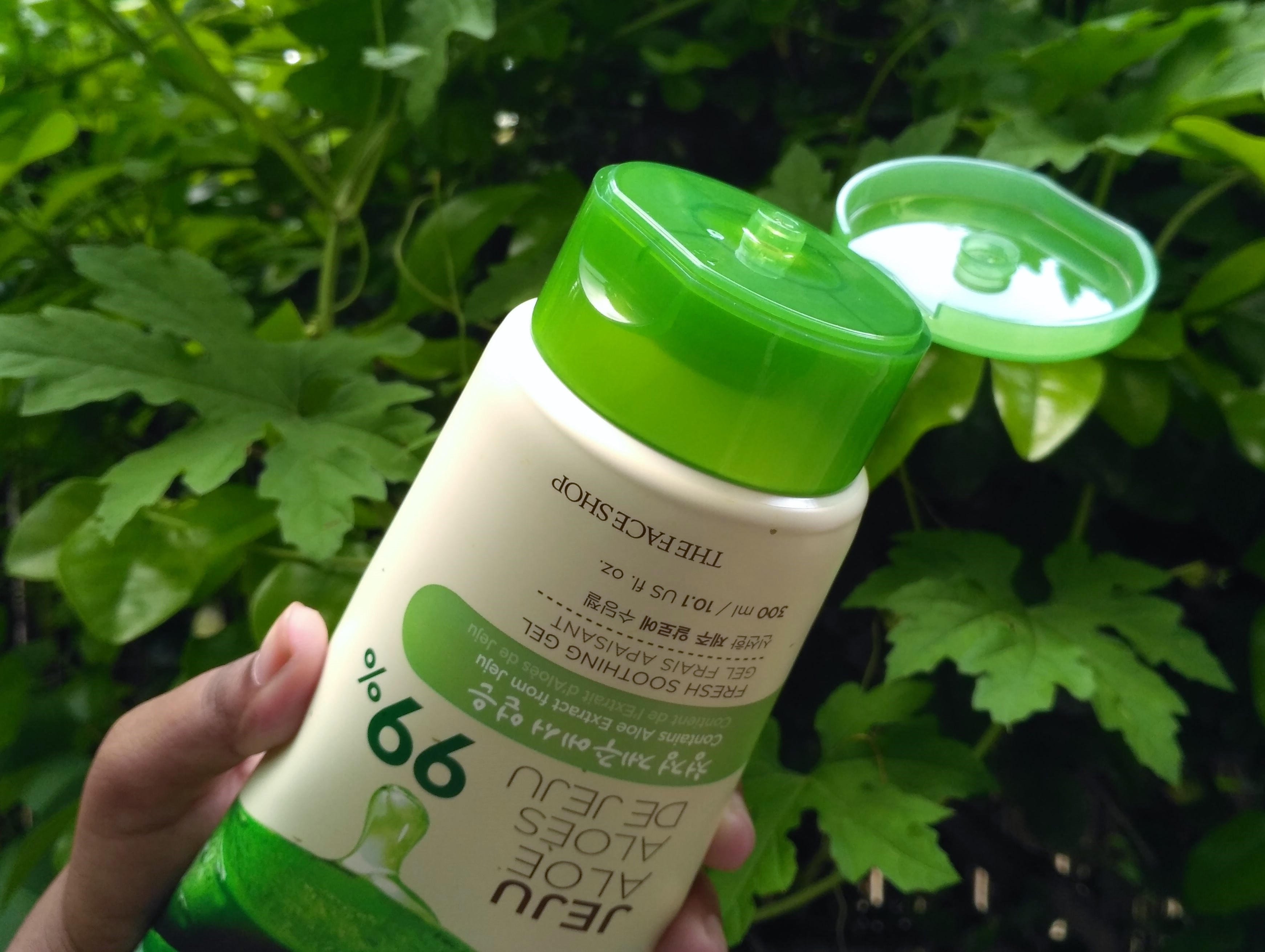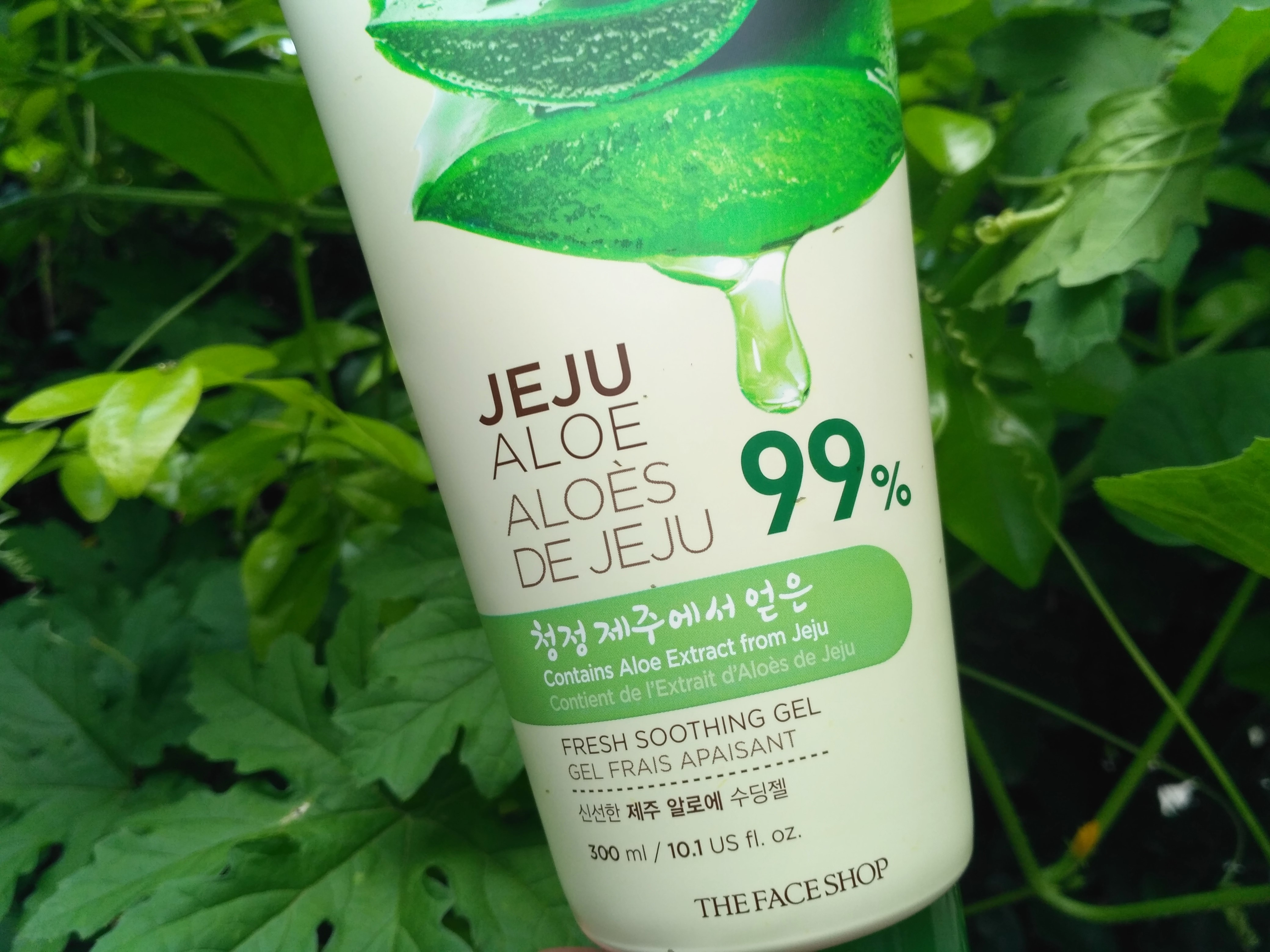 It has a mild whiff of aloe vera which smells pleasant and isn't irritating at all. It's a colorless, watery gel thus, free from artificial coloring.
It is free from five additives: parabens, benzophenones, animal-derived ingredients, mineral oil, and artificial coloring.
I only need a pea-sized amount for my whole face. I apply it generously especially on my pimple areas and it soothes it. Afterward, it gives an impressive cooling sensation to my skin.
Since I'm a regular CTM routine follower, I always use this gel after toning. It glides on skin effortlessly and sinks in within 2-3 minutes. I apply it to my acne/pimples and it calms them.
Because it's an aloe vera gel, it feels sticky when I touch my skin but subsides after a few minutes. However, it's not a big deal as it moisturizes my oily skin without making it greasy. Hence, it refreshes my tired and dull skin.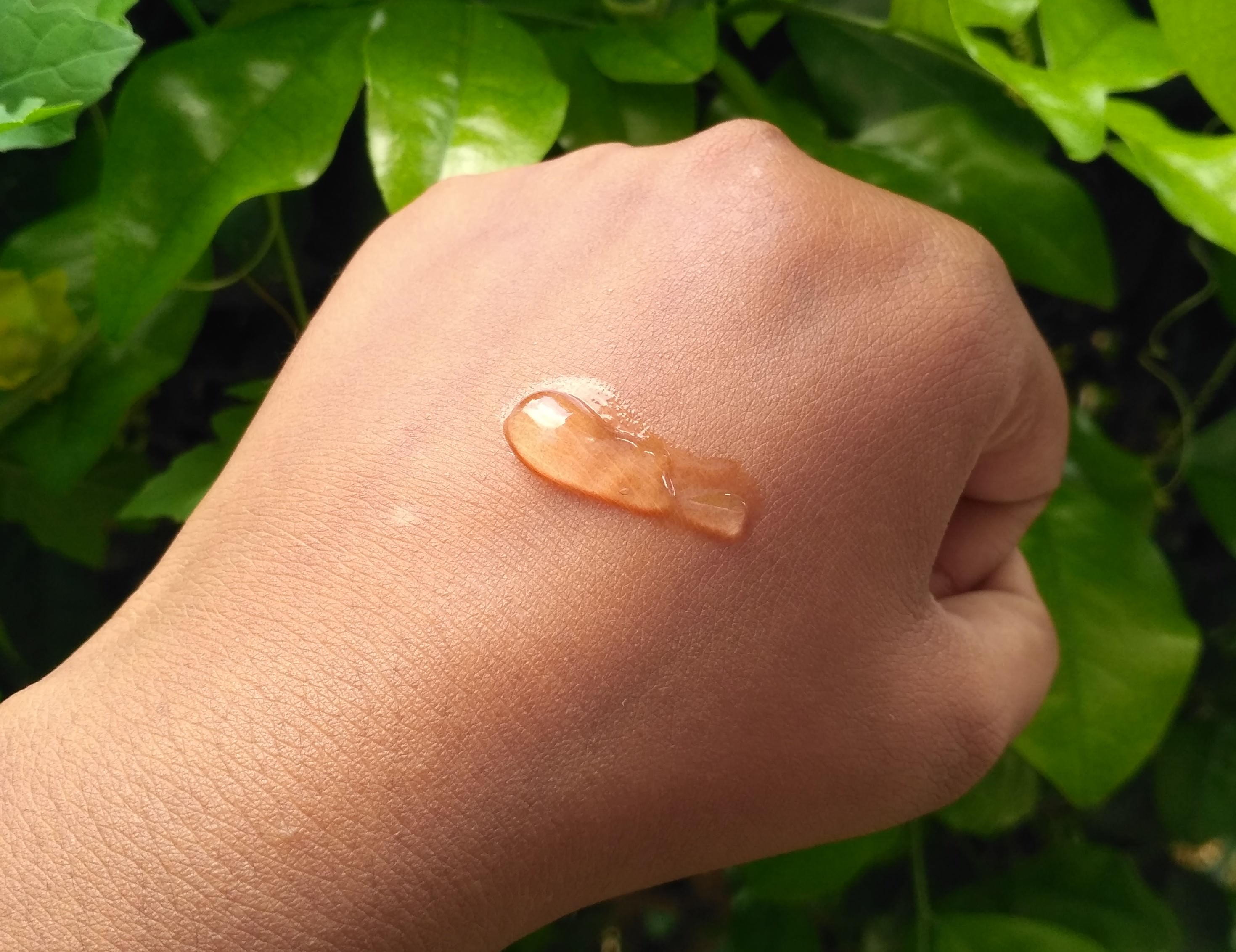 It has not single but many other uses too – for hair care, as a face mask, after-sun care, for mixing in with powder face packs, etc.
It didn't react on my skin or whatsoever as I've used it on my oily and acne-prone skin. Whatever the weather is, undoubtedly this moisturizer always suits my skin and relaxes my skin after using it. Not to mention that it will suit every skin type. Previously I've used some aloe vera gels and as compared to them, this one stood out from the rest. In fact, it didn't clog my pores, unlike other gels. Since this is a huge tube it will last me many more months.
Pros:
Huge quantity at an affordable price

Doesn't contain chemicals and parabens

Free from artificial coloring

Will suit every skin type – dry, oily, combination, sensitive & acne-prone

Is a multi-purpose product
Cons:
Feels sticky after application but subsides after few minutes
The Face Shop Jeju Aloe Fresh Soothing Gel
Final Word
 Overall, The Face Shop Jeju Aloe Fresh Soothing Gel has become my holy grail moisturizer. No doubt, my oily skin loves it, especially in this hot weather when my skin reacts terribly. It soothes my acne and cools down my skin. Since it's a water-based moisturizer, it won't clog pores or cause breakouts. It's my first moisturizer from a Korean brand and it didn't disappoint me a single bit. Furthermore, it will suit every skin type & most of all, it's a multi-purpose product.
Have you used The Face Shop Jeju Aloe Fresh Soothing Gel? Do you like Korean skin care products? Any specific product you'd like to recommend, please share in the comments. ❤