Have you heard about Baobab oil? Well, if you haven't been familiar with it yet, it's one of the most underrated oils that can do wonders to your skin, hair, and overall health.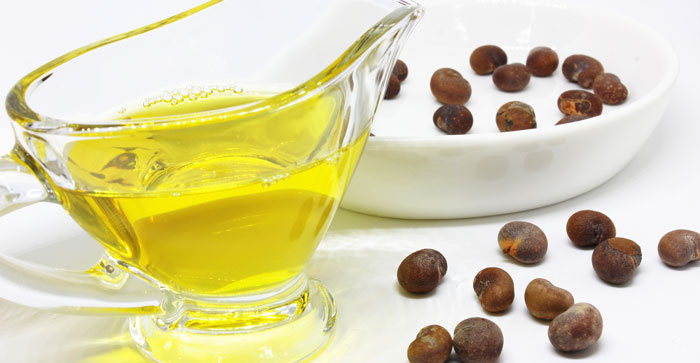 Baobab is a raw fruit from the Baobab tree, which grows in Africa and some parts of Australia. This fruit has one of the highest amounts of antioxidants globally as it contains more than double the antioxidants per gram of pomegranate or blueberries. It also contains a good amount of vitamin C, a skin food, and improves collagen into the skin (collagen is found in most anti-aging creams).
Baobab is a new superfood that has been slowly making its mark on the internet and has numerous beauty benefits. So, let's check out the amazing beauty benefits of baobab oil for skin and hair.
Excellent Skin Repairer
Baobab oil has nourishing ingredients that can heal your skin deeply. As the oil is rich in many different beauty vitamins, it works wonderfully on the skin, which shows early signs of aging. Due to its anti-inflammatory properties, it helps reduce redness and inflammation.
The good news is that even oily skin can use it! It is non-comedogenic (won't clog pores), and also it has a non-greasy texture. You can use Baobab oil for scars or if your skin shows signs of aging or sun-damaged skin or improving your overall skin quality.
Reduces Under-Eye Bags
Undereye bags are usually the result of insufficient sleep, stress, and genetics, but Baobab oil can reduce those unwanted undereye bags.
It also helps to combat dryness around your eyes; you can use it as a natural eye moisturizer. You can make your DIY natural cream by simply adding a few drops of baobab oil to your night cream (keep the moisturizer in a cool place). Use the night cream for healthy, bright eyes!
Works on Stretch Marks
Baobab oil can reduce stretch mark appearance. It also helps to prevent future stretch marks.
Pregnant women can start applying this oil in the early stages of pregnancy to avoid stretch marks. Use liberally on your abdomen, breast, and buttocks as these areas are most prone to stretch marks. Use it twice daily to reap the maximum benefit.
If you're a new mother, your skin still needs a moisturizer to restore its elasticity. Use Baobab oil twice daily to lighten the appearance of stretch marks.
Switch to Baobab Oil for Hair Growth
Frizzy, damaged hair? Baobab oil can fix it. It works wonderfully for hair. Try baobab oil as a hot oil treatment. Perfect for the current weather!
Combine Baobab oil with olive oil and almond oil in an equal ratio.
Pour the oils into a bowl and microwave it for few seconds till it's warm.
Part your hair into sections and apply on the entire scalp and gently massage the oil mixture into your scalp. Now work your way down through the dry ends of your hair.
Wrap a wet, hot towel around your head and leave it on until the towel has cooled or kept for 1-2 hours.
Wash and condition as usual.
Once out of the shower, add a few drops of the mixture into the palm of your hands and rub them together
Apply it only on the end length of your hair to seal in moisture.
Pro Tip: Add a few drops of Baobab oil to your conditioner bottle to get sleek hair.
Get Smoother, Softer Lips
In this weather, lips demand extra hydration and constantly need lip balm. Soothe chapped lips with Baobab oil. It's effective for hydrating and soothing chapped lips.
Make a DIY Baobab Oil Lip Scrub: Add one tablespoon of sugar with few drops of Baobab oil. Mix it well and apply over your lips and gently scrub it with your finger. Wash it off with cold water and enjoy soft kissable lips.
Anti-Aging Benefits
Baobab oil boosts collagen production in the skin as it is loaded with vitamin C. It fights the signs of aging as it helps to increase collagen production in the skin while also promoting the restoration of mature skin.
Try a DIY Baobab Oil Collagen Booster Serum:
In a dark-colored bottle, add one tablespoon baobab oil, one tablespoon argan oil, five drops of lavender essential oil, four drops of lemon essential oil.
If you have any other essential oil available rich in collagen, feel free to add it.
Close the cap tightly and shake gently to ensure all oils are combined.
Apply 3 to 4 drops of this collagen-boosting serum onto your skin just before bedtime for best results.
Use as a Body Moisturizer
As Baobab oil has a non-greasy texture and absorbs well into the skin, you can use it instead of your regular moisturizer. You can use it as a body moisturizer right after a shower.
Take a small amount onto the palms, rub your hands and then apply to your skin. This will ensure the moisture lock into the skin, making it visibly softer and smoother. As the oil is rich in nutrients, it will nourish the skin from the inside and make it more visibly healthy.
Readers like you help keep The Beautyholic running. When you buy through links on our blog, as an Amazon Associate, we earn from qualifying purchases at no extra cost to you.
Here are some best Baobab oils
I hope you liked the beauty benefits of Baobab oil for skin and hair! Undoubtedly, it's a miraculous oil which when incorporated into your beauty regime and brings great results!