Beauty bloggers, you know the drill: be creative every day. But what if you have nothing to write about? What do you do then?
Curious about what other beauty bloggers talk about? Or what topics are popular in the beauty blogging community?
Clearly, to stay in the blogging or social media game, you need to come up with as many blog ideas as you can.
Still, sometimes you'll hit a wall and get stuck in a creativity block.
But now you can stop wondering! I've compiled a list of beauty topics for you to check out. From skincare to nails, there's something for everyone.
Use these popular beauty blog post ideas to help your readers (and attract new ones):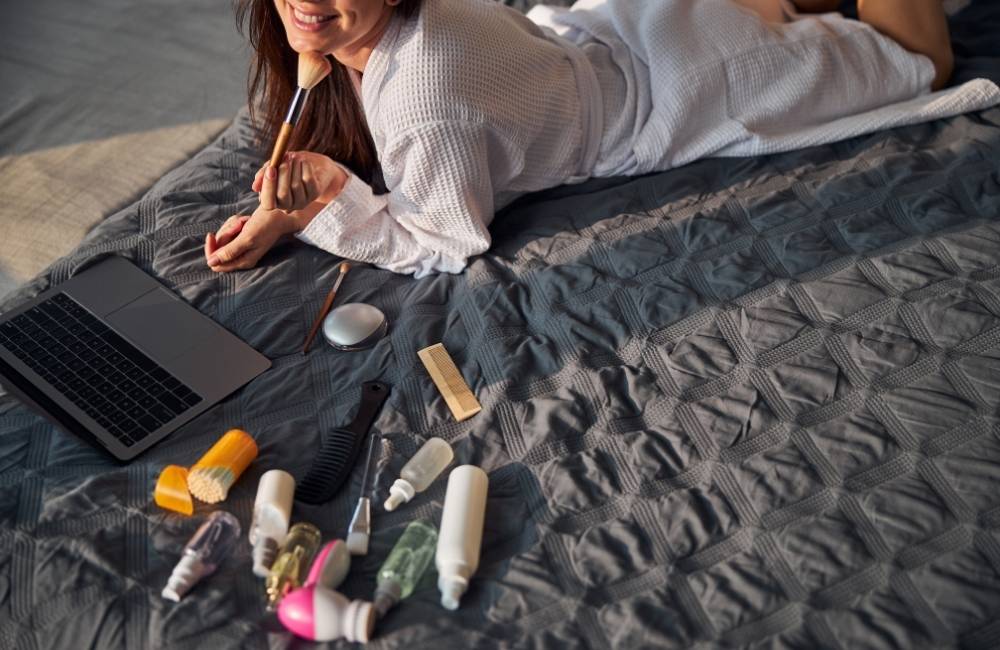 Makeup Blog Post Ideas
Love cosmetics? and writing? If you answered yes to both, then try these blog post topics to attract new readers and delight your returning ones:
Cute nail art ideas for X theme
Nail care tips for gorgeous-looking nails
Is (X product) worth the hype?
Do a step-by-step tutorial on your go-to makeup look
How to achieve a certain type of makeup look (e.g., a smoky eye).
List some fun makeup activities
Offer up your own unique take on the "glitter eyeshadow" look
DIY graphic eyeliner look
Tips for creating the perfect party makeup look
Creating the perfect everyday makeup look
Share your thoughts on the latest makeup trends
Review the latest makeup products on the market
An ultimate guide to highlighting
How to contour like a Kardashian
How to nail the "no makeup" look
Best tips for hiding blemishes and imperfections
The current state of the cosmetics industry
How to create the perfect cat eye
Tips on saving money on cosmetics
How to organize your makeup brushes
List your favorite dupers for (insert brand name)
The best lipstick colors for (insert season)
Top makeup trends of (insert year)
Create a tutorial for a fun and festive makeup look
Introduce your followers to a new hair or makeup artist that you love
A behind-the-scenes look at your makeup routine
How to choose the right makeup products
Do a "get ready with me" post
Do an Instagram makeup challenge
How to achieve a natural makeup look
The best foundations for oily skin
Drugstore makeup dupes
The best concealers for under-eye bags
Budget-friendly makeup brushes
The best drugstore/high-end makeup products
The pros and cons of popular makeup trends
A guide to finding the perfect nude lipstick for your skin tone
The best makeup products for sensitive skin
A beginner's guide to applying false lashes
A roundup of drugstore makeup products that are worth trying.
An in-depth look at a particular brand of makeup (e.g., MAC, NARS, etc.).
DIY makeup product tutorial.
Your best tips and tricks for applying makeup like a pro.
A review of a makeup book or magazine.
A Q&A with a professional makeup artist.
5-minute makeup routine for zoom call
The best waterproof makeup products
Share your makeup wishlist
9 Makeup Tricks to Take Your Look from Day to Night
How to make your foundation last all-day
The best under-eye concealers for tired eyes
Blushes for every skin tone
Highlighters to give you a natural glow
Waterproof makeup products that will withstand the heat and humidity
The best makeup removers for a thorough cleanse
5 lip glosses for a plump and shiny pout
X palettes with all the colors you need
Tips and tricks for applying false lashes
Best way to do your makeup for a job interview
A guide to creating a party-ready look
How to get the perfect beach-ready makeup look
How to figure out your perfect foundation shade
Skincare Blog Post Topics
Whether you're curious about skincare basics or want to delve into more complex topics, there's a topic for you.
An ultimate guide to identifying your skin type
What face masks should you choose for your skin type?
Share your skincare routine and what products you swear by
Share your thoughts on the latest skincare trends
Take readers through your morning skincare routine
Be honest about the skincare products you've tried that just didn't work for you
Must-have products for achieving the perfect complexion
Review the latest skin care products on the market
5 things to look for in your dermatologist
5 best acne-fighting products
Ingredients to look for in a good skincare product?
Your 101 guide to sunscreen
Skincare tips for the 20s, 30s, 40s, 50s, 60s, and beyond
10 great Korean/Japanese/French skincare products
Interview a beauty expert/dermatologist/esthetician/makeup artist
DIY face masks for (insert skin type)
A roundup of the best makeup blogs
Best travel makeup essentials
Beginner's guide to using serums
Review a new skincare book or guide
Pros and cons of various skincare treatments (e.g., facials, microdermabrasion, etc.)
Different skincare ingredients and their benefits
How to deal with specific skincare concerns (e.g., acne, dry skin, etc.)
Share your experience with a particular skincare treatment
Good/bad skincare habits
Benefits of a Healthy Lifestyle on Your Skin
Top Ten Foods that are Terrible for Your Skin
Benefits of a Good Night's Sleep on Your Skin
Different Types of Facials and What They Do
How to Get the Most Out of Your Skincare Routine
Skincare tips every beauty blogger swears by
Choosing the Right Facial Oil for Your Skin Type
The Do's and Don'ts of Exfoliation
The Best Tips for Reducing Dark Circles
How to get clear skin in 30 days
The importance of moisturizing
Benefits of using a humidifier for your skin
Importance of reading skincare labels
How antioxidants can benefit your skin
A step-by-step guide to using a face roller
How to get dewy skin like a celebrity
DIY body wrap
Social media marketing for skincare businesses
Top 5 skincare products that everyone should own
9 beauty mistakes that are aging you
How to get glowing skin on a budget
The benefits of oil cleansing
Get gorgeous skin in just minutes a day
Say goodbye to oily skin with these tips
How to get clear skin without expensive products
How to keep your skin looking young
How to have great skin at any age
How to get dewy skin like a celebrity
Share your before-and-after photos (if you're comfortable doing so!)
Write about your skin concerns and how you tackle them
The dangers of using chemical-based skincare products
What is a good frequency for washing your face?
Hair Blog Post Ideas
Whether it's about products, styles, or just general tips and advice, you'll find something here that inspires you.
Round up your favorite hair products and styles
The current state of the hair industry
Tips for achieving the perfect updo
A roundup of the best hair blogs
Why should you try organic hair products?
How to style your hair for different occasions
How to achieve the perfect at-home blowout
Quick and easy hairstyles for busy mornings
Your guide to good-looking messy buns
New hair products that are making waves
How to do an effortless (certain hairstyle)
How to make a ponytail look more polished
Hairstyles that suit every face shape
Feature guest posts from other hair enthusiasts, stylists, or experts
Share your own hair journey: what products you've tried, what styles you've experimented with, etc.
Write about celebrity hair – who has great hair, and how do they achieve it?
How to take care of specific hair types
How to style your hair for different occasions
Top 3 products for keeping your hair healthy
5 heat-free hairstyles for summer
How to protect your hair from heat damage
Best deep conditioners for your hair
How to prevent your hair from getting greasy
How to Pick the Right Hair Color for Your Skin Tone
Hair type-specific care routines
Recommend great hair stylists in your area
How to choose a haircut that flatters your face shape
How to deal with thinning hair
Date-night hairstyles
How to make your hair smell good
X hair-loving vitamins
How to style your hair in your 20s, 30s, 40s, and 50s
Homemade hair masks for common hair concerns
Taking care of your hair extensions
Collaborate with other hair bloggers
Your favorite hair hacks
Best shampoos for all hair types
Highlights vs. lowlights – what's the difference?
Benefits of Argan Oil for Your Hair
At-home hair treatments for every hair type
Hair care tips for the busy girl on the go
How to get voluminous hair without using any products
The ultimate guide to hair extensions
7 foods that are good for your hair
How can you tell if you have damaged hair?
5 heatless hairstyles for when you're in a rush
How to color your own hair at home
Tutorial on at-home spa
Share your thoughts on wigs – are they a good option for hair loss?
How to wear your hair in a headscarf during the summer
Must-have hair fashion accessories
5 things to look for in your hairstylist
Working out with your hair looking its best
Nail Blog Post Ideas
These nail topics are sure to get your creative juices flowing. So grab a cup of coffee, put your feet up, and get ready to be inspired!
Share your favorite nail products and manicure/pedicure tips
Tips for achieving the perfect at-home pedicure
Your guide to a perfect American manicure
Latest trends in the nail industry
7 ways to add more shine to your nails
X affordable nail brands
X cruelty-free nail brands
X chemical-free nail polish brands
Best nail shades for work
Swatch all of your nail polish collection
Step by step tutorial for at-home manicures
Answer common questions about nails, such as "how do I get my nails to grow?"
Review popular at-home gel nail kits
The Nail File Bible
The Art of Nail Polish: A Comprehensive Guide
Tips for Nails That Glitter
Nail art resources for beginners
A roundup of the best nail art blogs to follow
Tips for choosing the right nail technician
The hottest celebrity nails
Most popular nail shapes
Clever Ways to Add Some pizzazz to Your Nails
How to make your manicure last longer
How to deal with yellow nails.
Best and worst nail trends of the past
Your all-time favorite nail colors
How to Remove Gel Nails at Home
How to express yourself through your nails
Tips for nail art on a budget
Create a fun and festive design for the holidays
Get inspired by your favorite celebrities red carpet manicures
Copy a popular Instagram nail art look
Design a nails-only look using only polish and rhinestones
Create a gradient effect with your favorite colors.
Try out a negative space manicure.
Monthly Content Ideas for Your Beauty Blog
Whether you want to do a monthly roundup of your favorite products, share your latest beauty haul, or simply chat about what's new in the world of beauty, there's always something to write about:
Product reviews
Tutorials
Before and After
Top 10
Q&A
Beauty and the beast – compare and contrast two similar beauty
products to help your readers make a decision
Beauty news
Empties
Get ready with me
Subscription boxes
First impressions
Current favorites
Wish list
Brand focus
Ingredient spotlight
Shopping haul
Why I love/hate
Beauty Post Ideas for Instagram
Film a makeup haul, showing off all of the new products you've recently purchased
Give your followers a peek into your everyday makeup routine
Showcase your collection of makeup products
Share your beauty-related confessions
Get creative with your makeup storage
The best makeup artists on Instagram
Share a photo of your current makeup look
Show off a new hairstyle or color
How to get long-lasting wear out of your makeup
Talk about your favorite (or least favorite) beauty trends
Showcase a before and after transformation
Get creative with your makeup and create an artistic look
Do a fun and festive makeup look for a holiday or special event
Feature a new product that you're loving
Hold a contest on your blog for the best hairstyle of the month (or week)
How to Create Your First Personal Beauty Blog Post
Here are some beauty article ideas for your first post:
Share your favorite beauty products and why you love them
Top tips for looking and feeling your best
Get real about your beauty struggles and insecurities
Write something inspired by your beauty activities
Your favorite beauty hacks and DIYs
A list of your holy grail products
Your favorite beauty-related books, movies, or TV shows
Personal views on the latest beauty trends
Your advice for other women who are struggling with their own beauty
issues
Your thoughts on the current state of the beauty industry
Go-to beauty routine for when you're short on time
Your beauty secrets with your readers
Best tips for looking good on a budget
Your thoughts on natural vs. artificial beauty
Share your favorite beauty-related quotes or poems
Share your tips for styling your hair.
Your own personal definition of beauty
Tips and tricks for staying beautiful as you age
Your best advice for taking care of your skin
Share photos and details of your latest beauty haul
Give your readers a tour of your makeup collection
How do you write killer content for a beauty blog?
The process of writing an article isn't as hard as you might think, and it can be a great way to share your knowledge. Write a killer. Here's how to write a killer beauty blog post.
Find Your Inspiration: what do you want to write about? What are you passionate about? Once you've chosen a topic, writing will be easier.
Relate to Your Reader: write your post with your reader in mind. What will they be interested in? What do they want to know? Put yourself in your audience's shoes when you write your post.
Write an Attention-Grabbing Title: people will see your title first, so make sure it's captivating. Create something that is both eye-catching and informative.
Discuss Different Topics: a great thing about beauty blogs is that you can discuss a variety of topics. Whether you want to write about skincare, makeup, hair, or something else entirely, there's a lot of ground to cover.
Make a List of Beauty Blogs to Follow: if you're not sure where to start, take a look at some of the other beauty blogs out there. Look at what they do right, and learn from their mistakes. In short, taking inspiration from great blogs is a good idea, so don't be shy.
Write Great Content: most importantly, this one. No matter how pretty your blog looks or how clever your title is, if your content isn't good, people won't stick around. Undoubtedly, when you post interesting, informative and engaging stuff people keep coming back for more.
Try Different Blog Posts: you don't have to stick to one type of post. You could try a tutorial, a review, or even a listicle. Mix things up and see what works best for your blog.
Keep writing: the more you write, the better you'll get at it. And who knows? With a little practice, you might just become the next big thing in the beauty blogging world.
How often should you post?
At least once a week, ideally 2-3 times a week. Having fresh content to read helps you maintain a consistent online presence.
Over to you…
There are lots of beauty blog post ideas, but these are some of my favorites.
Remember that there is no one "right" way to blog about beauty. Authenticity is what matters most. So, write about what you're passionate about, and don't be afraid to experiment.
What are you waiting for? Get inspired and start writing your next beauty blog post!