I'm going to review a hair product today which is sulfate-free, cruelty-free, and made of natural ingredients. It's Satthwa Moroccan Argan Oil Shampoo. Most of you have had already heard about this shampoo, right? Because I saw some bloggers rave about this shampoo on Instagram, which made me really thrilled to try it!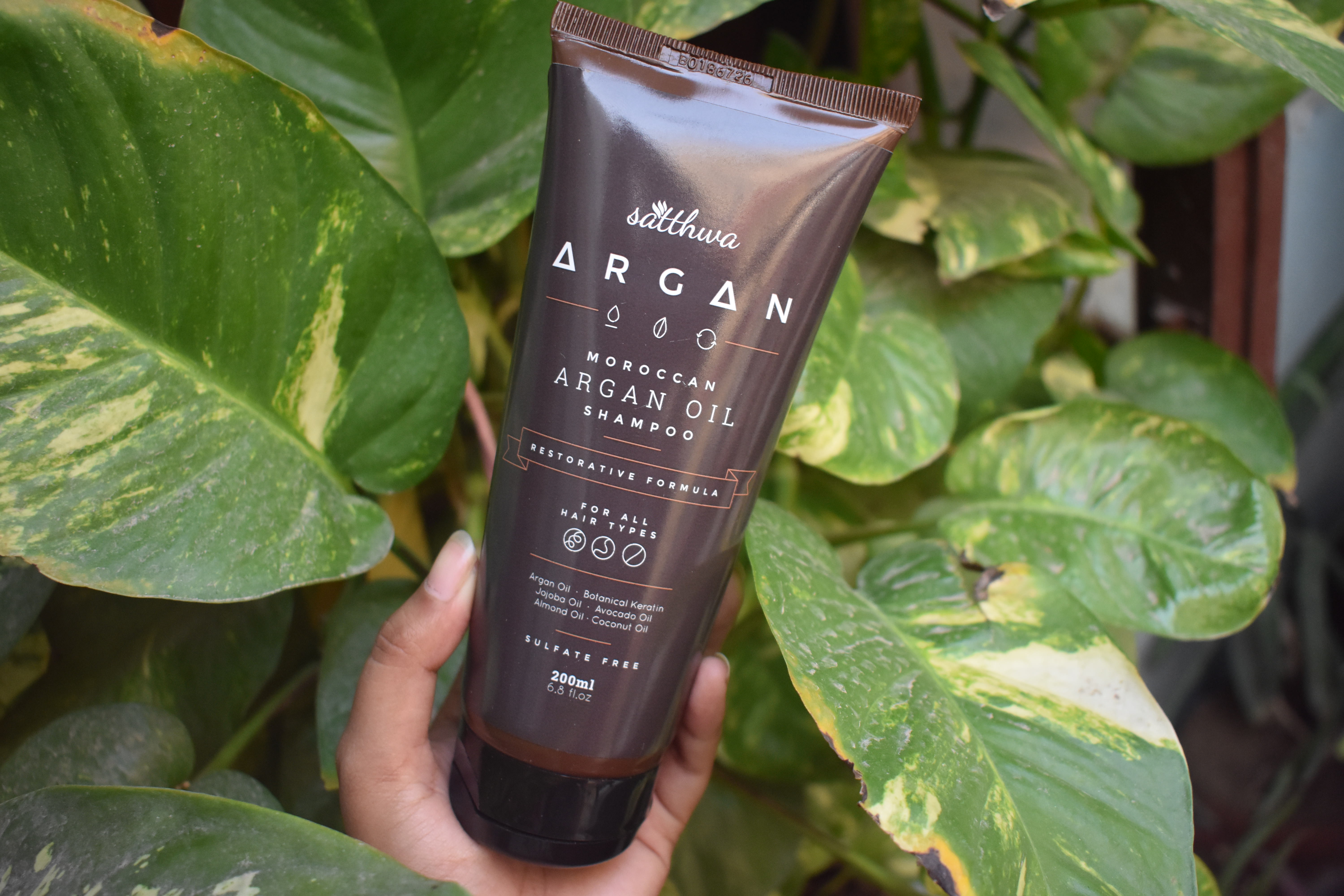 I have colored hair which demands a natural and sulfate-free shampoo that doesn't fade the color. As you know, sulfate can rip off the hair's natural moisture and make it appear damaged. So this shampoo from Satthwa seemed to answer all of my haircare concerns. So I got in touch with the Satthwa team and ordered this shampoo right away! I've used it so often on my colored hair and want to share my experience with you all! Let's get started now.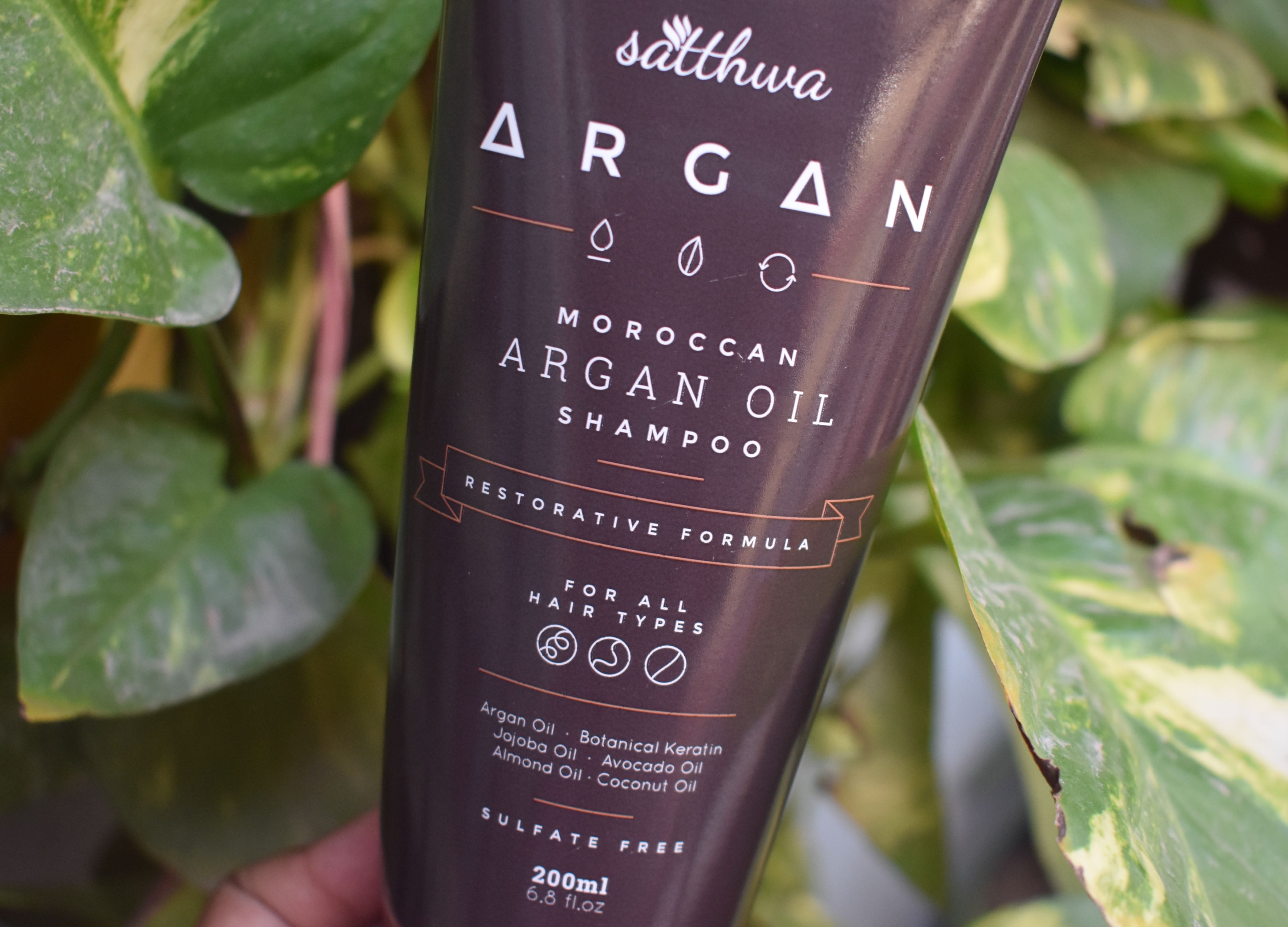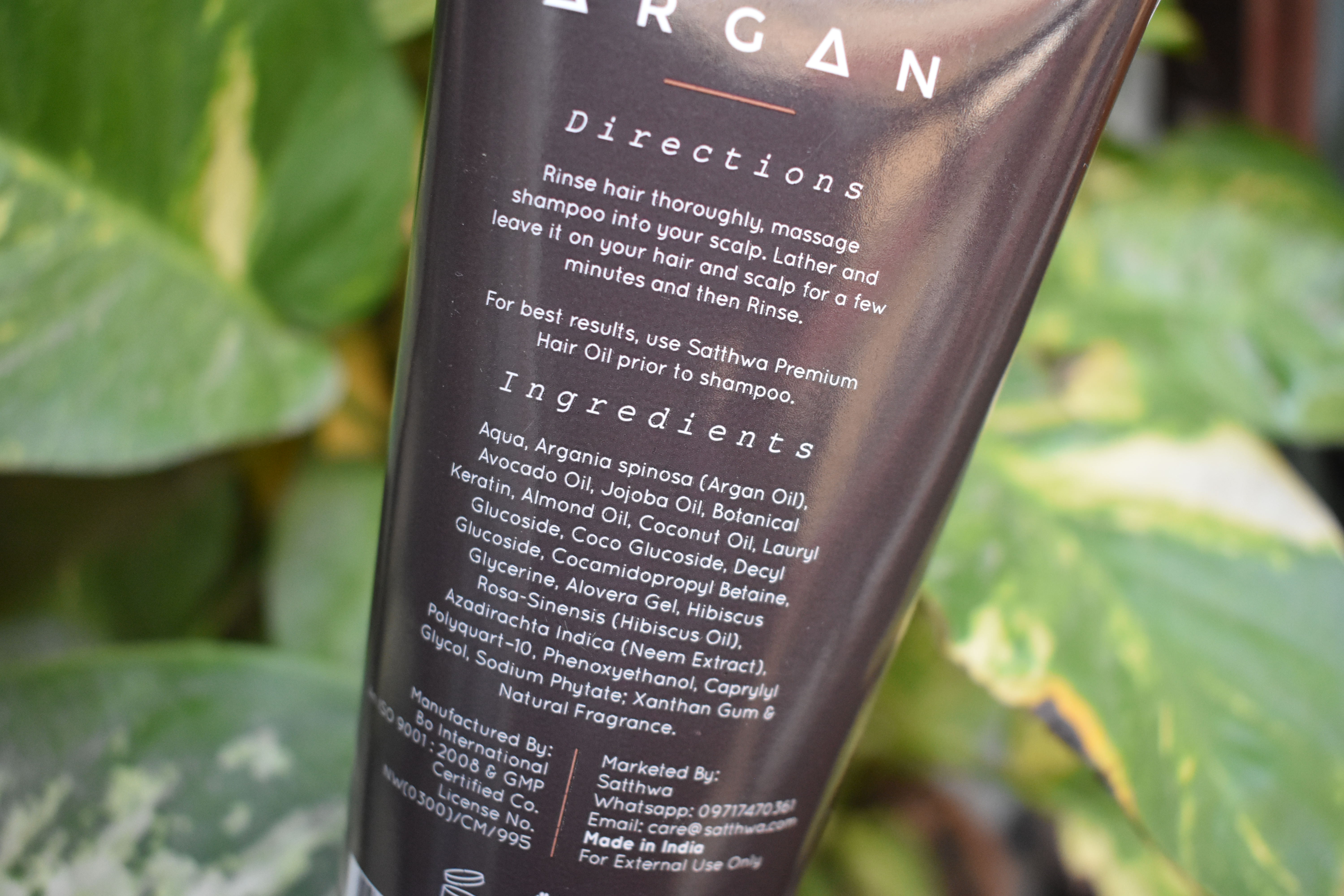 About the product: What makes this shampoo special? Argan oil, Jojoba oil, Avocado oil, Almond oil, Coconut oil, and Botanical Keratin are included in this shampoo. Together all these oils nourish your scalp and hair. This shampoo also contains neem extracts, which are known to reduce dandruff naturally. We also wanted to make this shampoo SLS & Paraben free so that it does not irritate the skin and also does not cause damage to the scalp and hair in the long run.
Readers like you help keep The Beautyholic running. When you buy through links on our blog, as an Amazon Associate, we earn from qualifying purchases at no extra cost to you.
Price: Rs. for 200 ml | Buy it on Amazon here
Satthwa Moroccan Argan Oil Shampoo Review
This shampoo has the most convenient packaging. It comes in a brown plastic tube with a flip-top cap. All the necessary details are printed on its back. Unlike other shampoos, all the ingredients are listed. As I've already mentioned, this shampoo is SLS/Paraben/Cruelty-free, which makes it special! Also, this shampoo is for all hair types.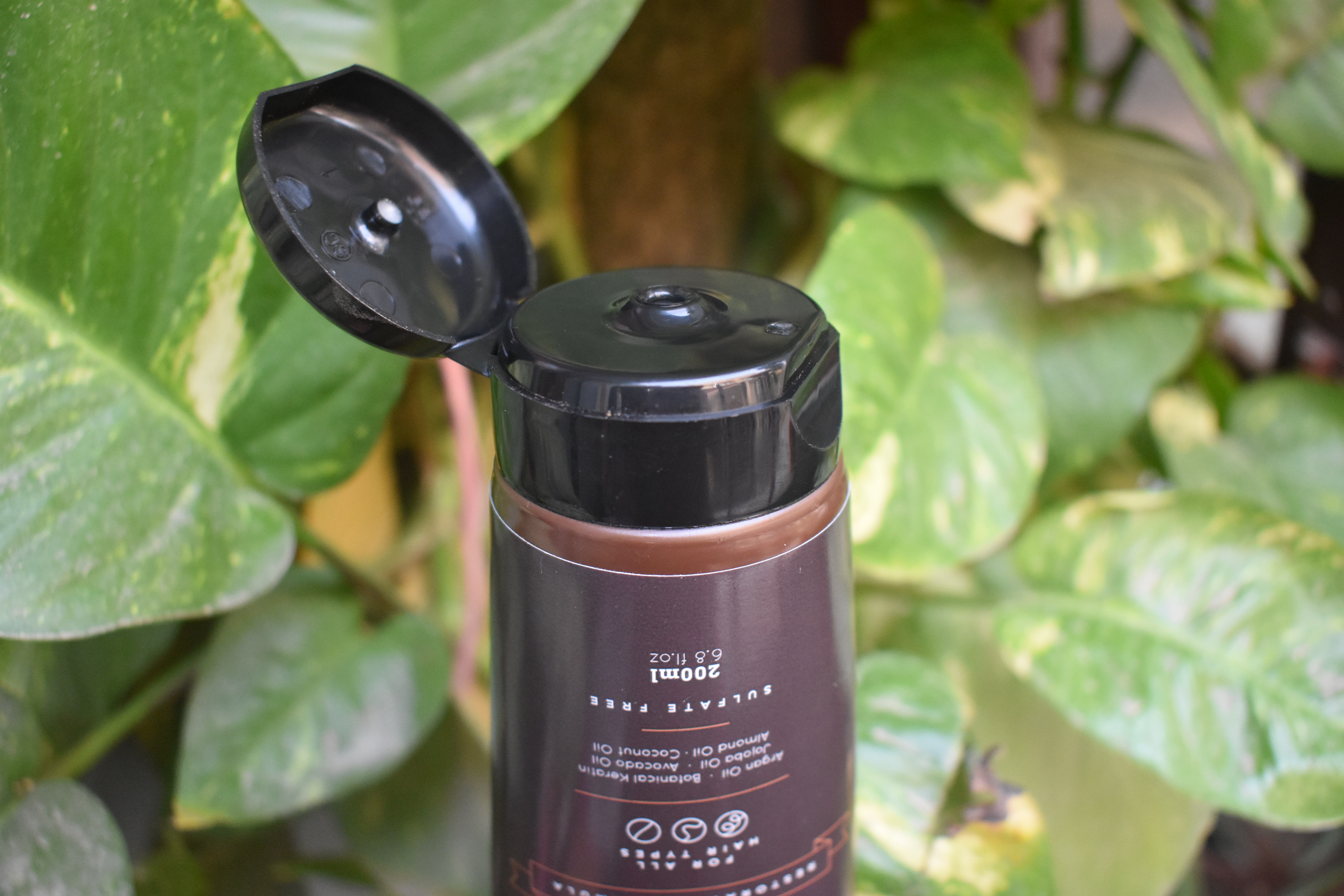 Satthwa Moroccan Argan Oil Shampoo has a thick consistency and a pearly hue to it. I like its lightly scented sweet aroma. I take a dollop of it and apply it to all my hair. After that, I prefer to give my scalp a good and soft massage. It has natural ingredients, so I don't mind keeping it on my hair for 4-5 minutes. It doesn't produce much lather due to the absence of sulfate, so it's not a big deal for me. While rinsing it off, my hair feels a little rough, but a conditioner takes care of it.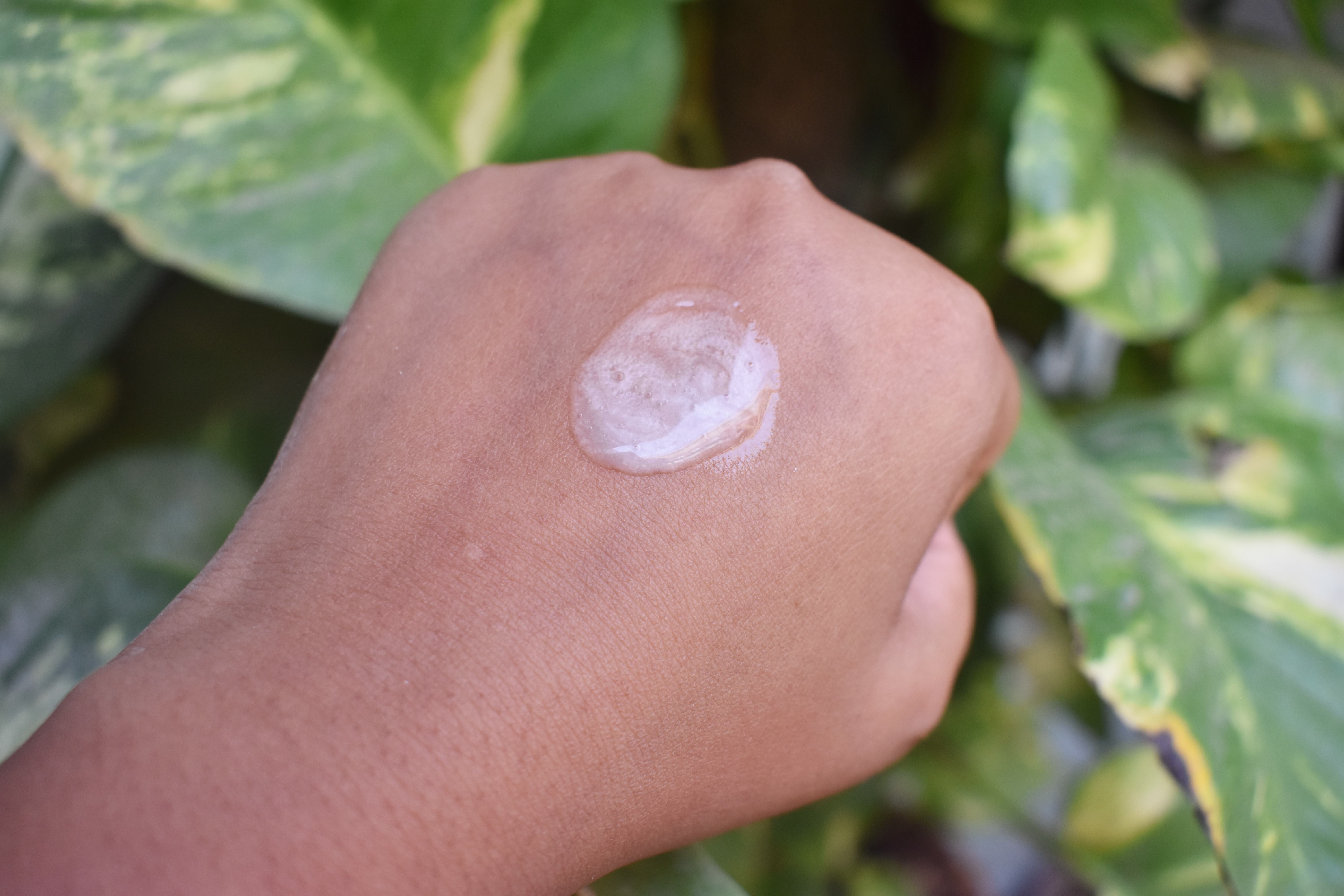 After washing my hair with this shampoo, they feel cleansed and free from dirt. After my hair dries, it becomes frizzy, so this shampoo doesn't control the frizz. A conditioner is a must after using this shampoo to detangle hair and make it more manageable.
Since you're using a natural shampoo, don't forget to follow up with a natural hair conditioner as silicones in chemical-based conditioners can damage hair. My hair feels soft, silky after using it, and they definitely look healthy compared to when I used chemical shampoos.
My hair feels bouncy and free-flowing, but the effect doesn't last long. My scalp gets oily after the second day of the hair wash, which is disappointing. Also, they lose their shine quickly, making me feel like rewashing my hair.
Pros:
SLS (Sulfate) free
Paraben-free/preservative-free
Contains natural and rich ingredients like Argan oil, Avocado oil, Almond oil, Jojoba oil, Coconut oil and Botanical Keratin
Effectively cleans scalp and hair ends
Makes hair soft and bouncy
Cons:
Doesn't control frizz
Hair becomes greasy after the second day of shampooing
Satthwa Moroccan Argan Oil Shampoo
Final Word
I know this shampoo makes my oily scalp greasy the second day after hair wash, I still like using it. Because it contains Argan oil which is a nourishing oil for hair and is preservatives free. I like the fact that it contains all natural, hair-loving ingredients that are good for my colored hair. But don't expect it to take care of the frizz as it doesn't do much help in that department. Efficacy-wise this shampoo is outstanding! I recommend Satthwa Moroccan Argan Oil Shampoo to every who loves to try out natural, SLS free shampoo but doesn't mind greasy hair!
Related Posts