Everyone desires shiny and healthy hair. While hair fall is the problem for many, others deal with oil, dirt, and pollution. In this wide market, it is difficult to choose the right kind of shampoo that will cater to all our needs and also be free from chemicals. In this article, we will share with you the details of one such shampoo. We are going to do an Indulekha Bringha Hair Cleanser review which claims to keep your scalp clean and also promotes hair growth.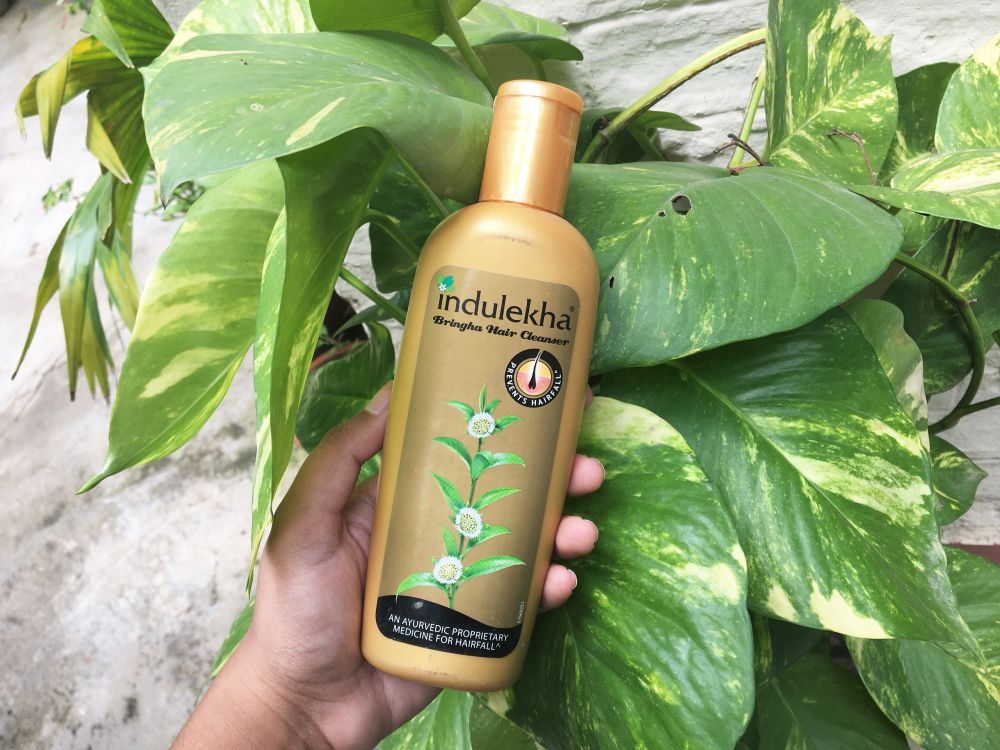 It is undoubtedly a great and effective cleanser but whether or not it promotes hair growth or how efficient is it in controlling dandruff is what we are going to find out here. So without much further ado, let's begin.
About The Product
To begin with, Indulekha Bringha Hair Cleanser is a blend of several herbs and claims to be a very powerful cleanser. If you have ever searched for natural and ayurvedic products it is quite evident that you might have come across this cleanser.
It is an ayurvedic cleanser and claims to get rid of impurities and dirt from your scalp thereby reducing hair fall. Indulekha is a very popular personal care and beauty brand that sells a variety of hair care products. Their formulation is usually a blend of ayurvedic formula. This is what makes the shampoo interesting and exciting for people who are trying to find out a solution to their hair problems through the natural way.
This is a South Indian company that was brought by Hindustan Unilever over a few years back. After the ayurvedic brand was taken over, things have been taken to the next level. They have made Indulekha a pretty successful brand and seems to spread its success all over the country. The success of the brand is what encouraged then to launch Indulekha Bringha Hair Shampoo in the market. The cleanser is not like your regular ordinary shampoo but it is a special ayurvedic formula that can prevent hair loss with the regular usage of it.
Many of us try out several products and when they don't seem to work out we tend to perceive a general idea that nothing will work anymore. But this hair cleanser proves everyone wrong.
If you read the back of the label it will clear all your doubts within just 5 minutes. The makers of this product claim that if you use this product regularly it can treat your problem of hair loss. This product reduces the breakage of hair thereby giving you fuller, healthy and thicker-looking hair.
This cleanser provides deep cleansing of your scalp by washing away all the dirt, impurities and grime that tend to clog the hair follicles resulting in hair fall.
The claims of the product do not seem to be unbelievable or false because once you start using the product you will begin to notice the results right away. The product contains the extract of 9 Bhringraj plants which is known to be "the king of hair". This product targets all your severe hair problems and promotes healthy hair along with hair regrowth.
What does Indulekha Bringha Shampoo contain?
The shampoo is the perfect blend of all the ayurvedic goodness. Talking about the Indulekha Bringha hair cleanser ingredients every 10 ml of the product contains Bhringraj, Tulsi, Amla, Madhyantika, Neem, Rosemary and Shikakai. The product also contains preservatives such as DMDM Hydantoin, Methylisothiazolinone, and Methylchloroisothiazolinone.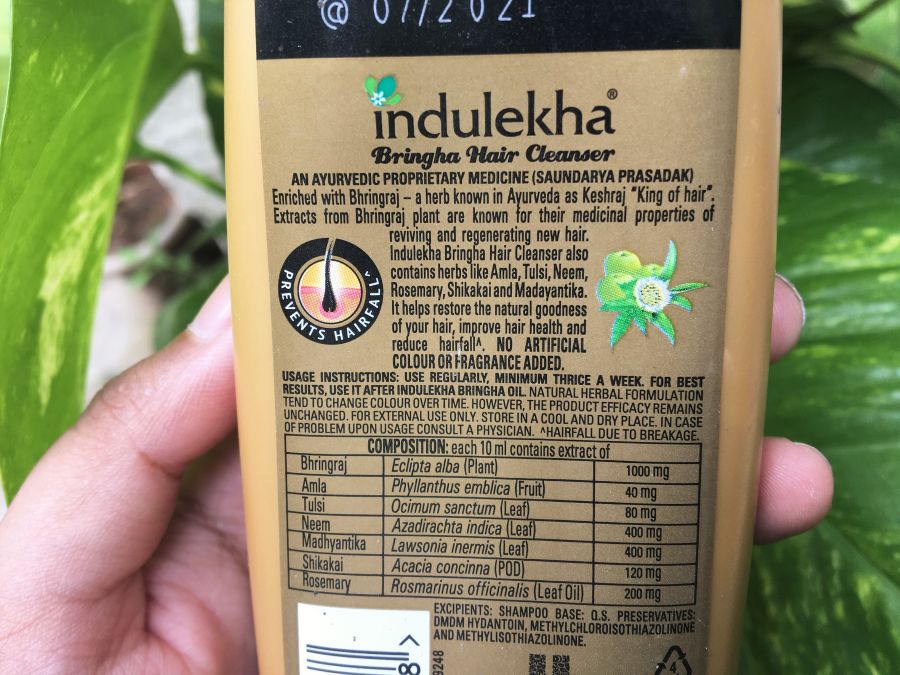 The product is also said to be free from any fragrance or added color.
Bhringraj, as we all know, is the most powerful agent targeting hair fall. This is one ingredient that is a solution to all your hair problems. This is a natural herb that has cooling properties that cool your scalp thereby alleviating stress. This not only thoroughly cleanses your scalp but also gives you the calming and soothing sensation from within. This herb has the power to get you relaxed.
Tulsi is scientifically known as Ocimum Sanctum and it is a no brainer that this herb has countless healing properties. This ingredient earns its place among the list of Indulekha hair cleanser ingredients that are known to improve blood circulation in your scalp. This targets hair loss and boosts hair growth. This natural herb is also known to soothe an itchy scalp. It is also to some extent helpful in reducing the problem of dandruff.
Amla is scientifically known as Phyllanthus Emblica and is loaded with fatty acids. These fatty acids are known to strengthen the follicles of your hair thereby removing the dead and dull look. This natural fruit provides you with shiny, smooth and lustrous hair.
The good old neem is also present as an ingredient in this shampoo that has several medicinal properties. Neem is known to get rid of acne on the scalp thereby soothing inflammation on your scalp. It also reduces dandruff and also lice. It soothes the scalp thereby reducing the flakiness on your scalp and also soothing itchiness.
The shampoo also contains Shikakai which is also a powerful herb to deal with hair problems. This herb has been in our good books for ages and it has been used in hair treatments since the oldest of times. This not only cleanses and conditions the hair but also promotes hair growth.
Next, we have Madhyantika that is most commonly known as Henna. This is a natural dying agent and is known to add luster and shine to your dead and dull hair. It also conditioning properties that maintain the alkaline mantle of your scalp.
Last but not the least we have Rosemary that promotes hair growth and accelerates the growth of new hair. It strengthens and thickens the hair from the roots to counter the problem of hair loss due to breakage.
The shampoo despite being filled with natural ingredients does not claim to be sulfate or paraben-free. It does contain some preservatives which are generally necessary to increase the shelf life of the product. Therefore, you cannot expect this product to be fully chemical-free despite the take on the natural and ayurvedic formulation.
How To Use Indulekha Bringha Hair Cleanser?
The usage of this shampoo is just like any other regular shampoo. Here are the steps on how to use this bringha-enriched hair shampoo.
Pour water over your head sufficient enough to wet your hair and scalp thoroughly.
Depending on the length of your hair take a sufficient amount of shampoo on your palm.
Then gently massage the shampoo on your scalp and your entire hair. Concentrate more on your scalp and your roots.
Cleanse your scalp thoroughly and once you feel clean rinse off the shampoo. Repeat the process if required and clean your hair thoroughly.
This shampoo is recommended to be used with Indulekha Bringhaa Hair oil. The shampoo along with any hair growth oil is required to be used two to three times a week.
How Does This Shampoo Perform?
This shampoo as already mentioned is nothing like your usual ordinary shampoo. It is an ayurvedic formula created specifically to target all sorts of hair problems.
We dealt with the ingredients and also the way to use it. Let's now see how does this Indulekha Bringha hair cleanser actually performs.
Packaging
To begin with the review, let us first start with the packaging of the shampoo. The product comes in a regular shampoo bottle with a flip-top cap. The bottle has a similar color as the hair oil which is a brown colored opaque bottle. Since the product comes in an opaque bottle it is very difficult to notice how much product has been already used and how much is left in the bottle.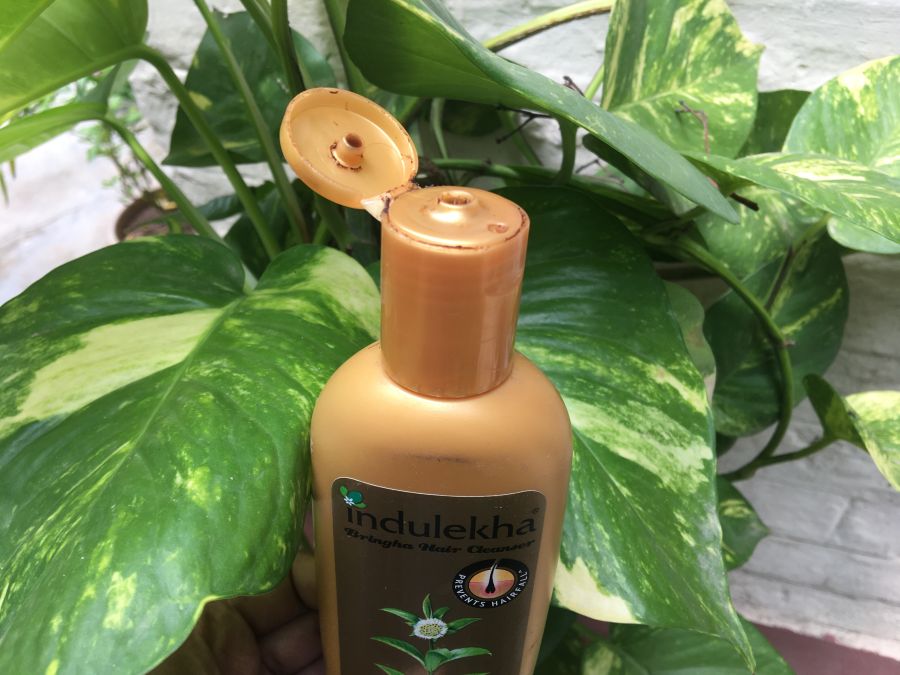 The shampoo is available in the 100 ml and 200 ml variant. The shampoo is very detailed and at the back, it contains all the necessary details you should know about the cleanser. It also includes the manufacturing date and also the price and the expiry date. The cleanser comes with a 2 years shelf life.
Texture
The cleanser has a smooth texture. It has a rich brown color and has a thick gel-based consistency. The dense consistency accounts for the amount of product coming out of the bottle.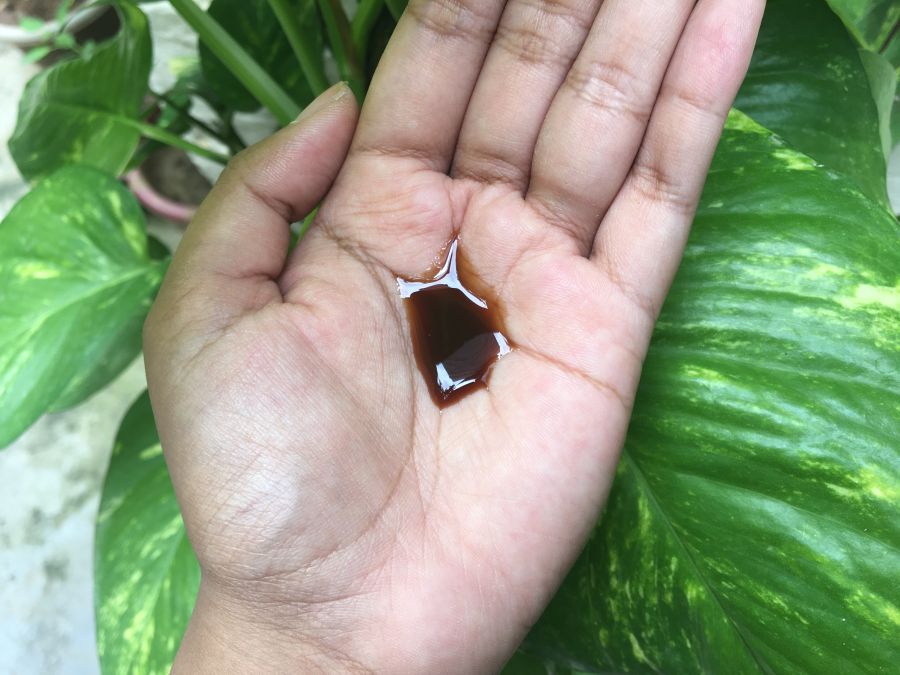 You can easily control the amount you want to use as it is not runny and sits quite well on your palm.
Lather
The product lathers quite well and it requires only a small quantity to bring it to lather. You can directly apply it onto your wet scalp or if you want to dilute it you will need a little more product than usual to bring it to enough lather.
Fragrance
This cleanser literally smells like herbal medicines. Since it is fully loaded with all-natural ingredients it has a predominant smell of Bhringraj and also all the other herbs. The fragrance is quite sharp and strong however it does not have that chemical smell. It also has a less powerful smell than oil.
The fragrance is strong enough to linger even after you rinse your hair. If you are someone who faces a major turn off with string fragrance then this product might not be a good choice for you. But if fragrance does not bother you then you can give this product try.
Experience
It is good to say that this product performs quite decently. Using this cleanser for the recommended amount of time can give visible and considerable results. All you need to do is use it consistently for two to three times a week in order to see results.
Its thick formulation makes it quite easy to use and also it lathers quite well to make you feel squeaky clean. Apply it directly on to your wet hair and gently massage it on your scalp to form a rich lather. Once you rinse the shampoo you can feel your scalp to be considered clean and also it gives a cooling sensation thereby reducing itchiness and providing with a calm and refreshed sensation.
The cleanser does not leave any residue behind and so you will not feel greasy or heavy post use of this cleanser. It effectively removes all the dirt, oil and grime from your scalp just in wash making you feel all clean and refreshed.
Who Will It Suit?
Indulekha hair cleanser is suitable for all skin types. It can be used by anybody and everybody who are conscious about their hair. People who want to take better care of their hair and also want to maintain a healthy scalp, this shampoo is just for them.
The bottle of the cleanser contains all the information about which hair problems can be treated with this cleanser and also which hair types and scalp types will be benefited from this shampoo.
It is a general-purpose cleaner that will keep your hair clean. While it is not very effective for dandruff, split ends, baldness, graying of your hair, it still does a fairly decent job of reducing hair fall and breakage. To give an honest review, if you think this shampoo to be some kind of magic potion, it is not. It just does what it is supposed to do. It can not magically treat any aggravate hair problem that you have.
Where can I buy Indulekha Bringha Hair Cleanser?
This shampoo is available almost everywhere – online or offline. Though you can buy it on Amazon and Nykaa.
Indulekha Bhringa Hair Cleanser Shampoo
Final Word
The final take on the Indulekha shampoo is that is a decent cleanser for all hair types and scalp types. It gives good results with consistent use. It is recommended to be used with the same oil for the best results. This oil takes some time to adjust to your scalp and you just need to be patient to see any noticeable improvement. The product does what it claims to do and also it is worth every penny.