Everyone wants that perfect eye-look for every, don't we? And obviously no one can keep the light, dark, matte, satin finish and shimmery eyeshadows all differently not only will it be problematic but very costly. So, today we are going to review one such palette by makeup revolution that has all of these basic shades in one palette. It is Makeup Revolution Ultra Eyeshadow Palette Flawless 4. So let's get into the detailed review to see if the palette is worth a corner in your makeup stash.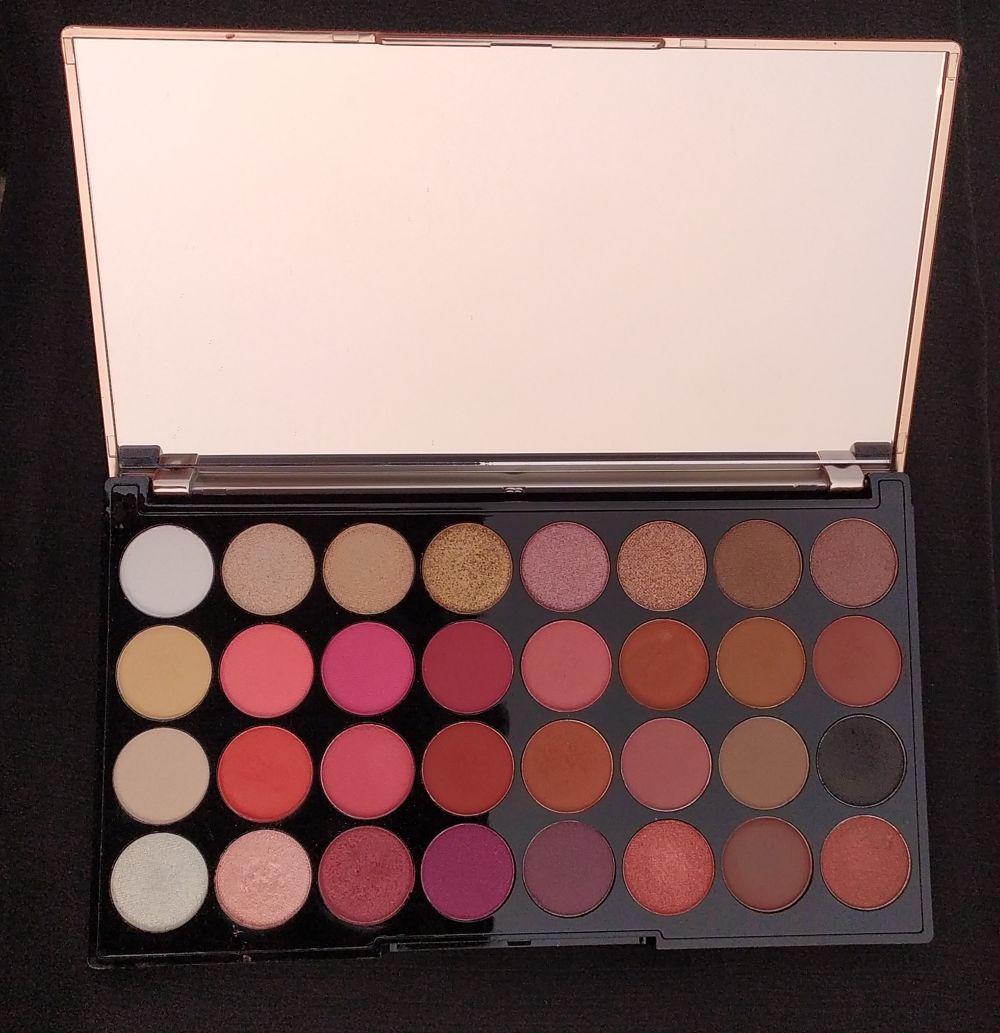 About Makeup Revolution Ultra Eyeshadow Palette Flawless 4: Introducing Makeup Revolution's newest instalment of their fan favourite Flawless palette! The Flawless 4 palette offers 32 versatile mix of shades, from neutrals to warm to smoky. It consists of every shade you need to create everyday looks or take it to the next level with the selection of bold shades. Blend matte shades with a fluffy blending brush, or flat shader brush for maximum pigmentation. Apply shimmer shades with a flat synthetic brush, or finger, these can be used wet or dry depending on your desired intensity.
Long-wearing, intense and easy to blend formula.
Encased in a matte rose gold palette with a full-size mirror.
Contains a mix of matte and shimmer shades.
Readers like you help keep The Beautyholic running. When you buy through links on our blog, as an Amazon Associate, we earn from qualifying purchases at no extra cost to you.
Price: 20 gm of palette containing 32 shades costs Rupees 1750/-  | Shop it from Nykaa or Amazon
Makeup Revolution Ultra Eyeshadow Palette Flawless 4 Review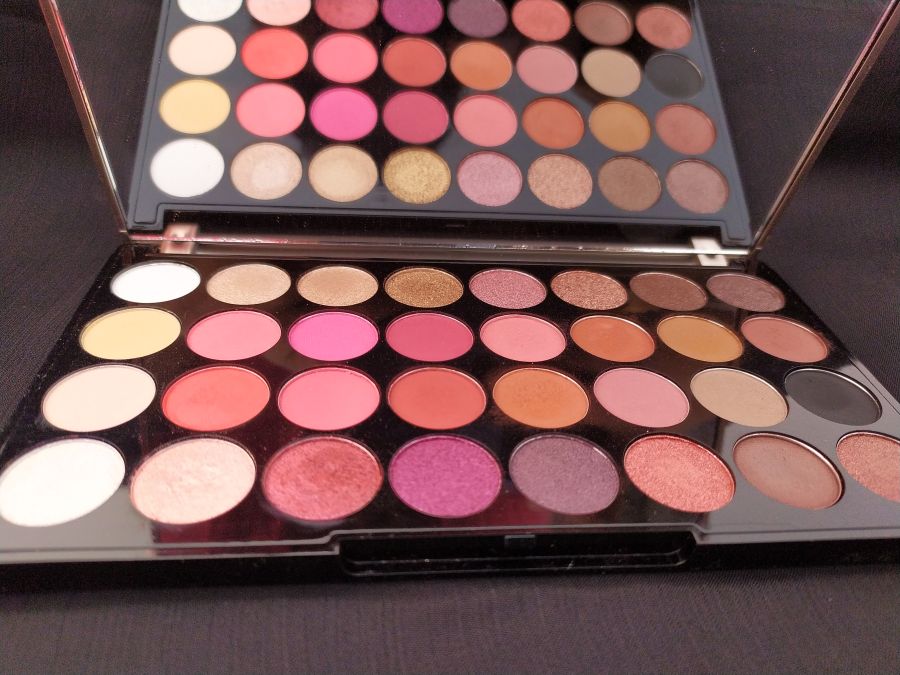 The palette comes packaged in a beautiful rose gold packaging. The palette within is rose gold in color as well and looks very chic. It is a sturdy and travel-friendly packaging. Upon opening the palette you can see how beautifully the shades are laid out. From dark to light to shimmery to matte to semi-matte it's amazing.
The quantity is apt for the price and variation. I actually loved the palette for that.
There are eighteen matte shades and fourteen beautiful shimmery shades. And also all of these shades have minimal to no fallout or kickback.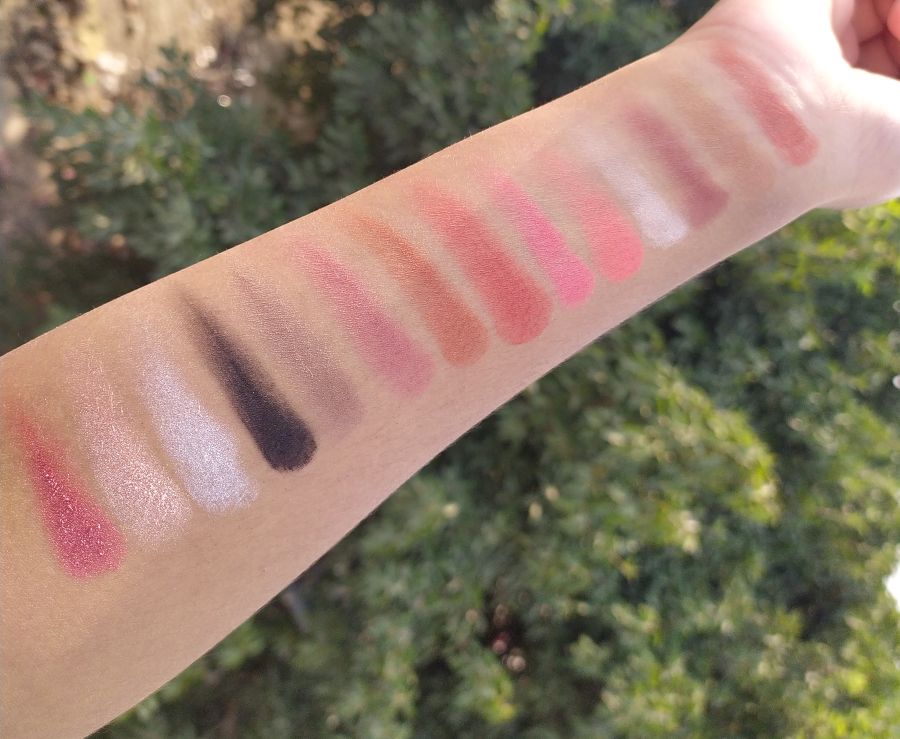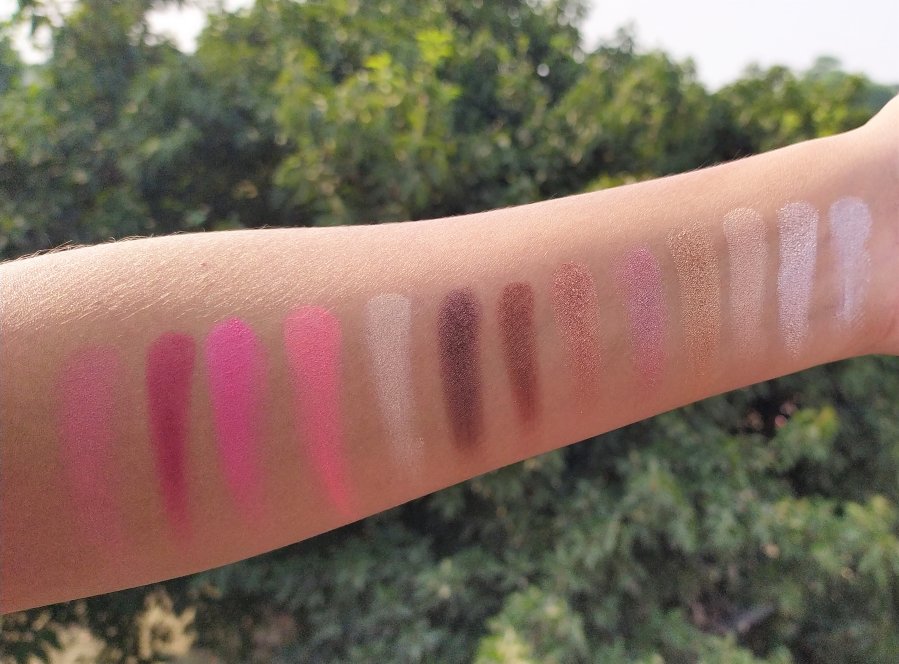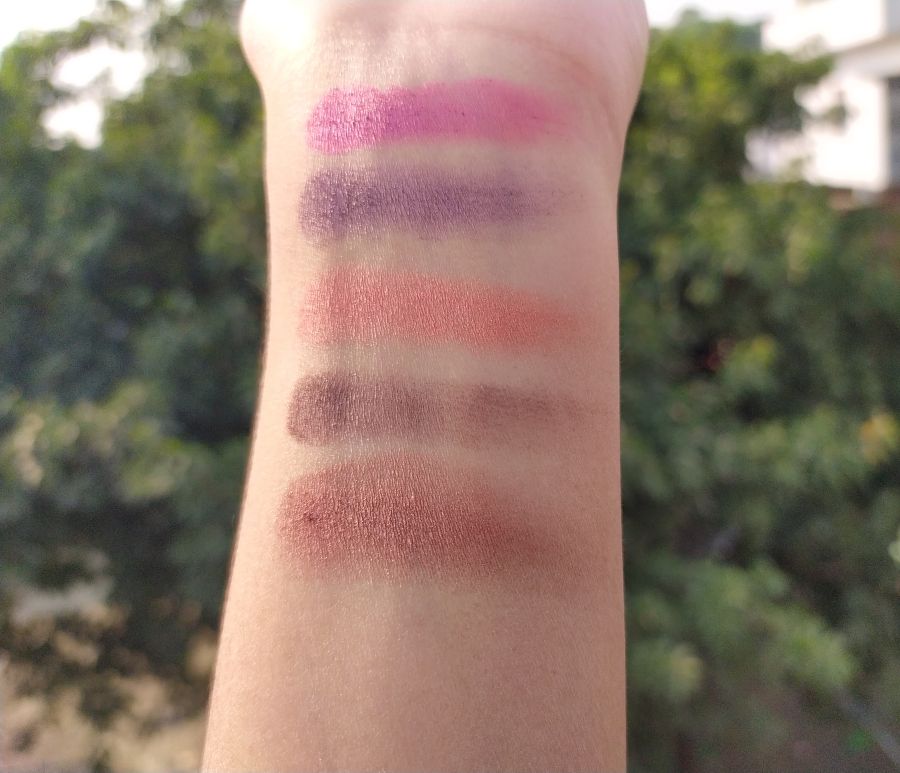 And the shades are wonderfully balanced like – there are neutral shades, base shades, transition shades and also those bang-on shine shades.
This Makeup Revolution Ultra Eyeshadow Palette Flawless 4 is not inclined towards one particular type of eye-shadow which is a plus point for the consumers.
And this I love the most about the palette, I can create maximum types of variated looks from this one palette.
The brush picks up the eye-shadows pretty easily. You just have to roll it on the shade a few times.
The pigmentation is different for a different type of eye-shadows but all of them are well pigmented.
The shades blend easily and have a good staying power. The shimmery shades might budge a bit early than the complete matte one's.
The palette even has a matte, jet black shade that can be used as a light, diffused eyeliner. In fact, with all those different matte and shimmery shades, a lot of eyeliner looks can be created.
There are also blush and highlighter shades present in the palette.
This Makeup Revolution Ultra Eyeshadow Palette Flawless 4 is a one in all palette, you name a shade and it's there and that too with really good quantity at such an affordable price.
And the yay point is that it has a full palette size mirror on the flip side. Which comes in handy every time, like every time.
The mirror is apt to just keep and do your entire makeup it's a very useful addition for when you are on the go or you need a quick touch up or something similar.
This a perfect palette trust me, it is affordable has a lot of different shades and you can create a plethora of different looks with this palette.
Pros:
Affordable.
Available.
Shades are present in a really good quantity.
Beautiful, travel-friendly and sturdy packaging.
A very useful, full palette-size mirror is present.
The palette has really pigmented shades.
Shades are soft in texture and blend easily.
There is minimal to no kickback from the shades.
Matte, satin finish, shimmery, bright, dark all types of different shades are present in the palette.
Cons:
Shimmery shades smudge a bit early than the matte one's. (though that's not really a con for they stay on for pretty long)
Makeup Revolution Ultra Eyeshadow Palette Flawless 4
Final Word
At such a price the brand provides a full palette size mirror which is not that cheap quality types, it is very sturdy, useful and lasts longer if you use it carefully. Also, there are 32 different shades present, I love it. For I can create from dark to light to natural to shimmery any eye look with just this one palette. And also the brand doesn't cheat you in terms of quantity of shades provided it is apt and well placed. The palette is very pigmented, super-affordable and easy to use. For those of you who tend to create several eyes looks all different from one another and are looking for one palette to do all the work this is the one guys, just grab one and you won't be disappointed.
Have you tried the Makeup Revolution Ultra Eyeshadow Palette Flawless 4? Let me know in the comments below!
Related Posts