Guys, I was so desperately looking for an eye-shadow palette that I could wear for like on a daily basis, and no one would notice — one like a natural, perfect eye, with not too much of a visible shine.
So, as I was looking for this matte, nude eye-shadow palette when I stumbled across this Maybelline Gigi Hadid Eye Contour Palette in Warm shade.
My main motive behind buying this palette was to create like a day time look, something in matte and shades like my own skin. Even if people do notice it, it should look flawless and not over the top kind of look. Now, let us dive into the full review of the product.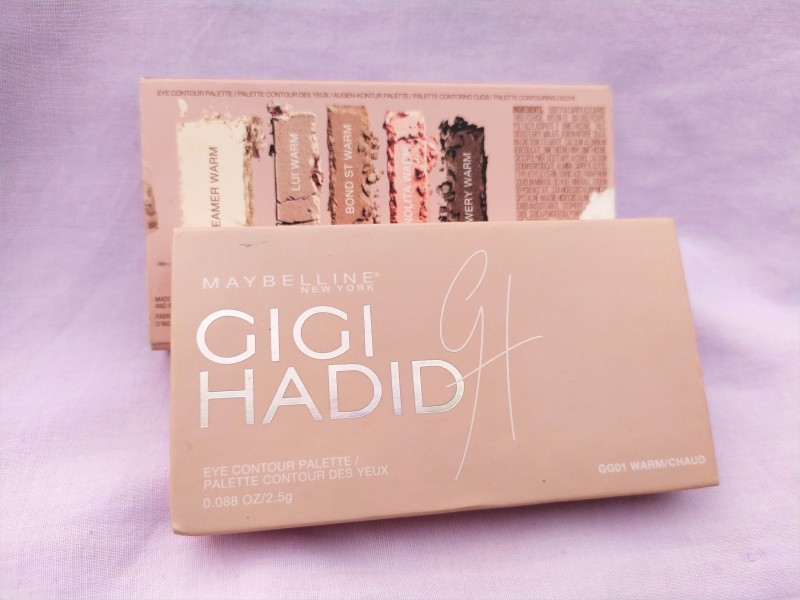 About Maybelline Gigi Hadid Eye Contour Palette: A must-have eye contouring palette available in cooler (light skin) and warmer (deep skin) tones. In four easy steps, you can create a natural contour that defines, deepens, and widens to make your eyes look dramatically bigger and brighter.
How to use it?
Apply a neutral base all over the eyelid.
Crease: Define the eye crease with a medium tone shade.
Contour: Add depth to the outer eye corner and lash line.
Highlight: Illuminate the brow bone and inner eye corner to create the look of more full eyes.
Readers like you help keep The Beautyholic running. When you buy through links on our blog, as an Amazon Associate, we earn from qualifying purchases at no extra cost to you.
Price: 2.5 gm of product retails for Rupees 799/-  | Buy it on Amazon or Nykaa
Maybelline Gigi Hadid Eye Contour Palette Warm Review & Swatches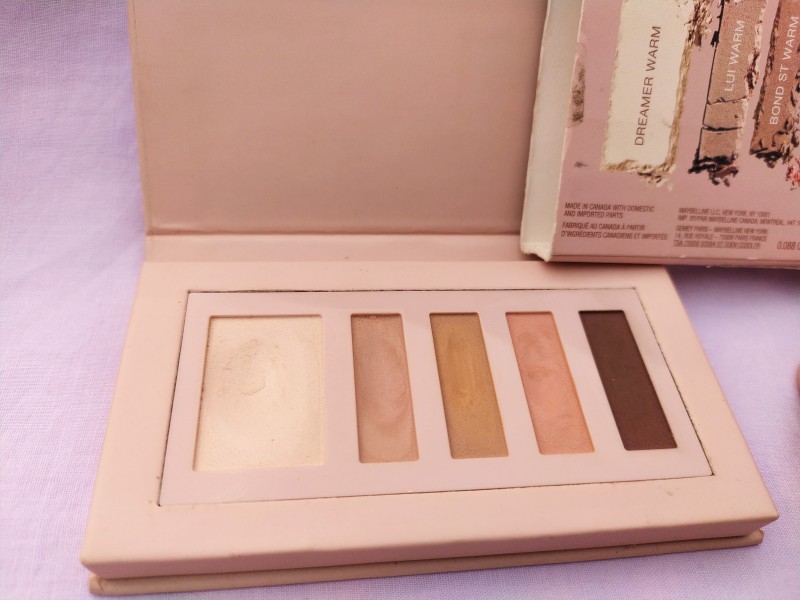 So, the palette is slightly bigger than an average palm length. It has a cardboard outer covering from which the palette slides out.
Nothing much protective. The covering has a Gigi Hadid autograph on the front and shade and ingredients description on the back.
The packaging of the palette looks pretty chic but nothing too fancy or new. It has a magnet attached to the lid for closure.
It is travel-friendly. When I opened the palette, I realized how little of a product I've got. See, it's not that less it'll easily last you for a time.
The palette is already so small, and then on the inside, the shades are placed as such that they get even more tiny spaces.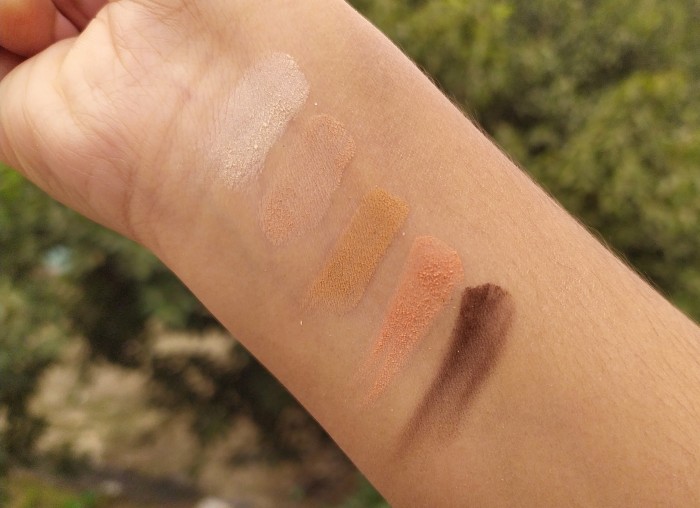 Coming to the shades, the palette has five shades in total. From left to right, the first shade is a highlighting shade named 'Dreamer Warm.' This shade has the biggest space amongst all other shades.
I don't use this shade much and if I do. I try it on the inner corner of my eyes. Because it gives a flashback, I once applied it over my lid for a shimmery look. And it gave such a deadly flashback I never applied it again over a large area.
The second one is 'Lui Warm,' a light brown shade. It is basically a base shade, and I use this shade a lot, like every time.
The shade is great for a no-makeup-makeup look or light, natural look. All of these shades give a major kickback.
The fallout is seen on the face as well, so you have to be careful while applying. And all of the shades take a lot of time and product to show up. And even then it's light.
All the shades are completely matte and do contain shimmer, which gets lighter after every layer. But, these shimmer particles never show up on the eyelid.
No matter how much you layer it or how much product you use.
The next shade is called 'Bond St Warm'. It is a bit darker in tone than the 'Lui Warm' shade. And can be used as a definer shade. I do use the shade in my crease as a transition shade.
Then is 'Nolita Warm' shade. It is a pink-toned shade and is also a definer shade. I use this and the 'Lui Warm' shade to create a natural lid look. And it comes out pretty and matte.
The last one is the darkest shade of the palette named 'Bowery Warm' it is a dark-toned brown and a contour shade. This shade gives the maximum color payoff amongst all others and can be used for a heavier eye look.
The shades are really soft and finely milled in texture, so they blend easily. The palette is indeed matte and non-shimmery but also has a lot of cons, so you don't need to settle, and if you want, then there are better products on the shelf.
Pros:
All the shades are completely matte.
There is no shimmer after application.
The shades have a really soft and easily blendable texture.
The shades are perfect for daily wear or a natural look.
Cons:
There is a lot of fallout during application.
For the price paid quantity of the product is less.
The highlighting shade gives a flashback in pictures.
Colour payoff is very low except for one shade 'Bowery Warm.'
Not suitable for heavy, party eye looks.
Has no shimmer.
Maybelline Gigi Hadid Eye Contour Palette - Warm
Final Word
Overall, I do like this product and use it a lot for brunches or small meetings and natural, daytime looks. It is perfect for such looks and also there is a dark-toned brown transition shade to use for heavy eye looks.
But, the product has to be used a lot to give a payoff on eye-lids and also gives a lot of kickback meaning the already low quantity palette is going to finish up sooner. It won't finish up too early but still. Next, the highlighting shade does give a flashback and also it's pricey for the amount of product we are getting.
In all, the palette is neither bad nor good it is decent and I would suggest that there are a lot of products on the market shelf and you can look through them as well.
Have you tried the Maybelline Gigi Hadid Eye Contour Palette – Warm? Let me know in the comments below!