A well-known, luxurious lipstick brand MAC, has the best selling lipsticks. Girls literally crave these lipsticks because they are high-end and versatile.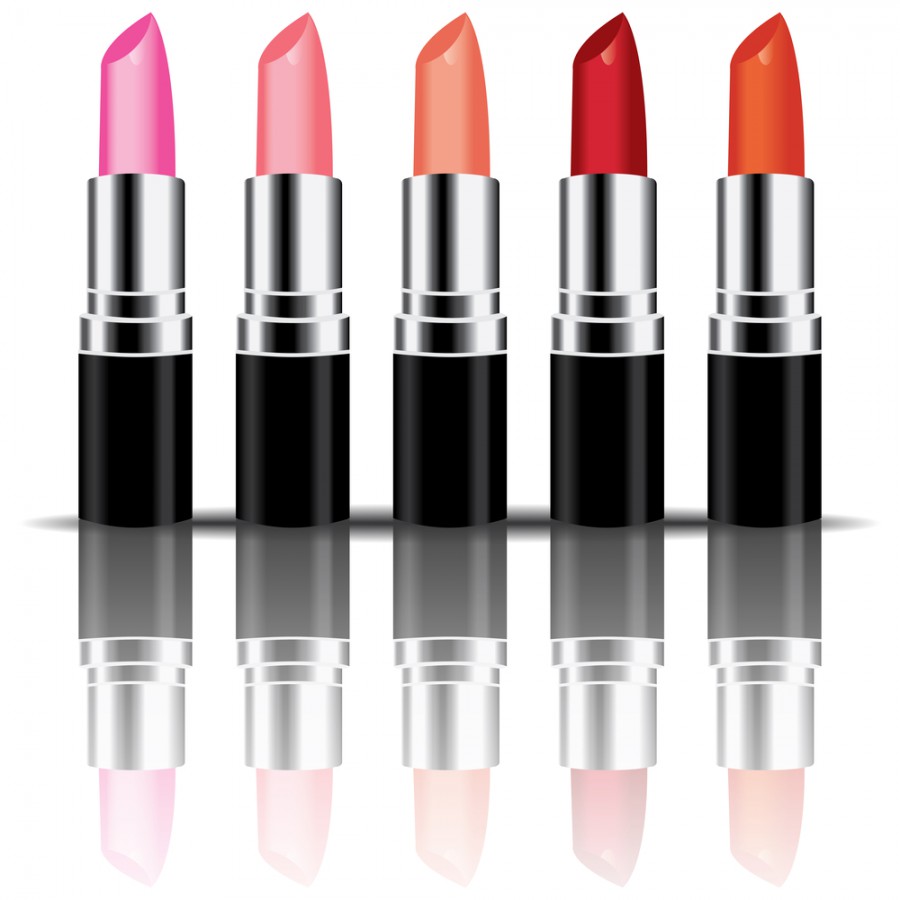 Not everyone can afford that much money for lipstick, but we can't destroy our lipstick dream like that. If one cannot afford to buy MAC lipsticks, we are here to help them.
A bunch of MAC dupes is going to be listed below, which are exactly like MAC lipsticks. The one thing you can't match is the packaging of the product.
Top Ten Best-Selling MAC Lipstick Dupes
Well, jokes apart dupes are the best option when one is unable to afford overpriced MAC lipsticks. Check out some affordable dupes for ten best-selling MAC lipsticks.
Readers like you help keep The Beautyholic running. When you buy through links on our blog, as an Amazon Associate, we earn from qualifying purchases at no extra cost to you.
MAC Whirl – Maybelline Creamy Matte Lipstick Nude Nuance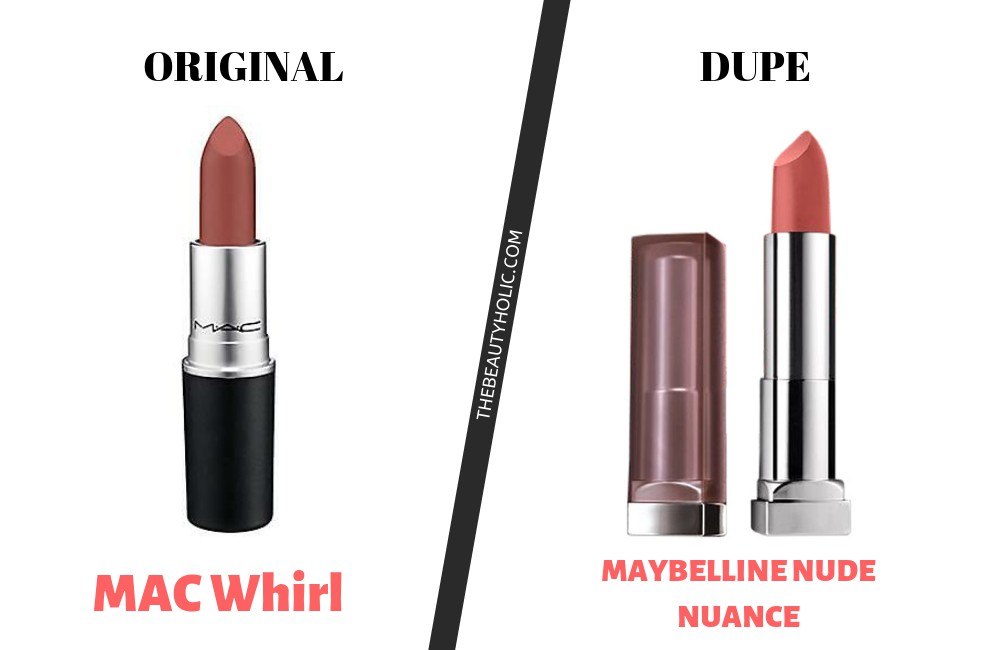 A perfect dupe for this whirl shade of MAC lipstick is the Maybelline Color Sensational Creamy Matte Lipstick in the shade "Nude Nuance." You are never going to regret buying this one as a perfect dupe. The texture is extremely matte and creamy, both. The nude shade suits almost every skin tone and is an exemplary dupe of whirl shade.
MAC Ruby Woo – NYX Matte Lipstick Perfect Red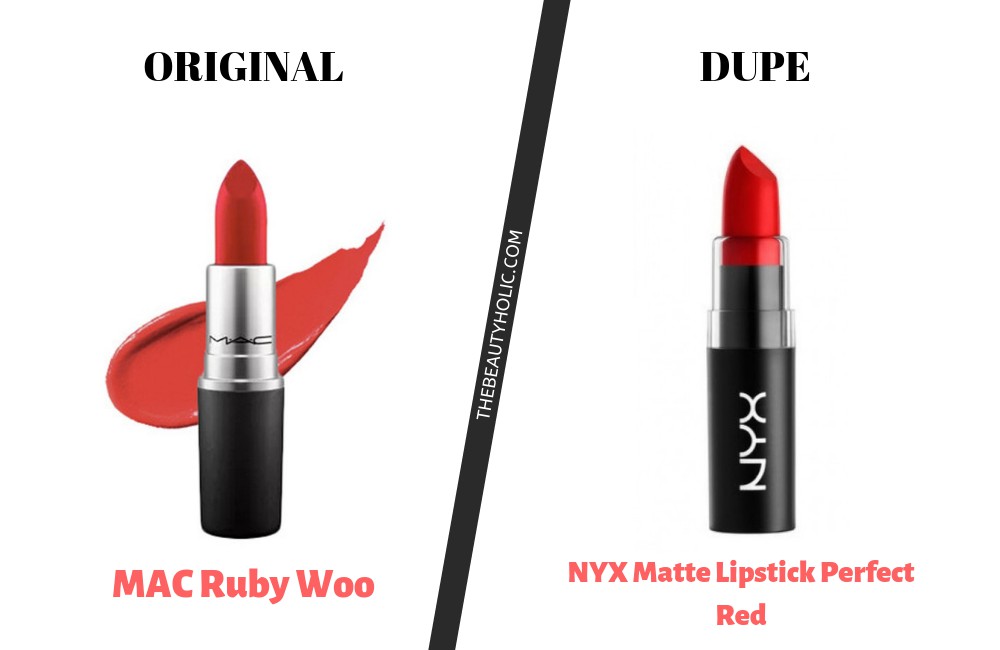 Undeniably one of the best selling lip shades of MAC is the Ruby Woo. This is a perfect shade for every skin tone, especially the dusky skin tone, and trust me, girls literally go gaga over this one. A dupe for this can be NYX Matte Lipstick in Perfect Red, a warm red shade, and more matte than Ruby Woo. It is pretty much similar to Ruby Woo.
MAC Please Me – Maybelline Rebel Bloom Lipstick Blushing Bud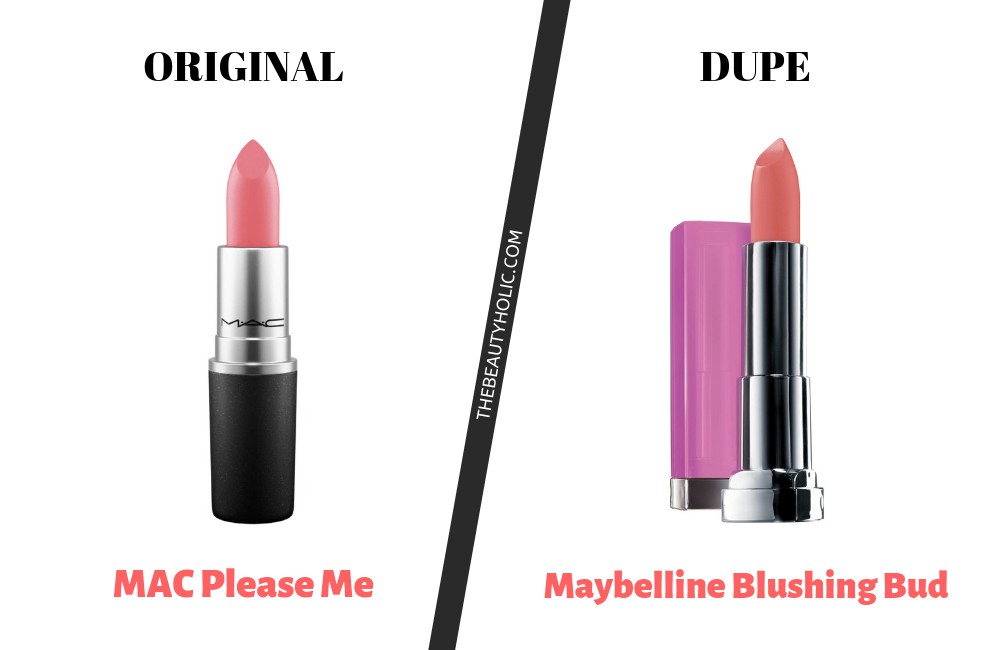 Looking for a comparable dupe for the Please Me shade of MAC lipstick? Well, we have it here, and you are going to love it anyway. Maybelline Color Sensational Lipstick in the shade Blushing Bud is lavish yet affordable lipstick. The texture is really amazing, and the lipstick stays for about 6-7 hours.
MAC Flat Out Fabulous – NYX Matte Lipstick Sweet Pink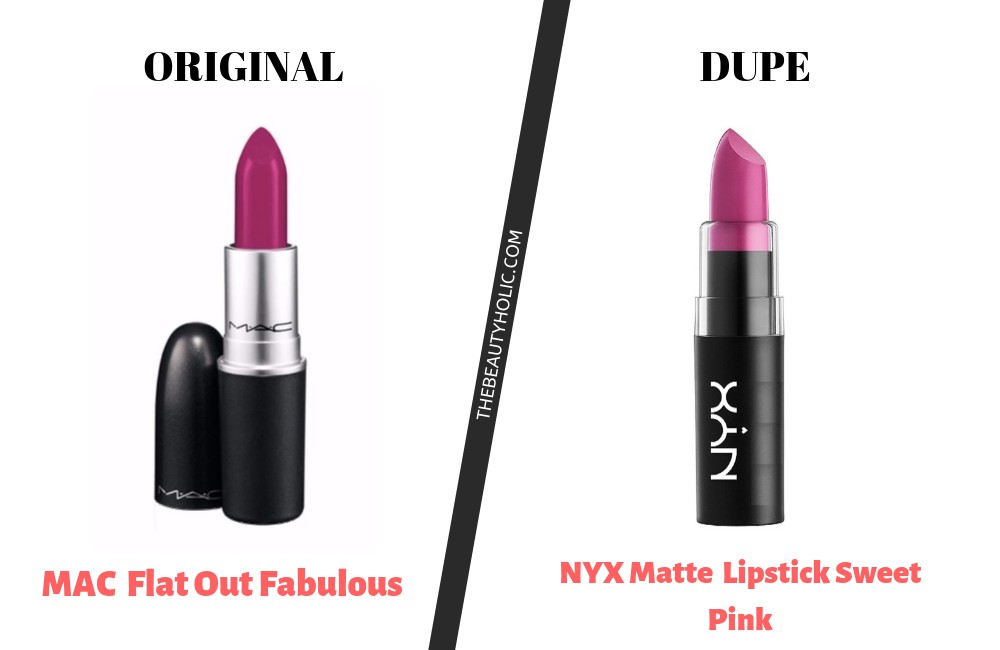 Fuchsia pink is so much in trend nowadays, and girls, especially teenage girls, love to wear it. The shade is not too dark and stands out every time you apply it. But, obviously, the MAC lipstick is not an option for us right now. To this cumbersome situation, NYX Perfect Matte Lipstick in the shade Sweet Pink is excellent. One cannot get a better dupe for this Mac lipstick anywhere else.
MAC Candy Yum Yum – Obsessive Compulsive Cosmetics Lip Tar Nylon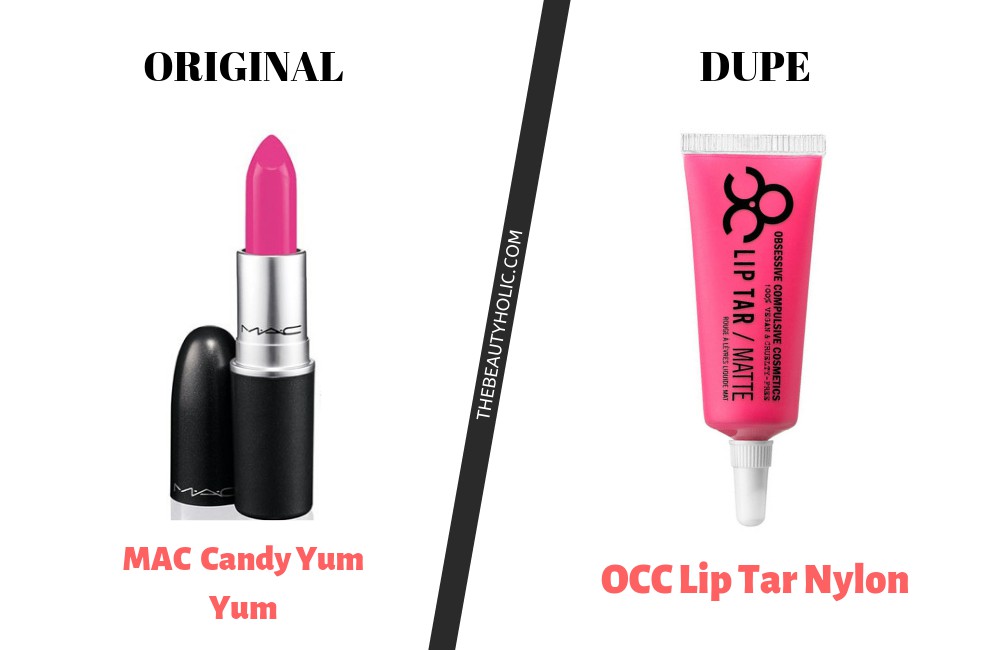 Why so pink, baby? The Candy Yum Yum shade of MAC lipstick is gorgeous, and the exact dupe is OCC's Nylon Lip Tar. The pink shade looks really attractive, and the neon but pink vibes of the shade are exceptional. It is one of the best MAC lipstick dupes you will find for Candy Yum Yum. You can opt for this one if your salaries cannot afford MAC right now.
MAC Angel – Maybelline Born With It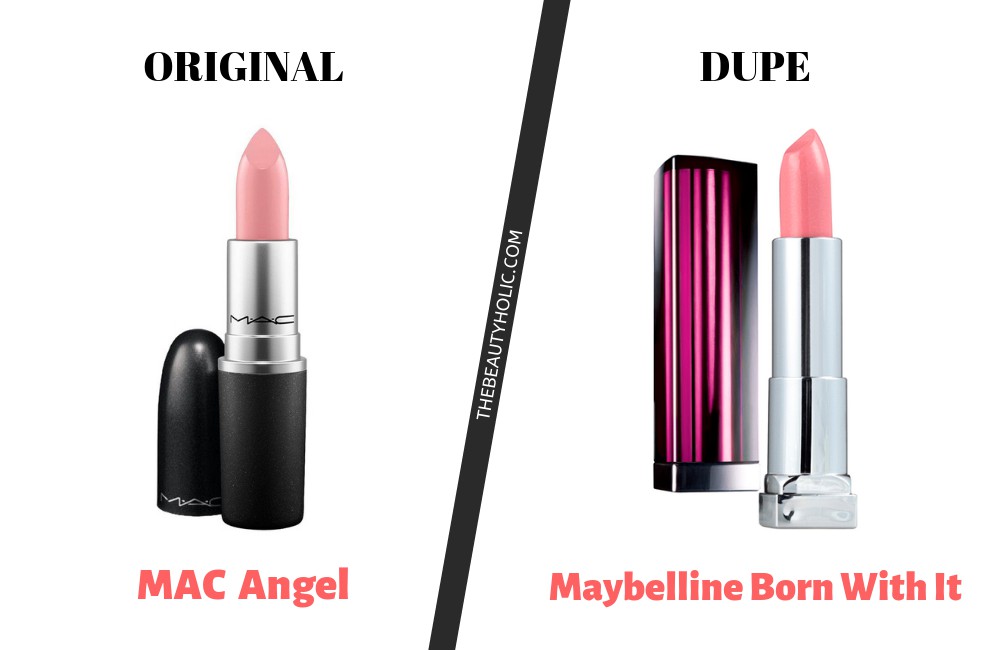 A college-going girl or formal and basic looks usually require perfect nude lipstick. The one by MAC is definitely worth it, but everyone cannot afford it. The ideal dupe for Mac Angel lip shade is Maybelline Born With It lip shade. It is a phenomenal shade, which is excellent for every girl out there. The nude shade suits almost every skin tone and looks basic yet sassy. The creamy matte finish is perfect for an everyday look.
MAC Twig– Maybelline Touch of Spice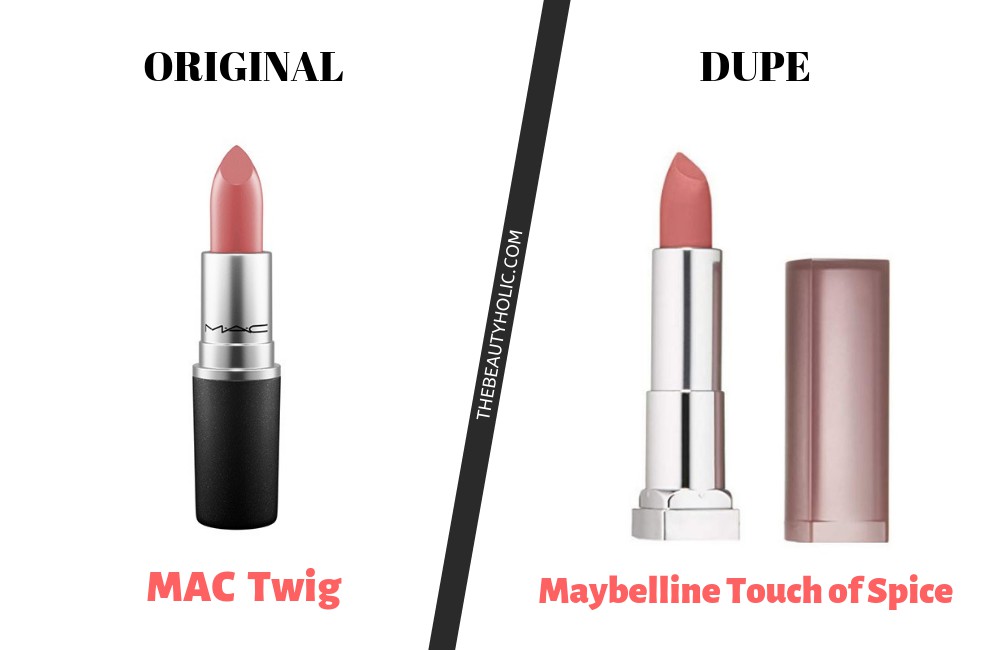 Hanging out with friends at night while having a perfect mauve or brownish shade on your lips is what every girl desires. The Twig, which is a mauve color, has an ideal dupe in Maybelline. I mean, who is not aware of Maybelline here. It is such a well-known, famous brand which has an amazing collection of lipsticks. The dupe for this comes out to be Maybelline lipstick in the shade Touch of Spice. Girls go crazy over this one because it is a perfect dupe for MAC lipstick.
MAC Russian Red – Wet N Wild Spotlight Red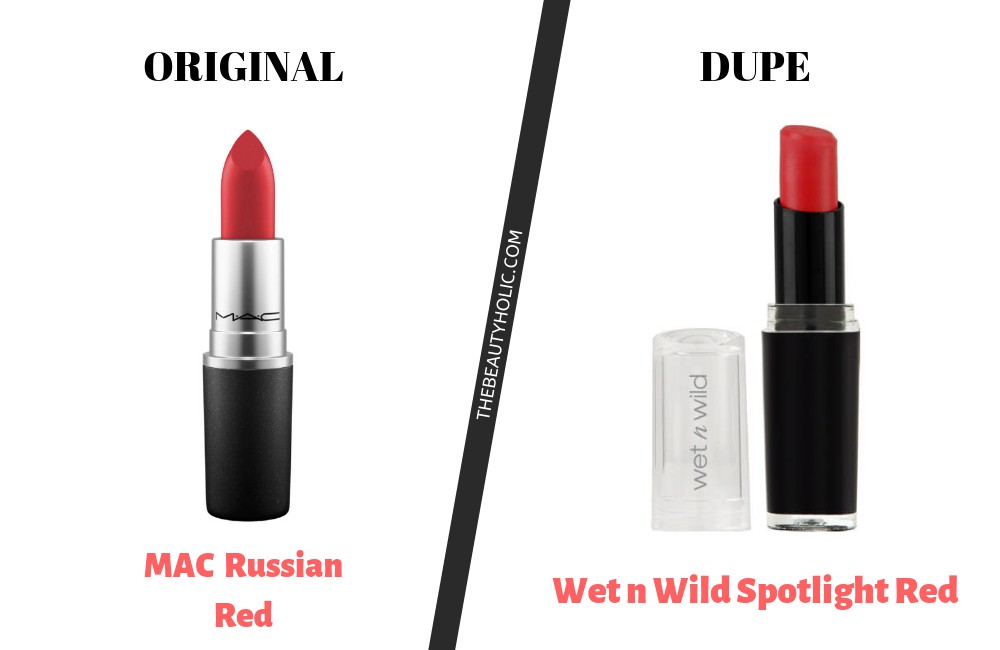 Wet n Wild is a fantastic brand with many dupes of MAC if you look into each shade. The Russian Red is a blood-red lip shade that looks splendid on fair skin tone. You can never get over this lipstick once you apply it. But, dupes are a necessity, and therefore we have got one from Wet N Wild. Wet n Wild lipstick in the shade Spotlight is incredible and beautiful. It is almost close to Russian Red and has the perfect finish that every girl needs.
MAC Impassioned – NYX Matte Lipstick Angel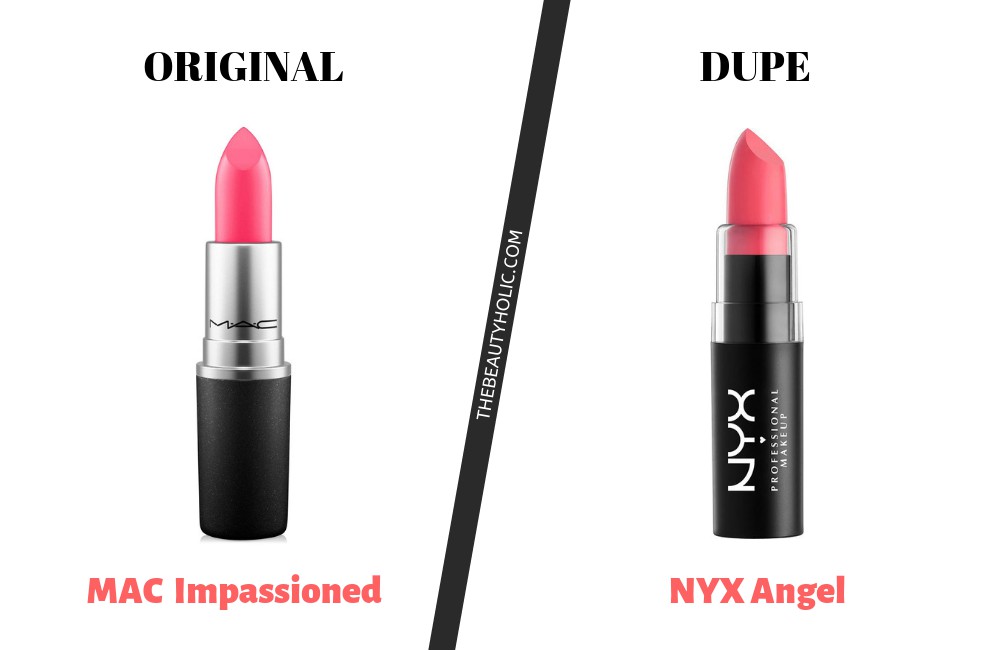 Summers are on, and what better than neon colors in the wardrobe and vanity as well. This bright pink neon shade looks dazzling on every girl out there. The just-right dupe of the Impassioned shade of MAC lipstick is the NYX lipstick in the shade Angel. What a beautiful and gratifying match NYX just created for all the girls out there who cannot buy MAC lipsticks.
MAC Velvet Teddy – Maybelline Nude Perfection Lip Pencil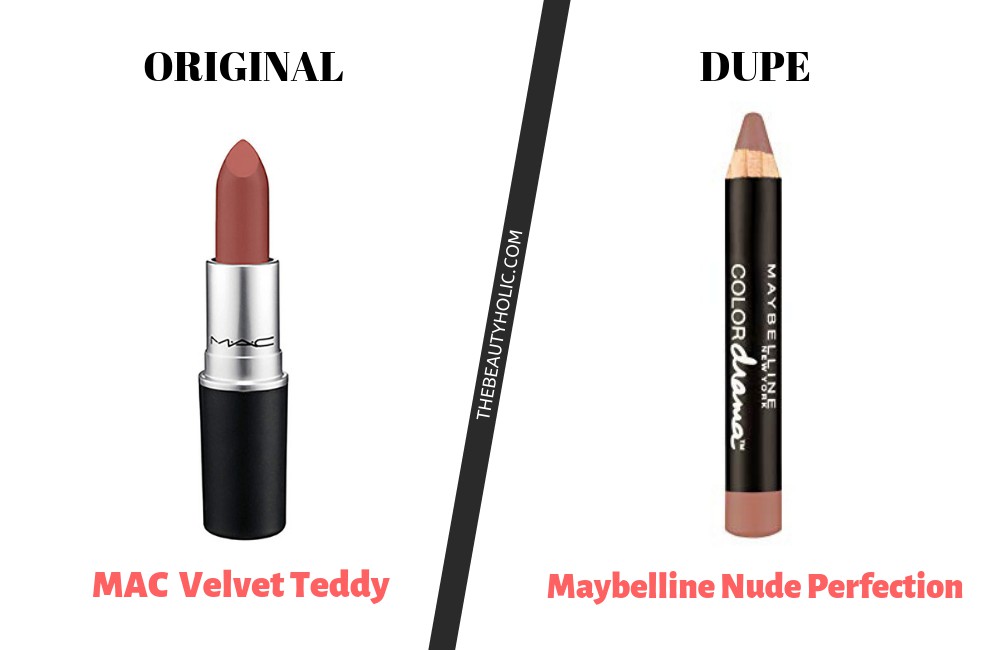 Nude lipsticks are such a blessing for all the girls out there that they can never get over it. A basic office meeting or formal looks call for nude lip shades, and what better than Maybelline lipstick in the shade Nude perfection. Girls, don't feel sad for not buying MAC velvet teddy. Instead, feel excited to buy this perfect nude lip pencil by Maybelline.
Conclusion
So, cheers to the happy ending of the gossip for MAC lipstick dupes. The best one may or may not be in your hands. But what are you waiting for? Christmas? Get yourself the best dupes for MAC lipsticks so that you are sorted for life.
Clearly, these drugstore brands have got you there in your vanity. What can be better than this? Be grateful for the MAC lipstick dupes that brands have created and grab the best ones fast.