It was not long ago that I started losing my hair heavily. Like, chunks of my hair were coming out! So at that time, I bought a bunch of anti-hair fall products, and apparently all from Himalaya Herbals.
I previously used some of their products and found them to be pretty good, so I bought a whole set! Himalaya Anti Hair Fall Cream is the one I'll review.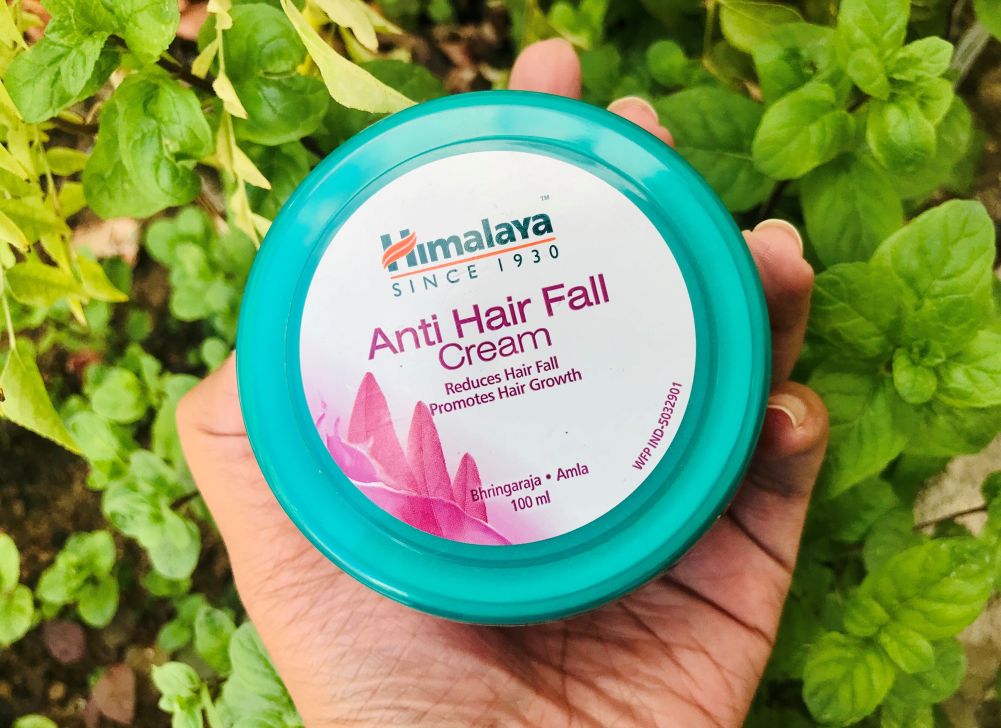 About the product: Himalaya's Anti-Hair Fall Cream is a unique, daily-use formula that reduces hair fall and strengthens hair follicles. The goodness of essential herbs like Bhringaraja and Amla nourishes hair from the roots, helps reduce hair fall, improves hair growth, and strengthens hair follicles.
Nourishes hair from the roots
Strengthens hair follicles
Can be used on color-treated hair
Suitable for all hair types
Price of Himalaya Anti Hair Fall Cream: Rs. 80 for 100 ml
Ingredients: Chanaka, bhringaraja, yashtimadhu, amalaki, bibhitaka, haritaki, narikela, draksha, methylparaben sodium, propylparaben sodium, sodium benzoate.
How to use?
Take some hair cream on your palm.
Gently massage it into your scalp and damp hair.
If using before shampooing, leave it on for 20 minutes.
If using after shampooing, run a tiny bit through hair and leave it on.
My Experience with Himalaya Anti Hair Fall Cream
This hair fall cream is a pure white cream that has neither a runny nor thick texture. Having a very whipped consistency, it's very easy to apply to your hair. The fragrance is very (very) strong.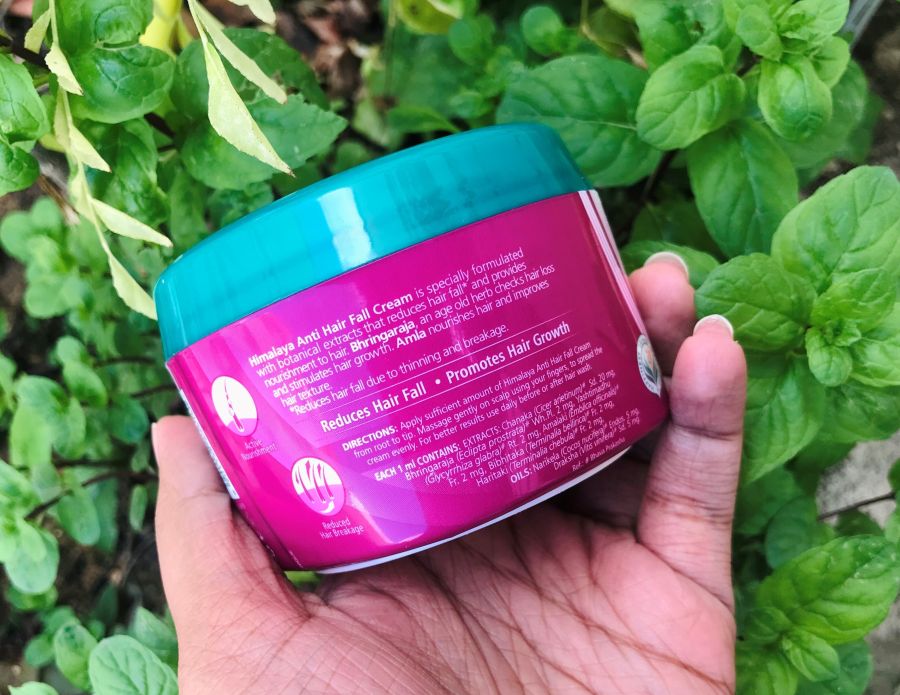 Packaging is quite good. It comes in a white tub with printed details. Himalaya Herbals' classic green lid adorns the jar. Inside, there is a flat plastic lid that can be lifted off. It is true that the tub packaging is unhygienic; however, as long as you wash your hands thoroughly before using any product, which you should always do, this shouldn't be a problem. I prefer a pump bottle because it is easier to dispense the product and I can control how much of it I use.
Ancient cultures used Bhringaraja and Amla to promote hair growth, as well as overall hair health. Strengthening the roots or follicles of the hair is the goal of these ingredients. Also helps with itchy scalp, premature greying, and promotes shine.
I have to start off by saying that I use a combination of their anti-hair fall products: conditioner, oil and this hair cream. This means that any effects I achieve won't be a result of the hair cream alone. And also, I use an oil concoction of coconut, sesame, and castor.
I did notice a general decrease in my hair fall rates since I started to use the cream. It did not improve my hair growth; instead, my hair growth has been very low for some time. That's one claim that hasn't been met. I believe, however, that with the reduction of hair loss, my hair follicles have been strengthened.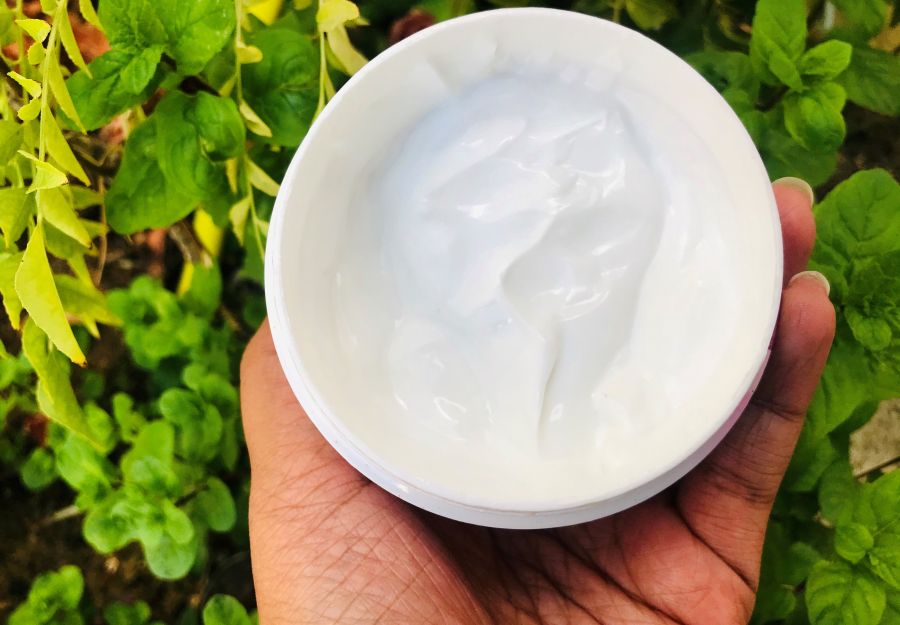 I generally use this hair cream after I wash my hair when it is semi-dry. You can use it before or after washing. I tried it once when my hair looked very dry and frizzy, and it worked like a charm! Upon touching my hair, it looked shiny and felt like silk. I had the same effect when I used it after hair wash, but I always thought it was due to the conditioner. In fact, the cream actually accentuates the effect of the conditioner.
This product has the serious problem of giving me terrible headaches whenever I use it. As I have mentioned, it has an intense fragrance. As a whole, the smell is not bad, but rather very pleasant. However, I develop a headache after a few minutes as it's too strong.
Like other Himalaya products, this product is reasonably priced and widely available in the market. For shoulder-length hair, the 100 ml tub lasts me more than ten uses.
The most commonly asked questions about Himalaya Anti Hair Fall Cream
So most of you might be wondering, can Himalaya hair cream be used daily? Your hair type is the first factor to consider. If you have dry hair that needs regular moisture, you can use this every day. In the case of an oily scalp, however, once a week is sufficient. The best way to use this product is to apply it whenever you feel your hair needs hydration.
Is it okay to keep it overnight? Since there is no mention of how long you should keep it on, you can leave it on overnight or as long as you like.
What is the best way to use it? The hair cream works best on damp hair, but you can use it on dry hair as well.
After applying it, should I wash my hair? It's okay to use it before or after washing, as you prefer. If you get frizzy hair after shampooing, it's ideal to use it after. When your hair is oily, it's a good idea to apply it before washing.
Are there any side effects? It's safe. However, if you are very sensitive to most products, you might want to perform a patch test first. While hair cream gives your hair a natural shine and health, overuse or not washing it off properly can lead to dandruff and infections on your scalp.
Pros
Reduces hair fall
Provides hydration and shine to hair
Smells amazing
Strengthens the hair roots
Packaging that is leak-proof and travel-friendly
Budget-friendly
Widely available
Natural and cruelty-free
Cons
Has no effect on hair growth
Too strong of a scent
Himalaya Anti Hair Fall Cream
Final Word
Overall, it's a decent product that delivers what it promises. Besides reducing hair fall, it also makes the hair look healthy and lustrous. The product has a beautiful scent that I love, however its strong scent is a knockout for me.
I hope this review has given you a good idea of what the product is like. What do you think of Himalaya Anti Hair Fall Cream?
Related Posts