After an amazing experience with the Mamaearth Tea Tree Hair Mask, I was incredibly curious to try out more variants of their hair masks.
My curly hair suffers from dryness, dandruff, and hair fall. It's a nightmare! I had tried every single remedy I could find and invested a lot of money in hair products but to no avail.
While the Tea Tree hair mask did condition my hair and make it dandruff-free, it wasn't very effective against hair fall. For the same reason, I tried out MamaEarth Argan hair mask. Let's find out if it worked.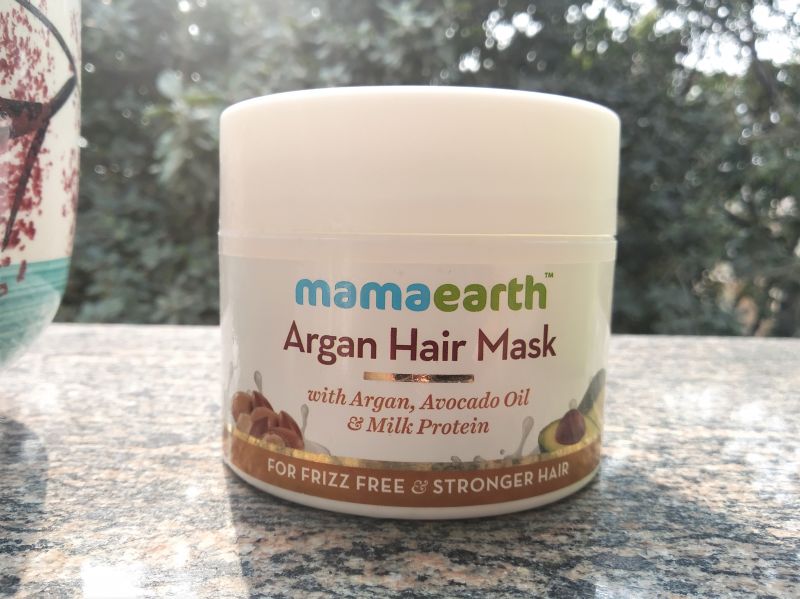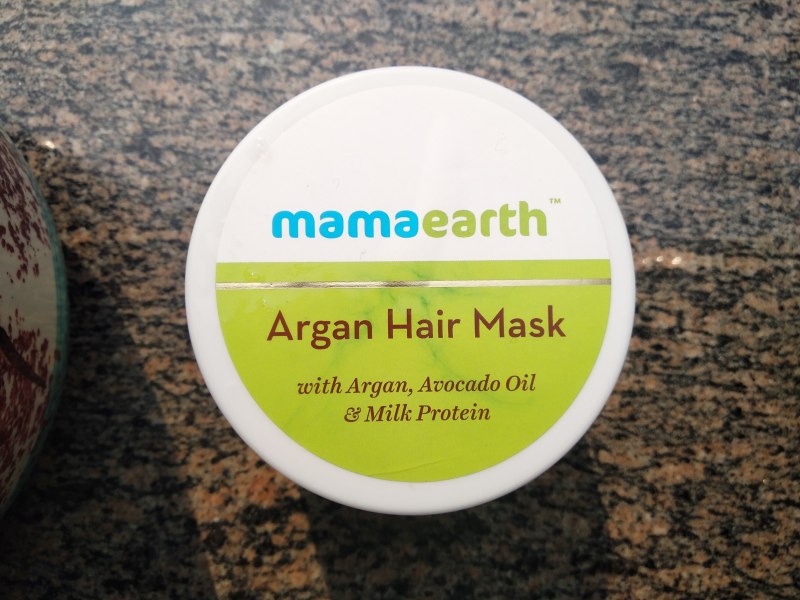 About the Product: Mamaearth Argan Hair Mask is specially formulated to reduce hair fall and treat damaged hair. It deeply conditions your hair and reduces frizz. It contains natural ingredients such as Argan Oil that help condition your hair and make them shiny. At the same time, Rosemary oil works great to restore the scalp's moisture and promote healthy growth. Along with that, Avocado Oil reduces hair fall by strengthening hair follicles and milk protein repairs hair tissue and promotes hair growth. It doesn't contain Parabens, Phthalates, SLES, Mineral Oil, Fragrances, and Dyes.
Readers like you help keep The Beautyholic running. When you buy through links on our blog, as an Amazon Associate, we earn from qualifying purchases at no extra cost to you.
Price: Rs. 599/- for 200 mL | Buy it on Amazon or Nykaa
Ingredients: Purified Water, Milk Protein, Curd Extract, Argan Oil, Rosemary Oil, Cedarwood Oil, Tea Tree Oil, Sodium Citrate, Brassica Alcohol, Brassicamidopropyl Dimethylamine, Caprylic/Capric Triglyceride, Hydrolysed Collagen, Sodium Hyaluronate & Potassium Sorbate.
Claims and Benefits:
Hydrates your hair

Repairs damaged hair

Reduces hair fall

Deep conditions

Frizz-free hair
How to Use?
Part your hair in two halves. Take a palm-full of hair mask and apply evenly from root to tip.

Use a wide-toothed comb to evenly spread the mask all over the hair.

Cover your hair with a hot towel to help the nutrients of the hair mask get absorbed in the hair.

The mask becomes more effective in this way. Leave the mask for 15-20 minutes before washing it off with sulfate-free shampoo.
My Experience with Mamaearth Argan Hair Mask
The packaging of the product is quite standard and coherent with the Mamaearth Hair Mask range. The product comes packed in a sturdy circular tub. The outer cardboard packaging and the tub mention all the details about the product. The lid closes securely with a twist, and there's an additional lid inside to prevent the product from coming into contact with air. This also makes the packaging leak-proof, which I liked.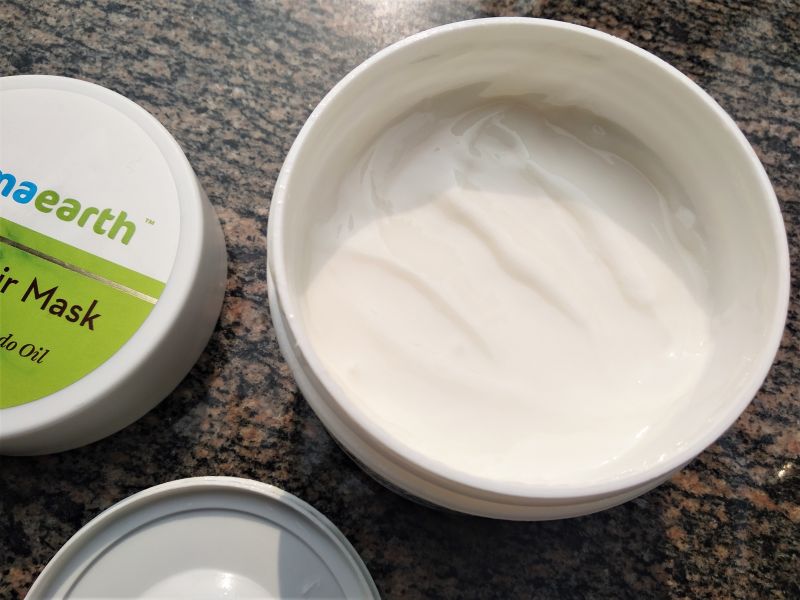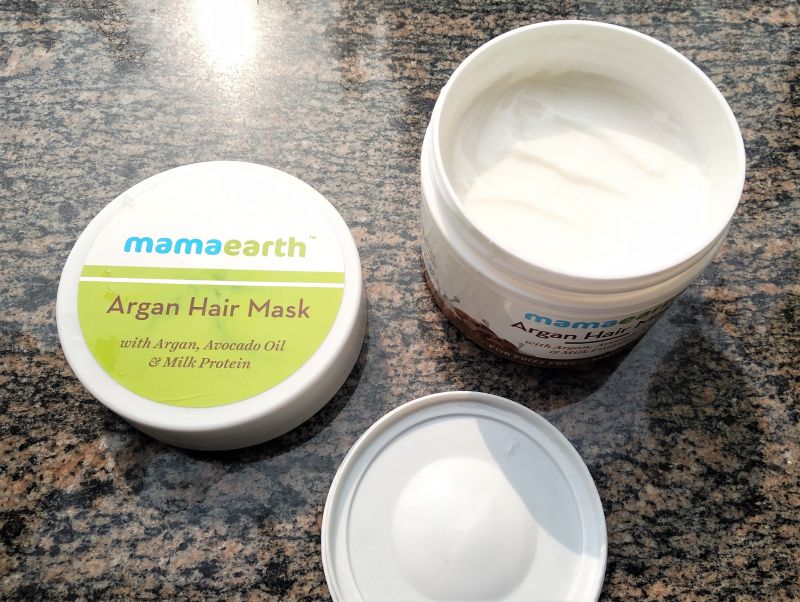 Mamaearth's Argan Hair Mask has a fragrance very similar to its Tea Tree counterpart. Since this product also contains tea tree oil in it, it has quite a prominent fragrance of tea tree. However, it is not extremely overpowering because the scents of the other ingredients like argan oil are also present. I enjoy the way this mask smells, it's quite fresh and soothing.
The mask is completely white in color and has a rich, creamy texture. It's very smooth to touch and glides through the hair. I need about a palm-sized amount of this hair mask to cover my medium length hair from scalp to tip. I use it 2-3 times a week.
Once I have applied the product onto my hair and scalp, I like to massage my scalp gently with my fingers. This hair mask contains a lot of essential oils, and other nourishing ingredients, and massage is the best way to get those ingredients absorbed into the scalp.
After leaving it on for 10 minutes or so, I rinse my hair. My hair felt soft and manageable after the very first wash, and I was quite impressed with the results. My hair was also visibly less frizzy. However, this hair mask is not very effective against dandruff. My flaky scalp greeted me once again. Despite containing tea tree oil, I did not notice any anti-dandruff properties in this product.
Just like the Tea Tree mask, the Mamaearth Argan hair mask is not effective against hair fall. I am inclined to return to the Tea Tree mask for my hair, as it at least got rid of dandruff.
I also do not like how bulky the packaging is. It's alright to be used at home, but it's impossible to travel with this hair mask. I use it each time I wash my hair, which makes it very difficult to take this product with me on vacation. It would have been really nice if this product was available in a travel-friendly size.
Pros:
Leak-proof packaging

Reduces frizz

Makes hair soft

Pleasant scent
Cons:
Bulky packaging

Available in only one size
Mamaearth Argan Hair Mask.
Final Word
I would recommend the Mamaearth Argan hair mask product to anyone suffering from dry and frizzy hair. Despite having tea tree oil, it does not eliminate dandruff and is also not effective against hair fall. I think that's it's an excellent product for dry to normal hair, but not for specific hair and scalp issues.