My hair is curly, frizzy, prone to dandruff and itchiness, oily from the roots, and dry elsewhere—basically, I have pretty much every hair issue one's hair can have. From what I can recall, this has always been the case.
In my early teens, I would read about sulfate-free hair products. We either couldn't get these in India, or they were too expensive.
On social media, however, a brand called MamaEarth has recently gained attention. After using the MamaEarth Tea Tree Hair Mask for a month, I'm ready to share my review.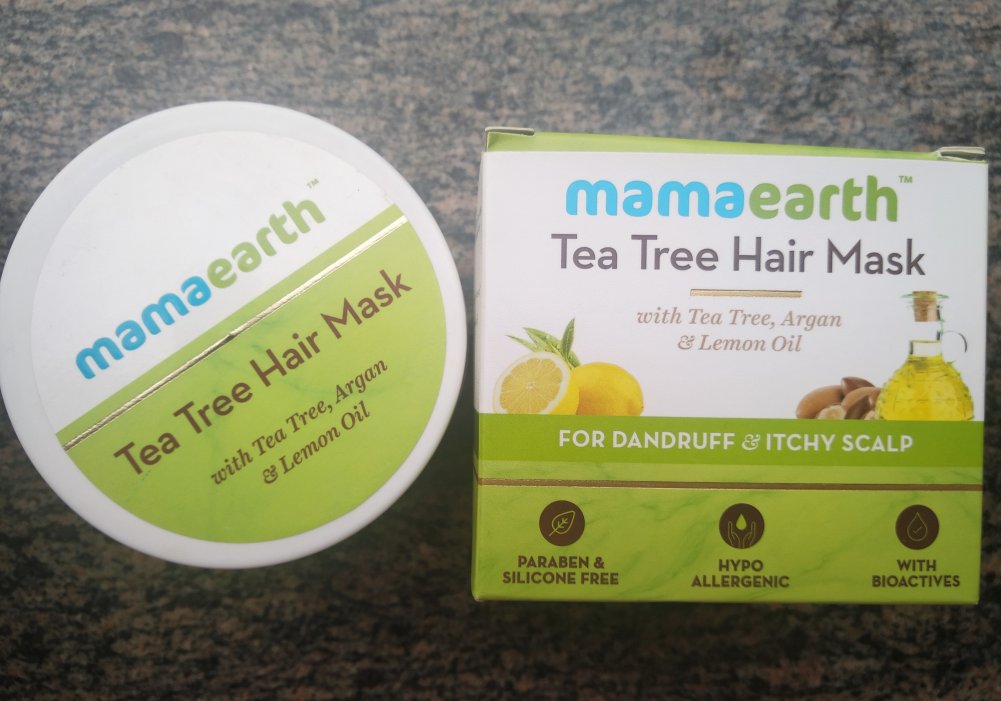 About the product: Mamaearth's Tea Tree Hair Mask controls dandruff and soothes oily scalp so that your scalp is itch-free and healthy. The mask contains coconut oil and argan oil to nourish and moisturize your hair, while tea tree oil and lemon oil can fight oil and dandruff. Whether you have curly hair, colored hair, treated hair, dry hair, or oily hair, Mamaearth Tea Tree Mask will suit your hair type!
Readers like you help keep The Beautyholic running. When you buy through links on our blog, as an Amazon Associate, we earn from qualifying purchases at no extra cost to you.
Price and Quantity: 200 ml | Buy it from Amazon
Ingredients: Purified Water, Milk Protein, Curd Extract, Argan Oil, Rosemary Oil, Cedarwood Oil, Tea Tree Oil, Sodium Citrate, Brassica Alcohol, Brassicamidopropyl Dimethylamine, Caprylic/Capric Triglyceride, Hydrolysed Collagen, Sodium Hyaluronate & Potassium Sorbate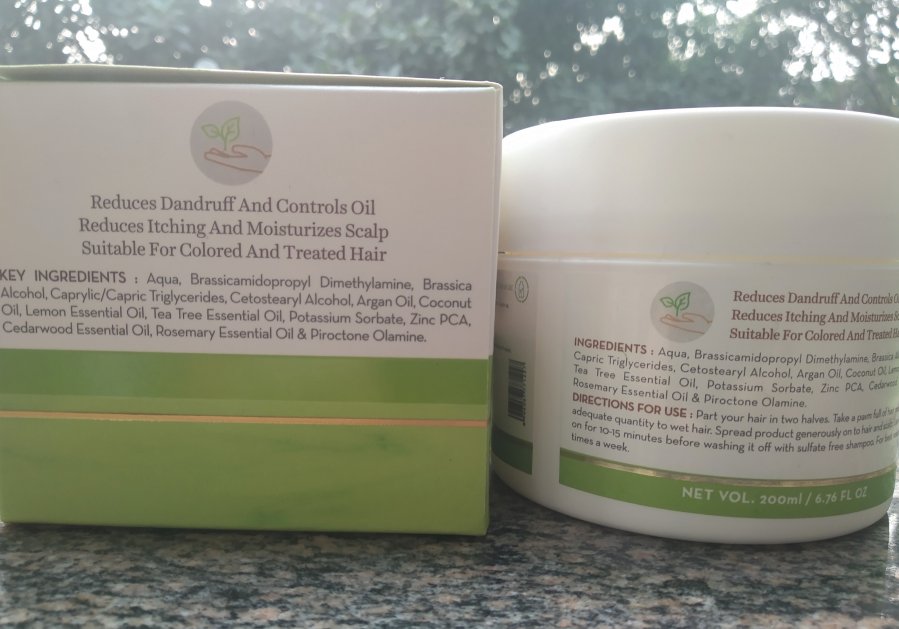 My Experience with Mamaearth Anti Dandruff & Itchy Scalp Tea Tree Hair Mask
The product arrives in a cardboard box, which contains a round container. The box and the container mention exactly the same details, so I didn't get the point of the cardboard box. Upon opening the container's lid, there's an additional plastic lid that protects the product from air contact. To open the second lid was a little tricky, but after struggling a little, I managed to open it. The packaging is spillproof and sturdy.
A strong tea tree scent fills the air immediately after I open the lid. Initially, I found it quite unpleasant, but I have gotten used to it by now, and I now enjoy it.
The product is white in color and has an extremely creamy texture. For my medium-length hair, I need about the size of my hand to cover it nicely. After shampooing, I like to use this product as a conditioner, so I use it 2-3 times a week.
After shampooing my hair, I first apply it to my roots and massage it into my scalp gently. It gives a pleasant cooling sensation, and all the itchiness begins to vanish. After that, I apply it to the shaft and tips of my hair. Then I rinse it with water after about ten minutes. Following that, I dry my hair with a towel.
Immediately after using this product for the first time, my hair felt softer than it ever does. After using it for a week, I was highly impressed with the results. My scalp has stopped itching completely, and there was absolutely no trace of dandruff. Since then, I have not stopped using this product.
Last week, instead of using this conditioner, I used a regular drugstore conditioner in order to test its performance. My hair felt drier and coarser. MamaEarth Tea Tree Hair Mask really did transform my hair.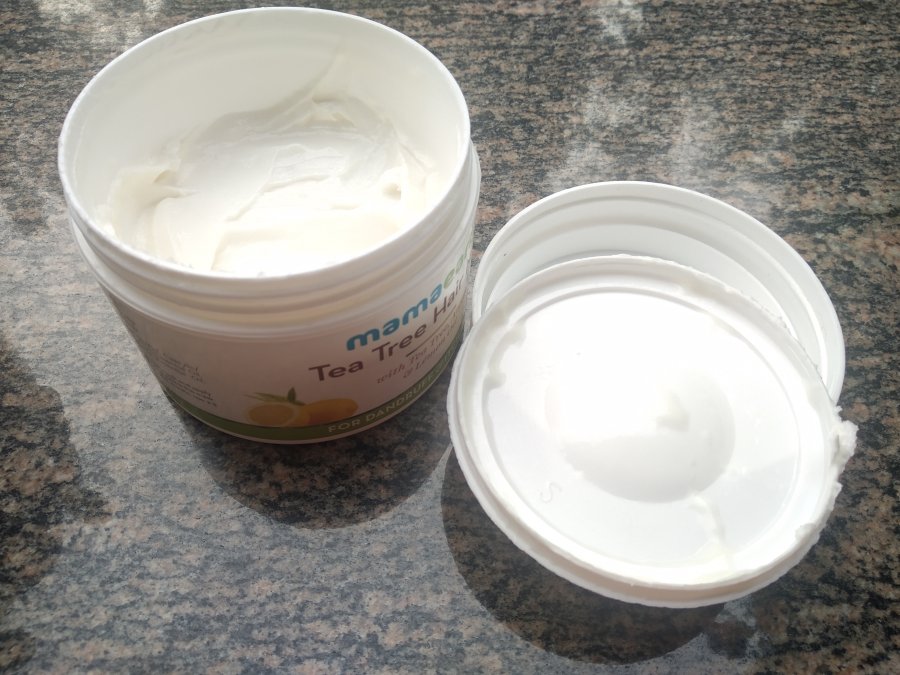 I've been using this product for over a month, and there's still a while to go before I run out of it. The cost isn't too high, but it's not the cheapest either. I'll have to purchase it 4-5 times per year.
Unfortunately, this conditioner didn't do much for my hair fall. I did not notice any improvement in the strength of my hair. This new argan oil conditioner from Mamaearth claims to address that problem. I'll let you know what I think when I try it.
Another issue I have is that the size of the product is quite bulky. I couldn't find a smaller size either on Mamaearth's website or on Nykaa, which was disappointing. Taking this conditioner on a trip would be difficult. A smaller product would also make the conditioner more accessible, given that the price isn't very low.
Pros
Durable packaging
Reduces dandruff
Eliminates itching
Provides softness to the hair
Smells wonderful
Cons
Bulky packaging
Only available in one size
Not an affordable option
MamaEarth Tea Tree Hair Mask
Final Word
A miracle in a tub, the MamaEarth Tea Tree Hair Mask will instantly rid your scalp of dandruff and itchiness and leave your hair conditioned and healthy. It is now my go-to conditioner, and I will definitely repurchase it. This is something you should try for lovely-looking hair!
More reviews