Lately, there are two things that I have become obsessed with: makeup and moisturizers. I'm going to share a popular and one of my latest finds: Charmis Daily Nourishing Soft Cream.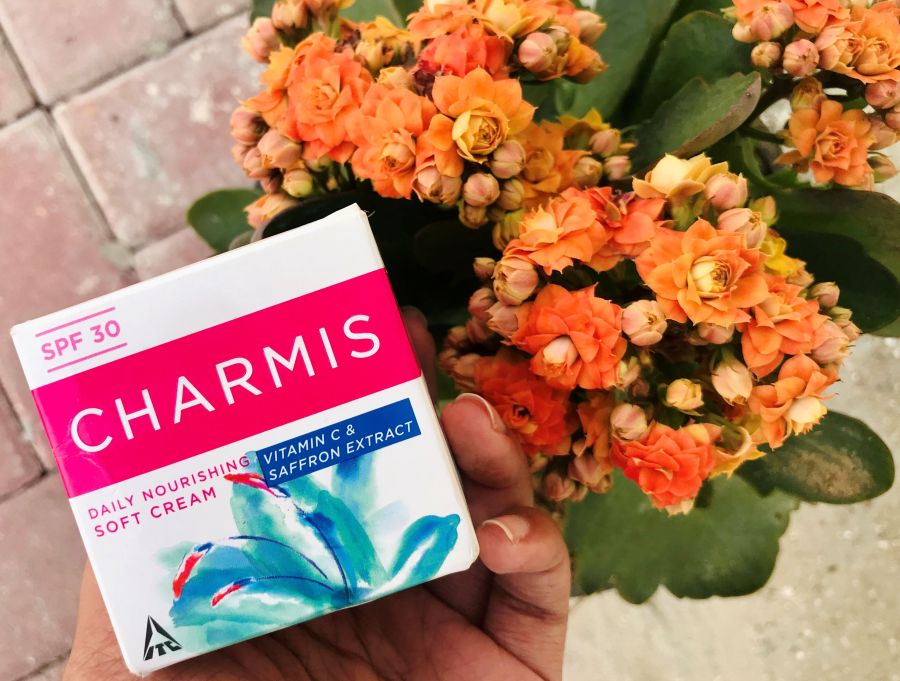 About the product: This lightweight moisturizer provides relief from sun damage and comforts your parched and dehydrated skin by instantly boosting moisture levels. A small amount leaves your skin feeling soft, fresh, and happy. The cream's bouncy texture is so lightweight and skin essential for all seasons.
Price: ₹ 79 for 58 ml
Ingredients: Aqua, Ethylhexyl methoxycinnamate, methylene bis-benzotriazole tetranethylbutylphenol (and) decyl glucoside (and) propylene glycol (and) xanthan gum, glycerin, hydroxyethyl urea, dimethicone, ammonium acryloyl-dimethyltaurate/VP copolymer, butylene glycol, glycyrrhiza glabra root extract, niacinamide, sodium ascorbyl phosphate, crocus sativus, aloe barbadensis leaf extract, menthyl lactate, acrylates/C10-30 alkyl acrylate crosspolymer, triethanolamine, butylated hydroxytoluene, phenoxyethanol, methylparaben, propylparaben, disodium ionone, benzyl alcohol, benzyl benzoate, citral, citronellol, geraniol, hydroxycitronellal, limonene, linalool.
Features:
The cream is infused with Vitamin C and saffron extract and has SPF 30.
Vitamin C is an antioxidant and helps offset UV and pollution damage. It has several skin healing properties and prevents premature aging. It has found a special place in beauty products due to its ability to reduce dark spots and hyperpigmentation.
Saffron has been used in India for a long time. It helps whiten the skin, make it radiant and reduce acne and blemishes. In addition to this, it hydrates skin and makes it softer and smoother.
SPF 30 blocks out nearly 97% of UVB rays. SPF can help reduce sunburns and also premature aging. Sun protection combined with saffron extract can help avoid sunburns and soothe resulting ones.
My Experience with Charmis Daily Nourishing Soft Cream
The cream is a light pastel green. It has a thick, rich and creamy texture. The product comes in a cute little white pot with a twist lid. There is a foil packaging that needs to be pulled away from before using the product.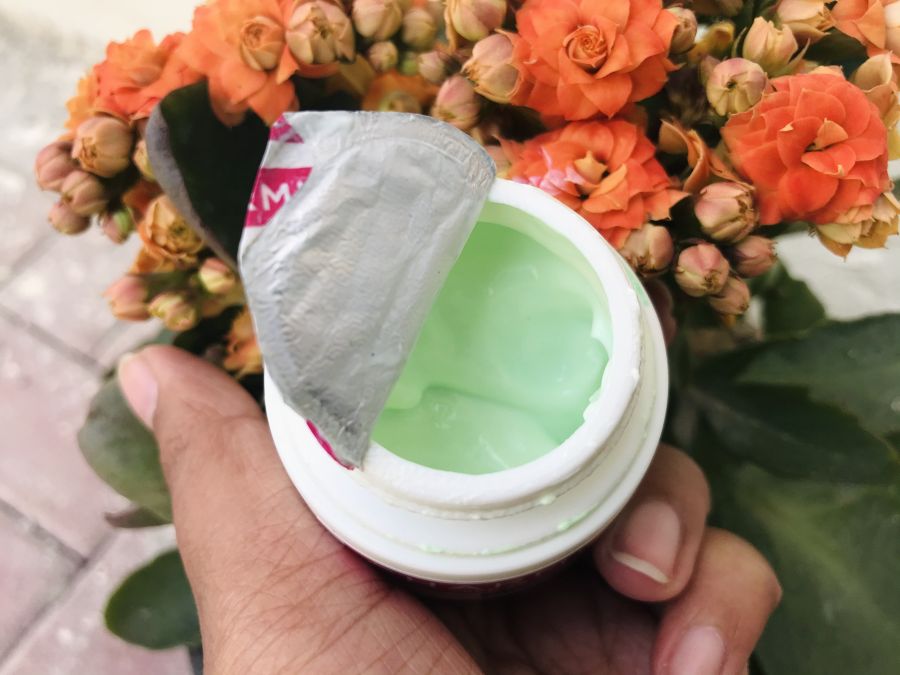 I find the thick texture a bit difficult to apply on the face. Generally, I dot my face with the cream and then massage it onto the skin. I find the need to use a little pressure to apply it, mostly because I have generally dry skin. It might be easier to put on oily skin as it might glide on smoother.
The texture of Charmis Daily Nourishing Soft Cream is not greasy for normal to dry skin. But the thick texture can be greasy for oily skin, especially after a while. The moisturizing cream claims to be suitable for all seasons, but with my experience, I found it more suitable for winter months when my skin is a bit drier.
I love the smell of the cream. It has a delightful smell. It reminds me vividly of calamine lotion, but in any case, the fragrance is very lovely. However, dermatologists believe that moisturizers need to be fragrance-free as they can irritate the skin. So in the case of sensitive skin, stick to fragrance-free products. I do not have sensitive skin, so I generally prefer products with a pleasant smell to them.
I adore the packaging. The pot has an adorable and unique design. Part of being small is that it is travel friendly. You can easily throw it into your purse. I am a person who has to put on moisturizer 3-4 times a day. So travel friendly is a huge pro in my case.
Since there is no spatula to scoop out the product, some people might mind that it is not hygienic. It's essential to wash your hand with soap before you do anything to your face. So if you are already doing that, your hands will be clean enough to scoop it right out of the pot.
I don't pull out the foil completely to form a layer between the product and the cap. I don't find the cream layered on the lid pleasing, and this helps to avoid that.
Since Charmis Daily Nourishing Soft Cream is a multitasking moisturizer, there is no need to use sunscreen after this. I use sunscreen even when I use this product so that there is added protection. However, give a pause of 5-10 minutes between each product so that there will be time to absorb it into the skin. The combination of Vitamin C and saffron can help whiten skin, remove blemishes, dark spots, and hyperpigmentation.
It is not an excellent moisturizer. Though hydrating, it can make your skin feel dry after a few hours. Because I have dry skin, I have to reapply it in a few hours in case I want to stay moisturized.
Pros
Travel-friendly packaging
Pleasant smell
Contains Vitamin C and saffron that helps with marks and blemishes
SPF 30 provides sun protection
Affordable
Cons
Not fragrance-free
Can be too thick to apply
Not hydrating enough
Charmis Daily Nourishing Soft Cream
Final Word
It is a pretty good and affordable moisturizer, but it's moisturization only lasts for a few hours. I might use it again, but it will not be my first preference.
Related Posts