Hello everyone! I hope you all are thriving and doing what is great for you. Today I will talk about something that is an essential step in taking care of skin – moisturizing.
We all know that beauty is not just about makeup and fashion; it also includes skincare. Our skin deserves all the pampering, whether it's cleansing, moisturizing, or toning.
The secret to beautiful skin lies in supplementing the skin with proper hydration. Therefore moisturizer is one product every individual must use. No matter how oily your skin is, it needs moisture. Now choosing the right moisturizer according to the skin type becomes a different task.
Let's move on to today's pick, one of my all-time favorites from dove; it's beauty cream. Moisture is the key to beautiful skin, and Dove Beauty Cream, with its light and nourishing moisture formula, keeps your skin feeling soft and smooth after application.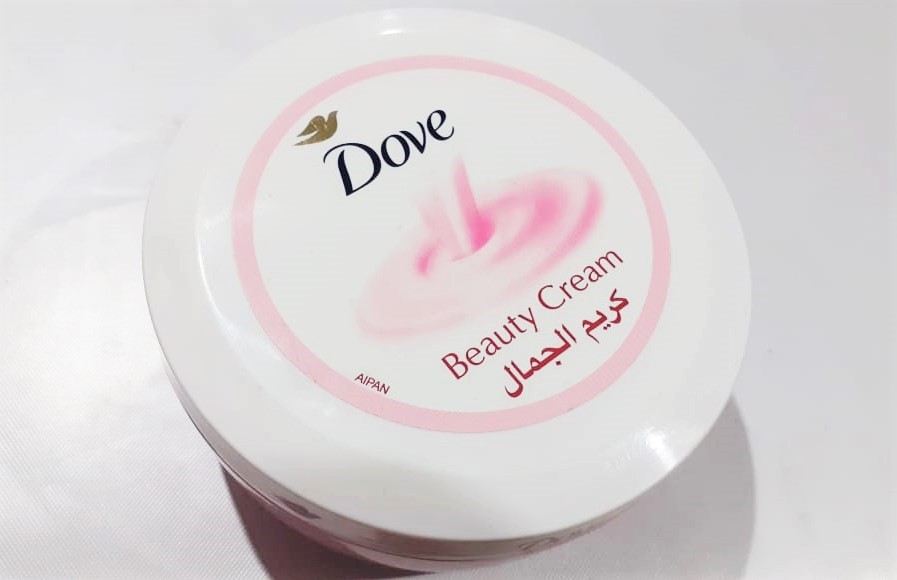 About the Product: Dove's Beauty Cream is a luxurious moisturizing body cream with a lightweight, nourishing formula to help leave you with soft, smooth, and beautiful skin. What does gorgeous skin mean to you? Softness? Radiance? Smoothness? With a creamy moisturizing formula, this cream nourishes dry skin and leaves it looking and feeling beautiful.
What is Dove beauty cream used for?
Moisturizes the face, hands, and other body parts.
Works well as a makeup base
You can mix it with foundation for a dewy look
Readers like you help keep The Beautyholic running. When you buy through links on our blog, as an Amazon Associate, we earn from qualifying purchases at no extra cost to you.
Price: $ for 250 ml or 8.4 fl oz. | Buy it on Amazon or Amazon India
What are the ingredients in Dove Beauty Cream?
Ingredients: Water, Palmitic Acid, Stearic Acid, Hydrogenated Starch Hydrolysate, Mineral Oil / Paraffinum Liquidum, Glyceryl Stearate, Caprylic/Capric Triglyceride, Dimethicone, Petrolatum, Theobroma Cacao Cocoa / Seed Butter, Aluminum Starch Octenylsuccinate, Cetyl Alcohol, Potassium Hydroxide, Phenoxyethanol, Magnesium Aluminum Silicate, Fragrance, Carbomer, Methylparaben, Propylparaben, Disodium EDTA, Potassium Carbonate, Tocopherol, Alpha-Isomethyl Ionone, Butylphenyl Methylpropional, Citronellol, Coumarin, Hexyl Cinnamal, Limonene, Linalol
Inactive Ingredients: Limonene;Hexyl Cinnamal;Disodium EDTA;Petrolatum;Theobroma Cacao Cocoa / Seed Butter;Linalol;Methylparaben;Phenoxyethanol;Hydrogenated Starch Hydrolysate;Aluminum Starch Octenylsuccinate;Propylparaben;Coumarin;Palmitic Acid;Fragrance;Caprylic/Capric Triglyceride;Citronellol;Potassium Hydroxide;Tocopherol;Alpha-Isomethyl Ionone;Glyceryl Stearate;Carbomer;Butylphenyl Methylpropional;Magnesium Aluminum Silicate;Mineral Oil / Paraffinum Liquidum;Water;Stearic Acid;Cetyl Alcohol;Potassium Carbonate;Dimethicone
Expiry: 36 months
Dove Beauty Cream Review
The cream comes in a pink-colored slim tub packaging with a white lid, which is simple and sleek enough to carry in your bag without making it bulky. It's so cute and chic to carry around. The only issue I face with these tub packaging beauty products is that they become messy and don't look hygienic. You can find only the ingredients list at the back, and the product has mentioned other specific details regarding the cream anywhere. But apart from that, the packaging is, with doubt, tempting and cute.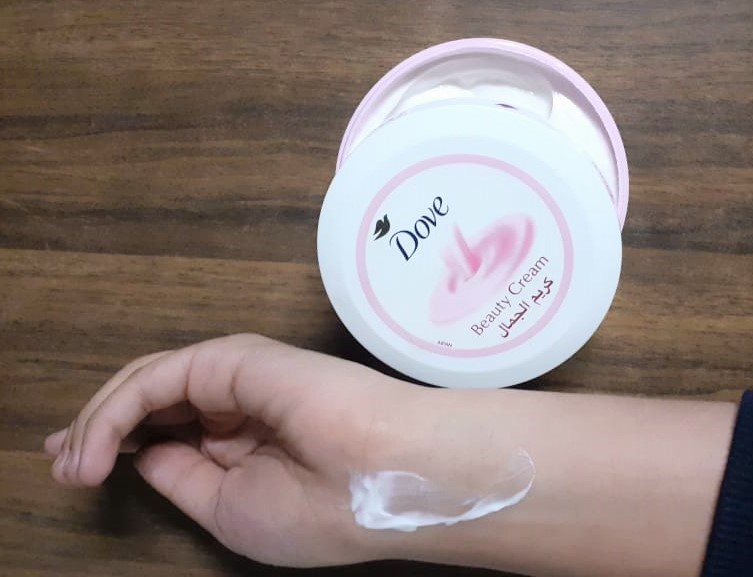 I ordered this cream from Amazon this year. I needed some excellent moisturizer because my Clinique moisturizer got empty, and for a rescue, I ordered this cream from Dove. Dove Beauty Cream had many people raving about this product, so I thought, let me get my hands on it and check this out. I was pretty impressed by the product because it does wonders for the skin. This is a very soft and smooth cream that smells heavenly. It is an exquisite body butter that is creamy and buttery. It is neither too thick and too light, but it's so weightless on the skin as it gets absorbed quickly.
Can we use Dove beauty cream on the face?
Yes, you can use it on your face without any worry. Once I rub this cream on my face, it absorbs immediately, like in few seconds. It moisturizes even the driest skin out.  You can't see the required results in the short term, but eventually, it makes the skin more glowy, moisturized, and nourishing. The best part about this beauty cream is that it doesn't cause any breakouts, so oily-skinned beauties don't need to worry about it anymore.
It works well on the other parts of the body like hands, feet apart from the face. My skin feels nourished and hydrated for a long time, and I don't need to apply it to my hands again and again, even after washing. It's so lightweight and leaves no oily residue. It moisturizes them well and keeps them soft and supple.
The overall consistency is lighter than usual body creams but thicker than lotion. The result is satin soft and smooth skin that feels hydrated. It can be used as a good makeup base also for that glow that everyone dies for. It can even replace any primer to keep the skin fresh and active until the whole day and keep the makeup in place. It's non-greasy and very creamy in texture.
You'll get matte-finish soft skin after applying it. The product is so amazing that it makes your skin look flawless the whole day long. I used it on the night on my face and body and noticed a massive difference on the next day (morning). A little goes longer, so a small amount of product is enough for getting soft and hydrated skin full of moisture.
Pros
Available easily online
Very rich and smooth texture
Keeps skin hydrated and moisturized
No oily residue is left, and it's also non-greasy at all
Can be used my oil skinned ones too
Gets absorbed fast
Has a very delicate floral fragrance
Consistency is creamy and buttery
It's not harsh on the skin, even during winters
Comes in a sturdy jar
Doesn't cause breakouts
Multipurpose cream
Both men and women can use it
Keeps skin soft and supple
Suits almost all skin types
Gives a matte finish when applied nicely
Cons
Tub packaging becomes somewhat unhygienic
There is nothing mentioned on the box apart from ingredients
Dove Beauty Cream
Final Word
If you want to buy a super hydrating moisturizer for yourself, which is handy and travel-friendly at the same time, you can give Dove Beauty Cream a shot. It doesn't clog your pores, which lets your skin breathe. It will undoubtedly work wonders for your skin. The tub packaging becomes messy sometimes, but apart from that, the product is genuinely a great moisturizer to get your hands on.