Snails have a slimy body and when they glide across the surface they release mucus, which provides the lubrication. I am sure that no one would want to even touch that slime, leave alone applying it on our face.
But when the number of benefits of snail slime is counted on, anyone can be tempted to apply it on the face. Snail mucin is best known for its anti-aging properties. It can be used to treat dry skin, wrinkles and stretch marks, acne and rosacea, age spots, burns, scars, razor bumps, and even flat warts.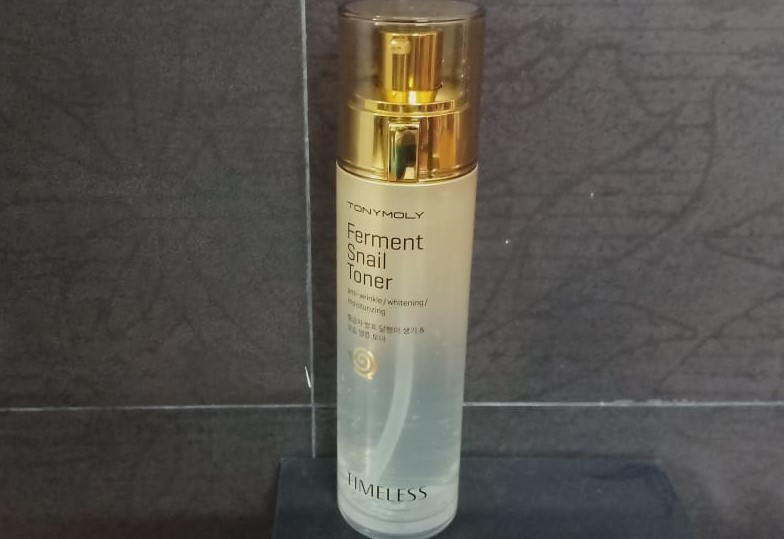 After the multiple benefits of snail secretions were discovered in laboratories, scientists planned to work with dermatologists to develop various products that won't have that slimy texture but will provide you with the benefits. I was lucky enough to get my hands on the TonyMoly Timeless Ferment Snail Toner which is infused with snail slime.
Knowing about its benefits, I couldn't resist picking up this product across the shelf and here's my review on the same.
About The Product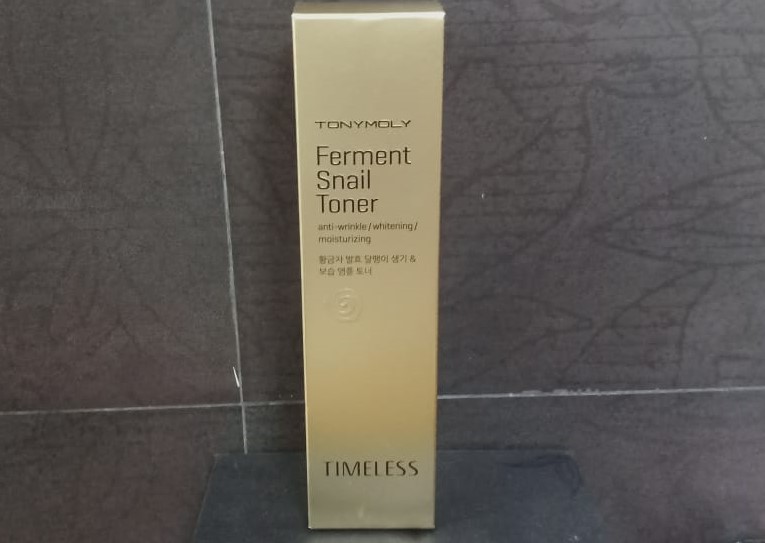 A super-hydrating toner. Featuring a powerful blend of skin-enhancing and anti-aging ingredients, Tonymoly's Timeless Ferment Snail Toner visibly improves skin texture, elasticity, and tone. This innovative, fast-absorbing formula contains gold fermented snail extract to soothe and nourish tired skin, so your complexion looks healthier, brighter and more youthful with each use. Gold Fermented Snail Extract – Packed with skin-beneficial ingredients such as allantoin, glycolic acid, collagen and elastin to calm, brighten and plump the skin.
Readers like you help keep The Beautyholic running. When you buy through links on our blog, as an Amazon Associate, we earn from qualifying purchases at no extra cost to you.
Price: $ | Buy it from Nykaa or complete snail essence kit from Amazon.com
Ingredients
Water, Snail Secretion Filtrate, Butylene Glycol, Alcohol Denat., Niacinamide, Glycerin, PEG-60 Hydrogenated Castor Oil, Carbomer, Tromethamine, Phenoxyethanol, Chlorphenesin, Bis-PEG-18 Methyl Ether Dimethyl Silane, Dimethicone, Ethylhexylglycerin, PEG-2M, Caprylyl Glycol, Chamaecyparis obtusa Water, Hydrogenated Lecithin, Sucrose Distearate, Imperata Cylindrica Root Extract, Adenosine, Alcohol, Disodium EDTA, Opuntia Ficus-Indica Extract, Citrus Medica Limonum (Lemon) Peel Oil, Propanediol, Coptis Japonica Root Extract, Citrus Aurantium Bergamia (Bergamot) Fruit Oil, Sodium Hyaluronate, PEG-8, Citrus aurantium Dulcis (orange) peel oil, Citrus Aurantifolia (Lime) Oil, Pinus Sylvestris Leaf Oil, Centella Asiatica Extract, Eucalyptus Globulus Leaf Oil, Aloe Barbadensis Leaf Juice, Carica papaya (papaya) fruit Extract, Beta-Glucan, Potassium sorbate, Sodium Benzoate.
How To Use?
On a clean face, apply the toner with a cotton pad or with bare hands.
Gently pat to allow the skin to fully absorb.
Apply 1-2 pumps of the emulsion onto clean hands and spread evenly across the face.
Gently pat until fully absorbed. Follow up with a lotion, cream, and/or oil for additional hydration.
My Experience with TonyMoly Timeless Ferment Snail Toner
One thing that I have found common in all the Korean skincare or makeup products I have got is that they have amazing packaging. This toner comes in a sturdy, glass-like sturdy plastic bottle, with a pump to dispense the product out. The product has got a slightly thick consistency. The formulation is quite strong.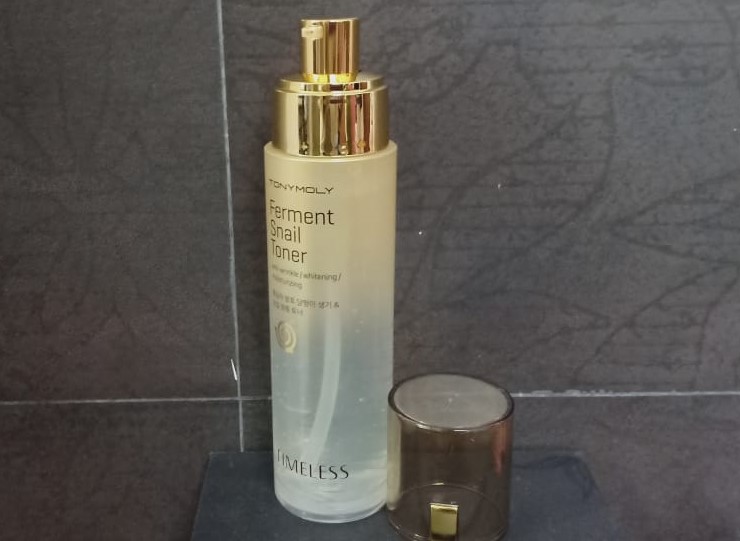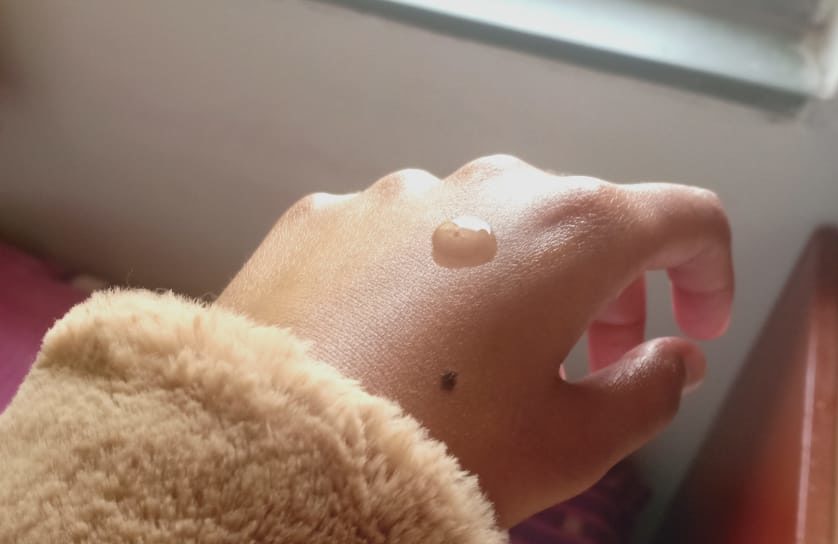 I applied a pea-sized amount on my face and it caused me a bit of tingling sensation but thank god I didn't break out the next day. Instead, the results were impressive. My skin looked smooth, dewy and the pores were very less visible.
I knew that the formulation was strong so I didn't apply the next day. I was hoping that the results would be long-lasting but that wasn't the case. So, I could only feel it the next day after application. But too much application of the product gave me breakouts. However, after using it for a while, my pigmentation reduced gradually.
I didn't find it giving me some out of the world magical results but my mom uses it every day, religiously and I have seen a great improvement in her skin. Her skin glows and her sunspots and pigmentation have improved. She has large visible pores on her face which gradually started to look almost invisible. Her skin got a dewy, hydrated finish.
I could feel the product had a better result on my mom than on my skin, so I will advice people who are planning to add a good toner to their anti-aging routine should go for it. I felt that young skin could not absorb and utilize the product properly and give the desired results.
Snail products like creams, ampules, serums, and other products that have a high concentration of snail secretion in them are primarily meant for aged skin. So, if someone young is planning to try it out, don't apply too much of the product on your face. Application of twice or thrice a week for skin repair is apt.
Pros
Gave dewy look
Easily absorbed
Reduce pore size
Great for aging skin
Cons
Expensive
Only works on aging skin
May cause breakouts
TonyMoly Timeless Ferment Snail Toner
Final Word
If you are in your late 30s or early 40s, who is planning to start their anti-aging skincare, you can surely add this product to your list. It's a good K-beauty product to add to your anti-aging skincare routine but if you have young and still developing skin, please don't try and experiment with the product. I'm in my twenties and personally didn't feel any beneficial outcome and got a good number of breakouts. I won't buy it ever again but I believe it won't leave my mom's shelf.
Those were my thoughts after using TonyMoly Timeless Ferment Snail Toner on my skin. All in all, for aging skin this can be the best product to add to a skincare routine.