While recently searching for a scrub online and scrolling through the websites, I had a plan to try a new scrub. I came across The Face Shop Smart Peeling Honey Black Sugar Scrub, which claimed to have wonderful natural, moisturizing ingredients like honey and sugar as the scrubbing agent.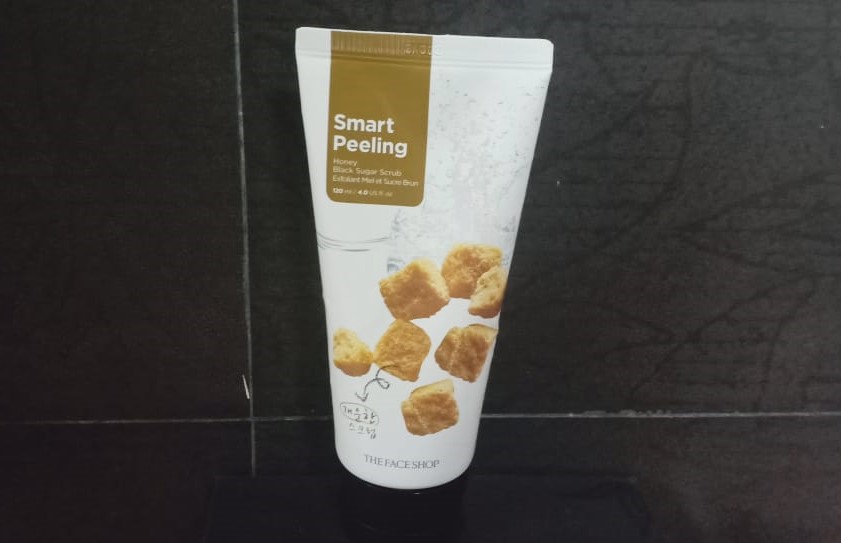 Whenever I have time for myself, I try to DIY my exfoliators. But now, with little time left spare for me on the ticking clock, I planned to get myself this off-the-shelf version of my favorite scrub and try to check if it was really worth it.
So here's my review on this scrub.
About the Product: The Face Shop Smart Peeling Honey Black Sugar Scrub is a mild scrub that effectively gets rid of blackheads. Black sugar with honey exfoliates while effectively removing blackheads. Promotes cell activation and clarification by softly melting skin impurities from within the pores. Effectively removes dead skin and skin impurities while dealing with blackheads. Natural honey, on the other hand, provides rich nutrition to the skin.
Readers like you help keep The Beautyholic running. When you buy through links on our blog, as an Amazon Associate, we earn from qualifying purchases at no extra cost to you.
Price: Check on Amazon
Ingredients: Glycerin, Sucrose, Sodium Chloride, Isopropyl Myristate, Glycereth-26, Peg-32, Trihydroxystearin, Synthetic Beeswax, Polysorbate 80, Polyclyceryl-10 Behenate/Epicosadioate, Honey, Butylene Glycol, Carica Papaya (Papaya) Fruit Extract, Lecithin, Caramel, Carbomer, Triethanolamine, Parfum/Fragrance
How to Use?
Apply on freshly cleansed, air-dried skin and massage for 1-2 minutes, avoiding the eye and lip contour areas.
Rinse with cool water, use once or twice a week.
How to use a scrub effectively?
The prime idea of using scrubs is to remove the layer of dead skin cells that accumulate over the skin in due time.
Our skin has a high regenerative capacity, especially when we are young. So, during your early 20s, scrubbing twice a week works. If you do more than that, it rips off the natural sebum that your skin produces.
Those with dry skin should scrub as little as possible, whereas those with an oily skin type can scrub thrice even.
As skin ages, we should avoid using more physical scrubs and try professional peels or chemical scrubs as they don't mess with your skin's elasticity.
My Experience with The Face Shop Smart Peeling Honey Black Sugar Scrub
This scrub has sugar as the exfoliator, so it is a bit harsh on the skin, but the honey balances out for the lost sebum and oils by working as a natural moisturizer.
The scrub has a dense consistency and when applied to the face, it will feel as if something warm is being applied. The heat produced helps the sugar to melt, providing a calming effect. I will suggest you leave it on your face for a while and then wash it off. The skin that you will receive after washing off the scrub is heavenly.
I initially tried it on the dry face, but it turned out to be too harsh for me. Try using it on a fairly wet face to ease out the scrubbing process. Though the scrub tends to be a bit harsh, I am all in just for the results it gives. The feel of the skin will leave you spellbound.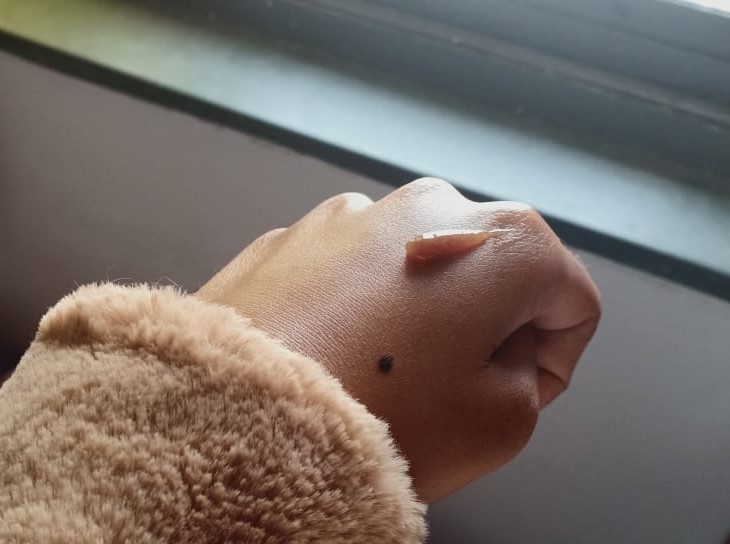 The best part is that it does not leave your skin dehydrated like other scrubs. The honey in it does provide enough moisture and a subtle glow. It also effectively removes blackheads, along with the dead skin cells.
It's also an ideal scrub to be used before makeup application if your planning for a no-makeup look. The natural glow it provides your skin, and the smooth skin are perfect for the makeup application process.
I have dehydrated skin, so dry patches here and there on the face are a common issue for me. Most of the scrubs that I have used in past years used to rip my skin off all the moisture and oils, ending with dried skin.
This scrub leaves a fair amount of moisture on my face, doing away with the problem I had with many scrubs. And yes, one more thing to be brought into light is that it doesn't peel off. It's just a simple scrub, and you can't use it as a peel-off so, don't go by its name.
Pros
Removes dead skin cells
Provides moisture
Natural ingredients
Go to for dry skin
Cons
A bit harsh on the skin
Might irritate sensitive skin
A bit on the expensive end
Not made for acne-prone skin
THE FACE SHOP Smart Peeling Honey Black Sugar Scrub
Final Word
I bet you are surely going to fall in love with the texture of your skin after applying this scrub. The dewy look the scrub provides and the smooth face, which turns out to be perfect for makeup application, is great. Also great for people with dry and dehydrated skin. Do try it and invest in it if you are planning to buy an ideal scrub for winters.
THE FACE SHOP Smart Peeling Honey Black Sugar Scrub is a great investment if you plan to build up your ideal skincare routine. The results are totally worth it. Tell me in the comment section how your experience was using this scrub, or if you have any doubts that you want to ask before buying the product.
Related Reviews