I feel stupid that I started using sunscreen only recently. I lived in a very sunny country and never bothered to wear sunscreen. Quite frankly, I'm not sure if sunscreen is part of an average Indian family. There is absolutely no one I know who wears sunscreen. Anyways, I had to start sunscreen as part of my face treatment, and I use H&H Sunban Soft Sunscreen, which has SPF 50.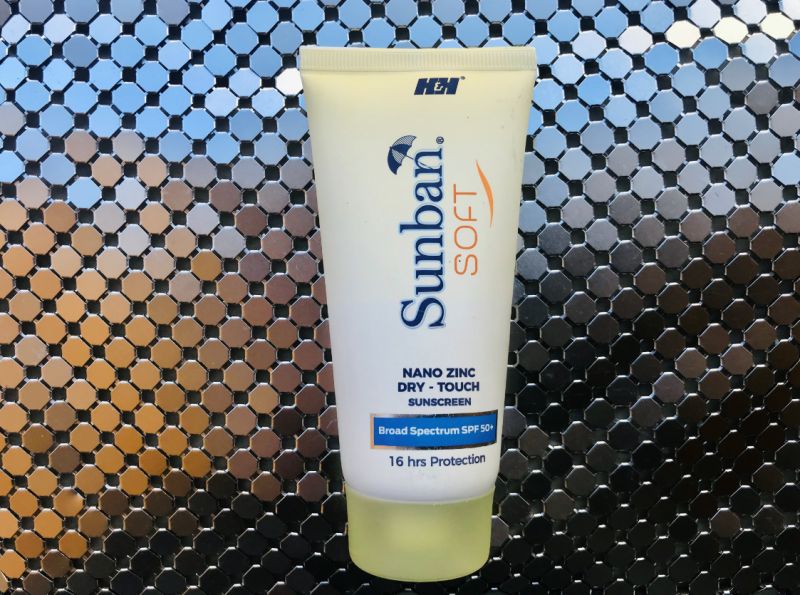 About the product: Sunban Soft is a unique matte finish, moisturizing sunscreen gel, which is non-greasy, non-comedogenic, hypoallergenic, water/sweat resistant, and ensures labeled SPF and UVA protection. Sunban Soft, enriched with natural emollients, protects from tanning, premature aging and helps maintain original skin color and texture.
Readers like you help keep The Beautyholic running. When you buy through links on our blog, as an Amazon Associate, we earn from qualifying purchases at no extra cost to you.
Price: Rs 849/- | Buy from Amazon
Ingredients: Cyclopentasiloxane and dimethicone/vinyl dimethicone crosspolymer, Ethylhexyl methoxycinnamate, diethylamino hydroxy benzoyl hexyl benzoate, zinc oxide, propylheptyl caprylate, Ethylhexyl triazine, bis-ethylhexyloxyphenal methoxyphenyl triazine glyceryl behenate/ekcosadiote, starch, fragrance
Product and Features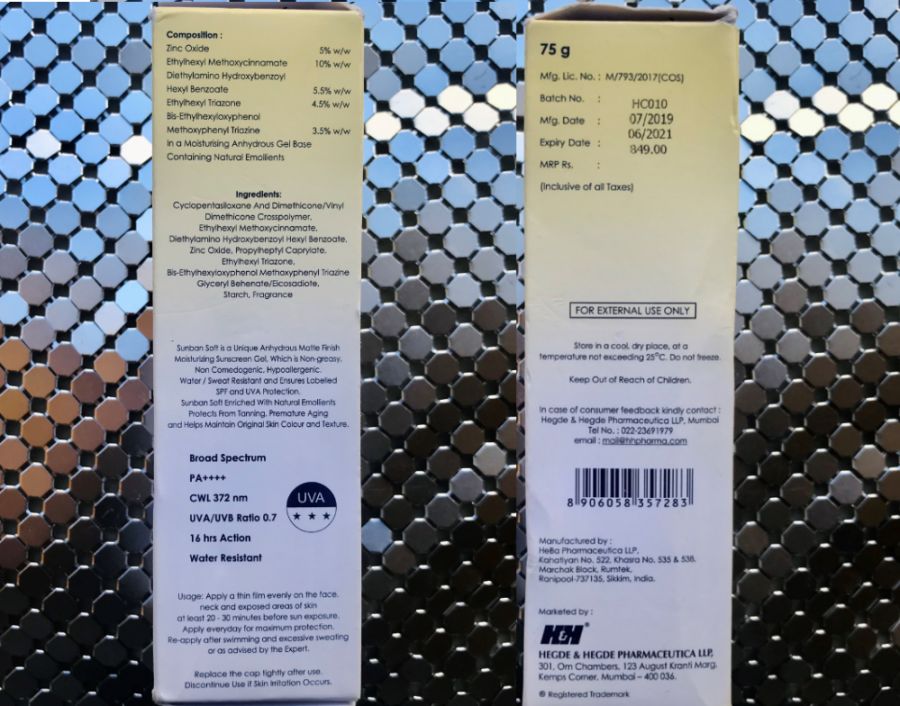 Sunban Soft sunscreen is a creamy sunscreen. The company claims that it is a gel, but I feel that it has more of a whipped cream texture. It has a matte finish and a non-greasy formula. Creamy and non-greasy doesn't sound like it goes together, but somehow that's how it is. The sunscreen has a pale yellow color and is fragrant. The fragrance is unnecessary in sunscreen, and people with sensitive skin should preferably stay away from products with fragrance.
It has a basic squeeze tube with a yellow twist cap. The sunscreen comes in a paper box printed with all product details. The tube is of thick quality material, and the big screw cap really holds in the product tightly.
Sunban Soft sunscreen has some very attractive features:
Broad-spectrum:

there are two types of UV rays – UVA and UVB. Exposure to both can cause skin cancer. Broad-spectrum means that the sunscreen protects from both UVA and UVB rays. Many sunscreens only provide UVB protection (shown by SPF rating). Sunban sunscreen has a broad spectrum, protecting you from both types of rays.

PA ++++:

 PA ratings represent the UVA protection offered by the sunscreen. UVA rays are what lead to the tanning of your skin and cause aging of the skin. They don't lead to sunburn – like UVB rays – but damages skin nonetheless by aging and darkening it. PA+ offers the least protection, while PA++++ provides the highest UVA protection. Sunban Soft sunscreen claims to provide maximum UVA protection possible.

CWL 372 nm

: critical wavelength is the wavelength at which the sunscreen allows 10% of the rays to penetrate. A sunscreen with 370 nm is said to provide excellent protection from UVA rays. Sunban Soft sunscreen has a critical wavelength of 372 nm.

UVA/UVB ratio 0.7

: EU regulations require a ratio of 1/3 to be considered as broad-spectrum. Sunban Soft sunscreen has a 0.7 ratio.

SPF 50: SPF measures how well the skin is protected against sunburns caused by UVB rays. It is calculated based on how long it takes to sunburn skin treated with sunscreen compared to skin without sunscreen. Sunscreens need to have a minimum of SPF 30. Sunscreen with more than 50 provides only a small increase in UV protection. At SPF 30, 97% of sunscreen is blocked and at SPF 50, 98%.
Water-resistant: Sunban Soft sunscreen claims to be water and sweat resistant. Water-resistant means that they last only for 40-80 mins max in water, according to experts. They need to be reapplied after this time. Directions given on the bottle say that it needs to be reapplied in swimming or excessive sweating. Otherwise, the sunscreen will hold for 16 hours as per claims.

Matte and non-greasy finish
Directions for use:
Apply a thin film evenly on the face, neck, and exposed area of the skin at least 20-30 min before sun exposure. Apply every day for maximum use. Reapply after swimming and excessive sweating or as advised by the expert. 
It is necessary to apply sunscreen 15 to 30 minutes before sun exposure to absorb it into the skin and be less likely to wash off while you sweat. An ongoing debate is whether to apply moisturizer first or sunscreen. Cream sunscreens are better applied after moisturizing skin. Give 5 to 10 mins after moisturizing skin before applying sunscreen so that the cream gets sufficient time to be absorbed into the skin. Give another 5 to 10 mins before applying makeup. If enough time to absorb is not given, it is a waste even to apply the product. Mixing moisturizer and sunscreen dilutes it and will reduce the benefit. This is a practice that should be avoided.
Apply sunscreen even on days that you stay indoors. Windows do not block out sun rays completely. Though most are designed to block out UVB rays, UVA rays pass through, and the effects of this on the skin will eventually add up. Hence, it is always better to apply sunscreen even when indoors. Plus, don't skip out on sunscreen on cloudy days!
My experience with Sunban Soft Sunscreen
I started using H&H Sunban Soft sunscreen 2 months back. My doctor advised me to use sunscreen, and I got a medical-grade sunscreen. Medical grade products tend to have higher amounts of active ingredients than over-the-counter products and can be more beneficial. From the features mentioned above, it is evident that the product has the best available protection, especially an SPF 50 sunscreen. Over the counter, products may not provide so much protection. This is the biggest benefit I found with the Sunban sunscreen.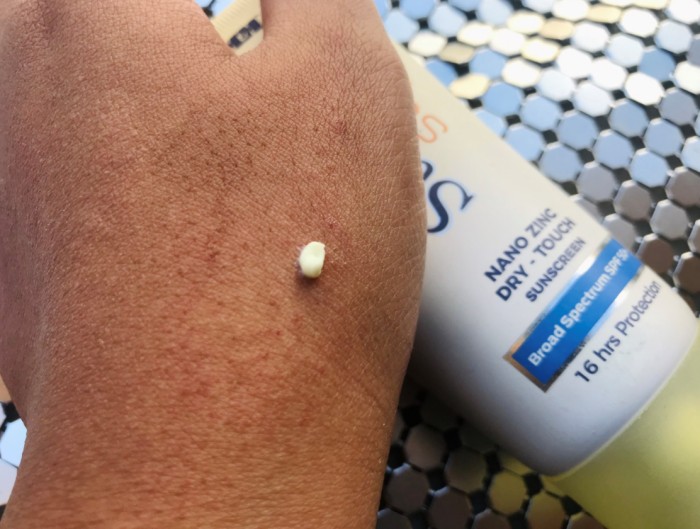 But I'm not a fan of the matte finish. It is obviously a personal preference. I don't like the fact that my skin looks matte and dry even after I moisturized thoroughly. Matte makeup on top of matte sunscreen makes me feel super dry. The sunscreen claims to be moisturizing though it has a matte and non-greasy formula. I wouldn't accept it 100%. It is not drying and is suitable for all skin types. But my face looks a little dehydrated. And it doesn't exactly create a smooth base for makeup on me.
Secondly, it is always better if the product is slightly greasy. Greasier products are easier to apply to the skin. Sunban Soft sunscreen is a non-greasy product. I feel that it takes more work to put on because of that. I dot my face with the product and the rub in. A greasier formula would have gone on easier than a matte non-greasy one. There is also literature saying that greasier and thicker formulas work better. But of course, the non-greasy formula is perfect for oily skins.
Sunscreen, especially Sunban Soft, claims to be water-resistant and 16 hours lasting, needs to be removed properly, just like any other makeup product. Do not sleep in without removing the product. I don't find that my face wash removes it all the way, so I always use a makeup remover or cleanser to remove all traces of it at the end of the day.
Sunban Soft sunscreen is not widely available in the market. I usually find them only at pharmacies and not in any other stores. This is a huge minus for me that the product is not so popularly available. It would have made it so much easier to continue to use the product. Now, if I want to continue using it, I have to get it from some particular pharmacy back in India. Plus, sunscreen is not exactly easy on the pocket. Many reputed brands have sunscreen available at better prices and are widely available too.
Edit: Many of our readers found the texture of the sunscreen crystallized and patchy, which wasn't the case when I tried sunscreen. Therefore, we won't recommend it anymore.
Pros:
Broad-spectrum, 50+ SPF, PA++++

16 hours of protection

Water and sweat-resistant

Matte finish

Non-greasy

It suits all skin types

Fragrant

Travel-friendly
Cons:
Looks too matte on dry skin
A greasier formula would have been easier to apply

The fragrance is not suitable for sensitive skin

Expensive

Not widely available
Sunban Soft Sunscreen
Final Word
Sunban Soft Sunscreen is one of the best options available in the market. The features are top-notch. I'm not a huge fan of the matte finish and the non-greasy formula. Plus, I wish it was easily available. The sunscreen is perfect for all skin types, including oily skin. It is moisturizing enough to use on dry skin without cracking out and non-greasy so that it suits oily skin. This is a product that I will definitely recommend to others.