Sunscreens are a must in our everyday life. Along with your primer and foundation, sunscreens are work great as a makeup base. They should be lightweight so that the makeup one on top of it will appear seamless and flawless.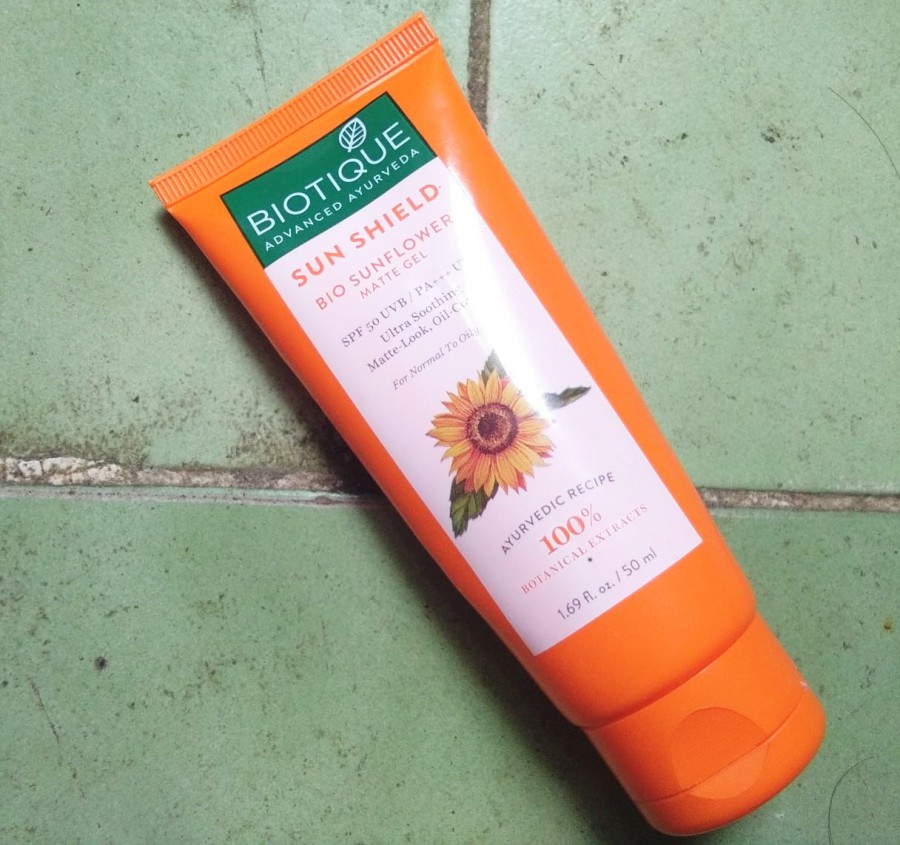 It is tough to find a good sunscreen and especially something which is on the budget. Recently I am using Biotique Bio Sunflower Matte Gel sunscreen of SPF 50, and it has become my recent favorite, so why not write a review on it.
Readers like you help keep The Beautyholic running. When you buy through links on our blog, as an Amazon Associate, we earn from qualifying purchases at no extra cost to you.
Price: Rs. for 50 ml | Buy it on Nykaa or Amazon
The Product: This product has a unique gel-like consistency, which is known to suit all skin types. The product claims to keep the skin moisturized and soft and to control oil and sebum production. This product seems to be a boon for oily skin people. But whether it works or not, we will find it out later. It contains natural ingredients like sunflower, sesame, and ashwagandha, known to have tons of skin benefits. It further claims to be anti-aging, which is excellent for people with mature skin.
Ingredients: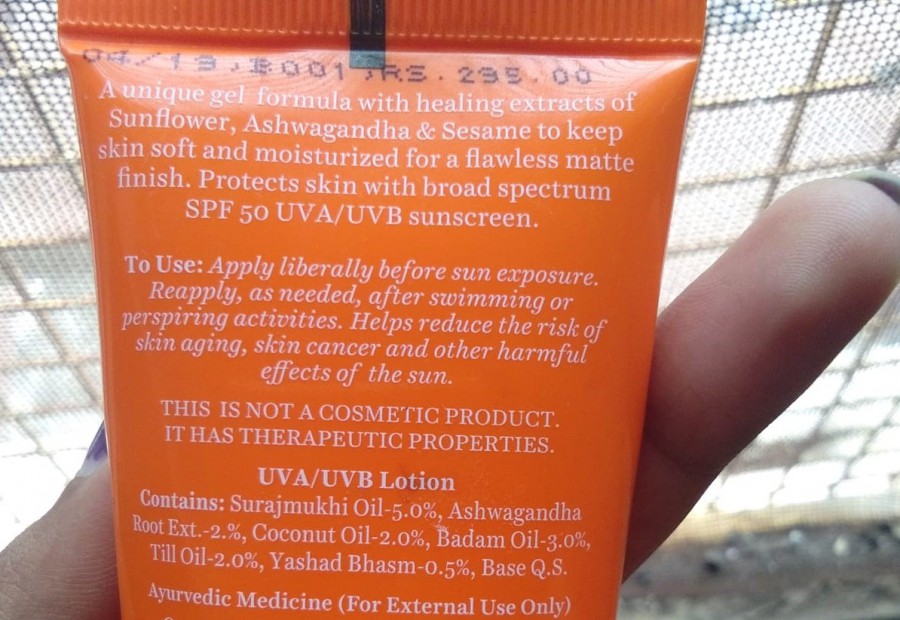 A Word About The Ingredients
It contains several natural ingredients such as
Sunflower: sunflower seed oil has tons of beauty benefits. It is an antioxidant and is high in Vitamin E, which helps to fight free radicals. This oil also heals and soothes the skin by providing anti-aging benefits. It is the best choice for people with dry skin, and it also helps fight acne.
Sesame: sesame oil is another antioxidant that protects the skin by fighting free radicals. It is also anti-microbial and anti-inflammatory.
Ashwagandha: it is a natural ingredient known to boost the production of natural oils in our skin. It also maintains collagen production, thereby providing glowing and youthful skin.
My Experience with Biotique Bio Sunflower Matte Gel Sunscreen Review
Biotique, as we all know, makes exclusive skincare products. They are super affordable and filled with all-natural goodness. I have used Biotique toner, Bhringraj hair oil, and anti-aging serum. Its pineapple face cleanser also worked well on my skin. So it has come up with the perfect product to save you from the summers – Biotique Bio Sunflower Matte Gel Sunscreen.
The sunscreen comes in orange tube-like packaging with a flip-top cap. The packaging makes it quite convenient to use and travel-friendly.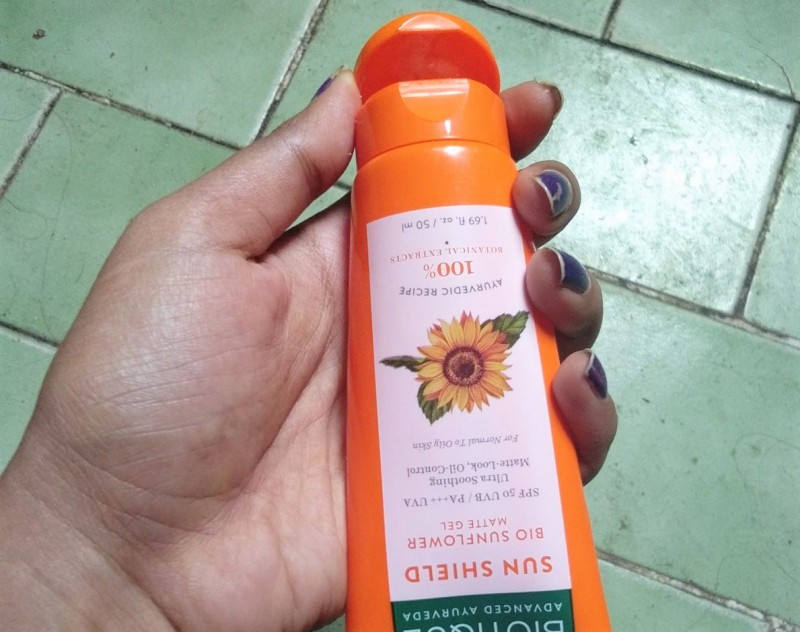 It has a gel-like consistency, and it contains the goodness of sunflower, sesame, and ashwagandha. It has an SPF 50 UVA/UVB sunscreen. But not only that, it has a super matte finish, which hydrates your skin and keeps it moisturized.
How Does It Perform?
This sunscreen gives a glowy effect but does not clog the pores. It suits both oily and non-oily skin. It provides the perfect matte finish and full coverage with a soothing effect.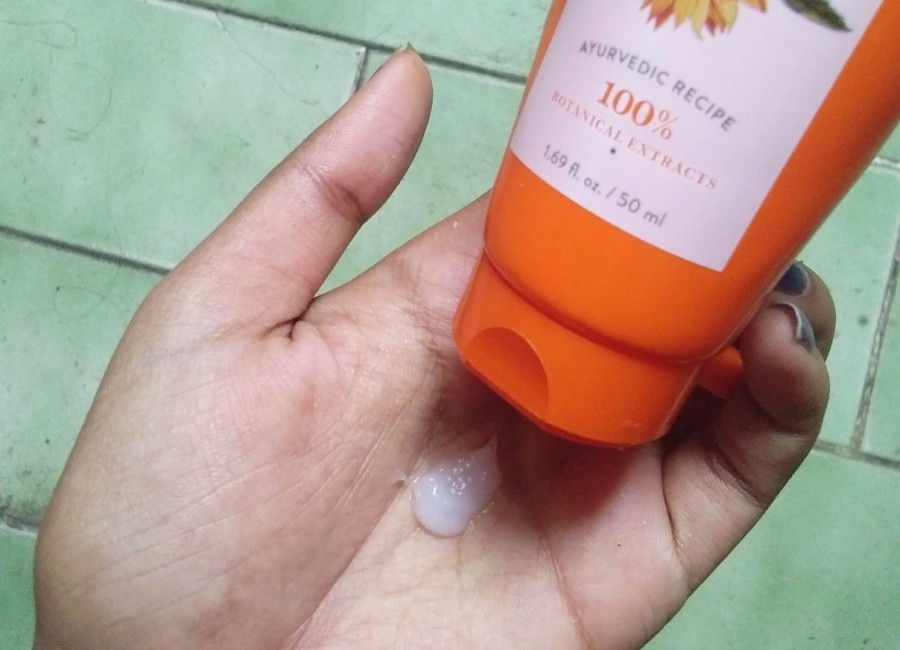 This product makes your skin soft and moisturized, along with giving a super matte finish. However, oily skin makes a face shiny after a while. It needs to be reapplied every 2 hours, and it can protect the skin from sun-tanning and sunburn.
The smell is very captivating. The fragrance of natural essentials and sunflowers keep you feeling rejuvenated and fresh for an extended period.
Unlike other sunscreens, it is not too sticky. The gel-like formula is super lightweight and does not feel much oily. Its application is quite easy and does not leave a white cast after applying, which is a bonus.
It perfectly blends with your skin and does not create an artificial layer. Once you use it, your skin will feel soft and moisturized, giving you a dewy look, which makes your skin glow from within.
Pros
Suits every skin type.
Moisturizes your skin.
It is made from natural ingredients.
This sunscreen has a super matte finish, which does not appear shiny.
It has an amazing fragrance.
Zero side effects.
Cons
It might not be suited for super oily skin.
It might not work well for sensitive skin as it contains fragrance.
Biotique Bio Sunflower Matte Gel Sunscreen
Final Word
This sunscreen has fantastic coverage and finish. Not only that, it keeps your skin hydrated and moisturized. It blends perfectly with all skin types. It does not leave a white cast. And being made from natural extracts is a cherry on the top. As I have used it and experienced zero side effects, I would recommend it to everybody. However, this might be an excellent product for people with dehydrated skin. I have very oily skin, and it does provide a matte finish but does not control my oil for long as it claims to too. Also, it does make my skin look shiny after a while. Other than this, it is a great product.