Spring is in the air, so it is time to refresh our wardrobes, your home, and look.
Moving from dark jewel tones and winter whites to lighter, brighter colors can be a fun and refreshing change.
Thankfully, we can help you pin down your style choices a little bit. So, why not use this guide to help you update your favorite fashions with some trendy, evergreen spring accessories?
We've compiled a list of must-haves for the season.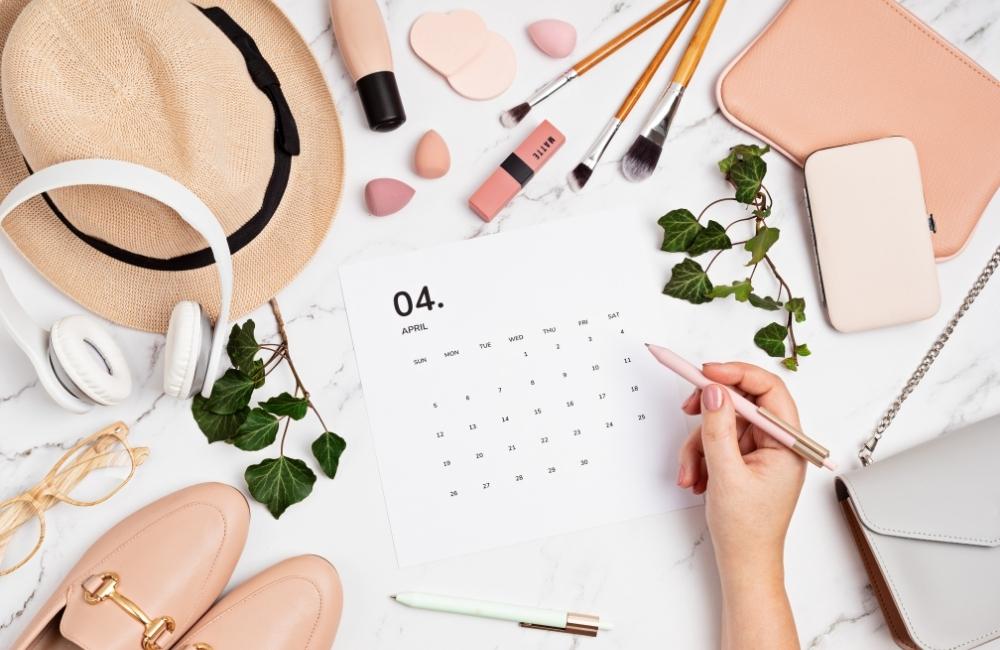 #1 Crystal Earrings
They're perfect accessories for any season, but the spring season demands a certain shine — perfect for crystal.
Crystal earrings showcase their multifaceted beauty, with frost-like reflection and dazzling shine.
What's more, crystals have been revered for centuries for their healing, protective, and balancing properties, making them a must-have for all. Whether you go with a simple drop or opt for an eye-catching pair, crystal earrings are sure to exhilarate your wardrobe for spring and summer.
#2 Faux-leather Shoulder Bag
The hottest piece for spring, and not just for fashion insiders.
Keep your belongings organized with a sturdy shoulder bag, which is a great spring accessory.
Durable, stylish, and affordable, these bags are made from synthetic leather that mimics real leather.
Whether you're heading out on a night out with friends or in the office, a shoulder bag can keep up.
#3 Custom Made Jewelry
The trend of personalized jewelry is set to continue this year. An accessory like this is both stylish and has the wow factor of a statement piece, so it's got the best of both worlds.
Want to shout your name from the rooftops? Then a cute name necklace might be for you; you want to mark your beautiful children's names; that's also something you can do with personalized jewelry.
#4 Silk Scarves
The weather in spring can be quite unpredictable.
You'll find silk scarves in every fashion outlet and online store. They're a must-have wherever you go. You can use them traditionally, as a bandana, or even just hanging from your bag or belt.
Ideal for using when the weather drops a few degrees at night. They come in a ton of fabrics and prints, so have a few in your bag, so whatever you do, you're covered.
#5 Converse Sneakers
Shoes: yeah, you can expect to see a lot of deliberately worn-out sneakers. Especially Converse All-Stars, which you can wear with any outfit.
You can wear these with relaxed workwear or add a playful touch to a more formal evening outfit.
Feel free to bling them up with some extra detailing or colorful socks, whatever you think suits the look.
#6 Metal Chain Belt
The metal chain belt is a style staple for fashionistas and musicians alike. The belt is versatile, so it's good for casual and formal looks. The accessory is edgy and fun all at once.
There's enough chunk in the chain belt to stand out, but not too much for it to get in the way of a flattering look.
#7 Oversized Sunglasses
Maybe it's the colors, perhaps it's the style, or maybe it's the comfort. Oversized sunglasses are a must-have spring accessory for a lot of reasons.
Because they can go with anything, they're everywhere.
Thanks to the spring fashion season, oversized sunglasses are having a fashion revival.
A thick frame can hide blemishes and imperfections, giving you the appearance of perfection.
Additionally, they're ideal for protecting your eyes from harmful UV rays.
#8 Sequined Clutch
Many celebs have been spotted carrying some hot sequined clutch bags around the spring cruises and this season. And why not? Sequins mean glitz and glamor and symbolize bubbly fun.
Sequin clutches are fun for parties, proms, and weddings and come in all colors, like gold, green, blue, purple, and silver.
Adding a touch of sparkle to your outfit can make you appear bright and beautiful!
If you want to add an extra touch, consider picking a clutch with sequins in a color that matches your dress.
#9 Netted Berets
We don't know if this trend has come from nowhere or is maybe a knock-on effect from Emily in Paris, but we strongly approve. These quirky accessories are going to be huge this year.
It's a nice finishing touch on a daywear outfit. You can find these in just about every local store or online outlet, which shows where fashion is at the moment.
#10 Flower Headband
Flowers are synonymous with clothing, and spring is no exception.
Like daffodils, tulips, and other spring flowers, headbands adorned with flowers have returned as spring's hottest trend.
Not only are flower headbands fashionable, but they are also versatile. You can wear them with everything from jeans to cocktail dresses.
#11 Straw Visor
Well, it's April, and that means it's time to say goodbye to your winter gear — and also to your favorite straw fedora.
Yes, that's right, spring is in the air, which means it's time to break out your straw hat.
No matter what type of hat you're rocking, you'll want it to complement your springtime style.
Right now, cats are purring, flowers are blooming, and fedoras are unfurling, so now is the perfect time to lace one up.
#12 Double-Chain Necklaces
Do you want a jewelry trend that will get you noticed? Then a double-chain necklace, preferably one with chunky chains, will do the trick.
The good news is that you don't have to go for super expensive options here.
There's no need to go to the jeweler for these as they can be found in the accessory department of most popular stores for half the price.
#13 Head Scarf
From the runways to the magazines, the hijab is making a comeback.
Head scarves look great on everyone, especially petite women and women with short hair—and you don't have to be a Muslim to rock a headscarf.
A stylish spring accessory, and a great way to show support for women across the globe.
A scarf is an easy, inexpensive, and timeless way to accessorize, and it's easy to find one that makes you feel confident and pretty.
How to Save Up On the Spring Accessories
When you think of spring, what comes to mind? Warmer weather, flowers blooming, and Easter egg hunts are just a few things that make this season special. However, another great thing about spring is the chance to save money on some key accessories.
Shop from discount stores
One way to save money on spring accessories is by shopping for them at discount stores. You can often find good deals on hats, sunglasses, and other items.
Wait for sales or clearance events
Many retailers offer discounts on seasonal items in the days leading up to Easter or Mother's Day.
Make your own accessories
You can also save money by making your own accessories. For example, you can crochet a sunhat or sew a new bag yourself. This will save you money, but it can also be a fun project to do with your friends or family.
Designate a shopping day
This will be the only day you make online purchases. Then it'll be more of an event and a more sensible and planned process.
Enjoy the experience
If you do your shopping offline, then do so with friends. In this way, you'll learn that it's not the purchase but the act of shopping that gives you a buzz you crave.
Avoid Fast Fashion
This term relates to cheap, poorly made products with very little shelf life. Aside from being cheaply made, they are also a serious environmental issue.
Frankly, it's better to spend more on an item knowing that it will last longer and won't just be forgotten at the back of your wardrobe.
Bottom line
From floral headbands and oversized glasses to converse sneakers, these spring accessories will add some fun and flair to your outfit.
Don't be afraid to add a pop of color to your spring outfits by incorporating some of these fun and trendy accessories. They'll add a fresh vibe to your look and make you feel stylish and confident.
So go ahead, be yourself and enjoy the season!