Do you love adding shea butter to your hair? You are in good company: it's incredibly popular and a staple of hair and skincare products. Being a powerful moisturizer, shea butter aka Vitellaria paradoxa is derived from the nuts of the shea tree, effective for treating dry, flaky skin, patches of eczema, and even stretch marks.
Thanks to its popularity, shea butter for hair growth often comes recommended. So, is shea butter good for hair?
Let's explore the benefits of shea butter for your hair and know how you can use it to make your hair silkier and more manageable!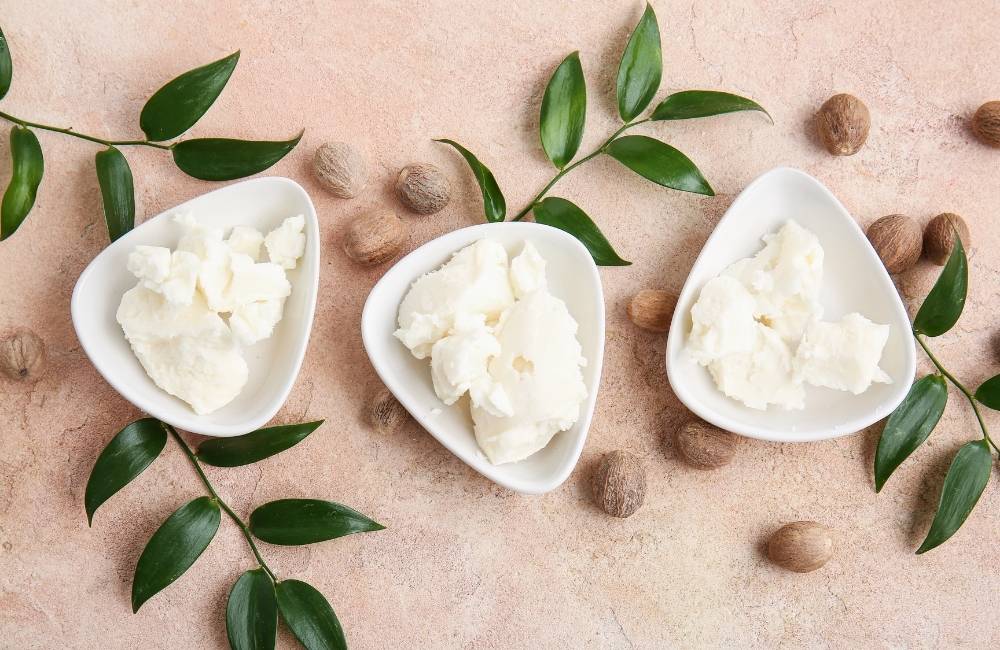 Types of Shea Butter
This butter comes in a variety of forms, but all moisturize and protect hair.
Raw
Having a high purity level, raw shea butter is the best type for sensitive skin. It is extracted from the shea nuts without using chemicals or other processing methods. Since it isn't processed, it has impurities and a smoky smell from roasting. So it keeps all of its natural nutrients, which are beneficial to hair. Unless the nut is ripe, it's usually yellow or green.
Refined
Refined shea butter is processed and typically contains fewer nutrients than its raw or natural variant. Generally, it is white in color and contains preservatives and fragrances. When used moderately, it can still be effective for hair care.
Unrefined
It's similar to raw shea butter. As long as it doesn't affect the quality, it can be filtered. It's free of chemicals and preservatives, and a slightly nutty scent accompanies the beige color.
Ultra-refined
The ultra-refined shea butter is filtered at least twice. In the process, most of its nutrients are lost, reducing its moisturizing capability. Generally, this variant is found in cosmetics.
Tip: While most people use refined and ultra-refined variants for convenience and smooth texture, raw and unrefined ones are the best shea butter for their high vitamin and nutrient content.
Benefits of Shea Butter for Hair
When it comes to shea butter, this natural butter is full of benefits for hair.
Healthy and long locks
Shea butter can be used for healthy hair growth because it moisturizes deeply. This is due to its fatty acids that block DHT, a hair loss-causing hormone. Almost any type of hair can benefit from natural hair care.
Combats dryness
If your hair is prone to being dry or brittle, shea butter can help to seal in moisture. Particularly beneficial for dry, dull, or damaged hair. Shea butter contains a variety of fatty acids and vitamins that soak into the skin quickly and protect it from the outside elements. In this way, it restores lipids and adds moisture to the follicles.
Protects hair
Shea butter is filled with natural oils that can help to protect your hair from damage, like loss or breakage, according to a 2017 study. Also, these natural oils can improve hair texture, making it softer and smoother. If you have thick hair, using shea butter can potentially enhance its appearance.
Relieves scalp itching
Shea butter has anti-inflammatory properties, making it a natural choice for treating dandruff, redness, and irritation on the scalp. You can apply it directly to the scalp or mix it with other moisturizers for an effective dandruff treatment. Shea butter is a good hair treatment, mainly because it is not greasy and doesn't leave excess oil in your hair.
Tames hair
When taming unruly hair, you may want to consider an ingredient like shea butter. Its nutrients work together to deeply nourish the hair shaft and help repair the damage. Shea butter is also great for sealing in moisture in frizzy, dry, or otherwise unmanageable hair, so it's perfect for people with curly or Afro-textured hair.
Can shea butter cause side effects on hair?
Shea butter is good for hair and skin, which makes it potentially safe. However, those with nut allergies should only use it after performing a patch test. Also, other allergies might occur due to an added chemical or preservative. Aside from this, no side effects are known.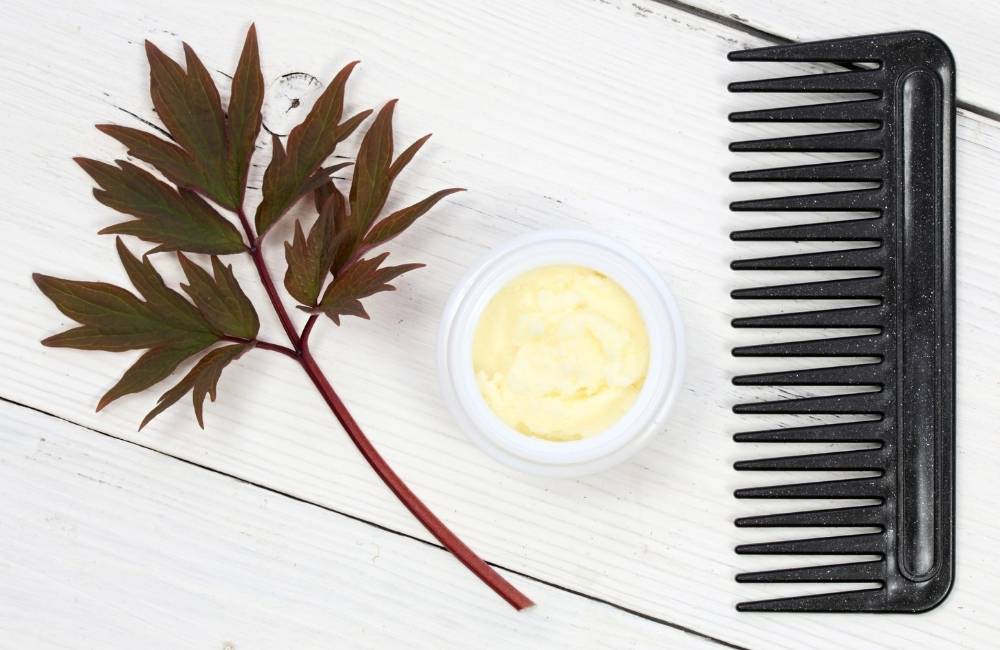 Ways to Use Shea Butter for Hair
After exploring all its wonderful benefits, here are some of the best ways you can use shea butter for natural hair:
Hair oil: Use a small amount of shea butter in your hands, warm it in your palm and apply with your fingers.
Conditioner: Use it to condition hair by applying it to damp, freshly washed hair. Let it sit for a while, and rinse off like regular conditioner. You can also mix it with your existing conditioner to add moisture in your hair. For a leave-in conditioner, apply small amounts to the ends of your hair.
Deep treatment: Use it as an intensive hair treatment before shampooing to prevent an itchy scalp.
Use hair products that contain shea butter: Hair care products that contain shea butter as a key ingredient, such as shampoos, conditioners, and hair masks, can help to improve the health of your hair.
Mix it up: Combine it with other oils such as avocado oil and use it as a protectant to save hair from heat damage. Make sure you apply it before you straighten or blow dry.
Hair styling: Using shea butter to tame frizz and add shine can help your hair look smoother and healthier. Put a small amount on damp hair, concentrating on the ends. Style as usual.
Hair sunscreen: Since shea butter has natural UV protection, apply it directly to your skin or mix it with your hair spray before going outside.
Note: Always start with a small amount, and test it out on a small section of hair (back of the neck or behind the ears) to see how the hair feels after applying the shea butter.
DIY Shea Butter Recipes
1. Whipped cream
Using a double boiler system, heat the bowl of shea butter by stirring it slowly. Once completely melted, you can add some essential or carrier oils. After this, cool it to room temperature and place it in the refrigerator. Once it's slightly solid but still mixable, remove it from the fridge. Using an egg beater or hand mixer, whip the mixture until fluffy.
Apply as a mask or a pre-shampoo oil treatment to hair. Apply to the hair and wrap a warm towel around your hair for 30 to 40 minutes. Using shampoo, wash it off.
2. Conditioner
Mix together 1 cup shea butter with 2 tablespoons of avocado oil, 2 tablespoons of jojoba oil, 2 tablespoons of rosehip oil, and a few drops of any essential oil. Heat it in a pan, then cool it to room temperature. After this, whip it up. Adding some olive oil to the whip will prevent it from solidifying.
Let the mask sit on your damp hair for an hour or two before rinsing it off. Afterwards, wash your hair as usual.
3. Hair strengthener
Mix half a cup of shea butter with 2 tablespoons of coconut oil and 6 teaspoons of castor oil. Add a few drops of essential oils if you like. Use the double boiler method to melt them. Combine all ingredients and let them solidify at room temperature. Heat it up in your palms or whip it to use it directly.
4. DIY hair mask
Take a ripe avocado and blend it well till it's a smooth paste. Melt a few scoops of shea butter and add it to the avocado paste. Mix it well and apply it to clean dry hair and scalp. Wash after 30 to 40 minutes.
A combination of shea butter and avocado provides deep hydration and nourishes dull and damaged hair.
5. Curl cream
Mix together 2 tablespoons of whipped shea butter, 2 tablespoons of coconut oil, and 2 tablespoons of aloe vera gel. Whip it together till it forms stiff peaks. Apply to wet hair, from the middle to the end. As you do this, use your finger to twist the hair. In this way, your hair will develop curls.
For a natural curled look, let your hair air dry. For bigger curls, you can use a diffuser. Adding this cream to your hair care routine results in soft, lustrous curls.
What to know before you use shea butter
The butter must be unrefined and organic. Then you'll be sure it's free of harmful chemicals.
Medium to coarse hair works well with its texture and fat content. You'll avoid frizz and dryness this way. It's also great for curly hair, especially as a styling product or leave-in conditioner.
Because shea butter is thick, it's best to use it when your hair is damp or dry instead of wet.
Be sure to use a small amount, especially if you have thin hair – too much shea butter can weigh down your hair.
Frequently Asked Questions
What are the best oils to mix with shea butter for hair growth?
You can use avocado, grapeseed, sweet almond, coconut, or castor oil with shea butter. Alternatives include mixing it with essential oils such as rosemary or lavender.
How to make whipped shea butter for hair?
Start by melting the shea butter in a double boiler. After it has melted, remove it from the heat and let it cool. Then, whip the butter with a hand or a stand mixer until it is light and fluffy. Finally, add any essential oils or other ingredients you want to use and mix them in thoroughly.
Does shea butter work better on wet or dry hair?
Many find that applying it to wet hair locks in moisture to the hair and prevents frizz, while others find that applying it to dry hair helps to tame flyaways and add shine.
How often should I put it on my hair?
Depends on your hair type and its current condition. Your hair may need multiple applications of shea butter if it's dry, damaged, or brittle. If your hair is healthy and not particularly dry, shea butter may be enough once or twice a week.
Can I use it on my hair every day?
Apply it in small amounts to mid- to end-length hair to style it. It's great for curling curly hair. Also great for dry hair and sunny days.
However, its high fat content can make the hair greasy when used daily on the scalp.
How do you remove shea butter from hair?
As usual, wash your hair and rinse well. Shea butter is a natural oil, so it will come out easily with regular shampooing. If your hair feels oily after wash, use a clarifying shampoo to remove any residue.
Over to you…
Shea butter is one of nature's true treasures. No wonder this butter is amazing for dry skin and hair. From helping to hydrate and protect your hair strands to providing a boost of shine, shea butter can be a great hair care ingredient.
So, now that you know its benefits and how to use it, now is the time to test out these DIY recipes! For best results, always consider your hair type, porosity, denseness, and texture when choosing a formula.