Do you constantly struggle with rough and frizzy hair each time you shampoo your hair? Even after using a conditioner, your hair condition doesn't budge. If you can relate, it's time to say hello to a leave-in conditioner, and it's different than your regular conditioner.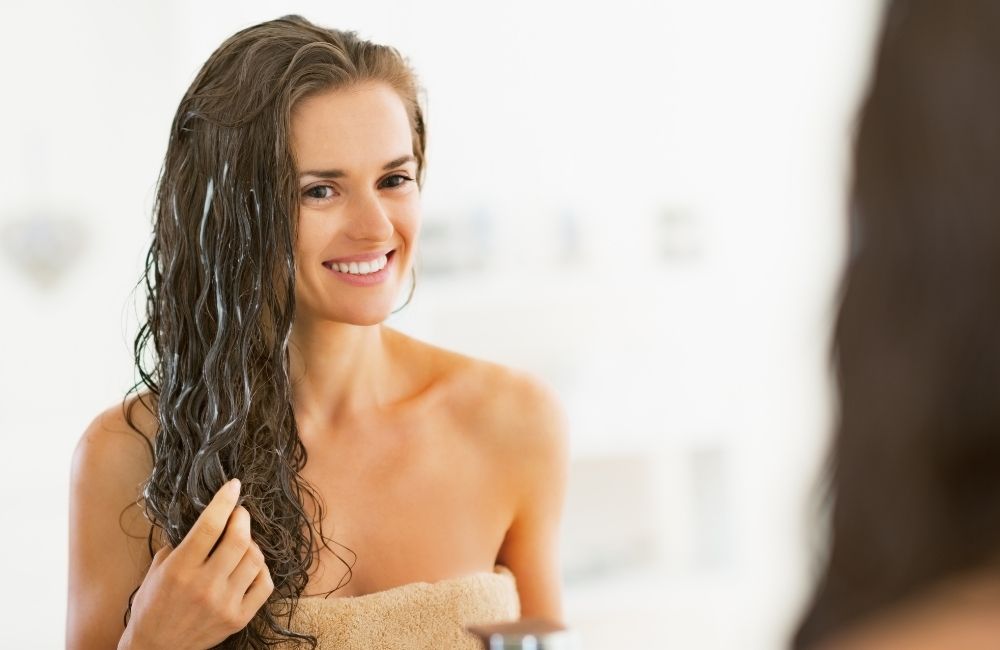 Let's know more about it.
What is a leave-in conditioner?
A leave-in conditioner is basically just a conditioner that can be applied and left on your hair until the next wash. It is usually applied on wet hair, and it is the third step in washing your hair routine.
The first and second step usually includes shampooing and conditioning of your hair. After doing it, you can apply the leave-in conditioner on your wet hair and leave it as it is.
It is typically used to provide that extra conditioning and hydration to your hair for that silky and shiny appearance.
Benefits of using a Leave-in Conditioner
There are several benefits of double conditioning and using a leave-in condition on your hair. Some of the benefits include: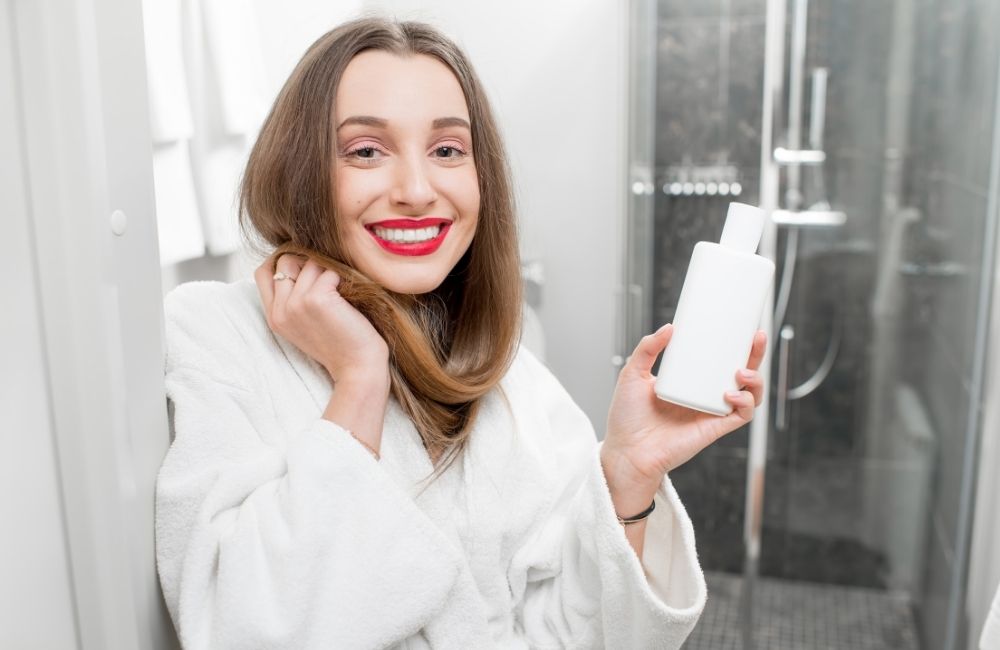 Moisturize dry hair
Leave-in conditioners are great for providing that much-needed hydration to your dry and unmanageable hair. It is an excellent option for those with curly hair who require that extra layer of conditioning that their one-time conditioner does not provide.
These conditioners typically contain humectants that moisturizer the hair making it softer and stronger. It also boosts collagen production in the hair strands, which maintains hair elasticity and keeps them silky and lustrous.
These are water-based conditioners that are able to penetrate deeper than oil-based conditioners keeping the hair hydrated and bouncy for long.
Detangles knotted hair
The main purpose of a leave-in conditioner is to detangle knotted hair. It contains ingredients that make the hair softer and enables easy gliding of the comb through the hair making the detangling process way easier. This works even on the most unruly hairs of all time.
If you suffer a lot with tangling of the hair, this product will prove to be quite useful for you. This conditioner helps in protecting the hair from breakage and split ends. It also contributes to increasing the hair length.
Makes hair manageable and styling-ready
A leave-in conditioner makes the hair more manageable and makes it easier to style with styling tools. The ingredients in the leave-in conditioner smoothen hair strands and make the styling more effective.
The conditioner provides an excellent grip for curly hair who wants to give their hair that nice and bouncy look.
Acts as a heat protectant
Using this leave-in conditioner prior to styling or using heat tools can act as a heat barrier and protect the hair from heat damage.
The conditioner provides an extra protective layer that protects the hair from the heat emitted by the thermal appliances.
Therefore, a leave-in conditioner will keep the hair hydrated and prevent the hair from getting dry and stick-like.
Adds luster to color-treated hair
A leave-in conditioner can replenish and rejuvenate damaged hair and protect the hair from sun damage and UVA and UVB rays. It also protects color-treated hair from discoloration and also protects it from the damage of chemicals.
Since this protects the hair from environmental damage, it provides the extra luster and shines to the hair. The conditioner adds glow to the hair and prevents the color from fading. There are special products designed for color-treated hair.
Prevents frizz
If you are someone who suffers from frizzy hair and has tried everything buys nothing seems to work, then this is going to be your best friend. This conditioner provides softness to the hair shafts and regulates frizz which is caused by static electricity. Use it as directed in the bottle to combat frizz.
Types of Leave-in Conditioners
Milk, leave-in spray, and mousse are super lightweight and work well for curly and wavy hair.
Cream leave-in conditioners are perfect for heavy curls as they are of thicker consistency.
Hair butter is another type of leave-in conditioner which is suitable for really coarse and thick hair. Their consistency is super thick and has a high fat and lipid content.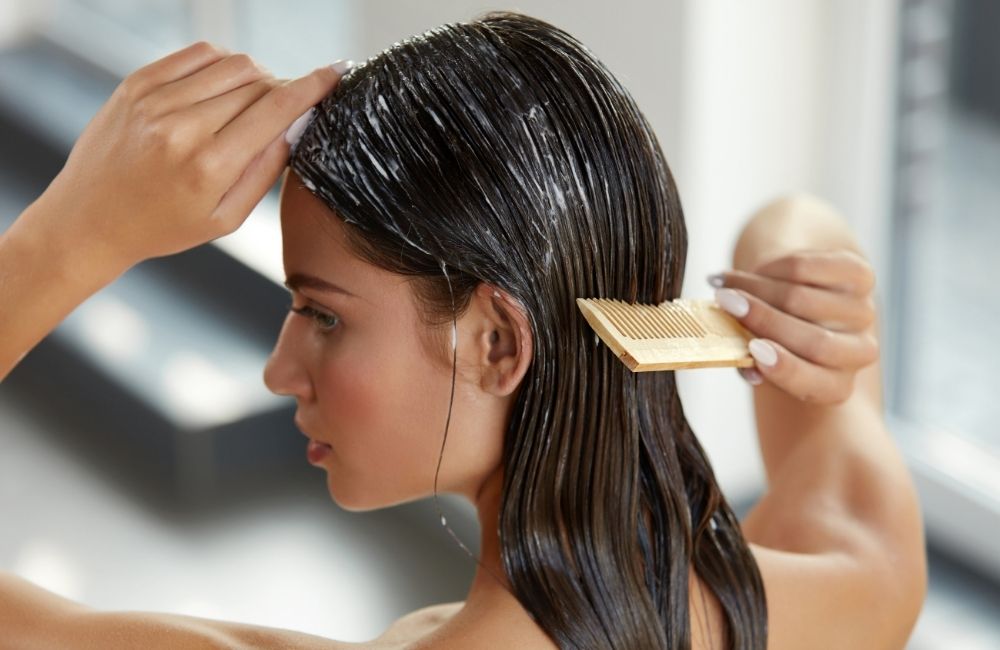 How to use a Leave-in Conditioner?
Now that you have known everything about what a leave-in conditioner is and the benefits of using it let's now see how to use it. Here are some steps as to how to use a leave-in conditioner.
Step 1
Start by washing your hair. Your hair should be freshly washed and not washed before a day or two. Wash your hair with a mild shampoo that will not dry out your hair further. It is recommended to use a paraben-free shampoo. After shampooing, use your regular conditioner as you normally would.
Step 2
The next step would be to apply a leave-in conditioner on damp or towel-dried hair. Mainly focus on the mid-lengths and ends of your hair. Avoid applying your conditioner on the roots of your hair because this can make it look greasy or weigh your hair down. There is no need to wash this conditioner. Leave it as it is.
Step 3
The next step is to comb your hair as you normally would. Start brushing from the ends. Use a wide-toothed comb in order to detangle your hair. Wet hair is more prone to breakage, so avoid brushing from the roots, or else it will be more tangled.
Step 4
The last step is styling. You can style your hair as per your liking. This will act as a heat barrier and will protect your hair from further damage.
Tips for using Leave-in Conditioners
There are a lot of leave-in conditioners available in the market suitable for your hair type. So choose according to your hair needs and always listen to your hair.
Leave-in conditioners are not tricky to use but learning some tips can always prove to be useful. Here are some of the tips for using a leave-in conditioner:
Determine your hair type before buying your leave-in conditioner. If you have really thin hair use a spray type, and if you have thick and coarse hair try to lean towards the cream-based conditioner.
It is also essential to make a note about your hair problems before actually buying a leave-in conditioner. Some conditioners provide volume; some protect the hair from heat, others benefit color-treated hair, and some are for softening curly hair. So listen to what your hair needs and choose accordingly.
Do not apply a leave-in conditioner to dirty hair. So make sure to freshly wash your hair and condition it as usual. Avoid the roots and focus on the mid-lengths and ends.
Squeeze out the excess amount of water from your hair before applying the leave-in conditioner. If you do not towel dry it, the conditioner will be mixed with water, and it will be of no use on your hair.
Take your time while applying the leave-in conditioner. Divide your hair into small sections and apply this conditioner section by section for best results. Focus mainly on your problem areas. Coat each hair strand perfectly and comb with a wide-toothed comb after application to distribute the product throughout your hair evenly.
Use more amount on the product on the dry and damaged areas. This will repair and revitalize damaged hair. These conditioners have essential oils in them, which helpful for treating dry and damaged hair.
If you have curly hair, this product is God-sent for you. Before you actually buy it browse through the ingredient list. Water should be the first and the main ingredient on the list. This will provide moisture and hydration to your hair which will keep your hair soft and bouncy.
Leave-in products are simple to use, and they do not tend to build up residue like other hair products; hence you can style it as you like.
Now you know what a leave-in conditioner is and how it actually works. We also provided you with the information required to select a leave-in conditioner according to your hair type. Keep all these things in mind and always choose a good shampoo and conditioner for your hair that will not damage them.
Readers like you help keep The Beautyholic running. When you buy through links on our blog, as an Amazon Associate, we earn from qualifying purchases at no extra cost to you.
Best Picks for Leave-in Conditioners