There has been a lot of talk about whether the Revian Red Hair Growth System is as good as the Kiierr Laser Cap.
Here we will compare these two hair growth systems so that you won't have to.
We did our research, and what follows is a combination of our research with the opinions of others.
As a result, you'll be better equipped to decide on your hair as well as your lifestyle.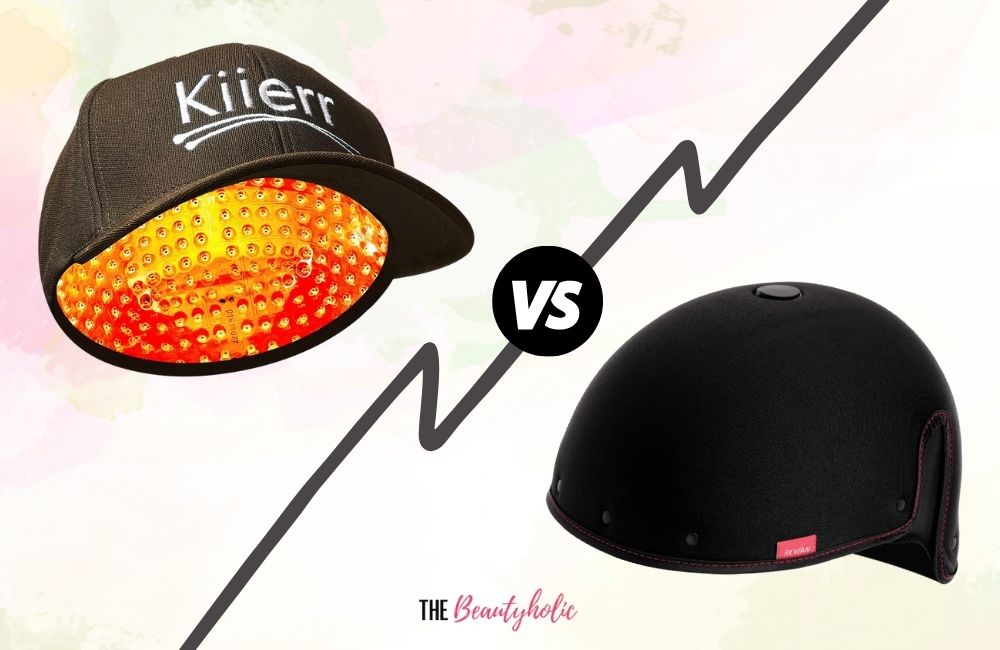 Now let's compare the two in no time at all.
What is LLLT for hair?
Laser therapy (LLLT) is safe, non-invasive, and FDA-cleared to treat a range of hair conditions, including hair loss and thinning.
In its simplest form, LLLT uses light energy to penetrate the cellular layers of the scalp and hair follicles using a specific wavelength of infrared light.
This laser treatment stimulates Vitamin D and other growth factors at the surface of the hair follicle.
In the upper layers of the follicle, laser therapy stimulates melanocytes to produce melanin. Their actions stimulate the keratinocytes at the base of the follicle to regenerate and repair damaged layers. These factors increase the production of more hair and cells.
With or without other treatments, LLLT can be administered at home, in an office, clinic, hospital, physical therapy center, or anywhere else. Because of this, it can be used anywhere, at any time, by anyone.
One of the many potential benefits of LLLT is that it promotes cellular regeneration, improves cellular function, and reduces cell death.
Studies say that LLLT slows down or even stops hair loss in 85% of patients. In 55% of cases, new hair grows as well. Unfortunately, LLLT cannot treat hair loss that has been present for a long time.
What is the Revian Red Hair Growth System?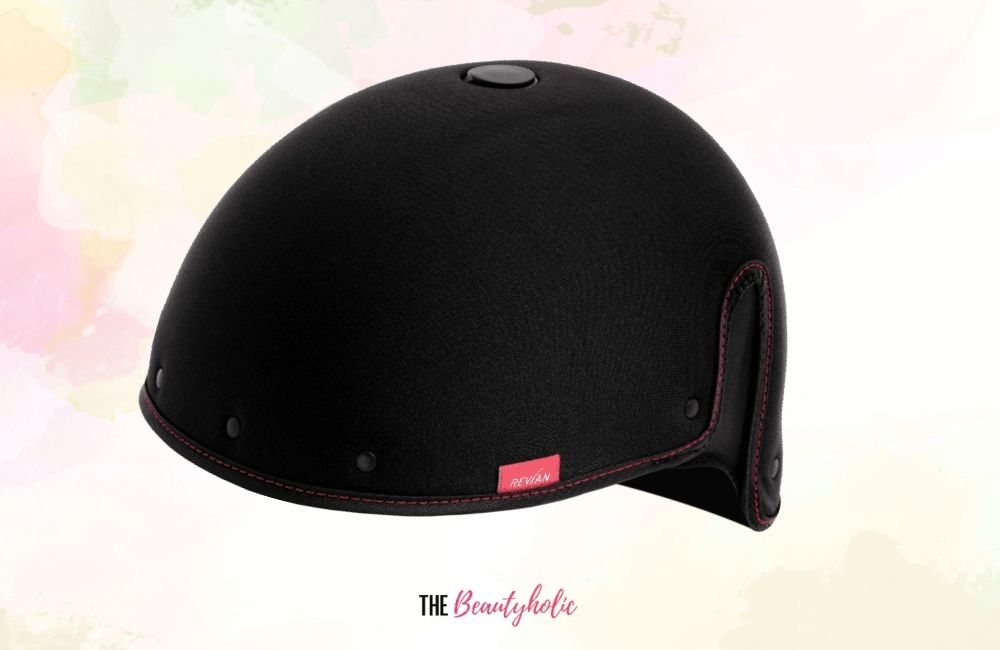 Revian Red Hair Growth System is a safe, natural alternative to hair growth drugs and other hair loss remedies.
Using proprietary wavelengths of LED light, Revian's Modulated Light Therapy (MLT) unlocks your natural reserves of nitric oxide. As a result, local blood flow increases, inflammation diminishes, and nutrients reach the follicles, resulting in new hair growth.
Utilizing two colors of light, Revian Red targets the biochemical processes in your scalp to enhance hair growth. The wavelengths of 620 and 660 nm of light work together to boost the body's natural ability to heal itself and regenerate hair cells.
The product aims to address hair thinning, hair regrowth, hair health, and hair loss prevention. It is easy to use and integrates seamlessly with everyday life.
This cap claims to treat Androgenetic Alopecia and promote hair growth in males who have Norwood-Hamilton classifications of IIa – V patterns of hair loss for treating Androgenetic Alopecia and encourage hair growth in females with Ludwig-Savin Scale I-1 to I-4, II-1, II-2 or frontal patterns of hair loss; both with Fitzpatrick Skin Types I – IV.
Revian Red Hair Growth System costs $1495. If you're not satisfied after using the device for six months, they offer a 100% money-back guarantee. To qualify, the patient must meet 80% compliance with the treatment regimen within six months.
How long does it take for Revian Red Hair Growth System to work?
Revian Red Hair Growth system can work after three to six months, and it takes a couple more months for you to experience full hair growth.
The hair growth system should be worn daily for 10 minutes. The hair on your head will grow, and your scalp will adapt to replace hair follicles, so you'll see even better results in the future.
Many men in their 40s and 50s, when hair loss is at its peak, have shown positive results.
Some Revian reviews mention women who have tried taking the supplements with the Revian Red Hair Growth System and were disappointed that they didn't work better than taking them separately.
Pros
FDA-cleared
Clinical studies show that it speeds up hair growth
Uses wireless technology
Both men and women can safely use it
There are no known side effects associated with its use
Simple to use
A Smart App for iOS and Android allows users to control their caps and track results
Cons
Lacks medical-grade laser diodes that stimulate hair growth more effectively than LEDs
This cap looks like a riding cap, so you may not want to wear it outside
That's a lot of money, especially since the cap does not use laser diodes
Not recommended for those with severe hair loss or alopecia
What is the Kiierr Laser Cap?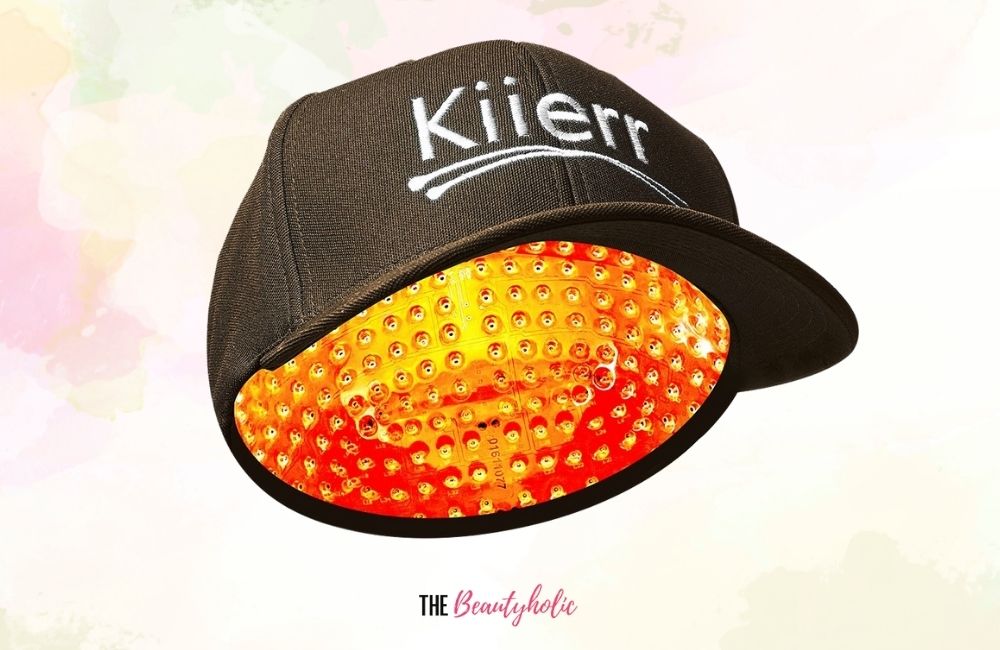 A Kiierr Laser Cap uses low-level laser therapy to reduce hair loss, calm scalp inflammation, stimulate hair growth, restore hair strength, and reduce hair thinning and loss. Hair-growth device that is FDA-cleared, portable, and hands-free.
Every other day, you must wear the laser cap for 30 minutes. With its built-in timer, this cap will automatically shut itself off after 30 minutes.
Kiierr Laser Cap uses medical-grade laser diodes, the most effective and safe way to treat hair loss.
For laser caps, Kiierr offers three options. Their differences are the number of laser diodes they contain and the cap size. The 148Pro cap contains 148 laser diodes. Two other models (272Premier and 272PremierMD) contain 272 laser diodes. The 148Pro and 272Premier are similar in size. The Kiierr272PremierMD cap features a larger size and a few other enhancements.
Both men and women can use the Kiierr Laser Cap to resolve their hair problems safely.
The Kiierr system uses both red and infrared lights to help hair grow from the inside out, giving the appearance of thicker and stronger hair while opening up your follicle so you can see your newly growing hair shaft through.
Laser caps by Kiierr can cost anywhere between $595 and $1,395, depending on the cap and number of laser diodes. You can also choose to buy just the laser cap or the entire hair growth system, which costs more.
A 100% money-back guarantee backs the Kiierr laser hair growth cap if you do not see results after seven months.
How long does it take for Kiierr Laser Cap to work?
Kiierr Laser Cap will start taking effect within four to six months, in some cases as fast as three months.
You will also see noticeable hair growth in about eight to ten months.
Approximately three to six months after using the Kiierr cap, the sparse area on your scalp will no longer be visible.
With very few side effects and a long-term effect, the Kiierr laser cap offers a great, lasting result.
Pros
User-friendly and comfortable
FDA-approved, recommended by experts, and safe.
Uses medical-grade laser diodes
Affordable compared to many other laser treatments
Stylish baseball cap design suitable for wearing outdoors as well
You have three options to choose from, each at a different price point
Cons
Does not have an app to track your progress as you use it
Results take time to show
Revian Red Hair Growth System vs. Kiierr Laser Cap – Which is Better?
Revian Red Hair Growth System contains only LEDs, while the Kiierr cap uses only medical-grade lasers. LEDs effectively improve wound and skin quality, but they do not boost hair growth as effectively as lasers.
Another difference between them is the warranty and guarantee policies. Kiierr offers a money-back if users do not see results within seven months. A warranty ensures that if there is an issue with the cap, you get a new one. Revian Red, meanwhile, offers a 6-month money-back guarantee, though warranty information was unavailable.
When it comes to aesthetics, the Revian cap looks like a riding helmet, whereas Kiierr resembles a baseball cap that everyone can wear comfortably.
Getting a Kiierr laser cap for a reasonable price and the other benefits that the Kiierr laser cap offers to make it a far better deal than the Revian Red Hair Growth System.
Final Thoughts
Both laser caps have their advantages and disadvantages, but the Kiierr laser cap is clearly the better choice.
A major reason for this is that the Red Hair Growth System uses only LEDs. Laser diodes used by Kiierr laser caps offer a more targeted approach compared with LED lights. Their technologies differ by a great deal.
The Kiierr growth guarantee of 7 months or your money back ensures you can feel confident about your purchase, unlike a guarantee of 6 months that requires you to keep up with the terms.
Hopefully, after reading this guide, you gained a better grasp of the Revian Red Hair Growth System vs. Kiierr Laser Cap comparison.
Related Posts