Want to buy the Kiierr Laser Cap, but unsure if it is worth the money? We've got you covered.
This review will help you to make an informed decision if you wish to buy this hair growth cap.
In the Kiierr Laser Cap review, we will look at the features, pros, and cons of this device, as well as how it can help with hair loss.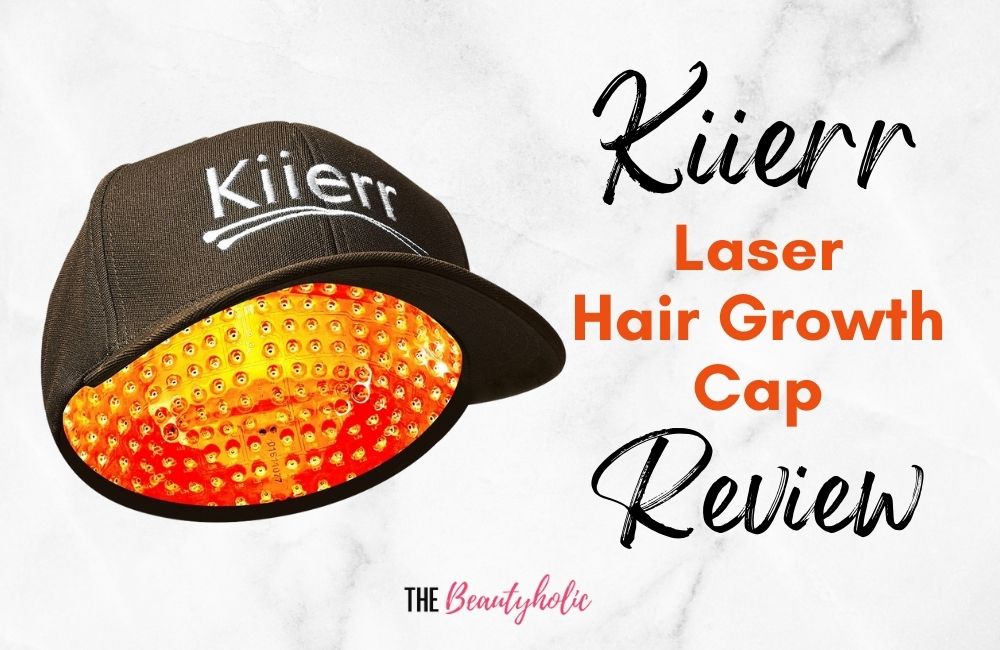 Let's start by exploring LLLT's use for hair growth.
What is Low-Level Laser Therapy for hair?
Low-level laser therapy, aka LLLT for hair, involves low-powered, wavelength-tuned laser light absorbed by the follicle, stimulating the scalp and skin to the same degree as a natural sunburn.
Sometimes, you don't even feel the laser light on your skin.
Low-level lasers are exceptionally safe, non-invasive, and cleared by the FDA to treat a range of medical conditions. They are effective in treating androgenetic alopecia.
While the laser light is so low-powered that it doesn't have much effect on the hair itself, it has an immediate, positive impact on the body's reaction to hair growth and can induce natural hair growth in thinning areas of hair and scalp.
Laser hair growth caps are one way of receiving LLLT for hair growth.
The laser cap from Kiierr can help you perform laser therapy on your hair yourself if you've been considering it.
The science behind it
Kiierr laser caps uses low-level light therapy (LLLT) to safely penetrate scalp tissue through medical-grade laser diodes. Blood flow in the scalp stimulates, providing essential nutrients and oxygen to the follicles, reducing inflammation, and promoting healthy hair growth.
Thus, new hair can grow stronger and thicker than ever before because the cells are energized!
Hair growth can be seen 6-8 weeks after undergoing this procedure, which can take up to six months.
Within four to eight weeks, the laser cap produces visible hair growth.
The study found that almost half of the participants who had used a previous laser treatment or trichology treatment saw better results with the laser treatment.
For those who don't want to wear a wig, laser treatment is an ideal choice.
About the brand
Kiierr is an industry pioneer when it comes to the development and application of hair growth lasers.
Founded by Mike and Jolene Anderson in 2018, Kiierr is a husband-and-wife team. Due to their expertise in low-level light therapy (LLLT) and personal experience with hair loss and hair growth, they were driven to heal others. LLLT has personally helped them and they wish to share this same experience with others across the nation. That's why they founded Kiierr: they truly care about the customers.
The laser cap aims to stimulate hair growth by targeting the hair follicles in the scalp, which are responsible for hair loss.
A number of experts recommend the Kiierr Laser Cap as a treatment for hair loss since FDA approves it.
With this device, people suffering from hair loss or thinning have been able to increase their hair count.
A non-invasive, painless laser therapy, Kiierr works remarkably fast, providing significant results in the shortest time possible.
Most patients undergoing treatment for hair loss and baldness have given positive feedback about the laser cap. However, the Kiierr laser cap effectiveness before and after use is controversial, and many are skeptical. Nonetheless, the effectiveness is scientifically proven.
What's included in the Kiierr Laser Hair Growth System?
Let's take a look at what this hair growth system kit includes.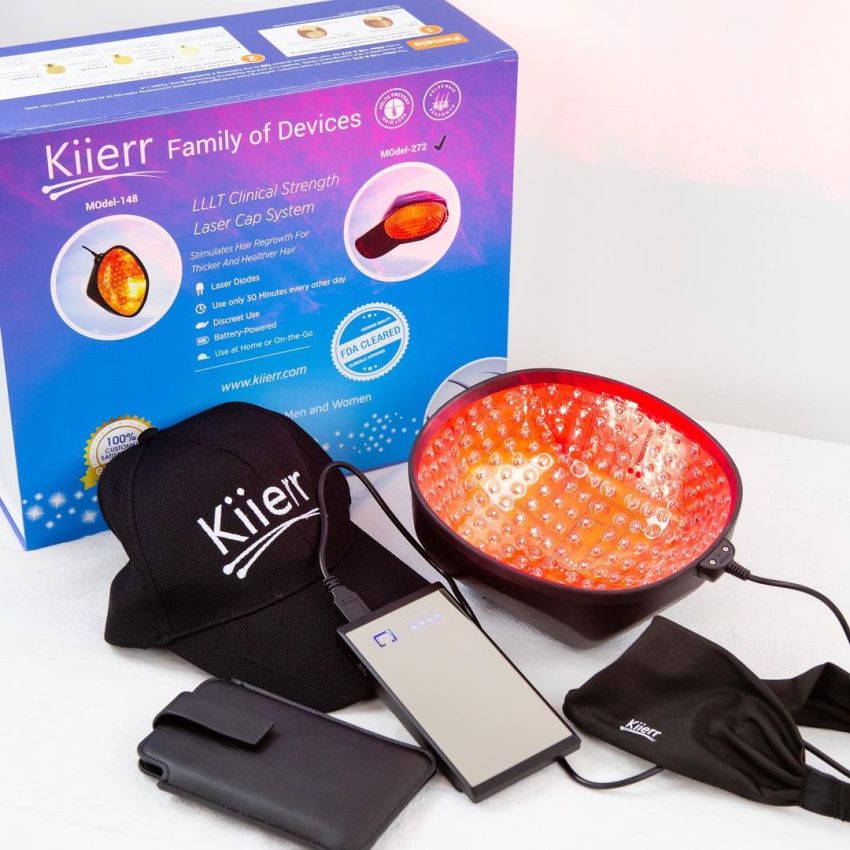 USB Cord
148 or 272 Diode Laser Helmet
Wall Charger Power Plug
Plain Black Ball Cap
Stretch Fit Headband
Portable Power Pack
User Manual & FAQ's Guide
Here's our review of this device so you can get a better feel for it.
Review of Kiierr Laser Cap
Kiierr Laser Cap offers two laser cap models: the 148 Pro and the 272 Premier. The models are quite similar, boasting a similar design, advanced laser technology, convenient features, flexibility, and operating modes.
Compared to the Kiierr148Pro Laser Cap, which contains 148 laser diodes, the Kiierr272Premier Laser Cap contains as many as 272. As a result, the Kiierr148Pro Laser Cap will offer narrower coverage than the Kiierr272Premier.
Because of fewer lasers than its counterpart, Kiierr148Pro Laser Cap would be more suitable for treating mild alopecia, new hair loss, or minor hair loss.
The Kiierr272Premier Laser Cap provides a greater coverage area for more severe cases of hair loss and baldness. Moreover, the stronger output of this model also provides a faster treatment effect.
The Kiierr272Premier, however, costs nearly twice as much as the Kiierr148Pro Laser Cap. The KIIERR148Pro Laser Cap is a bargain for people who wish to receive laser treatment in the comfort of their own homes. However, it does not cover enough hair to treat baldness.
To treat severe hair loss, we recommend the Kiierr272Premier Complete System, which along with the cap, includes a hair growth vitamin, shampoo, and conditioner to help make the treatment even more effective.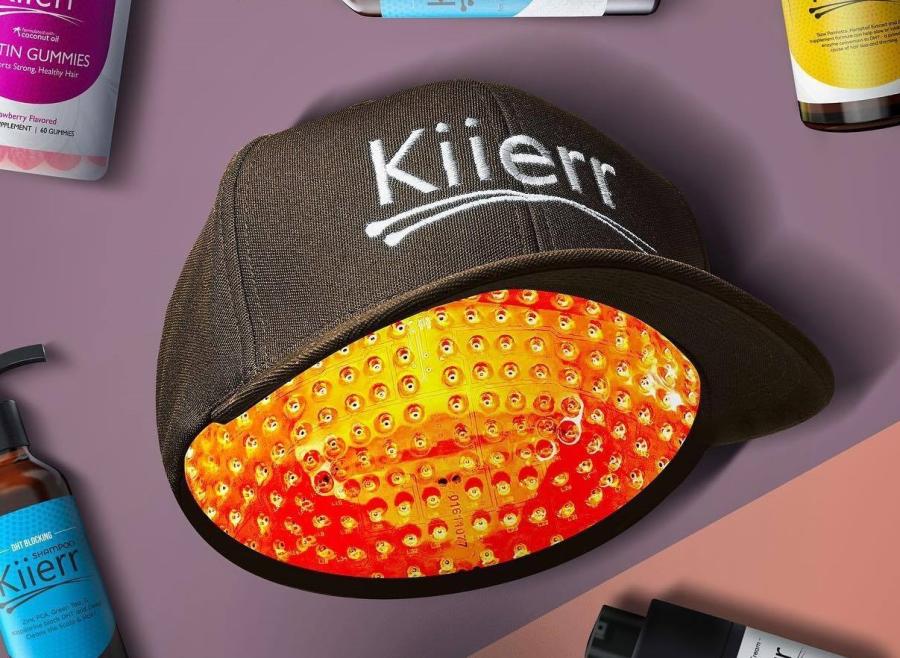 Plain black, the cap is easy to wear because it looks like a regular cap. Lightweight, the cap measures 23.5 inches in circumference, so it fits most heads. The cap has a small rubber cushion to protect it when not in use, and its design makes it easy to wear and take off.
With the automatic shut-off timer built-in, the Kiierr Laser Cap automatically shuts down after 30 minutes.
Unlike most caps, the Kiierr Cap does not contain any plastic, which is a real plus. The built is fully metal and it's quite sturdy.
The Kiierr laser cap for hair growth distributes heat evenly throughout the hair shaft.
About 300-350°F is the ideal temperature for this cap. Moreover, it is non-invasive and painless, so there is no burning.
When you use the Kiierr laser cap for the first time, you will lose more hair than usual. If it happens, you shouldn't stop using it immediately since it's quite normal— the laser light will quickly remove the hair that falls out to make way for new hair.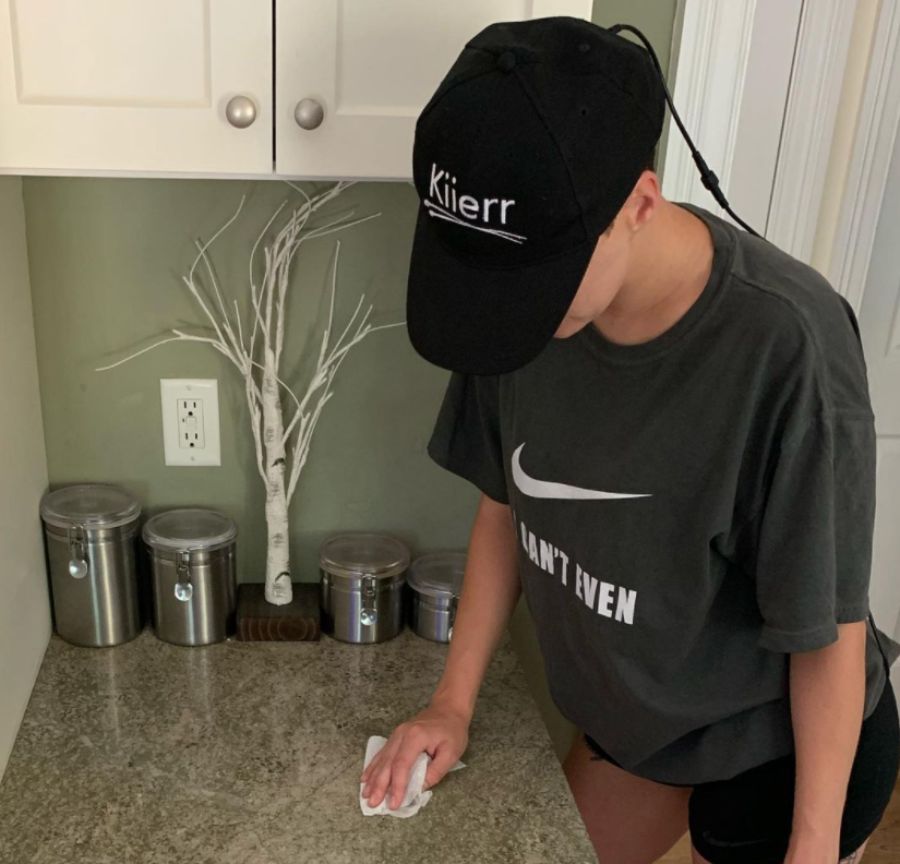 Spend just 30 minutes a day wearing this cap and doing your thing, and you'll begin to see results within a few weeks.
Furthermore, you can use it either on its own or along with other treatments such as Minoxidil, hair serums, and hair growth supplements.
There is a 93% success rate for this product in clinical studies, proving that it works both for men and women.
For any issue with the device, contact Kiierr right away. The website offers a chatbox and a hotline, which is very convenient. The staff will always try to assist you in the best possible way to solve the problem. Also, Kiierr's laser hats come with a 2-year warranty.
If you are unsatisfied with this product, you can simply return it with their no-questions-asked money-back guarantee if you cannot see any noticeable results within seven months.
Shop Kiierr Laser Hair Cap Now
Pros of Kiierr Laser Cap
Boosts existing hair strength
Provides a healthy environment for hair growth.
The hair becomes fuller, thicker, and healthier.
Keeps your hair healthy, shiner, and softer by preventing damage.
Easy to put on and off
100% hands-free and portable
Faster, easier, and more convenient than other forms of treatment.
Comes with a 2-year warranty.
You can ask for a full refund if there are no results after seven months.
Friendly and helpful customer service.
Cons of Kiierr Laser Cap
Comparatively more expensive than other hair loss treatments.
Results take some time to show.
May not work for all types of hair loss.
Is Kiierr Laser Cap FDA approved?
Before purchasing any medical device, always check for FDA clearance. Kiierr Laser Cap is FDA-approved. Find out more about their FDA clearance here.
The simplest and least expensive laser device on the market, it is familiar to most doctors and hospitals.
A well-known and widely used hair regrowth device, it is considered safe enough for most people's needs.
As of yet, Kiierr Laser Cap has no reported adverse effects.
Who is a Good Candidate for the Kiierr LLLT Device?
There are certain factors to consider when determining whether an individual is an appropriate candidate for Kiierr LLLT Device (LLLT for hair growth).
This therapy is beneficial to all genders and anyone from the age of 18 to 80.
Low-level laser therapy (LLLT) is ideal for
Patients with hormonal and genetic hair loss (androgenetic alopecia) or pattern hair loss.
Those at the beginning stages of hair loss – between 1 and 7 years.
Men with general hair thinning, including the back and sides.
Women who find more hair on their brushes than usual.
Meanwhile, laser hair caps are not recommended for the following people:
Those with light sensitivity
Cancer patients in active treatment.
Sensitive skin, especially in older adults.
Those experiencing advanced hair loss
Those who are entirely bald
An individual must have clean and healthy skin before receiving a laser cap treatment.
How to Use Kiierr Laser Cap?
Step 1: Unbox and connect the charger to the power pack. Use only the portable power pack included in the kit and never directly into an outlet. Charge it completely in advance.
Step 2: Place the cap module into the ball cap. Fit the Kiierr Laser Hair module into the black ball cap provided or any standard ball cap of your choice.
Step 3. Connect the USB power adapter and the laser hair cap module. Make sure the USB cable is fully plugged into the cap. Do not attempt to connect the USB by force as it may be upside down.
Step 4: Switch on the cap once you've placed it on your head. When it is on, the device will blink and then turn itself off after 30 minutes. Make sure not to look directly at the lasers.
Depending on the severity of your hair loss, you should use this cap for a minimum of six months every day.
How long does it take to work?
Using these laser caps may not give immediate results overnight or after a few days. Taking care of your hair from the inside out takes time, so you won't get it done right away.
While not all clients find the same level of success with their cap treatments, the average is about one treatment a month.
It may take longer to get the same results when you have damaged hair, redness, white spots, or thin hair.
Treatment with the Kiierr Laser Cap should last between four and twelve months, every other day. After that period, you can maintain the hair's quality by continuing sessions every once or twice a week.
We have found that the Kiierr Laser Cap price is affordable, and it is an excellent device for people with hair growth cycles that are too quick.
As a result, it is ideal for keeping unwanted hairs from growing or for treating hair regrowth.
Is it safe, or is there any side effect?
A low-level laser light, 560nm, is used by Kiierr that poses no harm to your skin and scalp.
At this point, no side effects have been reported, but you should take care when using lasers around your eyes. Don't turn the cap on until you wear it.
Where to buy the Kiierr Laser Cap?
Kiierr Laser Cap for sale is available on its official website. You can purchase it here.
The return policy
The return policy is always an option if you are not satisfied with the product's results.
If you feel that this is not the right product for you, there is a 7-month money-back guarantee.
FAQs on Kiierr Laser Cap
1. Can both men and women use it?
Yes, the cap is designed in a unisex pattern, so anyone can wear it.
2. What is the warranty on purchase?
There is a 2-year warranty on the product to ensure you are covered in case of a defect.
3. Is it compatible with other hair loss treatments?
Yes, you can use the Kiierr Laser Hair Growth Cap with hair treatments such as Minoxidil and other hair treatments.
4. How long do laser sessions last?
For effective treatment, the sessions can last up to 30 minutes each day.
5. Is there a rechargeable battery or a cordless option?
Since the battery is rechargeable, you won't have to worry about replacing it.
6. How often should one use it per week?
Using the cap once or twice a week will provide steady results.
7. Can other family members use it?
Yes, you can share your cap with family and friends. However, certain unwanted dandruff or residue from one's head may get passed on via the cap if different people use the same product.
The bottom line
There you have it, the Kiierr Laser Cap review.
From its price to its pros and cons, we have covered several aspects of this laser hair growth device.
Kiierr Laser Cap stimulates follicles using low levels of light. The result is healthy-looking hair that grows at a natural rate.
The Kiierr Laser Cap is ideal for those in the early stages of hair loss. Like other hair treatments, the results may vary from person to person and may or may not work for everyone.
Combined with other hair treatments and a hair-loving diet, the Kiierr treatment will achieve great results.
If you are still unsure, you can read the reviews on Kiierr's review page. Make sure you read all the details carefully, then decide if you still feel the product is right for you.