Picking the best laser hair growth cap can help you regrow hair easily at home. So if you are dealing with any hair loss issues, you might want to stay tuned and keep scrolling down to know more.
Men or women – everyone wants beautiful, strong, and luscious hair. Hair loss and hair fall are common, and we deal with it at some point or the other, but when it becomes unmanageable, it becomes a point of concern.
Extreme hair fall can lead to pattern baldness and complete loss of hair altogether. This condition, however, is avoidable if you start taking care of it in the early stages. When it comes to hair loss, most people try to avoid medical treatments and deal with it naturally. This approach, however, is wrong as medical treatments are more effective.
A little background on LLLT
These caps were awarded in 2019 for being the best home therapy for hair loss. The hair growth caps or helmets are rated best in terms of performance. They are known to increase hair count, prevent hair loss, and also strengthen existing hair.
Lasers were discovered in the 1960s at the Hughes Research laboratories by Theodore H. Maiman. The discovery was made to inspire engineers and physicians to develop technology and adapt to the various needs of medical treatments and therapies. The most innovative technological advancement in the field of hair loss is low-level laser therapy. Over the years, it has proven to be the latest solution for everyone dealing with hair loss and stimulate new hair growth.
This therapy is commonly known as LLLT, and it is an FDA-approved solution for hair loss. It uses laser technology of clinical strength to treat hair loss and also to strengthen the existing hair. LLLT uses pain-free and non-invasive light technology to stimulate the hair follicles. This scientific stimulation then induces hair regrowth and helps one achieve fuller, thicker, and luscious hair.
This procedure does not require any medical intervention, and this is why anyone and everyone can use this low-level laser therapy at home. It is also the most comfortable and convenient option for people who are dealing with hair loss. These hi-tech hair growth devices are even passed by the FDA to be used at home.
LLLT restores the youthful consistency of the hair and maintains its natural shine and texture. Low-level laser therapy is used by the medical community for several ages now, and it is also proven to boost hair density in humans. Among all the other things, it is also effective and safe to be used at home.
Top-Rated Laser Hair Growth Cap Reviews for 2022
Now that we have seen that LLLT devices are available to use at home, let us now see some of the best devices you can choose from.
We have gathered the best laser hair growth cap options available in the market, along with the features, specifications, and pros and cons of each product to make a choice easier for you.
The best part is – all of these devices are FDA approved and are well appreciated by those who use them.
Readers like you help keep The Beautyholic running. When you buy through links on our blog, as an Amazon Associate, we earn from qualifying purchases at no extra cost to you.
#1 Kiierr Laser Cap Complete System
As you watch TV, take a walk, or read a book, you can grow thicker, healthier hair with the Kiierr Laser Cap. Every other day, you can restore your beautiful hair in 30 minutes with this convenient, hands-free method.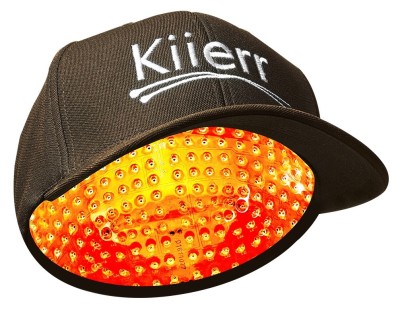 According to the Reviews…
The device has FDA approval for everyone.
The Kiierr laser cap can help those who suffer from early-to-medium hair loss symptoms.
You receive a laser helmet, a plain black ball cap, a stretch fit headband, a wall charger power plug, a USB cord, a portable power pack, and a user guide and FAQ guide.
As part of the 272Premier Laser Cap Complete system, you will also receive hair growth vitamins, shampoo & conditioner.
The Kiierr272Premier Laser Cap is fully automatic. Just put it on, go about your day, and let the laser do its work.
Works well on thinning hair and you will begin to notice the difference after a few months. You will see thicker, healthier hair. Also slows down gray hair growth.
The device claims to stop hair loss within 30 to 90 days. New hair begins to grow after 90 to 180 days. After 180 days, you can expect thicker, fuller hair.
Use the cap twice a week to maintain hair growth. The shampoo that comes with the cap adds freshness and softness to your hair while the pills serve as a sidekick to further enhance its benefits, so there is no need to look elsewhere.
Bonus Points
Studies have shown that 93% of patients are successful
You can get a full refund if you don't see any results after 7 months.
Doctors strongly recommended it
There is a monthly payment plan available
Pros
FDA-approved
Unisex cap: it looks just as good on any gender.
Works exceptionally well for thinning hair
After the fourth month, you'll see great results.
Cons
This laser hair growth cap was built on 25 June 2019 by Freedom Laser Therapy. This was one of the best-selling hair growth caps in the year 2019. It is probably the best option available for millions of people out there. It is trendy, and it seems to be quite effective as well.
According to the Reviews…

The iRestore cap is clinically proven to treat cases of hair loss in both men and women.

It is safe and non-invasive, as the users claim. This growth cap stimulates the hair follicles, which then allows them to grow fuller and thicker hair.

This device uses laser technology of clinical strength, which is very effective in treating balding.

It also reduces receding hairline, pattern baldness as well as treats thinning of hair. It is easy to use and is lightweight, durable, and comfortable for home use.
Bonus Points
T

his product proves to be very effective for anyone who desires fuller and healthier-looking hair.

It has an optimal wave

length of 650nm red light and it is proven to increase the rate of hair growth by about 15%.

This hair loss treatment requires consistency, and it is not for someone looking for an overnight solution. It requires patience and needs to be used as per the direction.
The device emits medical-grade laser lights that boost cell metabolism and reactivate the hair follicles to stimulate hair growth naturally.
People can use this device with any other hair growth products to look for faster and better results.
The hair improvement rate of this product is better than any other device available in the market, and it does not have any proven side effects.
| | |
| --- | --- |
| Pros | Cons |
| Provides positive and effective improvement within two months. | Not effective for people who have been bald for several years. |
It is specifically designed to suit everyone's needs and secure everyone's optimal experience. The Capillus range features three cap designs, and all of them are almost similar except for the number of lasers in each cap. Capillus Ultra has 82 lasers, which is enough to provide good coverage to your entire head.
According to the Reviews…

This cap is FDA-approved and safe, and is easy to use.

It is even effective in treating hair loss conditions that prevailed by genetics. It also restores hair thinning and prevents loss of hair.

This cap provides excellent coverage with its 82 laser diodes, and it shows effective results in daily sessions of just six minutes. The cap uses LLLT, and it is non-invasive.
Bonus Points
It uses a lithium-ion battery operated that is rechargeable and is long-lasting.
It provides hands-free operations for treating hair loss and achieving healthier-looking hair.
This treatment requires consistency, and it is not for someone who is looking for an overnight solution. It requires patience and needs to be used as per the direction.
This cap is manufactured in the USA and provides full US customer support.
It reverses the process of hair loss, and it also revitalizes damaged hair.
Pros

Cons

Safe, easy, and practical to use.
FDA cleared and features clinically proven technology.

Provides medium coverage, and it might miss some spots on your head because of the lesser number of lasers in it.
This laser hair growth cap is one of the first ones released in the market. Ever since, it has managed to maintain its position, ensuring compliance and strict standards. The technology of this device is a little outdated, but it still was a legit and viable option for hair growth even today in 2022.
According to the Reviews…

This device has a highly effective stimulating light, and it uses LED and laser lights that enhance cellular rejuvenation.

iGrow can increase hair growth by about 35% in males and about 37% in females. It fits heads of all sizes, and it provides hands-free therapeutic operation.

The treatment combines LED and laser lights, which are used to revive and energize the hair follicles to function and perform better.

In just 25 minutes every other day, you can have the hair of your dreams. You can also use headphones under this cap and relax while you are undertaking your session.
Bonus Points
FDA cleared and is clinically proven for treating hair loss.
It uses 51 light diodes, and it emits red light energy, which is quickly absorbed by the cells, thereby promoting cell functions.
Does not have any batteries to recharge, and it is supposed to be plugged into the wall for hands-free use.
Has outlet adaptors for people living in the US, EU, UK, and Asia, and it also has Dual-voltage for users worldwide.
This cap also has in-built headphones to provide you with the option of listening to music or binge on anything while you are on therapy.
Pros

Cons

FDA cleared LLLT device
The very first released hair growth device functioning on LLLT

The technology might be a little obsolete as compared to the latest and modern techniques available out there.
ReGrow MD is a hair growth helmet that has a vast domain in this field. It excels in improving its technologies and providing products known to give the best results to the users. This brand is, in fact, the best in the hair restoration industry. ReGrow Md has released five hair restoration devices in the market till now.
According to the Reviews…

This laser hair regrowth device has a mechanism that makes hair parting easy.

It has patented teeth that create a pathway for the optimal laser light to reach your follicles and then enhance the stimulation in your head.

This device provides the maximum benefits since laser light dispersion is very consistent. Since the laser diodes are closely placed, they provide uniform delivery to the follicles.

This device provides results with consistent use. The resulting time might be different for different people but is guaranteed.

This device is great for treating pattern baldness and also prevents receding hairline for women and men.
Bonus Points
This device has 7 FDA clearances, and it further holds 14 medical licenses all over the world.
Provides definite improvement with just 30 minutes of usage for about 1-2 months.
The treatment is effective and safe to use, and it is clinically proven.
Has a comfortable design and has bio light with openings that allow the laser light to disperse to the hair follicles quickly and uniformly.
This device uses 272 laser diodes that are of high quality and provides coverage for the full scalp.
Pros

Cons

Clinically proven to be used by both women and men.
Does not have any side effects and gives guaranteed results in 1-2 months.

Might give headaches and give a burning feeling if you use it for too long.
This hair growth helmet is an exciting one. The manufacturers have built this device to be quite durable, and it has a battery that is known to last for about 20,000 sessions of about 30 minutes. In short, the battery is known to cover the entire session, and this device is a tough competition to other hair growth caps out there. It has specifically calibrated lasers that penetrate effectively within the scalp to reach the hair follicles to promote hair growth.
According to the Reviews…

The Illumiflow laser cap is FDA cleared, and it uses a class II medical device that is useful for hair loss.

It is heavily researched, clinically proven, and it is 100% safe and effective.

The makers of this product give a 5-year warranty with this product, and they seem to be very confident about it.

Illumiflow is currently the most cost-effective device available in the market.

It provides full coverage, and it even reaches the impossible regions of your head, making the treatment 100% successful and effective.

A 20-30 minutes session is enough to rejuvenate, strengthen, and regrow your hair and stimulate new hair growth.
Bonus Points
This device is FDA-approved and clinically proven to be safe.
Easy to use even at home and is super discreet while being less costly than the medical options available in clinics and treatment centers.
Uses 272 laser diodes of premium quality, and it provides full coverage on the scalp.
Has calibrated lasers of 650mm, which provides optimal penetration to the scalp.
It should be used three times a week for 30 minutes for the best results, and it is rated for working smoothly for about 20,000 sessions. This, however, requires some amount of commitment as nothing happens overnight.
Pros

Cons

Safe, painless, and convenient to use.
Clinically proven to work for the hair loss issue and therefore provides a warranty of 5 years.

Might not work for people who have been for several years.
If your past experiences with hair growth helmets have failed you, then you might want to try this one. This device gives you the right reason to change and provides you with everything you have been looking for. Theradome was nominated in 2018 for the MyFaceMyBody Awards. It received immensely appreciated, and it became one of the best available hair restoration treatments.
According to the Reviews…

This device is FDA approved, and it is appreciated by top hair restoration clinics and experts worldwide, especially in the US.

It is comfortable and shows satisfactory improvement within six months, or the manufacturers even guarantee to give your money back.

Hair experts recommend this device to treat and deal with the problem of hair loss.

The hair restoration clinics and the experts claim that this device gives 98% positive results in both women and men.

Theradome does not use any LED, but it has medical lasers instead of penetrating deep within your hair follicles and providing the best possible results.

It is easy to use and provides hands-free operation for optimum comfortability.
Bonus Points
This device uses lasers of medical grade to provide maximum benefits.
It is FDA cleared, and it provides guaranteed improvement within 180 days.
Has calibrated lasers of 650mm, which provides optimal penetration to the scalp.
For best results, use it four times a week for 20 minutes.
It is cordless and hands-free. It has a rechargeable battery, and it is rated for working smoothly for 18,000 usages, pretty much covering the entire time of your treatment.
Pros

Cons

Easy to use and is convenient, safe, and effective.
Provides 98% positive results.
This hair growth helmet is designed with the most innovative technology, and it is known to deliver excellent performance with exceptional convenience and superficial coverage. The device manufacturers did not leave any room for complaint, and the device is both safe and unique.
According to the Reviews…

SuperGro has a 272 laser diode, and it is a complete laser hair regrow kit. It comes with three bottles of Maximum Growth Therapy for extra strength to the follicles.

Since it contains so many laser diodes, the scalp is more exposed, and it provides better and faster results.

This device utilizes a whopping 272 laser diode, and each diode is calibrated specifically to contribute to the best possible hair regrowth.

As per researches, it has a wavelength of 650nm, and it has a rating of 5mW.
Bonus Points
This device is clinically proven, and it is FDA cleared.
It does not have any side effects.
The users can see guaranteed improvement within 12-20 weeks of use for only 15 minutes every week.
The device has a 3-year warranty, and it is rated to work smoothly for about 20,000 uses, which cover the entire treatment period.
It does not have any battery to replace or recharge but comes with a 6-foot long power cord for major convenience.
Pros

Cons

Convenient and easy to use.
FDA cleared and provided guaranteed improvement within 12-20 weeks of use.

The adaptor of the power cord might be disturbed or disrupted when used for a very long time.
Why Should You Choose These Hair Growth Caps?
You might be wondering why you should be investing your time and money in a laser growth helmet. As per recent studies, laser caps have been proven to be very efficient, and it is seen as the fastest and the best possible reason to treat and deal with hair loss in both men and women.
In recent years, there have been several advancements in the hair recovery industry. All the big brand names have been trying to develop innovations to boost and improve hair growth and regrowth. Ever since the time laser was discovered, it is widely adopted by various medical industries to treat hair loss.
Here we will share with you the main reasons you should choose these hair growth caps. So let's begin.
Provides The Best Treatment For Hair Loss
Ever since lasers were discovered, this is probably the best performing treatment tried and recommended for hair loss. Every treatment has some drawbacks of its own, and so does this. It does not work on people who have been bald for several years. But even after this, this is way above other hair regrowth treatments available in the market. Comparing laser to oils, serums, and other hair products provides three times better results. A laser cap is required to be used only for 15-30 minutes every session, and they offer guaranteed hair improvement within two months or so. They show commendable improvements in hair condition, texture as well as regrowth. A complete session can ensure about 40-80% of the hair recovered.
One Time Investment
You do not need to buy laser caps again and again, unlike shampoos, hair oils, or serums. It is a one-time investment, and it can last you a lifetime, guaranteeing you the best optimal results you are looking for. Most of these caps run on batteries, and the batteries run from 15,000-20,000 usages, which are enough for your complete treatment session. These devices are also durable, and they can resist any potential damage coming from the outside and can run in optimal conditions throughout the entire duration of their functionality. Some manufacturers of these devices also provide you with a warranty that allows you to change or replace your damaged products.
Safe And Easy To Use Even At Home
These laser caps are featured with LLLT technology, which allows them to be used at home. You can safely and effectively use these devices at home without any side effects. They also come with automatic temperature so that your hair follicles do not get damaged by exposure to too much heat. The heat emitted from the laser caps can damage the scalp if it gets too high. Therefore this feature is a good enough reason to buy this for your hair.
Not Only Aids In Hair Regrowth But Also Strengthens It
The laser caps do not work like your typical hair regrowth treatments, but it acts as an all in one therapy session. It not only deals with the problem of hair loss but also conditions and strengthens your existing hair. It also boosts hair growth and also prevents the issue of hair thinning and hair fall per session.
The Easiest Recommended Treatment
This treatment is probably the easiest of all. Like all you need to do is place the laser cap on your head and sit wearing it for about 15-30 minutes. Press the button to get it started, and it will automatically turn off once the session is over. The devices also automatically adjust the power to provide optimal results.
Provides The Fastest Results As Compared To Any Other Treatments
You might think that since you are using these devices at home, it will not provide the desired outcomes. But that is not true. It gives better results as compared to clinical treatments. They come supremely close to the treatments available in cosmetic salons and medical clinics. You need to wait for at least six months to see any possible visible hair regrowth for most explicit treatments. But with these hair growth helmets, you can notice a significant difference in just two weeks, and in one or two months, you will see a lot of difference in the way your hair looks and feels.
What Does FDA Say About the Clearance And Efficacy?
The FDA issued a 510k clearance for these devices back in 2007. It was the first and the primary purpose of these devices was to deal with the problem of hair loss. The first device that was FDA cleared was HairMax Laser Comb. The device was subjected to multiple trials to understand its efficacity and level of safety to be used at home. When this treatment was passed, it proved to be a boon for the hair industry. After this, several well-known brands launched their own hair growth laser caps to satisfy the users and provide them with what they have been waiting for.
Buying an FDA cleared laser cap will ensure complete safety as it utilizes laser components for medical purposes. The FDA clearances are costly, so the devices that offer FDA clearance are priced a little higher than the regular ones.
The cleared laser caps are also regarded as a class II medical device, and they are appropriate for authoritative oversight and regulation. This is supremely important, keeping the user safety in mind.
When a device is FDA cleared, it ensures that it has passed several levels of tests, and they are fit for use. They are meticulously reviewed, and each part of the device has to undergo several inspections to pass the safety test. Uncleared and untested laser caps can be extremely dangerous.
Therefore you must pay close attention to the details and choose only the ones that are FDA cleared.
Do Laser Hair Growth Caps Promote Hair Growth?
This question runs on everyone's minds while they are going to buy a laser hair growth cap. Over recent years, these laser caps have been known to provide optimal results, and there is strong evidence that these caps can boost hair growth and promote hair thickness.
According to Dermatology Times, there is something called androgenetic alopecia, aka male or female pattern baldness. According to this, baldness in the United States is alone 21 million in women and 35 million in men. Since these laser caps work on low-level light therapy, doctors and experts are fascinated with using fo these devices to promote and incur the loss of hair in people.
Theoretically, laser treatments invigorate stimulation and circulation in the hair follicles that encourages them to grow hair. This is the reason why these devices work as a treatment. In 2013, a study involved 41 males, and the age ranges from 18 years to 48 years. This study found that laser treatment induced 39% positive results of hair growth in these people in just 16 weeks. As per a study in 2014, LLLT appears to be effective and safe to incur hair growth in both women and men. The light therapy in the laser devices irradiates the scalp tissues and photons, and when they are absorbed by the weak cells, they promote hair growth. This procedure is widely accepted as it is safe, effective, non-invasive, tolerable, convenient, and cost-effective than hair transplant surgery.
How To Use  A Laser Hair Growth Cap Or Helmet?
Laser growth caps or helmets use low-level light therapy, which has proven to be very beneficial in dealing with hair loss. Over the years, this therapy has been used to regrow ph. Several medical practitioners use this technology, and they are even recommended they use these devices at home. They are supremely easy to use.
Now we are going to share with you how you should use these caps.
Step #1
First of all, you need to unpack all the components of your device and carefully read the instruction manual. It is important to note that not all devices function equally; therefore, reading the detailed instruction manual is very important to obtain the optimum results.
Step #2
Once you are done, see whether your device works with batteries or it has a power plug. If your device operates with batteries, then connect the charger to the plug and charge it fully. If it runs with direct power, then all you have to do is connect the power plug to the power switch.
Step #3
Now assemble the hair cap to any ball cap if provided, or you can choose any standard ball cap of your choice.
Step #4
Now connect your USB to the power pack and connect it with the laser cap that you placed inside the ball cap. Make sure that the USB is fully connected and do not force or push it to get connected. Plug one side of the battery pack into the wall and the other side.
Step #5
Now that you are done with all the assembling, it is time to use the cap. Place it on your head and hit the power button. You will get a notification once the device is on.
Step #6
Wear the cap for about 15-30 minutes, as is instructed in the manual. Once your session is complete, your device will automatically turn off. You can also read or enjoy music while you are enjoying your treatment session.
Do this as many times as directed in a week.
FAQs – Laser Hair Growth Caps
What is a laser hair growth cap?
It is a technique to amplify or cause hair growth for people suffering from hair loss. This technique was approved in 2007. The basic aim of these techniques is to induce red light on your scalp, which is believed to induce the cells in your hair follicles to jump from their resting phase to the growing phase.
Yes, they are very much safe. They have been practiced on a huge scale and did not disappoint their users much. Although some may find it non-beneficial or provide mild improvement, they can always go to the doctor.
Well, to put it simply, the answer is no. More than 2000 clinical trials and tests are performed, and it is found that they are perfectly safe to be used. But no product out there comes with zero hazards. So maybe it is not affecting many people, but there are chances that it might cause skin cancer.
It is always advisable to use the hair cap every day to see better results. However, the period fluctuates depending on the patient. For some, it can be 15 mins, and for some, it can be 30. However, you should never exceed it above 60 mins because using it too much would not stimulate hair growth fast.
Does a Capillus laser hair cap really work?
Although there are no promising reviews on this topic, the capillus laser hair cap is well-known and found on Amazon, and the reviews are not of much help. Many suggest that it is a scam or doesn't work at all. But there is no much proof against or on behalf of this discussion. Laser caps usually work for stimulating hair growth, but which laser works the best is yet to be discovered.
Can I use it with other hair loss products?
There are no harmful effects seen on using other hair loss products along with laser hair caps. For many, it has proved to be much more beneficial. Using other hair products along with laser hair caps leads to more hair growth.
Does one need to use it continuously?
According to doctors and most people who have used it, it is better to use it every other day for a few periods. This stimulates hair growth faster.
The Bottom Line
Living in the era of technology has its perks of its own. Medical science is coming up with several new inventions that you never thought of before. In this article, we provided you with several options for the perfect laser hair growth cap. We also offered reviews and reasons as to why you should invest in it. So if you are looking for suggestions, then do keep these considerations in mind.