Matte lipsticks have been supremely reigning over the makeup realm for a while now, but lip gloss will always have a special spot in my heart—and my vanity. It was the makeup product I ever purchased for myself, back when I was 12.
While my makeup collection has significantly expanded with time, one thing that has not changed is how good lip gloss makes me feel. One swipe of lip gloss instantly adds brightness and freshness to the face and works perfectly well with any makeup look.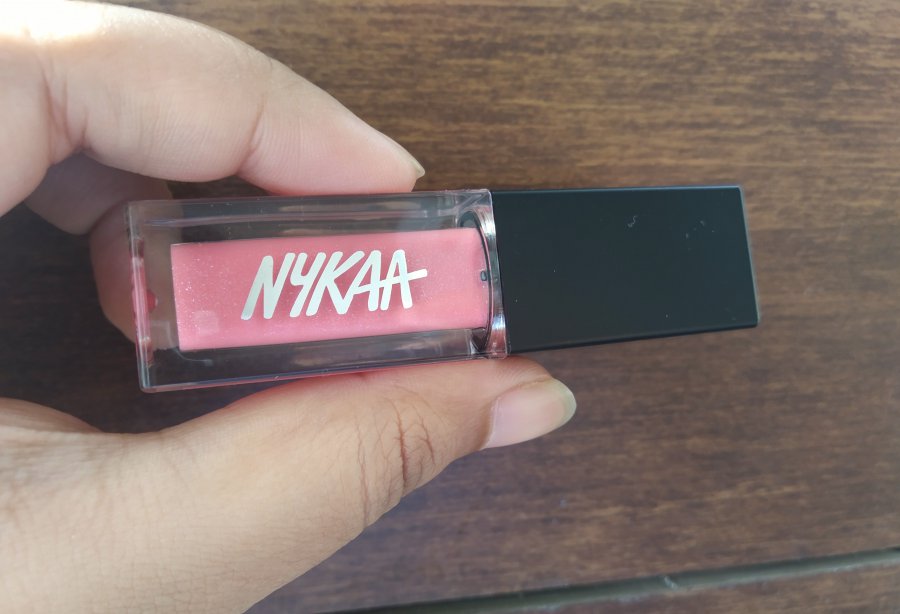 It's one of the few products that look equally gorgeous irrespective of the time of the day. College, office, shopping, or a party, there's hardly an occasion you can't wear lip gloss to. The festive season is upon us, and everything is sparkly and glamorous, and there's no reason why you shouldn't be sparkly and glamorous with a lip gloss too!
Last year, Nykaa launched its own range of lip glosses in a variety of shades, and the shade that appealed the most to me was Sweet Angel. But is it really worth your money? Let's find out! 
About the Product: Nykaa Gloss it Up High Shine Lip Gloss comes with a reputation to make you ultra-glam! Finally, a lip gloss that is sexy and comfy at the same time! If we had one chance to make you blush, we would give you the Nykaa Gloss it Up High Shine Lip Gloss in Sweet Angel. This sheer baby pink shade with melted glitter speckles is the one thing you won't be able to keep off your mind. Absolute girly perfection, that's what this shade is!
Readers like you help keep The Beautyholic running. When you buy through links on our blog, as an Amazon Associate, we earn from qualifying purchases at no extra cost to you.
Price of Nykaa Gloss it Up High Shine Lip Gloss – Sweet Angel: Check price at Nykaa or Amazon
Ingredients: Nykaa has not provided an ingredient list, either on the website or on the product itself. 
How to apply?
Clean and moisturize your lips completely

(Optional) Apply the lipstick you want to layer the gloss over

Apply the gloss with the wand

Gently purse your lips to ensure even application

You're ready to go now!
My Experience with Nykaa Gloss it Up High-shine Lip Gloss – Sweet Angel
The outer packaging of the gloss is a pretty pink cardboard box, with all the details of the product mentioned on it. It is a vegan and cruelty-free product. It is also free of preservatives and parabens and is dermatologically tested.
The gloss comes inside an acrylic glass tube, which is the standard packaging for most Nykaa lip products. The wand is doe-foot shaped and is quite sturdy, making the application easy and precise.
The shade Sweet Angel is the girliest shade in the range. A true baby pink shade with glitter specks in it, this shade has my heart because it makes me feel like I'm in the 90s. The colour is quite sheer, which is how I prefer my glosses. The glitter specks are multicoloured, which look divine when the light hits them.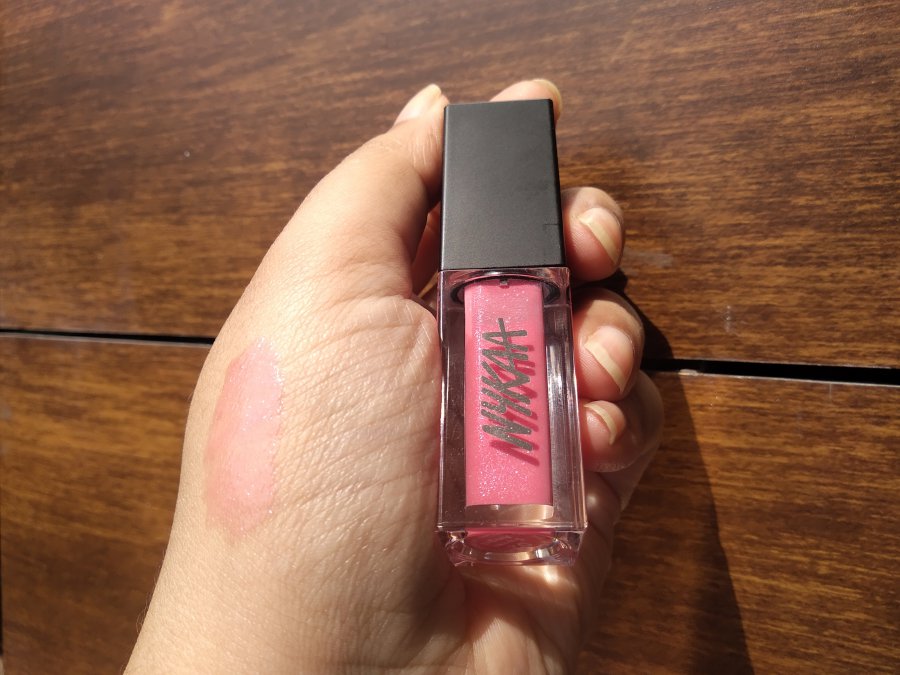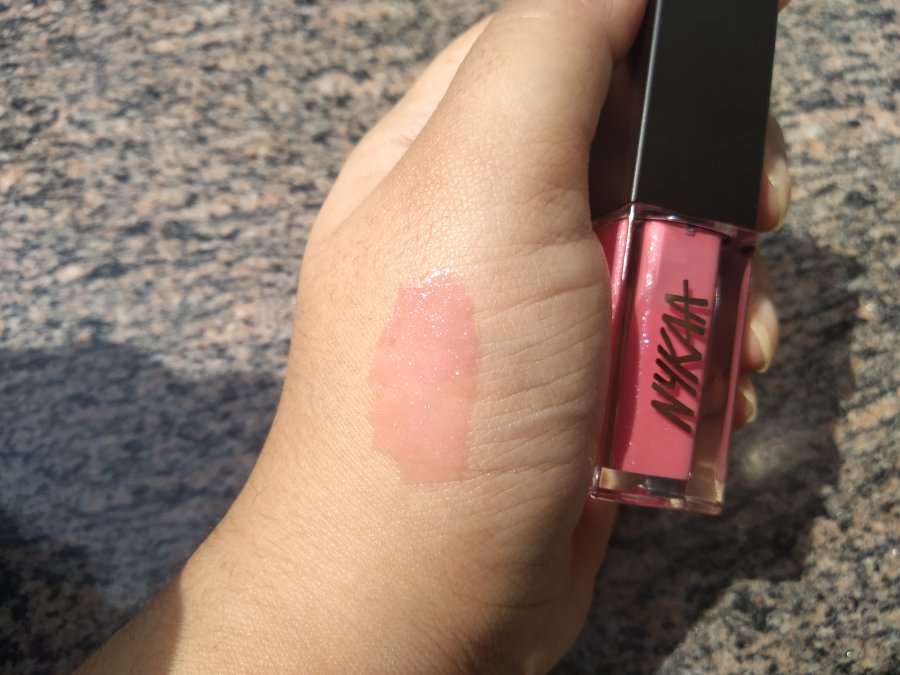 The performance of the product stands true to its name—it really is a high shine lip gloss! Sweet Angel looks absolutely gorgeous on its own, but even better with a light pink lipstick underneath. Because the colour is sheer, this particular shade will not look flattering on deeper skin tones, unless worn over a nude pink lipstick.
The gloss feels quite lightweight on the lips and instantly makes the lips look fuller. The formulation is quite non-sticky, true to the product's claims, and does not feel uncomfortable at all. We all hate a tacky gloss. However, your hair will get stuck in it. That problem seems to be something no brand has been able to defeat.
While it won't dry your lips out, this gloss can accentuate chapped lips so make sure you moisturise before application. Coming to the longevity, the glossy sheen begins to wear off after 3-4 hours, but the glitter specks will remain on your lips throughout the day. Because this shade is quite light, it won't make your lips look awkward when it begins to fade away.
Nykaa products are available online on the Nykaa app and website and offline in Nykaa stores and counters. This means that you can try this gloss on before you buy it, which is always a good thing.
While I do not have any issues with the formulation, the packaging, or this shade, I do feel that the product is a tad overpriced. Since this is a drugstore lip gloss with no extraordinary packaging, I think that it could have been more reasonably priced. If you've been unable to decide whether you want to buy this product or not, here are its pros and cons to help you make up your mind:
Pros:
Non-sticky

Long-lasting

Available online and offline

Pretty, wearable colour

Vegan and cruelty-free

Preservative and paraben-free
Cons:
Slightly overpriced

Not suitable for all skin tones
Nykaa Gloss It Up! High Shine Lip Gloss
Final Word
Although a little pricey, this lip gloss lives up to all its claims. It is non-sticky, long-wearing, and supremely shiny, which is everything I look for in a lip gloss. Sweet Angel is my dream shade, with its soft pink hue and glitter particles. I recommend this to anyone looking for a good lip gloss.
Have you used Nykaa Gloss it Up lip gloss yet? Or want to try it? Let us know in the comments. 🙂