Starting a blog in your favorite niche can be fascinating, especially if you enjoy writing. In fact, it is a great way to get our ideas out into the Internet ocean while being a rewarding source of income. Isn't that awesome? That can lead you wondering, how to make money off blogging?
So, I decided to do some research on my own and reflected on my experience. As it turns out, writing blog posts can earn you quite a bit of cash.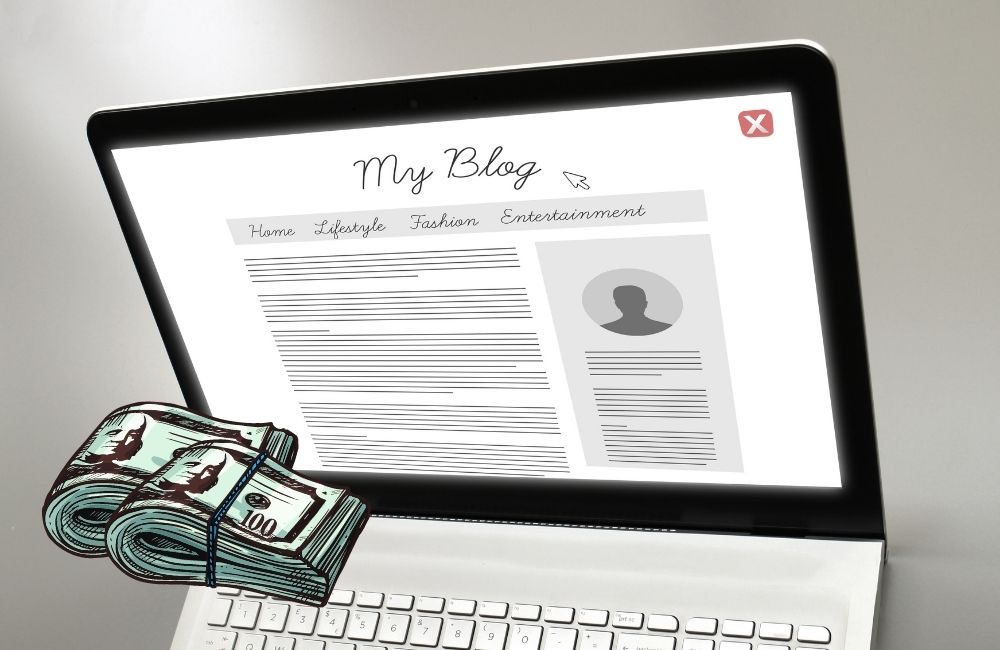 So, can you really earn money blogging?
In case you're wondering, some bloggers make more money than a company CEO. You read that right.
A quick list of the highest-paid independent bloggers (and their crazy high incomes):
John Lee Dumas – $195,000+/month.
Pat Flynn – $200,000+/month.
Chiara Ferragni – $200,000+/month (likely much more)
Sarah Titus – $200,000+/month.
Melyssa Griffin – $200,000+/month
Tim Sykes – $1,000,000+ per month
In the United States, CEOs earn about $250k on average. Isn't it wild how some bloggers generate more income than they do in a year?
While there are ones making millions off their blogs, others earn hardly more than a few dollars. There is good news though: you decide how much money you make.
Blogging is, after all, a business, and as with any business, the beginning is rocky. Competition is fierce now compared to a few years ago when blogging was still relatively new. That also means people are reading more blogs.
While it is challenging to gain a loyal audience in the sea of blogs, don't let it dampen your spirits — with optimism, strategy, and effort, you can make it happen.
How much money can you make from a blog?
According to a report, a full-time blogger who works 10 to 30 hours a week can make anywhere from 1k to 10k dollars a year. In their second year, they can make up to 30k, 50k in their third year, and so on. An average blogger makes $32,800 a year, according to a Glassdoor report.
In short, your answer is: blogs do not have any limits on their earning potential.
However, if you're starting out, prepare for zero to low income months but keep at it — nothing comes overnight.
The more valuable, well-researched, and engaging your content is, the more likely you will get higher page views. Nowadays, long and in-depth articles are preferred by search engines and readers alike, considering they deliver value. Add original photos and you're off on the right track.
…in other words, you are in the driver's seat when it comes to earning money off blogging.
What kind of blogs make money?
For the most part, choose a niche that interests you, for which you can write millions of posts while you're at it.
If you love eating out and trying different restaurants, you might want to review them with good-quality photos and recommendations.
Some niches make more money than others. The hottest and profitable niches include:
Personal finance
Food
Education
Fashion
Business
Travel
Beauty
DIY
Parenting
Wellness
…if you don't write in those niches, don't worry — you can still make money because there will always be an audience searching for your posts.
11 Ways to Make Money Off Blogging
On average, after you cross your first year of blogging with posting exceptional content, you can easily make $500 to $2,000 per month. By years two, three, four, and five, you will find that your monthly blog revenue significantly increases.
Now that you know how bloggers make money let's explore ways you can, too (even if you're a beginner).
#1 Display Ads
Applying for an ad network is one of the simplest ways to make money. These networks work on CPC, aka Cost Per Click.
Every time someone views your ad, you make a few cents ranging from $0.01 to $0.30, depending on your niche.
When you get 1000 pageviews a month, you can make between $10-$30 each month, which is enough to cover blog expenses. Similarly, achieving 100,000 pageviews a month can earn you anywhere from $1,000 to $30,000 effortlessly. Realistically, you can expect $0.03 on average for a pageview and $0.10 for a click.
To make your blog show ads that visitors are likely to click, craft blog posts that contain topic-relevant keywords. The more page views and clicks you get, the more money you're likely to make.
If your blog has little traffic, applying for Google AdSense is a great choice. On the other hand, a higher pageview count means more opportunities for better ad platforms such as AdThrive, MediaVine, Ezoic, which have higher CPC rates than Google AdSense.
There are times when brands will contact you and pay you a fixed fee each month or year to display their ads. You get to set the price here, which is a major advantage.
In a nutshell, if you want to make good money through display ads, you must
Write exceptional content
Post frequently
Drive more traffic
…to attract as many eyeballs to your blog as you can.
#2 Affiliate marketing
As a novice, this is your best bet for earning money. Affiliate marketing allows you to promote a company's product or service on your blog through a special link.
When you join an affiliate program, you will place a special link on your website. This link tracks your page visitors when they click on the link or make a purchase. In this way, you earn commissions from referrals (also known as the affiliate fee).
Either you review the products, or they fit well with your content.
Let's say you run a beauty blog: you can write product reviews and then fill in affiliate links in your post to make it easier for readers to purchase. Or you can create a round-up post of your favorite products and sneak in affiliate links to each product naturally.
Your affiliate marketing efforts can earn you up to $5,000 a month when you promote helpful products and services you truly believe in.
Did you know that the affiliate marketing expert Pat Flynn generates over $145,000 a month? As you reach a large audience, your income potential increases.
Towards the beginning, it may be hard to get accepted to affiliate programs that pay well. Amazon's Associate's program lets you in without massive traffic requirements. Once you gain a decent readership, you can apply for these popular programs:
Share a Sale
Rakuten Marketing
CJ Affiliate
RewardStyle
Etsy
eBay
Making your first commission on a post can even take up to 3 months, but once you're off it, money will start flowing in.
#3 Sponsored Posts
Once you grow your blog big enough to attract brands, the opportunity will present itself.
A lot of companies are always willing to pay you to publish their sponsored content. It's the same way influencers promote sponsored content on their channels. On average, you can earn $50 to $50k for every sponsorship.
Only a few reputable blogs receive sponsorship from brands. Before agreeing on the partnership, the brand will ensure your blog has the potential. They will look at several factors like traffic, domain authority, the quality of content, the reach of the audience, social media influence of the blog.
Because search engines always hunt for original and relevant content, it is important to follow FTC guidelines and disclose sponsored posts.
Check out my post on sponsored post opportunities for bloggers that can help you begin!
#4 Product Reviews
By writing product reviews, you can also be paid in a similar way to sponsorships. Usually, brands send you samples of their products to test. After using the product, write a blog post sharing your feedback.
But how do you make money from it? You simply charge for the time you spend testing, clicking, and reviewing the product.
You are more likely to receive products from companies that align with your niche. Earning money this way is easy.
#5 Online courses
If your readers look up to you in your niche, why not launch a course to show your expertise on the subject?
The process of launching a course is simple! Using your own experience, skills and insight, make a few short step-by-step videos to show readers how to do something useful.
If you're good at something, there is always someone who will be willing to pay you to take advantage of your expertise and improve their skills.
When you are confident in your field, your subscribers are more likely to enroll.
#6 Blogger jobs
If you have just started blogging and are looking for blogging jobs, there are a number of ways to find them.
Look for sites that suit your specific skills. You can work as a freelance writer for other blogs and websites or join Facebook groups to find a writing gig.
For professional blogger jobs, Problogger Jobs is the leading board. The platform allows you to search for blogging jobs in different categories.
Also, you can check out job sites such as Jooble, where you can find all the current openings from top employers and job boards in the US and abroad. Your skillset will make you qualified for a variety of blogger jobs available there.
#7 Sell memberships
An online membership site is a great way to make extra money. Most people sign up for memberships on a monthly or yearly basis.
These memberships serve to bring like-minded people together who seek education in certain areas.
As a blogger, determine what problem your membership site is trying to resolve. For example, running a yoga program might be your specialty. Weight loss is one possible solution you are promoting.
The next step is to determine your audience when starting a membership site. However, not everyone will be interested in joining your club. Target a specific group of people and let them know that this membership is exclusive to them. This way, you can curate a dedicated fan base for your membership.
Choose what type of content you will deliver. The most common formats are text, video, and audio. You might want to plan out how often you'll be posting new content.
#8 One-to-one Coaching
One-on-one coaching is a step up from online courses. If you are knowledgeable about your field, you can help new bloggers out by offering paid guided coaching services.
A chat or a video call is the most interactive way to mentor. A personalized blog coaching program provides premium content to clients who are willing to pay.
This is the fastest way to grow your new blog and make money. Here's a tip: make it affordable in the beginning. With enough word-of-mouth, you'll find that more people will be willing to pay for this type of program.
#9 Sell Products
Almost every business today sells products online. Bloggers can do the same by setting up their own online store or licensing their products with another online store.
Digital products include printables, ebooks, workbooks, templates, workshops, and online courses. Such sales usually have a profit margin of up to 100%.
Quality determines the price of the product. High-priced products are in high demand. It is a good idea to advertise your product using social media.
If you wish to sell physical products such as stationery, handmade products, or clothing items, setting up an online store would be the right choice.
You can build an online shop from the ground up with the help of online guides. Etsy and Shopify are two popular e-commerce platforms.
# 10 Work as a freelance writer
A great place for a beginner is freelancing writing. The best bloggers can captivate their readers with outstanding posts that resonate with them. By working for blogs offering you pay for writing, you can put your skills to good use. From home, you can write for a living.
As a bonus, writing for other blog sites will draw attention to your work. More often than not, the company you work for will allow you to link back to your website. This also lets you earn experience and get to know the nitty-gritty of the blogging world.
Websites like Fiverr, Upwork, and PeoplePerHour allow you to list your gigs at your own price and get potential clients looking for your services. The best part? You can join for free and get started right away.
As a newbie, monetizing your blog is challenging, so taking on freelance work is a great way to earn a supplementary income.
#11 Accept donations
Blog writing sites such as WordPress provide the option of accepting donations on your blog. Contributions or donations can be made by debit and credit cards as well as online payments.
By doing so, you boost your creative and professional projects and take your blogging career to the next level. You can use these donations as a source of financial support to grow your blog.
Having figured out how to earn money blogging, you might wonder how do bloggers receive their money?
Understanding how you'll be paid is extremely important. While direct bank transfers with almost no fees are the easiest way to pay, most companies prefer to pay through PayPal, which charges high fees to receive payments, especially if you live outside the U.S.
For myself, Payoneer is my favorite since it charges very little to receive payments. Click here to sign up for Payoneer and start getting paid.
Even though it's up to your client how they want to pay, it's best to find out what method works for you and discuss it with them beforehand.
Bottom line
I showed you how to make money off blogging based on my experience and answered the questions that piqued your interest.
Blogging has the power to transform the way you view business and may even provide you with a substantial income.
The last piece of advice I have is to start slow and small and create your presence online one step at a time — with one of the methods mentioned in the post. One day you'll thank yourself for your efforts.
Bloggers are already making oodles of money doing what they love — enough to inspire you. With blogging, you can earn a higher income through your passion and finally escape the 9-to-5 grind.
Start your blog if you haven't already! ⬇️