So, today we are going to review one of the most popular products in India – Hamdard Roghan Badam Shirin Sweet Almond Oil. You would have possibly heard of the brand from your elders at some point or the other.
Because this product has tons of uses like literally, it can be used on your face, hair, lashes, body, nails and has many more particular uses which we will read about further in the review.
I have been using this product for almost two and a half years now so read on to know how I use it and how it fared me in the long run.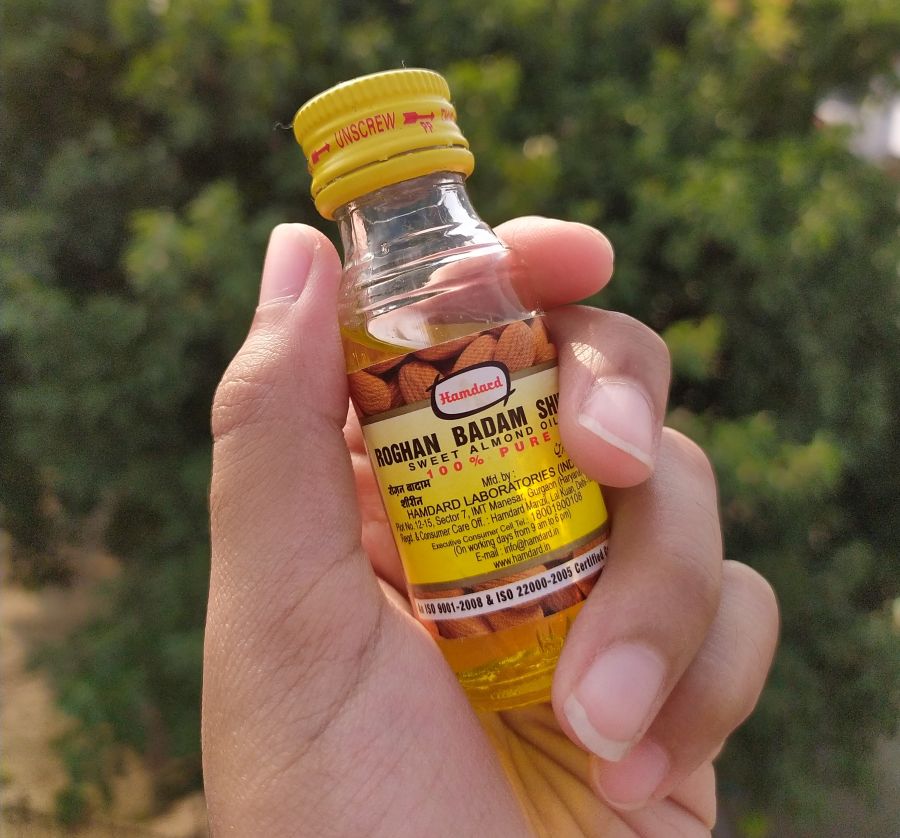 About the product:
Hamdard Roghan Badam Shirin is a sweet almond oil of 100% purity. It strengthens the brain and nerves. It's a nutrient, improves body strength & removes constipation in a natural way.
Keeps the body warm in winter

Good For heart, relieves constipation

Strengthens brain power

Relieves tension

Helps build stronger bones and good for infants
Readers like you help keep The Beautyholic running. When you buy through links on our blog, as an Amazon Associate, we earn from qualifying purchases at no extra cost to you.
Price of Hamdard Roghan Badam Shirin Almond Oil: 100 ml of product retails for Rs. 378/- | Buy it on Amazon.in
Hamdard Roghan Badam Shirin Sweet Almond Oil Review
The Hamdard Roghan Badam Shirin Sweet Almond Oil comes in a classic glass bottle packaging with a screw cap at the top. The body of the product is plain glass with a label on it and the screw cap is yellow in color.
The packaging is quite delicate and frail and not travel-friendly.
The product just smells like almond oil, like almonds mainly. Though nothing to worry about the smell vanishes after application.
It obviously has an oily texture although not too thick. The oil is lightweight and gives a similar light feel after application.
I use this oil religiously in winters. After I wash my face I use this oil right before I hit the bed and there are two reasons to do so.
First, though lightweight it is an oil so it is a bit sticky. And so, I avoid wearing it on my face in the morning or it will probably accumulate dust and all that and make my face look heavy and dull and sticky.
Second, my face touches nothing but the cushion at night so the oil remains undisturbed and works its magic, but in the morning my face touches millions of things and the oil just gets wiped off at the end.
So, I would suggest using the oil at night right before you hit the bed. I, after cleansing my face apply the oil on my face.
Be careful though for the mouth of the bottle is pretty large so you can end up having a lot more oil dispensed out than needed. I usually take a few drops of the oil and rub it on my palm.
Then I gently massage the oil on my face covering my lashes and lips with it.
I see to it that I don't apply much of it only a thin layer of oil is more than enough. And in the morning I just wash it off with water, doing so my face retains that moisture almost the entire day.
And I repeat this process every night.
Even my lashes and lips got benefited from this little night time oil massage routine for almond oil is known to increase the growth of your lashes, make your lips soft and supple, and reduce dark circles.
And overall give your face a glowing look. I personally deem this claim to be true. Only if you apply the product religiously and have patience. The results will take time to show up but they definitely will.
So, overall, the oil is pretty amazing. I don't use it for my hair or as a body oil but I've seen people do it and swear by this brand.
Now, a warning to people with super-oily and pimple prone skin, no it's not for you to use it on your face.
My sister literally ran off when I asked her to try the oil out (she has oily and pimple prone skin) she says that her skin is already so oily and applying oil is totally out of the question for it'll just add to the oil present on her face and will probably break her out.
Though you can still use it on your hair, body, as a hand cream, lips, heels, lashes, and as a cuticle oil to strengthen your nails.
Pros:
It gives you the true benefits of almond oil.
Has multiple uses.
Works amazing as a facial oil for normal to dry skin beauties.
It can be used in multiple ways like – cuticle oil, hand cream, body oil, baby massage oil, hair oil, lash oil, lip moisturizer, foot cream, facial oil and is safe to consume as well.
The oil has almost no fragrance so it's a big yay for sensitive noses.
The product is very easily available.
Cons:
Oily skin beauties can stay away from applying it as a facial oil.
Fragile packaging, not at all travel-friendly.
It is on the costlier side.
One has to be careful while using the product for it can spill very easily.
A lot of product gets dispensed at once, the large mouth of the bottle is a con to the usage of the product.
Hamdard Roghan Badam Shirin Sweet Almond Oil
Final Word
So, I have been using this product for the last two winters and have it stored in for the coming one. I swear by this oil and dare not change my brand. My mother first introduced me to the product, actually, I was looking for an all-natural moisturizer for my skin as it gets on the drier side in winters.
So she said that if you really want to use oil on your face then this is the one and she bought it for me since then I've been very loyal towards the product because it has earned my loyalty.
Not only does it benefit my face but also my lashes and lips without any extra effort and even when I let it soak in my skin for the night and wash it off in the morning with plain water.
My face still remains moisturized throughout the day and if I do feel dry at certain areas on my face I make sure to apply a tiny amount of oil more on those focused places.
Overall, I recommend this oil to everyone because it has not just one but multiple uses. Just give it a go. Maybe it'll solve your one or the other beauty problem.
Have you tried the Hamdard Roghan Badam Shirin Sweet Almond Oil? Let me know in the comments below!