The under-eye wrinkles are lines or creases in the skin under or around the eyes. They are not only a sign of aging but also a complete beauty disaster, as they can wreak havoc on your appearance. And, if you're trying to get rid of it the natural way, here are some tips that can help you get rid of under-eye wrinkles naturally.
We all age as we grow older. Over time, we naturally lose collagen and elastin, the proteins that give skin its elasticity, tone, and texture. When this happens, the skin sags, developing lines and creases.
People are most likely to notice your face—especially the eyes—which are the main areas of focus. The skin around the eyes usually gets thinner, less elastic, or tends to form lines or creases as you age.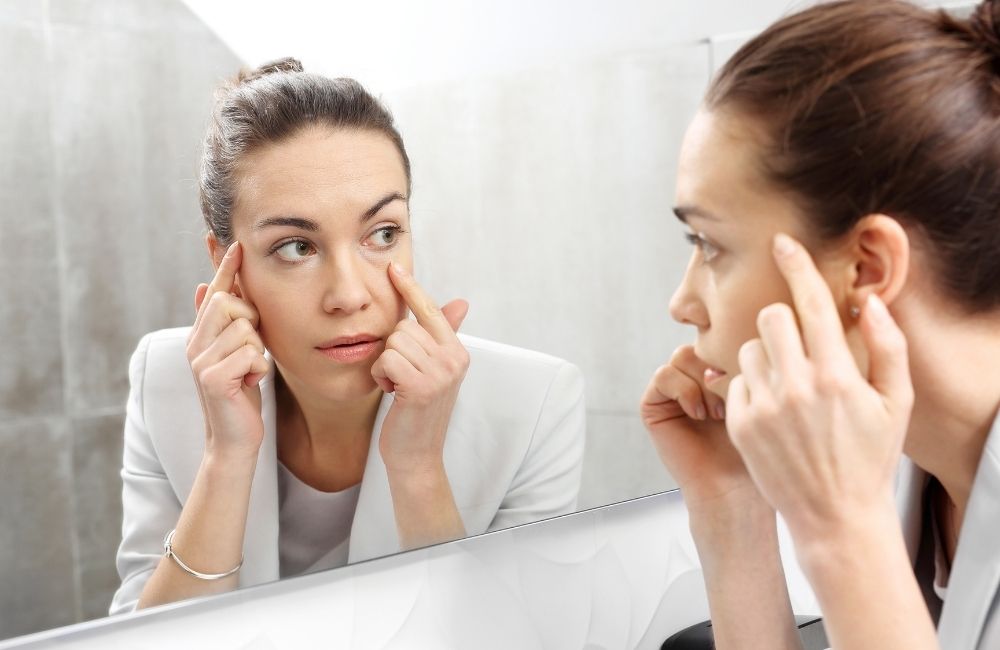 Why Do I Have Wrinkles Around My Eyes?
Some of the causes of eye wrinkles include:
Age and Genetics
The main factors contributing to wrinkles around the eyes are age and hereditary genes.
Direct Sunlight
In the long term, excessive exposure to sunlight causes collagen and elastin to break down in the skin, which is why some people develop wrinkles around their eyes at an early age. Direct rays from the sun can damage the skin leading to adverse side effects. This occurs especially if the skin is overly exposed and appropriate precautions are not taken.
Lifestyle
Choosing our daily habits also impacts our skin. Smoking, for example, reduces the elasticity of the skin. Smokers are more likely to develop wrinkles under their eyes. Moreover, heavy alcohol consumption contributes to more noticeable under-eye wrinkles.
Rubbing the eyes
Usually, the skin around the eyes is fragile, so rubbing the eyes frequently increases the risk of developing under-eye creases.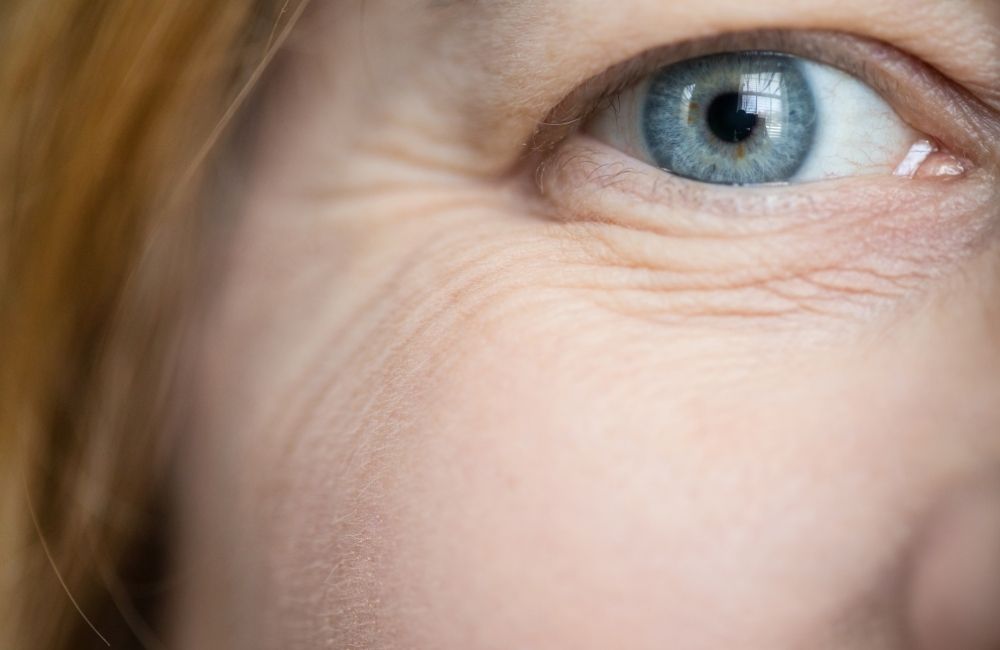 The Best Ways to Prevent Under-Eye Wrinkles
As much as they are naturally unavoidable, there are proven ways by which they can be managed so that you have minimal wrinkles around the eyes. Here are some tips for preventing them:
Avoid direct sunlight
You should avoid outdoor activities that require spending a lot of time in direct sunlight.
Apply sunscreen
It is important to have a high-quality sunscreen that shields against UVA and UVB rays. For best results, apply sunscreen before going out every day.
Get enough sleep
Many of us tend to downplay the importance of a good night's sleep. Consistently having sufficient rest can do wonders for your skin. Don't skip your sleep and aim for eight hours of uninterrupted sleep each night.
Healthy lifestyle
Healthy living is the first step to having smooth and supple skin. Moderation is the key when it comes to alcohol consumption and smoking. You are what you eat, so what goes into your system will automatically reflect on the outside. Ensure that you consume a lot of seafood, fruits, and vegetables. To stay hydrated, make sure you drink enough water.
Take care of your skin
This is important, especially when you constantly wear makeup. Cleansing and moisturizing the skin are routines that are done to achieve supple skin and prevent under-eye wrinkles. Makeup tends to clog pores, so exfoliation every once in a while is necessary. You should use a face wash gentle enough for your skin. Lastly, choose the makeup that suits your skin type.
Sunglasses
Wearing sunglasses outdoors is a good idea, especially on a hot day. Protect your eyes from direct sun rays by investing in some quality sunglasses. It's worth checking out MessyWeekend, which has a wide selection of high-quality sunglasses. Not only do they offer sophisticated eyewear, but they also clean at least 100 plastic straws out of the ocean for every pair you purchase. This way, you can look chic and support a good cause at the same time.
Hats
Along with sunscreen, hats protect your face and neck from harmful UV rays, especially if you have sensitive skin around your eyes. When going to the beach or outside, don't forget to wear a hat. Wide brim hats with ideally 4-inch brim work best as they cover your ears as well.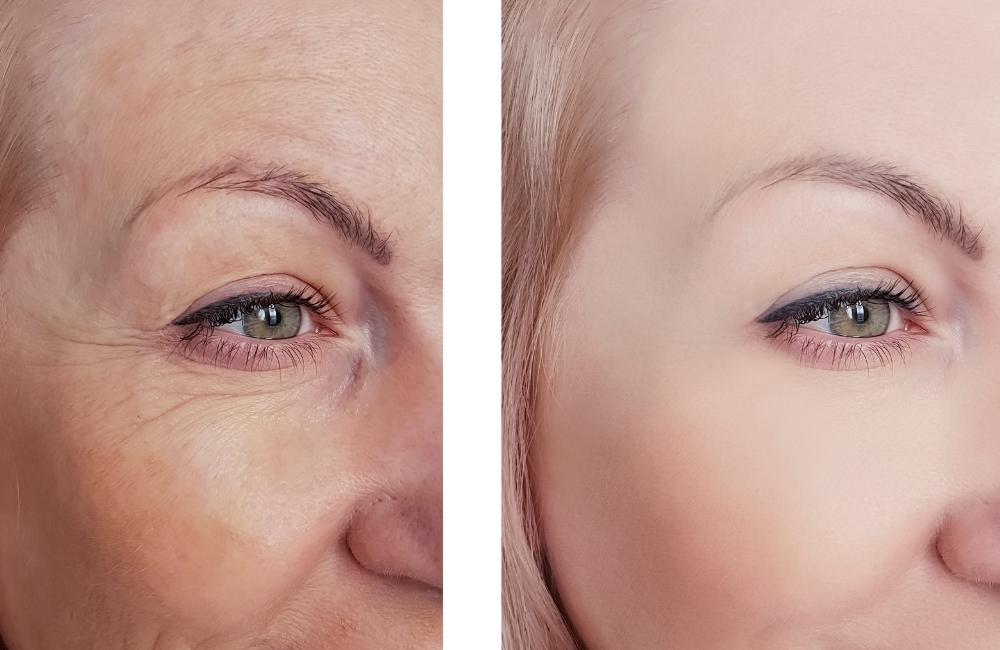 Natural Ways to Get Rid of Wrinkles Around the Eyes
The wrinkles around the eyes develop naturally, and there is no easy way to prevent them. Following are a few tips on how to get rid of wrinkles underneath your eyes naturally.
1. Spa Treatment
The body, and in this particular scenario, the face, needs tender care. A trip to the spa can prove beneficial. A facial removes the dead skin on your face, preventing the appearance of wrinkles around your eyes.
2. Use of Egg Whites
You can whip yourself a homemade face mask to help you get rid of under-eye wrinkles. Egg whites have known properties that help tighten the skin. Making your face mask is an inexpensive way of getting rid of eye wrinkles. Check out some best egg face masks here. The good thing about it is that you get to try different combinations to find one that best works on the wrinkles.
3. Cucumber
When it comes to a spa treatment, we assume that cutting cucumbers around the eyes is just for aesthetics. However, the main reason behind it is that cucumber has some pretty cool properties. The result is younger-looking skin around the eyes that is less puffy and radiant.
4. Yogurt
Applying yogurt to the skin can have incredible benefits. A few known benefits include reducing wrinkles around the eyes, reducing dead skin, and tightening pores. Use it often for best results.
5. Rosewater
As a toning and rejuvenating agent, rosewater prevents sagging and hydrates skin, plus it has a pleasant smell. Take a couple of drops of rosewater, apply it twice a day, and you'll see the results.
6. Avocado
Due to their high levels of fat, avocados serve as one of the best eye wrinkle remedies. Simply slice a piece of avocado, apply it to your eyes for 15 minutes, and then rinse with lukewarm water. While you're at it, just make sure that you gently press the wrinkles with the avocado pieces to ensure that the oil seeps in.
7. Castor Oil
Even though castor oil is, well, oil, it helps keep your skin moisturized. It also adds some tenderness to the skin, if that's what you are after. Just apply some castor oil to the affected area for as long as comfortably possible and rinse with water and soap afterward. Also, prevent using moisturizers after you've applied castor oil as they can lead to puffy eyes.
8. Rosemary Essential Oil
Certain essential oils, such as rosemary essential oil, can help get rid of the wrinkles under the eyes, prevent them from reappearing, and nourish your skin while this is being done. Just take a few drops of rosemary essential oil and rub it gently on the affected area once every day for 5 to 10 minutes to notice the wrinkles even out and your skin much smoother and nourished.
Bottom line
Now you know how to prevent and get rid of under-eye wrinkles naturally — healthy and plump eyes aren't impossible to achieve. Along with the natural remedies, wear sunscreen regularly to make your eye wrinkles less noticeable.
Related Posts