With so many different types of eye patches, it can be hard to choose the right one. We'll share with you some of the best Korean eye masks we found that will heal and soothe your under-eye skin and get rid of most of your under-eye problems.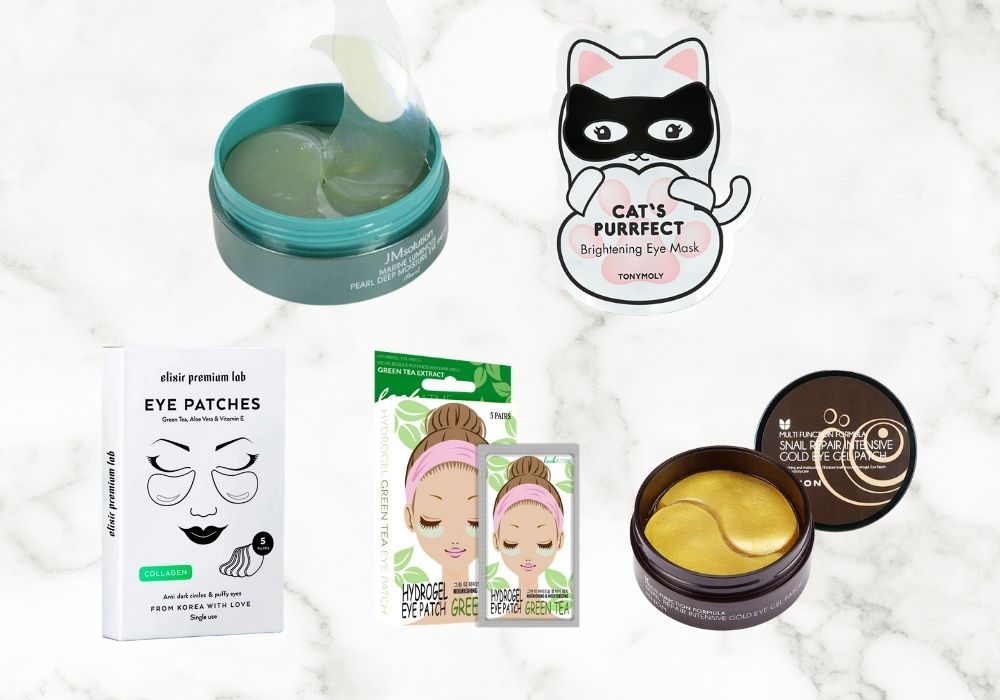 Readers like you help keep The Beautyholic running. When you buy through links on our blog, as an Amazon Associate, we earn from qualifying purchases at no extra cost to you.
1. COSRX Advanced Snail Hydrogel Eye Patch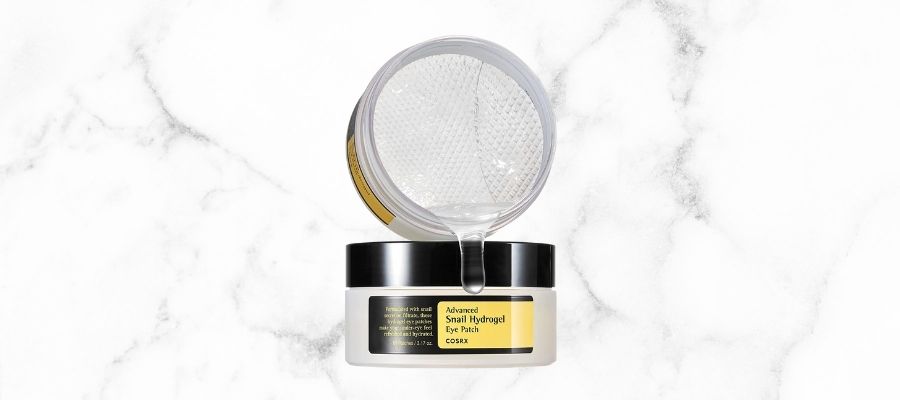 Sparkle gives eyes their beauty. This is one of the best Korean eye masks if you want bright, hydrated eyes.
The results of Korean skincare will amaze you if you're a recent convert. From the very first application, this hydrogel patch reduces puffiness under the eyes.
This hydrogel eye mask is infused with snail secretion filtrate and 4% of niacinamide to instantly replenish moisture. This mask can nourish dull, tired skin and restore hydration.
Give this eye product a try if you want refreshed and rejuvenated eyes. You'll also appear lively and more youthful.
What is the best part of it?
An important hydrator, snail mucin helps improve the texture, tone, hyperpigmentation, and scarring of the skin.
Besides these benefits, snail slime also has anti-aging properties, which can reduce the appearance of wrinkles and fine lines. This instantly restores moisture to the skin, especially in damaged areas.
The patches come in two sizes: small and large. The larger one is for the under-eyes while the smaller one is for the smile lines. Additionally, no snails are hurt during the creation of these under-eye patches.
Pros
A great way to add snail mucin to your skincare regimen
Hypoallergenic and dermatologist-tested
Free of cruelty, sulfates, parabens, and phthalates
Skin-friendly ingredients help relieve irritated skin
Having two sizes makes it easy to target different parts of the face
Refreshes and depuffs the under-eye area
Hydrates the skin instantly
Cons
When too wet, it slides down
2. MIZON Snail Repair Intensive Gold Eye Gel Patch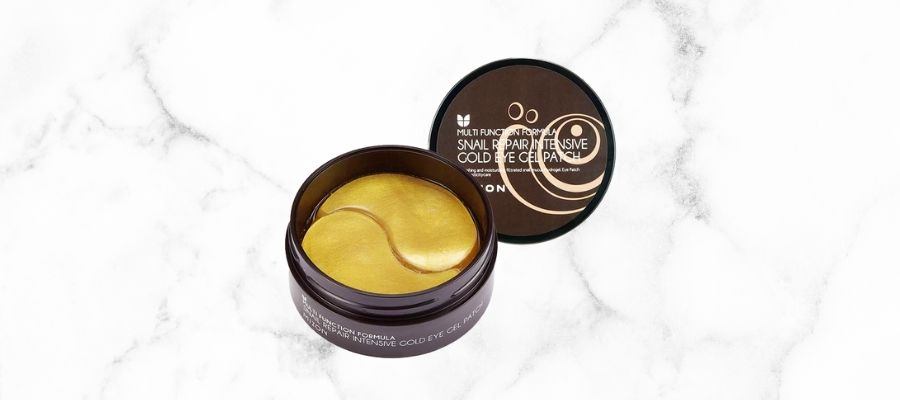 Mizon is the perfect combination of technology and powerful ingredients. The patch is all-natural and won't irritate your eyes.
As well as being safe to use, it also soothes and calms skin. Snail mucin is loaded into these eye patches, which nourish your eyes, lips, forehead, and neck.
One of the best Korean eye patches is this one. Moreover, it contains gold peptides that brighten your eyes, making them appear more refreshed and youthful.
What is the best part of it?
Snail mucin calms and soothes skin while also promoting youthfulness. Not only that, but it also has anti-microbial properties and makes your skin supple.
According to South Korean researchers, the snail slime is also thought to be effective at removing hyperpigmentation and blemishes.
Pros
Moisturizing, calming, and soothing.
Hydrates and nourishes the skin.
Gets rid of dark circles, puffiness under eyes, and eye bags.
Reduces wrinkles and fine lines, making skin soft and smooth.
Corrects hyperpigmentation and brightens skin tone.
Cons
Doesn't show a reduction in dark circles.
Slides down from the eyes.
3. SWISSÖKOLAB 24k Rose Gold Eye Mask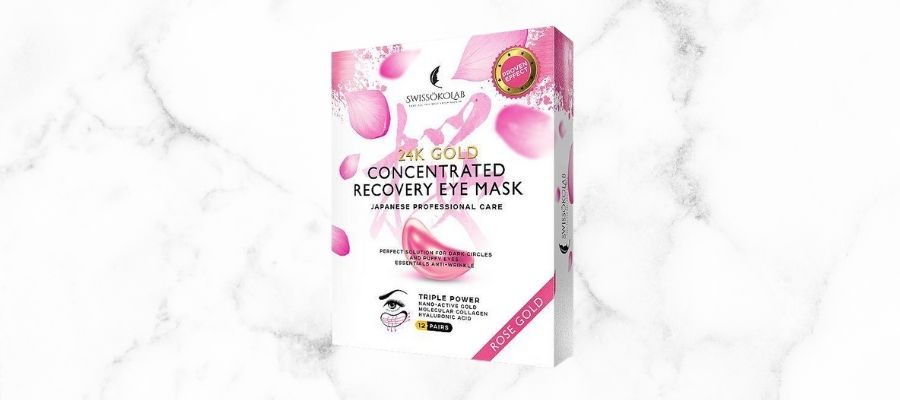 Under-eye masks are the best solution for tired, dull eyes. It heals and protects damaged skin. This mask contains collagen peptides that plump up the eyes for a more youthful look.
A 24K gold mask will also reduce dark circles, benefit skin tone, and make skin brighter and more appealing.
What is the best part of it?
Triple power collagen in this eye mask boosts skin elasticity and targets wrinkles, fine lines, and signs of aging. As a result, the skin appears more firm, supple, and younger-looking. The mask contains Vitamin C, which imparts an even tone to the skin.
Pros
Hydrates and moisturizes the skin under the eyes.
Corrects dark circles and puffiness.
Minimizes the appearance of wrinkles, fine lines, and signs of aging.
Enhances skin elasticity and firmness.
Keeps the eyes looking young and vibrant.
Cons
Contains fragrances that could irritate the skin.
May cause mild skin irritation.
4. JMsolution – Marine Luminous Pearl Deep Moisture Eye Patch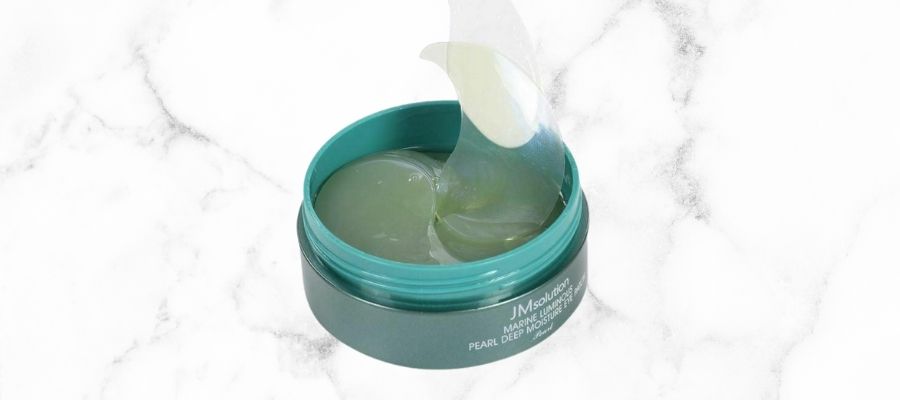 The hydrogel eye patch is ideal for those seeking deep and intensive eye care. Keeps your skin soft and smooth while hydrating, moisturizing, and nourishing it. Moreover, it also visually reduces under-eye puffiness and dark circles. Using this eye mask will lift your tired and dull skin, giving you a more radiant, spotless look under your eyes.
What is the best part of it?
Made with fresh deep seawater from Gangwon that rejuvenates and replenishes the skin. Bringing freshness to tired and dull skin also eases tired eyes. Pearls impart a radiant and bright appearance to your skin, thanks to their goodness.
Pros
Hydrates, nourishes, and maintains freshness.
Reduces puffiness and dryness under the eyes.
Smoothens the skin.
Gives a healthy, well-groomed appearance.
Cons
You might have to wait too long for results.
Under the eyes, it is too slippery to stay in place.
5. Elixir Premium Lab Collagen Eye Patches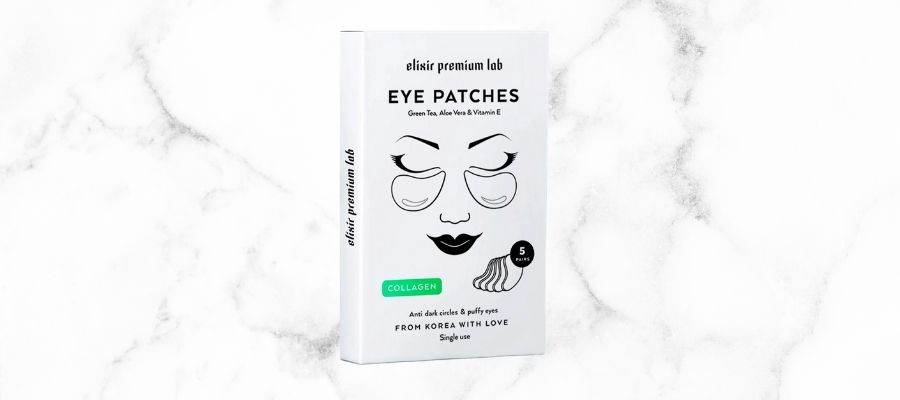 You can always rely on this Korean eye patch as your savior. You might prefer a more natural eye mask since this one is loaded with aloe vera, Vitamin E, green tea, and castor oil. Additionally, it is cruelty-free and gives you the best results.
Skin remains hydrated for a long time because the eye patch doesn't irritate it. Aside from reducing puffiness, it also makes the skin much more energized.
What is the best part of it?
Lemon and shea butter exfoliate and hydrate the skin at the same time. In the end, organic and natural ingredients are what make this product unique. With aloe vera and green tea, you can calm and soothe your skin and tone your skin evenly to get rid of dark circles.
Pros
Effective and fast results for fading dark circles.
Reduces fine lines and wrinkles visibly.
Hydrates and moisturizes the skin under the eyes.
Reduces eye puffiness.
Relieves tiredness and fatigue.
Cons
Takes time to see a reduction in dark circles.
This eye mask's essence dries too quickly.
6. MASHELE Black Pearl Gold Collagen Gel Patches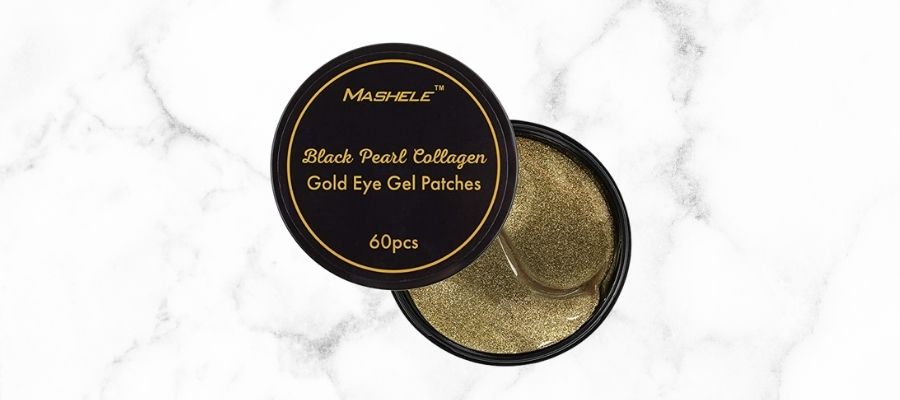 There aren't many masks like this on the market—it is super moisturizing. Under your eyes, it also reduces puffiness and dark circles.
The eye mask is easy to use and has a rich texture, so one can take full advantage of the benefits of a serum. Apart from that, it can relieve fatigue and tiredness, making your eyes look refreshed.
What is the best part of it?
This product contains pomegranate fruit extract, which gives your skin a youthful glow and forms your skin. It gives a youthful glow and firms your skin.
This eye patch contains anti-aging herbal extracts as well as moisturizers to keep the under-eye area hydrated. Collagen peptides present in the eye mask increase the skin's elasticity and smooth out fine lines and wrinkles.
Pros
Reduces puffy eyes and fades dark circles.
Provides hydration.
Brightens skin.
Improves skin elasticity and prevents wrinkles.
Cons
Takes time to see results on puffy eyes.
Dries quickly and slides off its place.
7. ETUDE HOUSE Collagen Eye Patch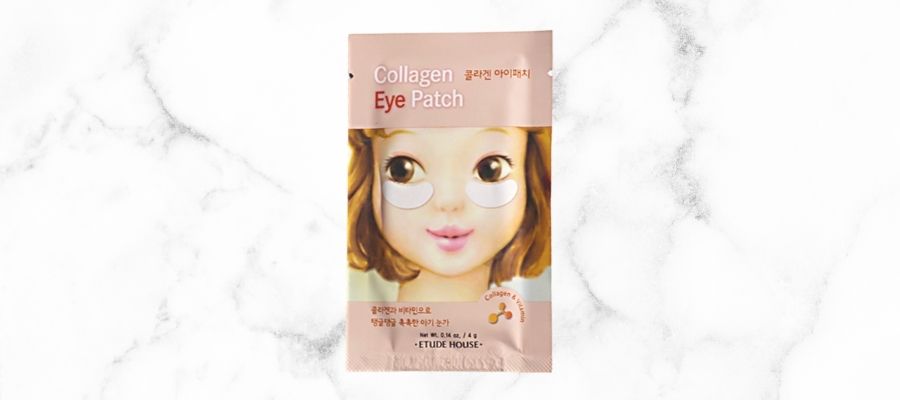 With this Korean top-rated eye mask, your eyes will get intensive spa-like care. It provides firmness to the undereye area. The eye mask also eliminates dark circles and puffiness, revitalizing your under-eye area and giving it a glowing appearance.
What is the best part of it?
Collagen is the key ingredient in this eye mask, which boosts skin elasticity. It also contains retinol, an anti-aging ingredient that delays signs of aging. Because these are collagen patches, they work well for firming and toning the skin.
Pros
Hydrates and moisturizes the skin around the eyes.
Relieves eye fatigue.
After use, under eyes appear bright and radiant.
Cons
Some people experience a burning sensation.
Skin does not absorb the serum fully.
8. TONYMOLY Cat's Purrfect Brightening Eye Mask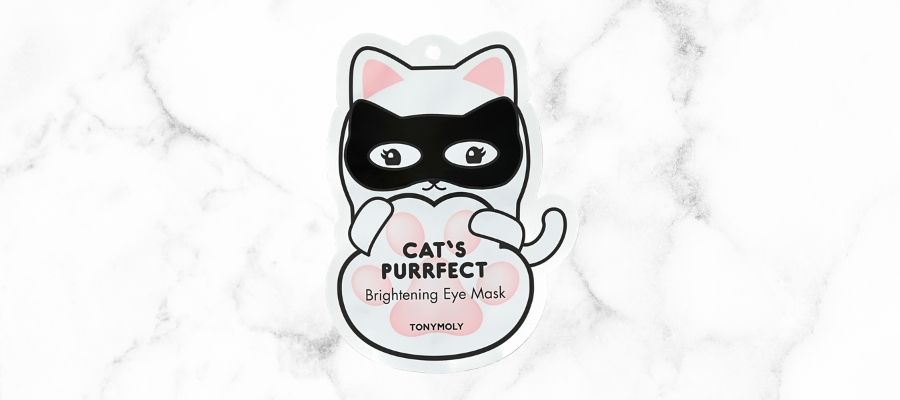 Love cats and Kbeauty? We've got the purrfect combination for you! Besides being cute, this eye mask comes with everything you need to take care of your eyes. Within 15 minutes, this eye mask can rejuvenate the skin under your eyes.
It is one of the best depuffing eye masks—infused with serum— hydrates your under eyes for a long time. Instantly, your eyes feel fresh and brightened. By keeping the skin hydrated, it soothes and calms dry and irritated skin.
What is the best part of it?
The anti-inflammatory properties of this eye mask prevent redness and irritation under your eyes. Moreover, by combining Vitamin A and C, dead skin cells are removed, resulting in a radiant and youthful complexion.
Pros
Provides intense nourishment.
Soothes dry, inflamed, and irritated skin.
Exfoliates dead skin.
Rejuvenates dull eyes
Regular use can reduce dark circles.
Cons
The results might not be the same for everyone.
9. Look at Me Hydrogel Green Tea Eye Patch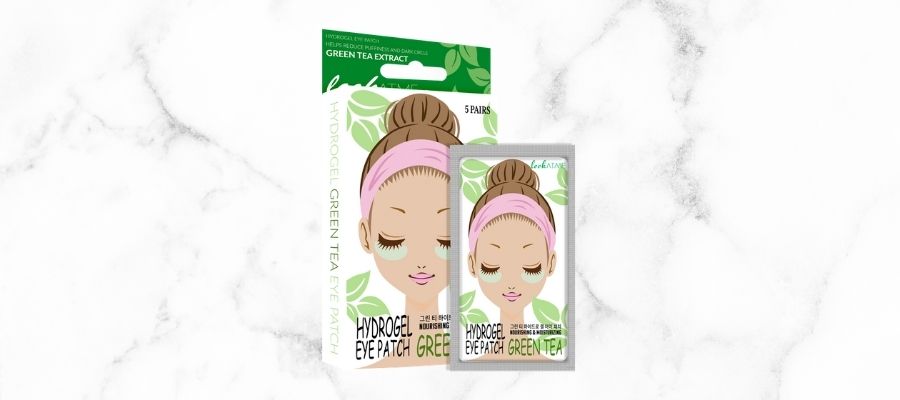 This 100% natural collagen eye patch works wonders. With this Korean eye mask, wrinkles and fine lines become visibly smoother. Vitamin A and C gently exfoliate the under-eye area, making it appear dry and radiant. The goodness of green tea and collagen will instantly cool up your eye fatigue.
What is the best part of it?
Infused with vitamins and nutrients, this eye mask promotes blood circulation under the eyes, keeping them nice and glowing. Additionally, it alleviates puffiness and dark circles under the eyes.
Pros
Cools irritated eyes.
Firms the undereye area.
The serum revitalizes and rejuvenates tired, dull skin.
Stays put without sliding off.
Cons
Under-eye bags might not be very effective with this product.
Serum dries too quickly.
Benefits of Using Korean Eye Masks
Now that we have looked at the best Korean eye masks let's look at why we should use them.
Maintains hydration of the skin and delicately works on the eye area.
Tones the under-eye skin.
Instantly reduces puffy eyes—it doesn't matter if you didn't sleep well; these eye masks will cover up your lack of sleep.
Reduce pigmentation and dark circles.
Keeps the skin hydrated and regulates the blood flow around the eye area.
Final thoughts
You can find a wide range of great Korean eye masks. Make sure you look for one that fits your skin issues. With these eye patches, you can get relief from all your eye problems, so your eyes look bright, radiant, and fresh. We hope you'll try one of these most popular and most eye masks to get rid of your eye troubles.
More Best K-Beauty Products