Moisturize, Moisturize, Moisturize! Here. There. My whole life is centered around moisturizing, thanks to my dry genes. Before I used to use a lightweight or water-based body moisturizer as my face moisturizer too. Recently I decided to switch to one specifically for the face. I decided to try Garnier Light Complete Yoghurt Night Cream. I mean I too would love to have clear baby smooth skin like Alia. But nope, I ain't that lucky; but we will get to that shortly.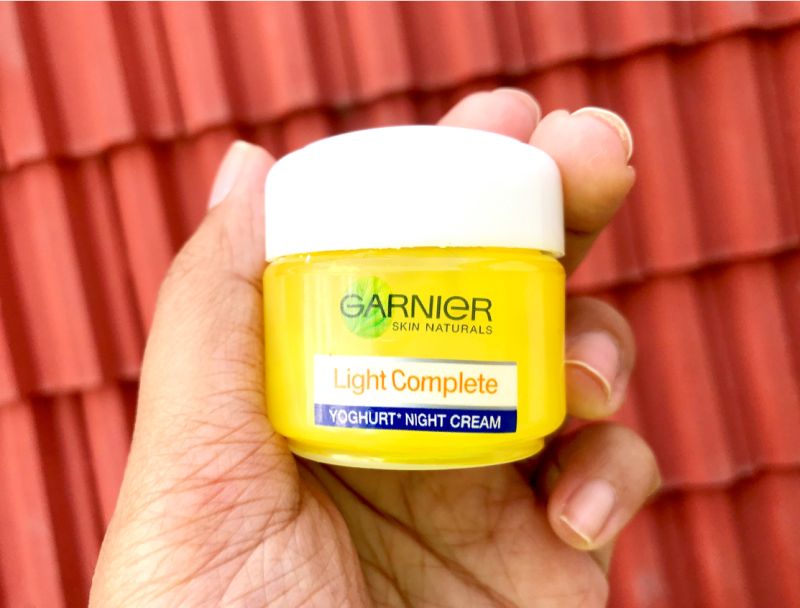 About the product: 
Garnier Light Complete Night Cream nourishes your skin while you sleep. This women's cream is enriched with Vitamin C, Lemon Essence & Yoghurt Bifidus and works like a brightening yogurt treatment. Its ultra-light texture absorbs quickly into the skin. It reduces dullness, exfoliates dead cells and lightens spots & skin tone. Wake up to renewed, fresh and brighter skin from the 1st night itself! 
Price: Rs 110/- for 18gm
Ingredients: water, dimethicone, niacinamide, glycerin, isohexadecane, capric triglyceride, pentylene glycol, talc, butylene glycol, bht, c13-14 isopararathn ci 77891, linalool, geraniol, sorbitan oleate, triethanolamine, fragrance, alpha-isomethyl ionone, sodium acryloyldimethyltaurate/VP cross polymer, sodium acrylate/sodium acryloyldimethyl taurate copolymer, sodium benzoate, silica, Bifida ferment lysate, aluminum hydroxide, phenoxyethanol, ascorbyl glucoside, disodium EDTA, tocopheryl acetate, limonene, disodium stearoyl glutamate, caprylyl glycol, capryloyl salicylic acid, Laureth-7, lemon fruit extract, hydrolyzed soy protein, citral, t-butyl alcohol, polyacrylamide, polysorbate 80, hexyl cinnamal, benzyl salicylate, benzyl alcohol.
Garnier Light Complete Yoghurt Night Cream Review
Garnier Skin Naturals Light Complete Yoghurt Night Cream is part of its Light Complete range. The range also includes whitening face wash, day cream, and sheet mask. The cream contains lemon essence and fruit peel extracts that work to remove tan and brighten skin. Yogurt makes skin soft and helps with de-tanning. The brand claims that their unique formula moisturizes and nourishes skin overnight and make it fresh, fairer and smoother.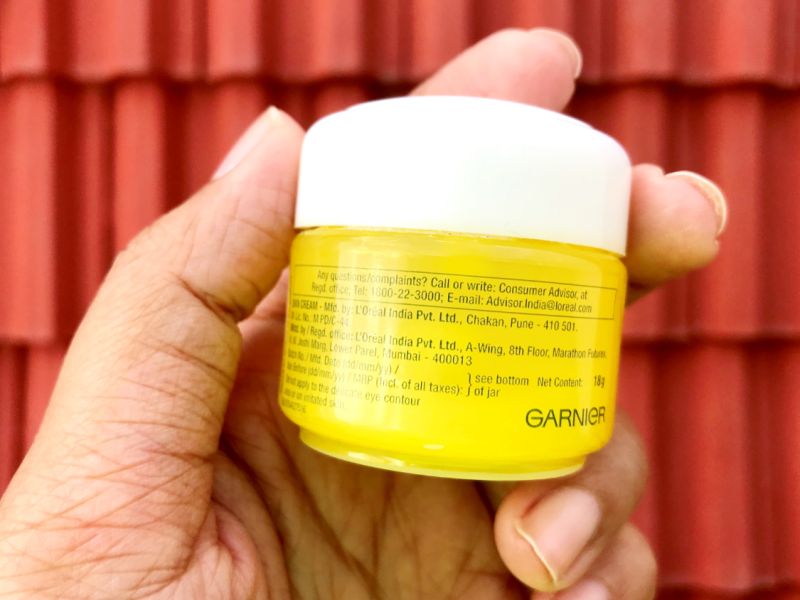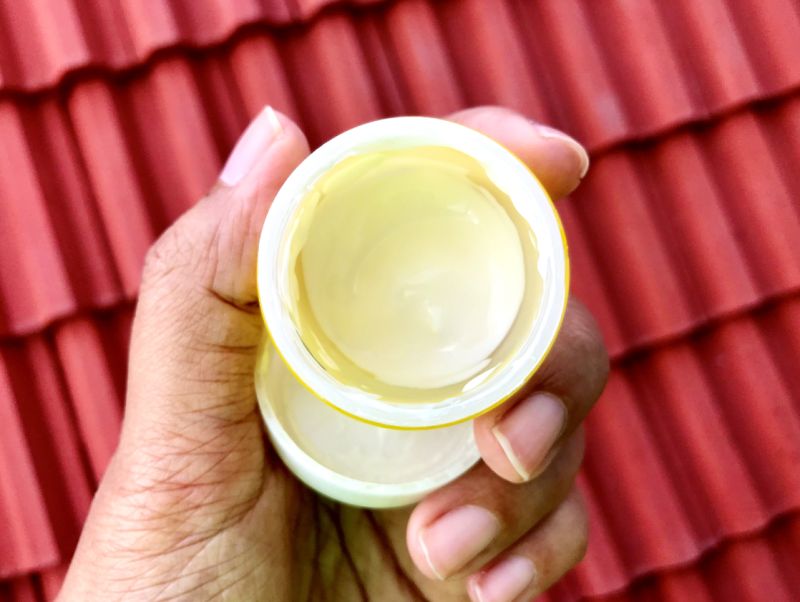 The product comes in a small cute yellow tub with a white cap. The tub is translucent enough to see how much product is left in it. The packaging is a lightweight paper box printed with ingredients, product details and directions for use. The product packaging is extremely travel-friendly. I threw away the paper box, so I had to get a picture from the store to show you guys: sorry about that!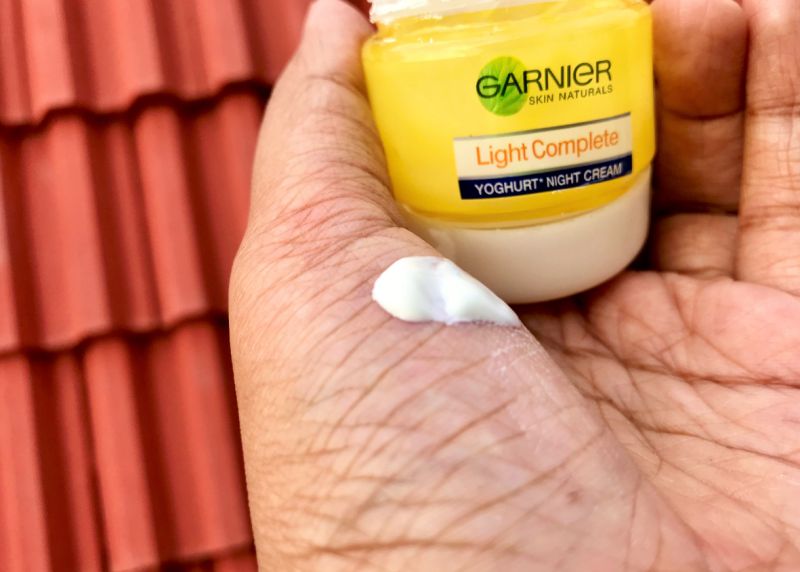 Garnier Light Complete Yoghurt night cream is white and the formula is super smooth which makes it easy to apply. You don't have to tug and pull on your skin as the formula is not hard. The cream is also not sticky; so your skin isn't left greasy. It blends into the skin instantly and feels light. I dot my face with the cream and blend in. It dries up quickly and my face feels hydrated instantly. Also, you only need a small amount owing to the smoother formula. 
Generally, moisturizers have floral fragrance or none at all. As the cream is infused with lemon essence, it has a citrus fragrance to it. It is mild and tolerable. But not everyone will like the smell. So in case you are not a fan of citric fragrance, I would not recommend the product.
I have been using this cream for nearly a month now and I think I need to review it on two grounds: as a moisturizer and as a whitening cream. 
First, moisturizing. The cream is perfect for moisturizing your skin. By the time I wake up, it is all absorbed into the skin so that I wake up with hydrated skin. The product claims to be suitable for all skin types. But in case of oily skin, the product will make your skin feel greasy. The brand is true to its name of being nourishing. As the formula has a water-based formula, there are no tugs and pulls which is a huge plus for my dry skin. 
Second, whitening. False claims alert! The brand claims that a) it brightens your skin from the first night itself and b) it helps reduce dark spots and slows darkening of the skin. I started using the product to help with my dark spots. I have a few dark spots on my cheeks which are old pimple marks. Initially, I thought that the cream would help with these, but even after a month, the marks have not reduced a bit. It didn't whiten or even slightly brighten my face. 
Since I can merely use it as a moisturizer, I would prefer to use it in the mornings rather than at night. You could swap your day cream with a night cream, but night cream formulas are generally thicker and greasier than day cream formulas, so you will end up with a glossy face. Plus, night creams don't have sun protection – it is always better to wear day creams with SPF. 
To be honest, that ad with Alia reeled me into this product. Who wouldn't love to have clear baby smooth skin like her! But quite honestly, now I regret buying the product. The Night Cream costs twice as much as the day cream but both give me the same effect: moisturized skin. The product did not help brighten my face or diminish the dark spots. All in all, it worked just like any other 'normal' moisturizer would. 
Pros:
Lightweight formula that absorbs easily into the skin. 

A little amount is enough and covers up all dry patches. 

Easy on the budget.

Travel-friendly packaging. 

Skin feels hydrated and moisturized in the morning. 
Cons:
Does not whiten skin. 

Does not reduce dark spots or reduce tan. 

Leaves oily skin feeling greasy. 

The citrus fragrance that might be unpleasant. 
Garnier Light Complete Yoghurt Night Cream
Final Word
I will recommend this product as a moisturizer but not for its whitening claims. The formula is easy on the skin and you wake up feeling hydrated. It blends in easily and makes your skin soft. Maybe if you use the complete range, it will work better on whitening your skin too. In case you are looking for a night-time 'moisturizer', this will be a perfect fit for you. 
I didn't have an amazing experience with this night cream as expected. Have you used Garnier Light Complete Yoghurt Night Cream or looking forward to trying it? Let me know in the comments.
Read More Reviews on Garnier Products: