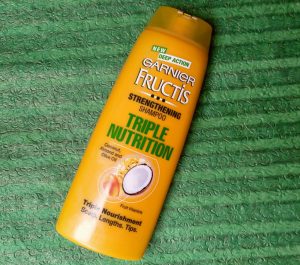 Hello, sweetness! I've been using Garnier Fructis Triple Nutrition Strengthening Shampoo for a while. This post has been pending for few months and I totally forgot to review it. I really like this shampoo after using it many times. This hasn't disappointment my hair even a bit so let's get on with the review to know more.

About the product: A new foaming formula with an exquisite fragrance which gently and perfectly cleanses your hair. Formula with a combination of oils and fruit vitamins nourishes and strengthens hair from scalp through lengths to tips.

Ingredients: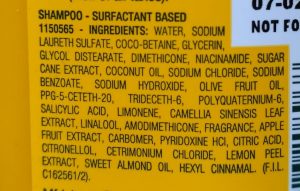 Price:

Rs. 135/- for 175 ml
Garnier Fructis Triple Nutrition Strengthening Shampoo Review
For reference, I have straight hair, oily scalp with dry ends and I'm always on the lookout for a moisturizing shampoo which doesn't make my scalp and my ends dry so it's quite tricky to find a shampoo like that. This shampoo comes a yellow bottle with a green flip cap. How to use, ingredients etc are printed on its back. The consistency of this shampoo is runny so it always happens that I end up using more of the product. I like how fruity this shampoo smells. I usually take a dime sized product for my one portion of hair and massage it really well. Then I wash it off without rinsing hair vigorously. It gets washed off pretty easily. I also didn't witness any hair fall during the wash.
After washing, I end up with smooth and silky hair. I get minimal frizz than my previous shampoo. If you have oily hair ends then you won't be needing conditioner after using this shampoo but if you have dry hair you'd need a conditioner. My hair looks fluffy and bouncy which I really love. My hair smells amazing for 1-2 days. It has a nourishing formula of three oils – coconut, olive and almond oil which satiates the need of moisture to the hair. It keeps hair oil free for at least 2-3 days which is good for summers.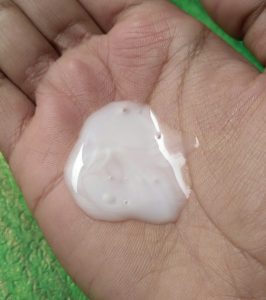 Lathers well and gets rinsed off without extra efforts.

I experienced less hair fall.

Contains almond oil, olive oil and coconut.

I didn't feel the need to use conditioner as it didn't dry out my hair.

Silky, soft and manageable hair post washing.

True to its claims in terms of strength.
Contains SLS which I think every commercial shampoo does.
Final Word:

I like how healthy this shampoo makes my hair look. It has a divine fragrance that stays on hair for 1-2 days and doesn't dry hair ends. It's a fine choice for dry hair and oily ends wouldn't need a conditioner after using this. This shampoo gives me bouncy hair which looks voluminous too!