It goes without saying that if the eyes are the window to the soul, then the brows must be the frames. They deserve a little love every now and then. One of the most common ways to shape and enhance your brows is by using a brow dye.
But tints and dyes can be intimidating, especially if it's on a prominent facial feature. Choosing the correct color for your eyebrows can enhance your overall appearance and create a harmonious balance with your hair.
We've teamed up with some eyebrow experts to calm your fears and guide you through the shades to find what works best for you!
Can you dye your eyebrows?
Absolutely! Whether you want to define or make them fuller, you can dye your eyebrows to match your hair color or get the look you want. But just like anything else, you want to stay safe. Use a gentle, specially formulated eyebrow dye to avoid any irritation or damage to the sensitive skin around your brows. And it doesn't hurt to get some advice from a pro—chat with an aesthetician or hair stylist to get the best outcome.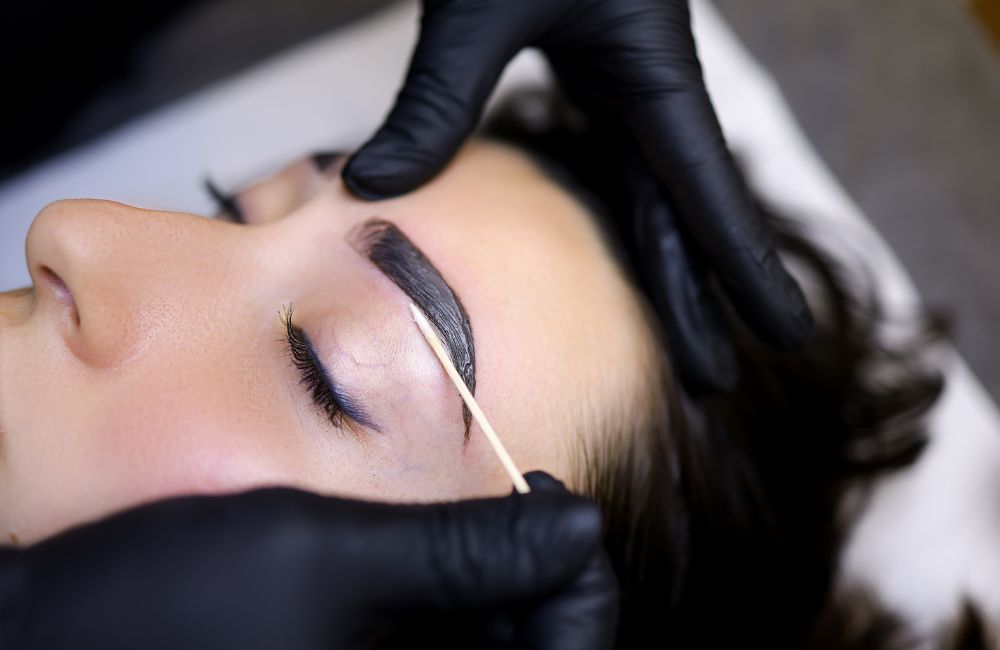 What color should I dye my brows?
Choosing the right color for your eyebrows can enhance your overall appearance and create a harmonious balance with your hair. Many people, however, overlook the complexion of their skin when choosing an eyebrow shade. It's important to consider whether your skin has cooler or warmer undertones.
Undertones
A rule of thumb for finding your skin undertones is to look at your veins. People with warm undertones tend to have a green hue to their veins. In contrast, people with cooler undertones can have purple or blue-looking veins. If no colors stand out in your veins, you might be on the neutral scale of undertones.
Root Color
Another tip is to check the roots of your hair. Those with blonde or light brown hair might have a hard time finding the right shade. The base of your hair, or the darkest tone, is the best indicator of the right eyebrow color.
Lighter Brows
If your goal is to lighten your brows instead of tinting them darker, an eyebrow lightening creme kit can lighten your brows up to 5 shades lighter! Darker eyebrows are not the only way to create a striking appearance; bleached eyebrows are also in vogue. Not only can eyebrow-lightening products be used on the brows, but they can also lighten unwanted bodily hair on the arms and other parts of the face. Furthermore, it will not leave any brassy or yellowish hues; it simply lightens the tone!
Eyebrow Tint Colors
As with hair color, color shades can vary from brand to brand, but these are the shades that will work with most brands.
Jet Black
The blackest black: it can be intimidating to go this dark. Jet Black is the deepest shade used to produce a bold, black eyebrow shade that will last for weeks. Jet Black tint works best on individuals with dark skin and very black hair. Cooler undertones to darker skin may also indicate that Jet Black would complement your eyebrows. Black hair may have a cool, bluish tone. If you think this describes your locks, jet black brow tint might fit you!
Natural black
Natural black brow tint works best with dark, brown, or olive skin and black hair. African and Hispanic hair tends to work best with a natural black shade. While Jet Black gives a striking dark look, natural black is more subtle while still prominent. If you have a slightly lighter complexion compared to those who would use Jet black, natural black can provide a defined and striking appearance to your eyebrows without looking too harsh.
Not sure which shade of black you should use? It is hard to differentiate the darker color shades, so here's a tip: You might find your ideal result if you select a color that is one shade lighter than your natural hair color. If you go one shade lighter and it is not to your liking, you can always go darker!
Auburn
Auburn is a reddish-brown shade that falls somewhere between brunette and copper. It's a warm, rich color can add depth and dimension to your eyebrows. It can work well for those with warm undertones and add depth and warmth to your brows. However, if you have cool undertones or prefer a cooler brow color, auburn may not be your best choice.
Dark brown
It's a versatile color perfect for warm tan skin and brown hair. But dark brown hair can sometimes look very similar to black hair. To see if your hair is actually dark brown, look at a few strands of hair in direct sunlight. Dark brown hair should have warm undertones such as brown and amber. The brow tint Dark brown will add depth and definition to your brows without being too dramatic.
Medium brown
Light to medium skin tones and brunette hair works best with medium brown brow tint shades. It is subtle and defining on the brows. We recommend medium brown, just depending on how bold you want your brow color to be. It is the perfect middle shade if you don't want anything too dark or light.
Light brown
A light brown brow tint is best for lighter skin tones and blonde hair. For those with blonde or light brown hair, it is recommended to tint your brows 1-2 shades darker to help enhance your brows. Hair experts recommend light brown for most blonde shades. The shade will add subtle definition and enhance the overall appearance of your eyebrows without overpowering your natural hair color.
Light ash brown
Just because you are starting to grey does not mean your eyebrows can't have a defined color! We recommend it for those with greying hair. Light ash brown is unique because it can be used if your skin is very fair or if it is more on the tan side. Because it is not too dark nor too light, it is the go-to shade for blonde hair.
Eyebrow Coloring: What You Need to Consider Before Dying Your Brows
Do a patch test. If you've never colored your eyebrows before, try a patch test first. Put a little dye inside your elbow, wait 24 hours, and check for allergies. If you experience any itching, redness, or swelling, it's best to avoid coloring your brows altogether.
Consider your natural brow hair. If you have light brows, go for a lighter shade of dye to avoid looking too dramatic. On the other hand, if you have dark brows, picking too light colors may make your brows look unnatural.
Be mindful of the brow area. Avoid getting the brow tint dye on your skin, as it may cause irritation. Use a small brush to apply the dye to your brows, and coat each hair evenly.
Check for allergies. Some people may be allergic to eyebrow dye. If you are prone to allergies, it's best to avoid dying your brows or use a dye specifically formulated for sensitive skin.
The bottom line
Ultimately, choosing the right color for eyebrow tinting depends on your individual features, such as skin tone, hair color, and personal style preferences. It's essential to consider the overall balance and harmony between your eyebrows and hair color. Looking beyond the brows can give you intel into which shade is your perfect match!
Whether you're still debating which shade to choose, we hope this post helps you! Any questions or concerns? Let us know below.