How have you been lately? I'm going to do some winter shopping and pamper myself with makeup. Winters make me super lazy which makes it tough to wake up early in the morning and blanket becomes my best friend. A supply of tea or hot chocolate is all I need to survive through the winter. I'm half asleep already writing this post. ???? Anyway, let's move on to the post which is my review on Dove Go Fresh Revive Pomegranate Body Wash which I'm loving lately. It has made my shower experience more fruity!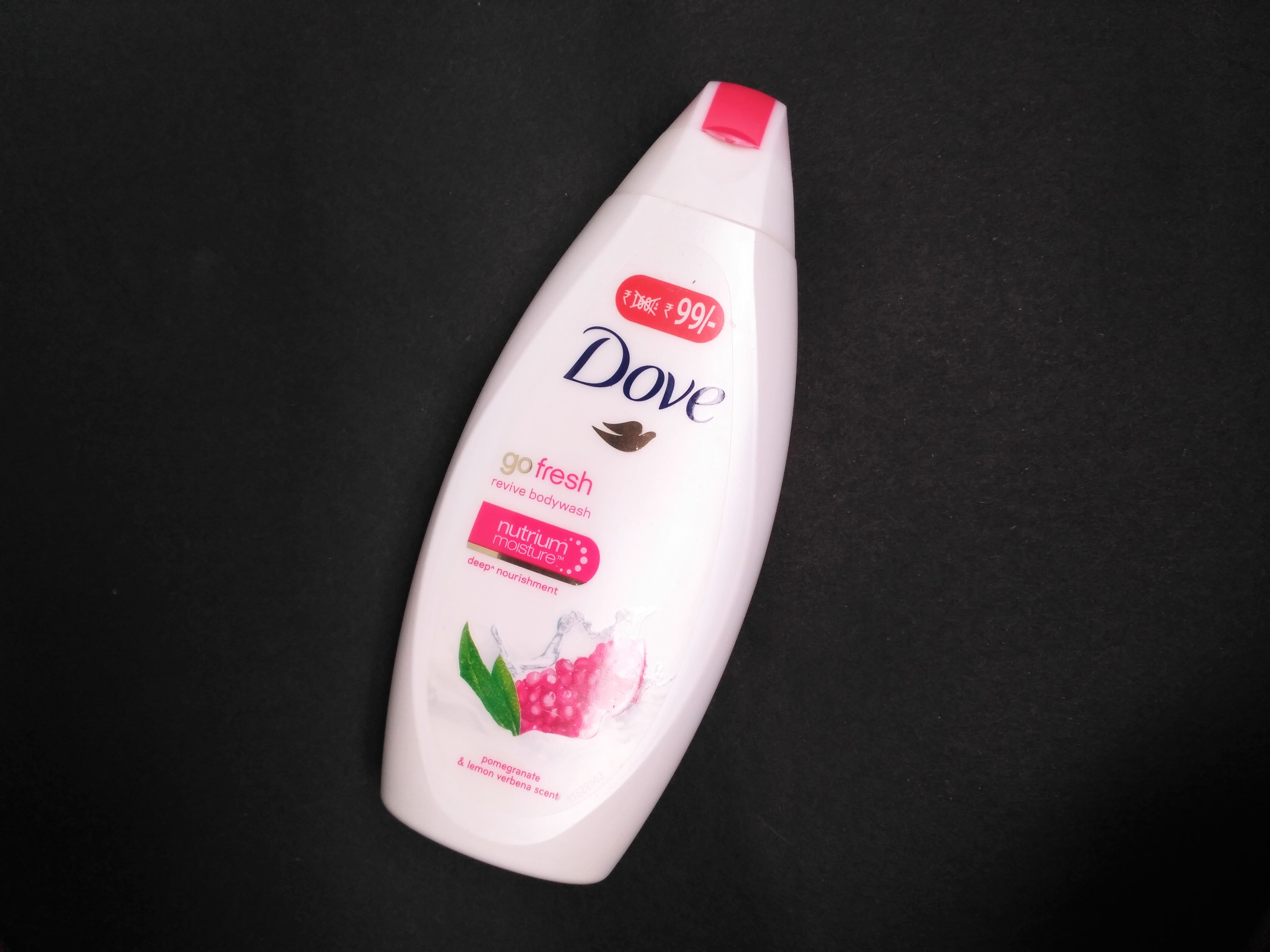 About the product: Showers are the most refreshing part of our day. To make them even more refreshing, why not add a dash of pomegranate and lemon verbena scent to your body wash? That's where Dove Go Fresh Revive Pomegranate Body Wash comes in. It's enlivened with an invigorating pomegranate and lemon verbena scent to awaken and refresh your senses.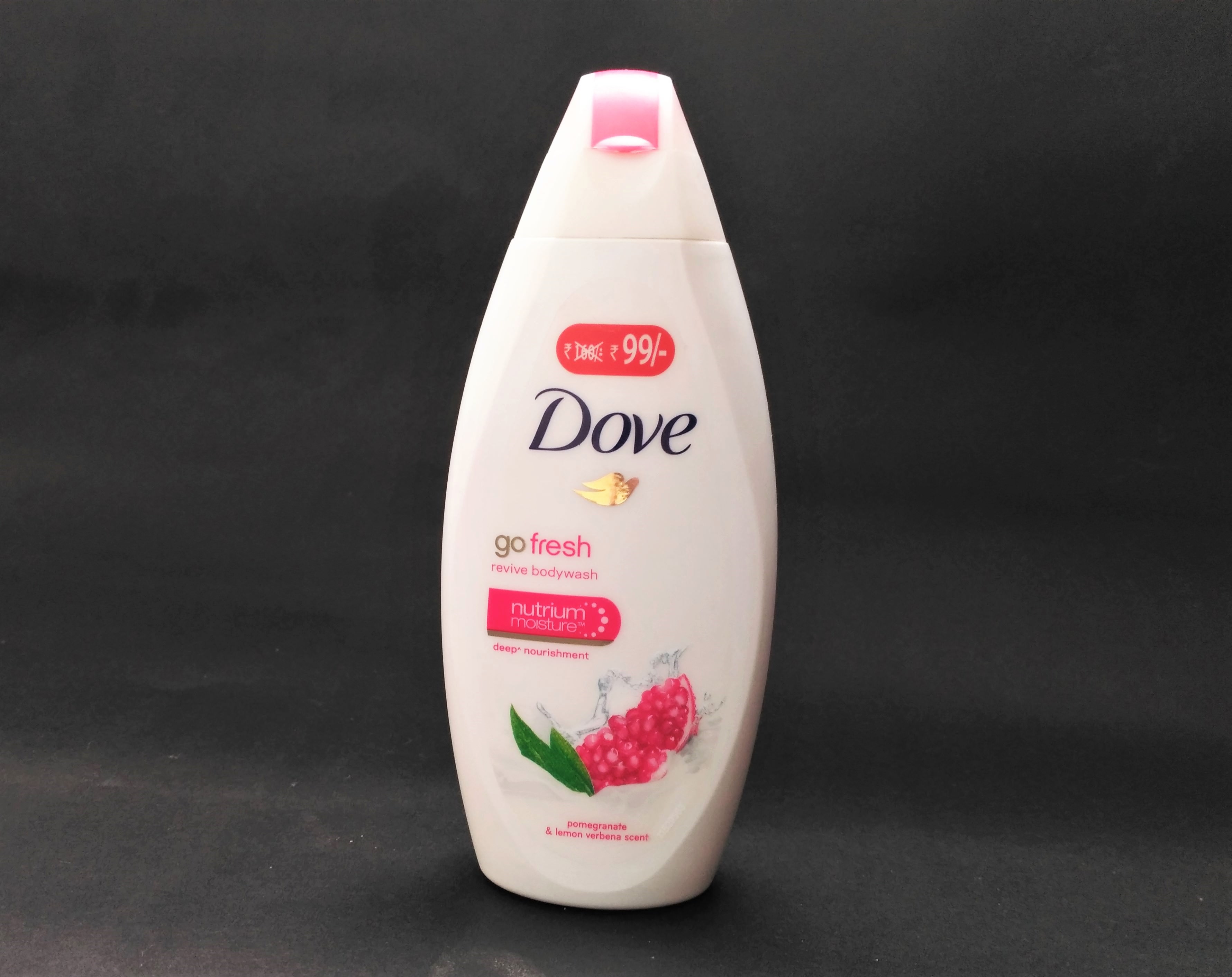 Readers like you help keep The Beautyholic running. When you buy through links on our blog, as an Amazon Associate, we earn from qualifying purchases at no extra cost to you.
Price: Rs. 160/- for 190 ml | Buy it here
Ingredients: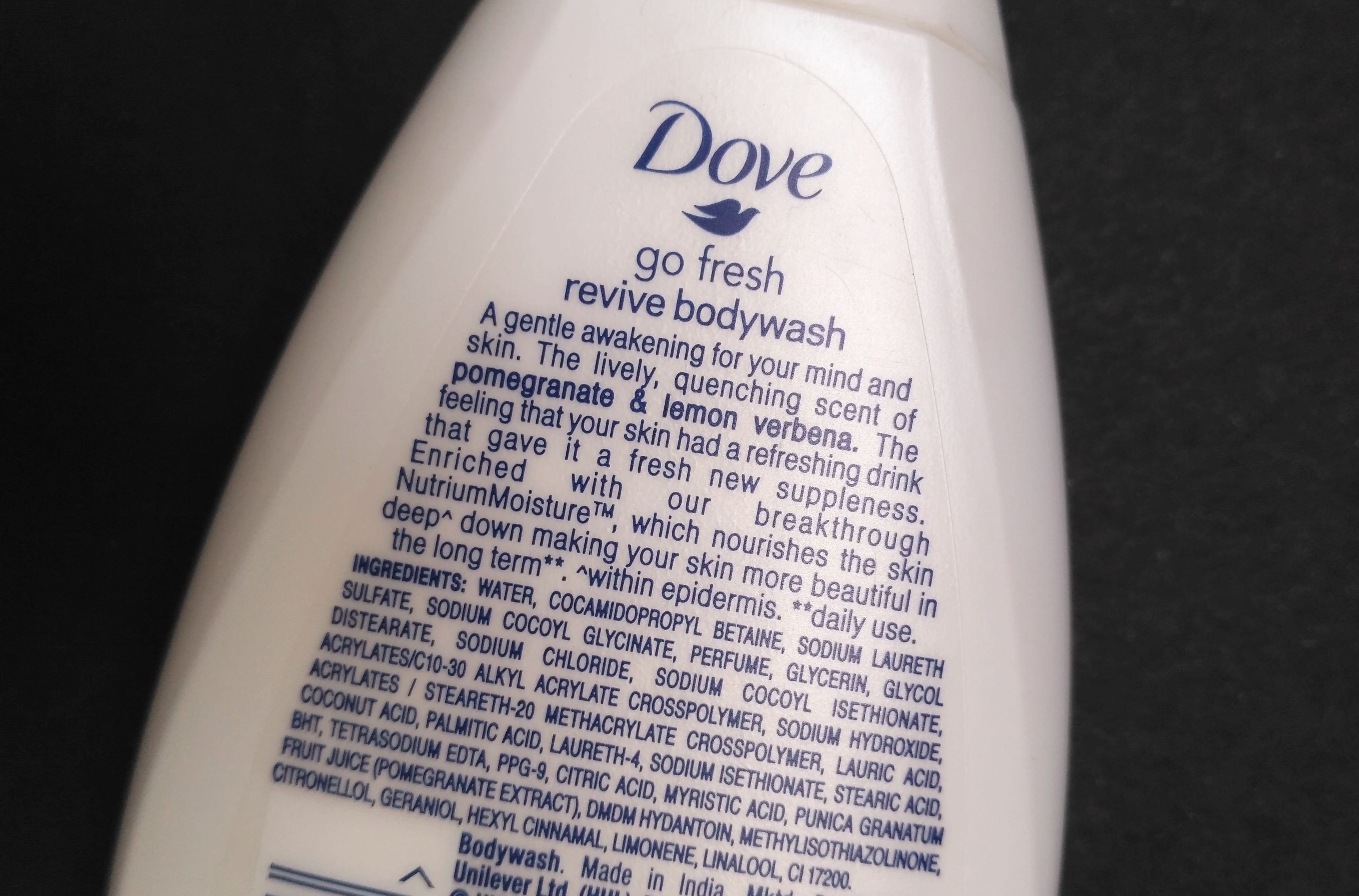 Dove Go Fresh Revive Pomegranate Body Wash Review
I've used Dove soaps and they were moisturizing for my skin. My skin type is oily but my body's skin is kind of dry so I never forget it moisturize it. I've tried shower gels and body washes from Lux, Just Herbs, Palmolive, but trying Dove's body wash was my first time.  I got attracted by the Pomegranate and Lemon extracts as an ingredient. I also reviewed Dove Revive Beauty Bar which is a soap version of this body wash. I got it in discount at Rs. 99/- so I bought 2 bottles of it. Its packaging is appealing and has graphics of pomegranate. It has a flip-top cap which shuts with a click and doesn't spill at all. The consistency of this body wash is creamy and has a pinkish tint to it.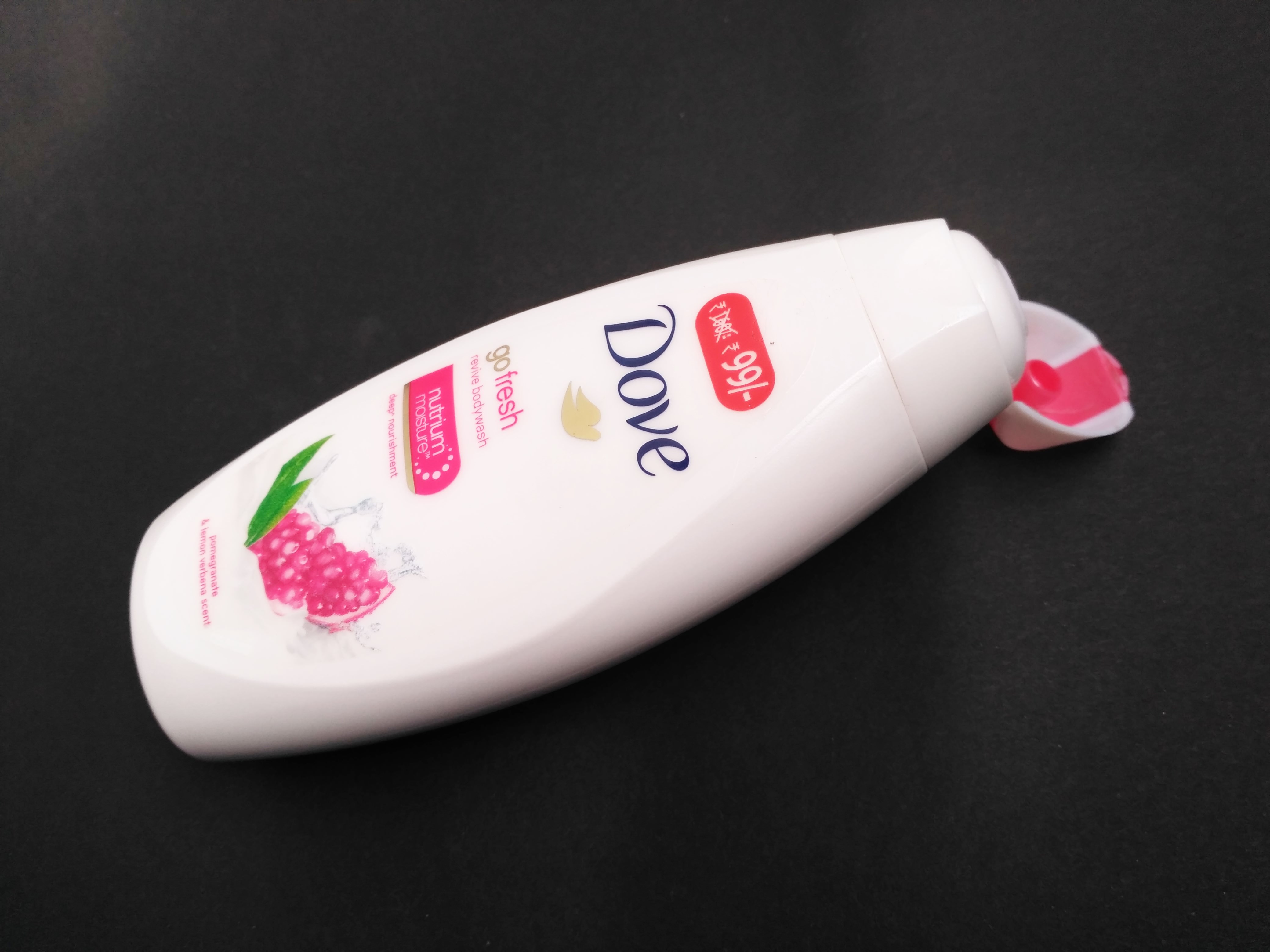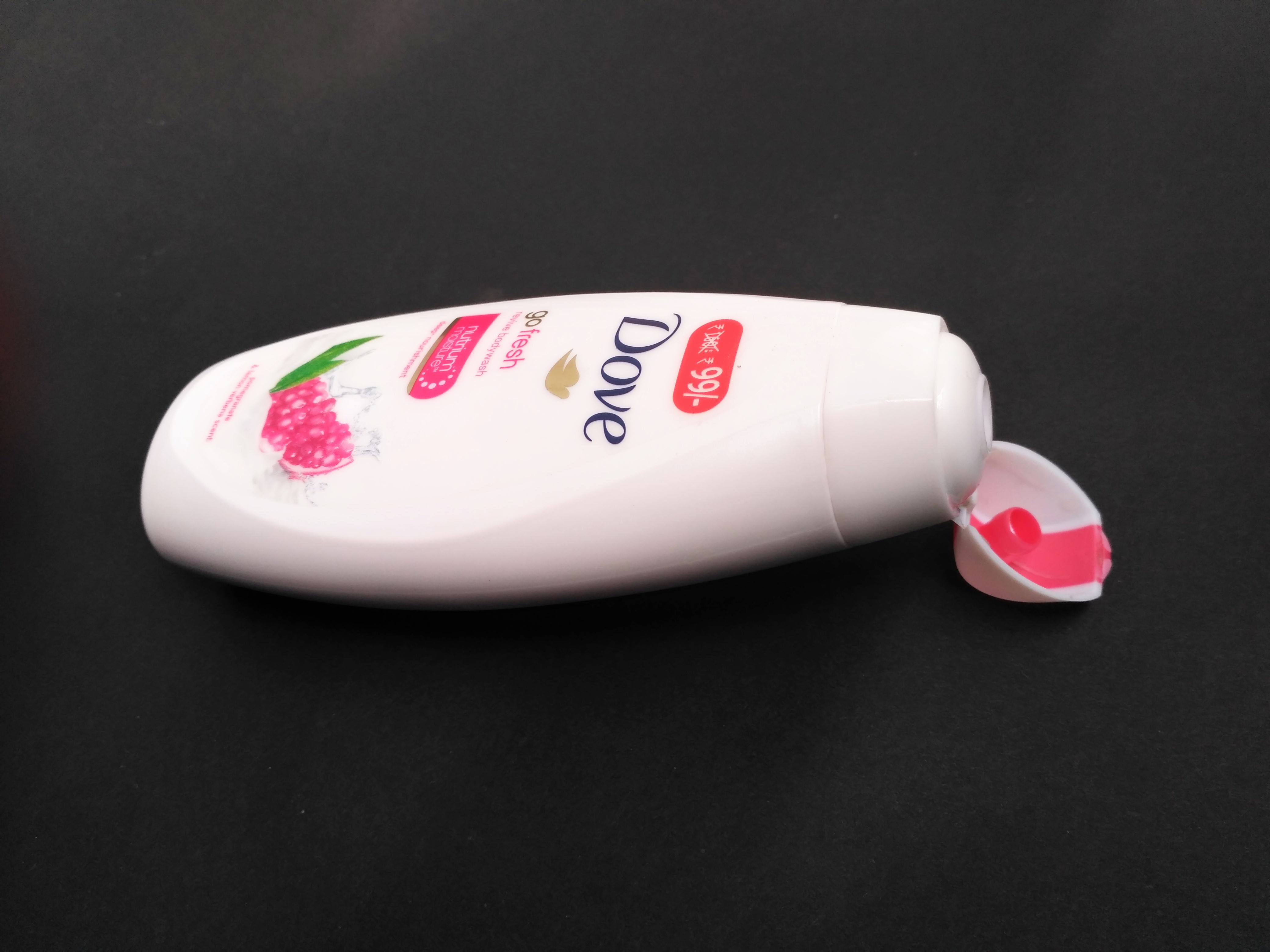 First of all, it has an amazing and sweet fragrance which stays throughout the shower session. It produces enough lather to give a clean feeling. Though it takes time to get rinsed off completely. It doesn't dry out my skin at all and makes it soft. It's a great body wash for summers and since winter is about to approach, a body lotion will be needed to add moisture. I love having my shower session with this body wash as it leaves me refreshed and energized. The best thing about this body wash is its refreshing and sweet fragrance which disappears after a while and one can only smell it when sniffed.
Pros:
Has a sweet fragrance

Adorable packaging

It doesn't dry out skin but in winters moisturizer is needed

Isn't harsh on skin
Cons:
Fragrance doesn't last for longer
Final Word: Dove Go Fresh Revive Pomegranate Body Wash is a good-smelling body wash which cleanses the skin without stripping out moisture from the skin. However, in winter, you will need a moisturizer. It has a refreshing effect on the skin which makes me good to go so I recommend you to check it out! ????
Rating: ⭐⭐⭐⭐
Have you used Dove Go Fresh Revive Pomegranate Body Wash? I'm going to try out the other variants too and share my experience! ????