I always see Blue Heaven products on Nykaa. They look too cheap to be a good product, so I never tried the brand.
I recently had to get new mascara and I thought it would be a nice time to try a new brand! I don't want any lengthening or curling or whatever, just one that doesn't cause any infection.
The cost of Blue Heaven Walk Free Mascara was so low that I could easily throw it away without any bother. And I really liked the brand when I read more about it, but we will get to that.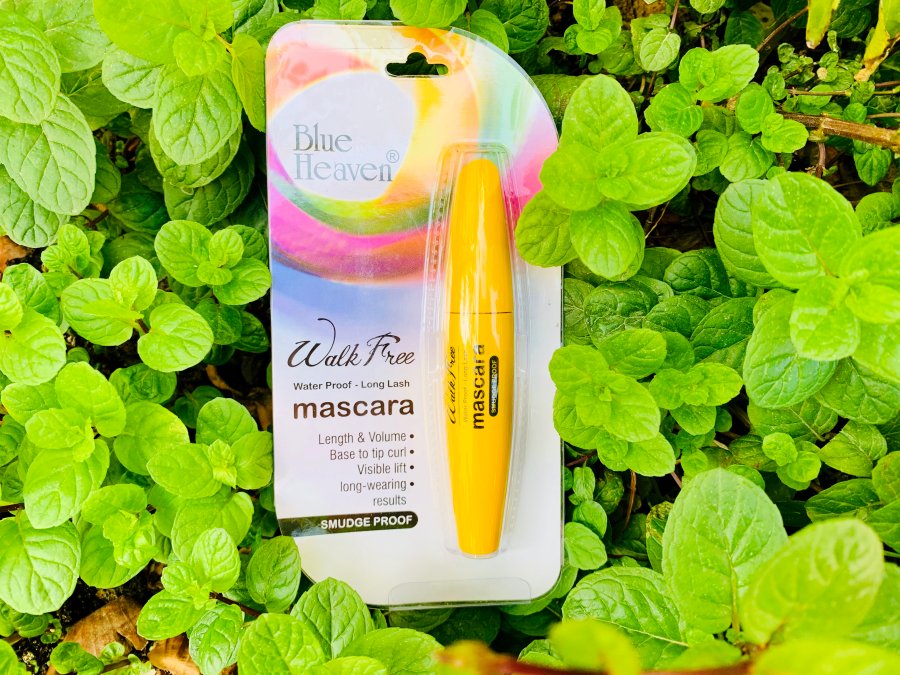 About the product:
Walk Free Mascara is a water Proof – Long Lash. Consider these types of mascara and select one appropriate for your lashes and the occasion. It Gives your Eyes A Perfect Look with –
Length & Volume
Base to tip Curl
Visible Lift
Long Wearing Results
Price of Blue Heaven Walk Free Mascara: Rs 125 for 12 ml
Blue Heaven is an Indian brand created by two young brothers. It is a vegan and cruelty-free brand. It is a chemical-free option affordable at very affordable rates. And it is 'Made in India'! I checked the website, and I was shocked to find the number of products they have in makeup as well as personal care.
Product and Packaging
Blue Heaven has a few different varieties of mascara. The one I got is the Blue Heaven Walk Free Mascara – Smudge Proof.
The Walk-Free Mascara comes in 4 different colored 'tubes.' Two are waterproof while the other two are only smudge-proof.  I read the description, and it makes absolutely no difference which color tube you buy among the two.  So pick one that you feel looks pretty! I got Yellow! The mascara comes in a resealable cardboard packaging with directions printed on the back.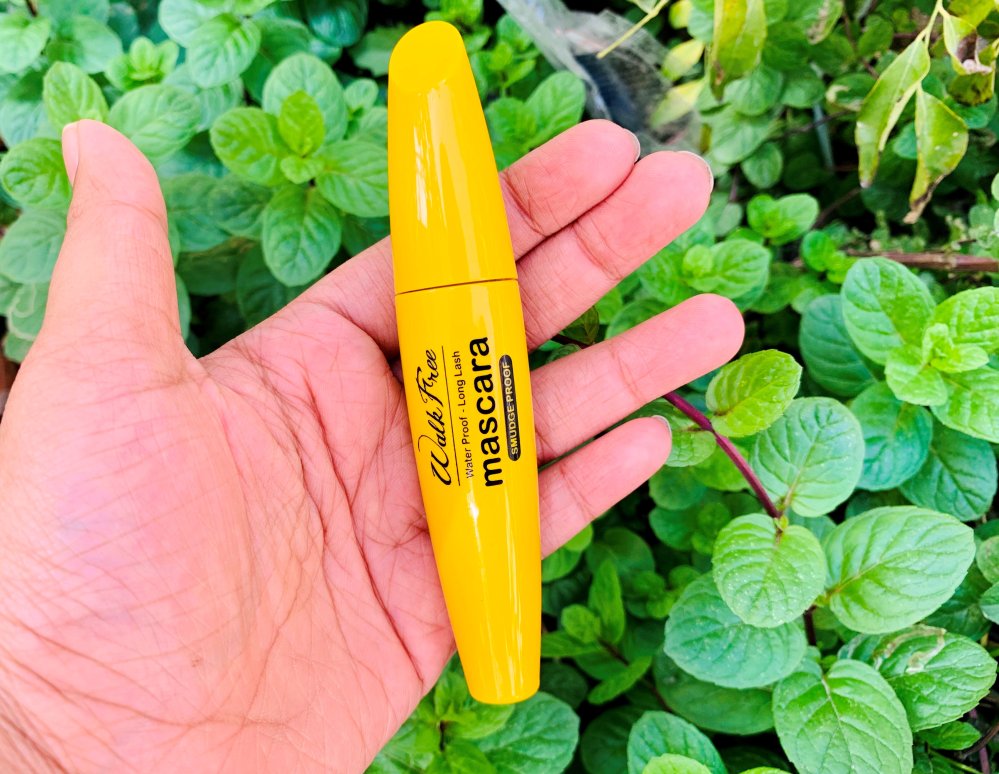 The mascara bottle is quite chunky and looks very similar to the Maybelline mascara bottles. When I first tried to open the bottle, I found it very tight. So I had to use some pressure. But I think I damaged the lock while I did it cause now it won't close all the way through. It does not dry up the mascara but makes me so uncomfortable.
The tube feels very lightweight but also somewhat cheap. It looks very flimsy, but you cannot expect better from such a product of this price range. But then, I don't mind it at all.
Wand
Like the tube, the wand is also very flimsy. I would have liked to have the wand a bit more sturdy so that it helps to apply properly. It is a thin wide-toothed wand that is very similar to the Maybelline New York Falsies mascara.
It is a perfectly straight wand, and I love how long it is. This lets me hold my hand a little far away from my eye so that I can actually see what I'm doing. All those short wands make it difficult to know what is going on!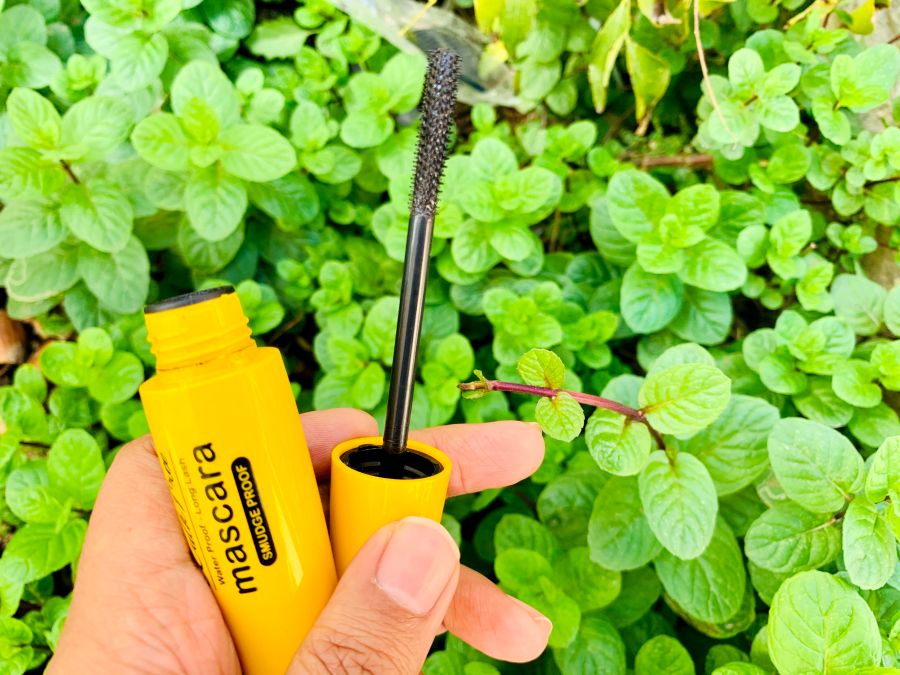 The wand carries a lot more product than you'd think there is. But it doesn't cause the lashes to become very clumpy.
Color and Formula
The mascara is jet black. I chose the yellow tube, which is smudge-proof, and it is true to its claim.
The formula doesn't make your lashes clumpy since it's quite a lightweight formula. But the lashes can stick together if you put on another coat before the previous one dries. I see many people whose lashes are just sticking together and making it look like spider legs.
I always put on 2-3 coats at once, so I, too, always get my lashes to stick together. And I have long lashes, so it's easily noticeable. So I use an old wand to separate the lashes. You can get a lash comb or mascara applicator to keep your lashes separate. Or otherwise, apply the next coat after the previous one dries completely. Separated lashes look more natural and beautiful than clumpy spider legs.
Lasting
Last day I wore it for more than 12 hours, and it stayed put. It didn't smudge during that time. Once it dries, it stays on. But it is not waterproof. I specifically chose one which is not waterproof since I wanted to remove it easily. I used to use Maybelline waterproof mascara, and it was a pain to remove at the end of the day. The skin around the eyes is so sensitive, and I don't want to rub it all over and make a mess along with the wrinkles! The Blue Heaven mascara can be easily washed off (so don't cry in it).
Finish
It gives a natural finish. I apply 1 or 2 coats, which gives the illusion of dark thick lashes but put on more if you have very light lashes. I'm not sure if it makes your lashes look longer because I already have got long lashes. It does curl the lashes; not a lot but enough to give it a lift. I find my lashes very pretty when I use mascara.
Pros
Travel-friendly (I like that it is lightweight)
Lasting and smudge-proof
Natural finish
Non-clumpy
Long straight wand
Light formula
Vegan and cruelty-free
And did I say it's affordable?
Cons
Flimsy packaging
Clumps, if over applied
Won't give a dramatic finish in case that's what you want
More Reviews
Blue Heaven Walk Free Mascara
Final Word
I'm giving this mascara a 5 because I really like the product. I'm not a fan of the packaging, but I find that the product is true to its claim. It's lasting and gives a beautiful finish to my lashes. It lifts the lashes and lasts a long long time till you wash it away. I will surely buy it again till I find another product that does some miracle on my lashes.