Black clothing is always in style. However, black outfits for women of any age require a proper fit and the right accessories to make them look good.
Sick of wearing the same boring, dark outfits day after day? Well, it's time to shake things up with some fun new looks!
Whether you're a 20-something fashionista or a seasoned style maven, we've got you covered with the best black outfit ideas for women of every age.
From edgy all-black ensembles to chic office-appropriate looks, these ensembles will get you inspired and have you looking your best all season long.
Let's get explore them!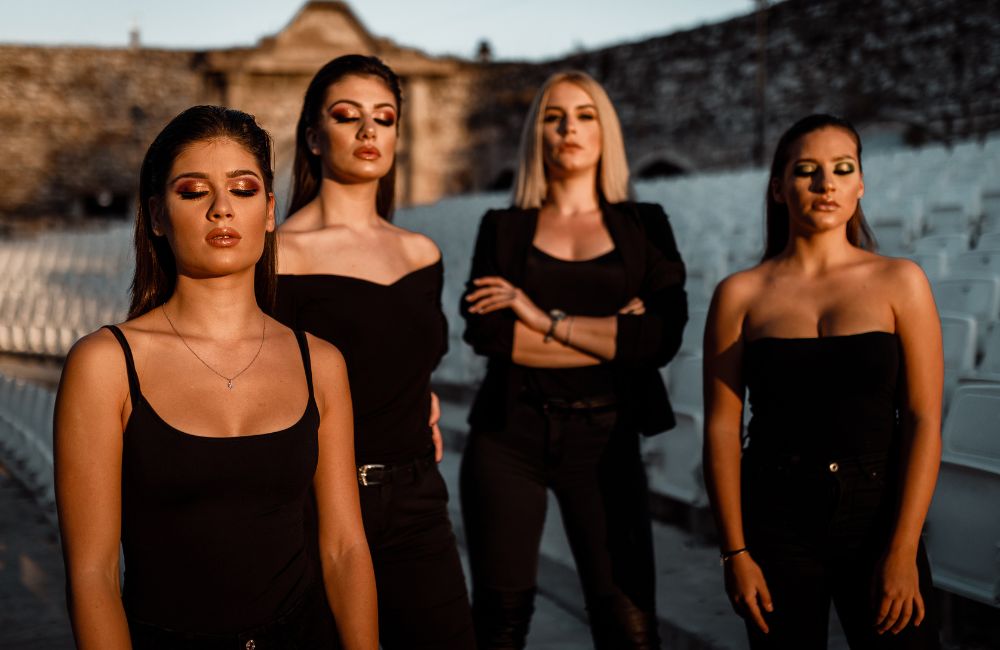 Casual and Party Wear
Who doesn't love black on casual outings with friends, random shopping, grocery plans, or during nightlife shenanigans? While you can hop into the black hue without thinking much, it is still important to synchronize your outfit well.
Let's find out some casual black outfits that you can carry out oh-so-well!
Black Jacket With Pants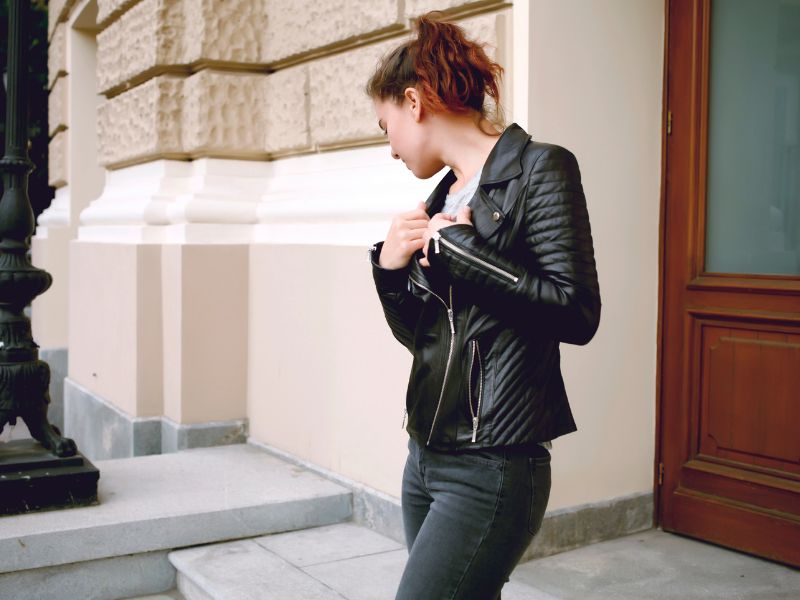 Jackets are our personal favorite when it comes to black ensembles! A women leather jacket comes in many shades of black with many design variations that appeal to women of all ages. We don't just have an option of wearing a classic black leather jacket, but we can also opt for a black bomber jacket, aviator jacket, embellished biker jacket, varsity jacket, or long trucker jacket. Under these, make sure to opt for a plain black blouse, sweater, or fitted shirt to boost the elegance of your jacket.
This combo, especially the one with a leather jacket, looks unique with matching leather pants. However, depending upon the kind of jacket you are wearing, you can also go with straight pants or chinos. Ankle-length boots are must-haves to suit this black outfit, besides a few pieces of silver necklaces and a stylish clutch.
Pair Up With Tee or Polo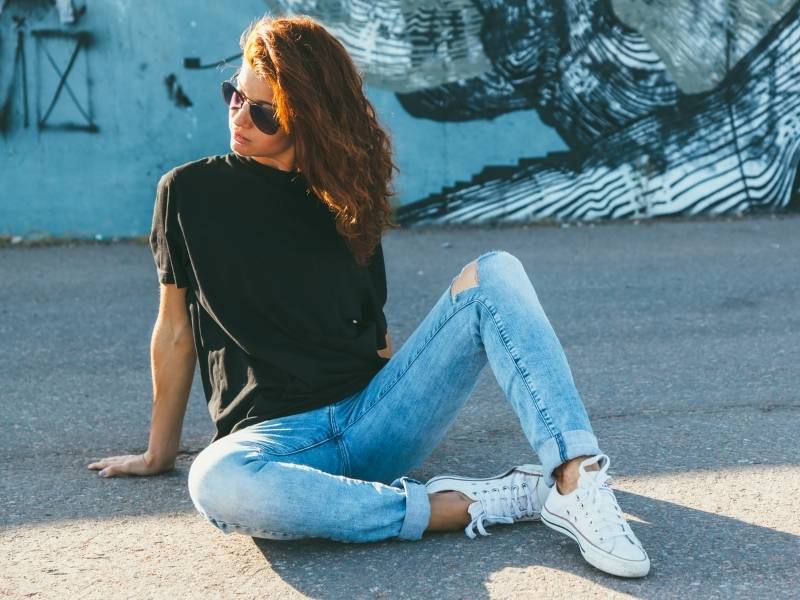 The easiest and most laid-back way to carry a black outfit is by pairing your black tee/polo with jeans. You can even sport a plain black vest, crop top, or long-sleeved t-shirt since they also come under the casual umbrella. Women of every age can wear this ensemble without feeling that their outfit is boring or bizarre.
You can certainly don your black loafers, laced shoes, boots, sandals, flip flops, or block heels under this outfit. Make sure not to accessorize this outfit much but only wear a few rings or bracelets since it looks better off decent and simplistic. Lastly, complete this look by wearing sunglasses and taking your black chic tote or canvas duffle bag along.
Warm Upper or Tracksuits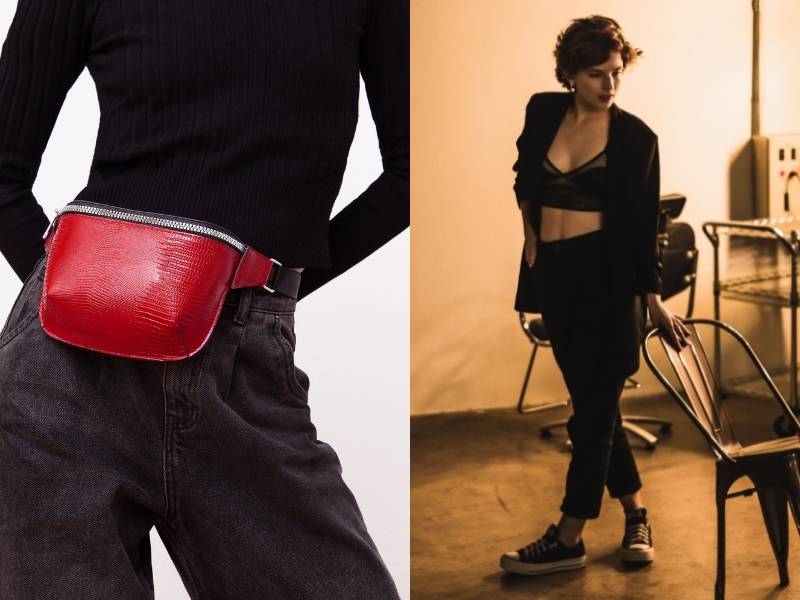 When it comes to winter wear, you have plenty of black options to choose from. Apart from sweaters and cardigans, you may choose to wear turtlenecks, sweatshirts, long coats, or fur coats. Below these uppers, you can opt for classic black cotton pants, jeans, trousers, jeggings, or fitted leggings, as per your preference. With such an outfit, you can carry a gray scarf, a crossbody bag, and heels/knee-length boots to accomplish that modish winter look.
Black tracksuits are also great and so in style these days. You don't have to go jogging in order to wear a tracksuit since most people wear it as leisure-wear too. Monochrome tracksuits look pretty decent with matching joggers and a decent cap.
Plain or Floral Black Dress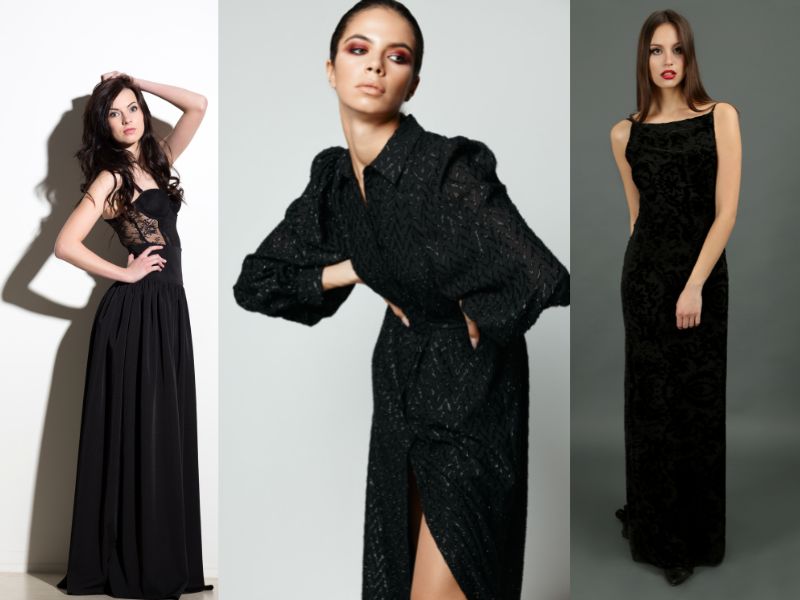 Dresses look super graceful and comfortable on women, regardless of their age. Floral long maxi dresses are currently a hot and cute trend that women can consider for their black outfits. Besides printed black dresses, you can also wear cotton or silk black dresses that look equally stylish. Or even pick a little black dress or a midi. Luckily, you can accessorize and customize this outfit by wearing a belt, a few pieces of gold jewelry, a small bag, and even a corset.
You can even carry your leather jacket on top of this if you need a sassy look. Low heels, over-the-knee boots, and wedges are most suitable to wear with this black attire.
Formal Wear
When dressing up professionally, black is always the women's go-to color!
Blazers and Cotton Pants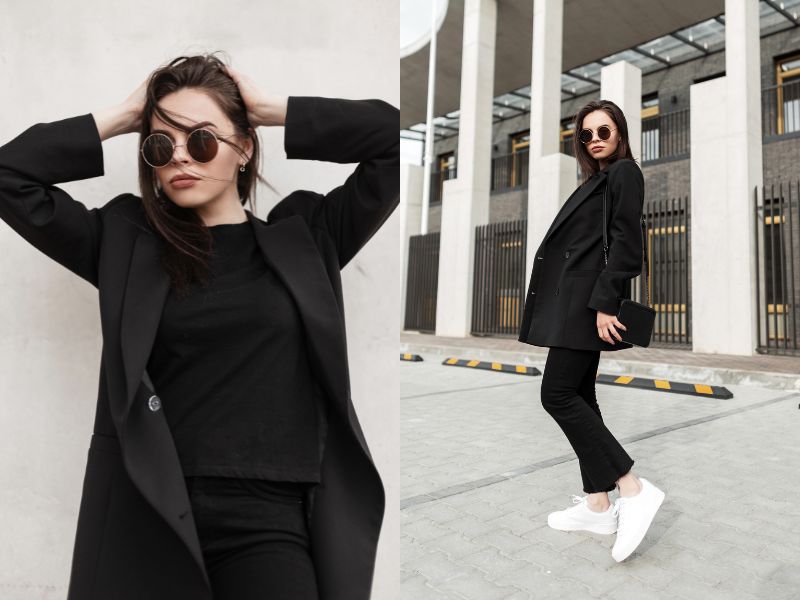 A black blazer is an ultimate fashion garment that you can easily rock on your business meetings, executive dinners, or on a casual office day. Blouses look perfect under blazers, paired up with cotton ankle pants. You can even play around with different tones of black and form a monotone yet striking outfit.
Messenger bags and satchels are perfect for carrying to the office, which also matches the vibe of blazers. As for shoes, laced shoes such as oxfords, derbies, Chelsea boots, and loafers should be your pick.
Tucked-in Shirts With Skirts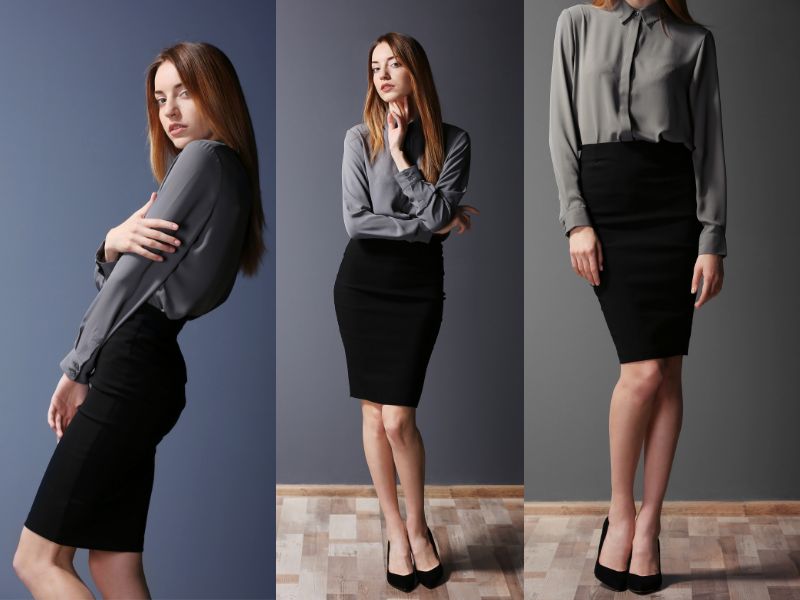 Skirts never went out of style when it comes to formal or office wear. Different kinds of fashionable skirts can be found in the market, ranging from short and sleek pencil skirts to long and flowy knee-length skirts. You can't go wrong with a black skirt and a tucked-in shirt of the same/grey color. To further adorn this outfit, you can wrap a cardigan around your waist or a patterned muffler around your neck.
Get on your kitten heels, sturdy boots, pumps, or loafers to complete this modern look. Sparingly put some formal jewelry or even a simple watch, and you are all set to go.
An All-Black Romper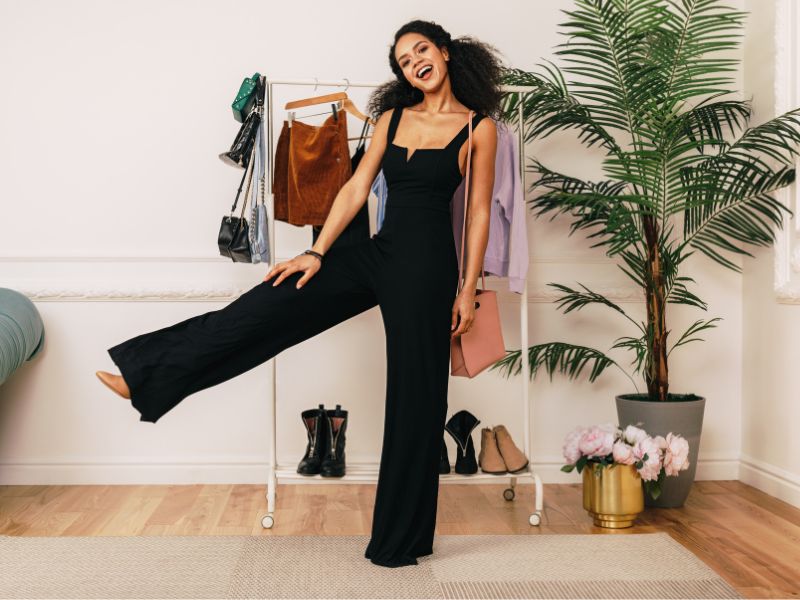 If you're looking for an office-appropriate aesthetic that is still lady-like and nice, comfort is key. A black romper can help you look put together and make a statement that is undeniably leg-it. And since the best all-black looks are always in style, you really can't go wrong with this easy look. The best part about wearing a romper to the office? Legs are accentuated to perfection!
Style your romper with a pair of classic black pumps and a structured handbag. Make a statement with earrings or a bracelet.
Silk Blouse with Wide-Leg Pants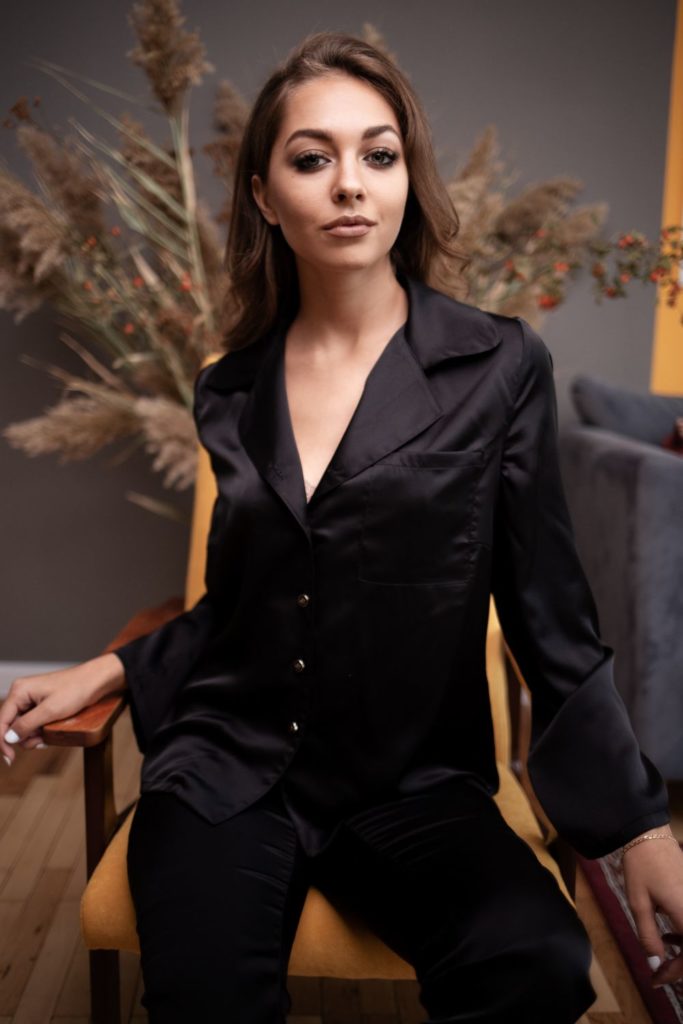 Yes, you can wear a black silk blouse to work—the perfect trifecta for nailing that 9-to-5 grind! The key is to pair a relaxed shape with wide-leg pants for a chic and professional look. The wide silhouette will make you appear taller and more slender, while silk will keep you cool and comfortable all day long.
For a touch of glamour to your black look, opt for a pair of stud earrings or a delicate pendant. Wear your hair in a sleek updo or loose waves to balance out your pants' volume.
How to sport black at any age
Whether in your 20s, 30s, 40s, or 50s, black is a timeless color that always looks chic. Here's how to don it in your:
20s: The color black is perfect for looking sophisticated and chic. Pair a black dress with heels and a clutch for a night out, or wear skinny black jeans with a blazer and ankle boots for a more casual look.
30s: As you enter your 30s, you may want to start incorporating more black clothing. Black is still a great choice for special occasions but can also be worn to work and errands. You can wear a black blazer with a pair of dress pants or black capris with a white top.
40s: Maybe you're ready to tone it down and switch from the bright colors of your 20s and 30s to more neutral tones. Black can also slim down your figure if you want to look smaller than your size. Choose black pants with a white top or a black skirt and black top.
50s: It's still a great color to wear. Wear black on white for a stark contrast or don a black on black outfit. Don't overcomplicate your outfits with too many colors or patterns. Opt for timeless silhouettes that flatter your figure, such as a tailored blazer or pair of wide-leg pants.
60s and beyond: Experiment with well-tailored pieces that flatter your figure. Avoid anything too tight or revealing, and opt for classic silhouettes instead. Put on something interesting, such as velvet pants or a silk blouse or a lace top. A-line skirts and black column dresses are all flattering for women over 60. Also, don't be shy to show a little skin! V-neck tops and dresses can be both elegant and sensual!
The takeaway
Black, the ever-green color, gives you several kinds of outfits you can try on effortlessly. The above are our hand-picked and contemporary top black outfits for women of every age. These outfits are not just limited to casual wear, as you can surely carry them with style in your workplace and at formal events.
You just have to be thoughtful about wearing the right kind of shoes and accessories with these raven outfits if you wish to stand out from the crowd. Don't go overboard with just one tone of black, and make sure to balance your outfit smartly!