Making the switch to more natural products can make you look and feel great for a long time. The ingredients are carefully chosen so that they will not disrupt the natural process of your skin, but rather enhance it.
SNAANA Ayurveda, a brand based in India, offers ayurvedic skincare products.
Here are the best SNAANA products and the reasons you should include them in your skincare routine.
Why should you choose Snaana products?
SNAANA prides itself on using only the purest ancient ingredients without the use of any chemicals or preservatives. Those seeking clean and natural products will find SNAANA products to be a game-changer. Here are some reasons why you should use this brand:
This brand strives to provide organic, pure, and natural products in the purest sense using ancient processes like steam distillation, cold press, etc.
A careful selection of nuts, seeds, and herbs gives it an edge since they are free from preservatives and synthetics.
Creates products curated for different ages and skin types and addresses a variety of skin concerns. They understand that one size does not fit all and creates a separate variant for everyone out there.
Among their products are creams, mists, oils, balms, etc., that are available in a variety of textures and variations.
To source fresh ingredients, they pick their locations wisely. During the cultivation process, they seek out areas with fresh air and clean water as well as keep close to Himalayan cultivators.
Readers like you help keep The Beautyholic running. When you buy through links on our blog, as an Amazon Associate, we earn from qualifying purchases at no extra cost to you.
The Best of SNAANA Products
Having heard so many good things about the brand, you have probably wondered what products it offers. Hence, we will list the top ten products of this brand here. Here we go.
1. Rose Mist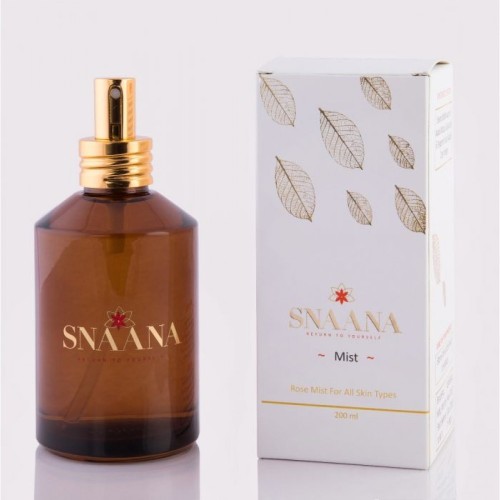 Steam distillation is used to create SNAANA Ayurvedic rose mist. It is edible, 100% pure, and organic. This product is super-green and contains no colored pigments, fragrances, chemicals, or preservatives. The hydrating effect of rosewater prevents moisture loss on your skin.
Benefits
Reduces inflammation and redness.
Relieves burning sensation and dryness in the eyes caused by pollutants or allergens.
It is edible, which treats acid reflux and alleviates gastritis and sore throat.
Hydrating, soothing, and calming.
Tightens the skin and minimizes the appearance of pores.
This antioxidant helps repair and protect damaged cells.
Improves mood, relieves headache and promotes better sleep.
2. Goat Milk Soap – Marigold-thyme
As the name suggests, this soap is enriched with the goodness of goat's milk. It contains Psoralea oil that is cold-pressed and rich in butter and herbs. The soap is great for treating eczema and psoriasis. Also, the sweet scent of the soap lingers long after you have finished showering.
Benefits
Cleanses and exfoliates the skin gently.
Hydrates and nourishes your skin while keeping it clear.
Calms and soothes inflamed and irritated skin.
AHAs found in goat milk remove dead skin cells and reveal more radiant skin.
Butter-infused soap is a lifesaver for people with dry skin.
3. Lip Balm with Mango Butter
Due to the thinner skin on your lips, they are more delicate than other parts of your body. They are also resistant to extreme weather conditions and pollution as well as dirt. A lip balm is essential when taking care of your lips. A part of the SNAANA line of products, this lip balm contains essential oils that prevent and treat chapped lips. It is obtained from steam-distilled and cold-pressed essential oils, thereby proving healthy and therapeutic.
Benefits
A 100% natural lip balm that heals and repairs chapped and dry lips.
Keeps lips moisturized during dry winters and changing seasons.
Fast relief for cracked and bleeding lips.
Heals cracked and flaky lips.
Under lipstick, it acts as a good base to prevent the lips from interacting with the lipstick chemicals.
4. Oily Skin & Acne Kit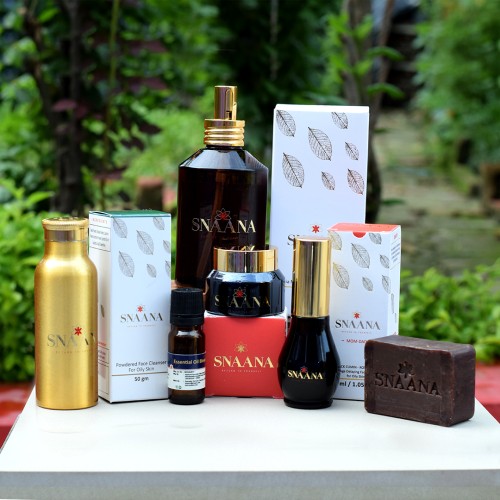 Those with oily or acne-prone skin will benefit from this skincare kit. There are six products in the kit that are infused with watermelon seed oil, cumin seed oil, etc., that give holistic healing to all skin conditions. Cleanser, toner, moisturizer, etc., in this kit, are suitable for people between the ages of 30 and 60. It is a customized skincare routine that battles all skin concerns.
Benefits
Deeply cleanses the pores as well as removes dead skin, leaving the skin glowing and bright.
Provides fast relief from acne-related irritation and redness.
Prevents acne and kills acne-causing bacteria, healing existing skin issues.
Prevents excessive sebum production by keeping the skin hydrated, nourished, and moisturized.
Provides treatment for pigmentation, blemishes, age spots, uneven skin tone, etc.
5. Eczema & Psoriasis Oil
Oils are a must for people with dry skin to get that extra boost of hydration. This oil is cold-pressed and free from artificial chemicals and preservatives and gives your body just the right amount of hydration required. The oil smells like herbs and gives a soothing feeling upon application. As it is already clear by the name, this SNAANA Ayurveda product effectively provides relief from eczema and psoriasis.
Benefits
Kills parasites and bacteria in blood tissues since it is antihelmintic.
Contains properties that reduce psoriasis on the skin.
Provides nourishment and hydration with oleic and linoleic oils.
Calms and soothes inflamed and irritated skin.
Skin, scalp, and body can all benefit from this treatment.
Those with oily skin should avoid using it on their faces.
6. Body Shower Brush
This body brush is one of SNAANA products obtained from 100% naturally shed horse hairs and is made of Sheesham wood with a perfectly smooth finish. Using a body brush can be very calming and relaxing. Moreover, this brush is eco-friendly and non-toxic. It is free from any plastic and additional synthetic ingredients. A wooden brush that gives you a spa-like feeling.
Benefits
Removes dry, dead skin cells.
Maintains a healthy and smooth complexion.
Enhances blood circulation and keeps the skin radiant.
Removes pigmentation and dark spots by gently exfoliating.
Conducts no electrons.
7. Cucumber Seed Oil
This oil is made up of organic and pure cucumber seeds. This oil is rich in vitamins B and C that provide relief to the skin. This cucumber oil is rich in antioxidants and can be used for both body and hair. Obtained through a cold-press process, this oil contains oleic and linoleic acids that nourish and hydrate the skin.
Benefits
Treatment for bacterial infections, inflammations, and other skin conditions.
Reduces wrinkles and fine lines while plumping and tightening the skin.
Softens heels and cuticles, and can help treat stretch marks as well.
Increases cell production, thus keeping the skin healthy, radiant, and bright.
Strengthens the skin's lipid barrier, improves its elasticity, and restores its moisture balance.
8. Baby Diaper Rash Balm – With Chamomile & Lavender
This SNAANA Ayurveda brand has something for everyone. Even babies can benefit from this. Shea butter, lavender essential oil, and coconut oil are used in this diaper rash cream for babies. Since crafted for babies with the utmost care, it is free of alcohol, chemicals, preservatives, color, and fragrance. Having the best rash balm for your baby is an absolute dream come true.
Benefits
Softens and heals rashes.
Reduces irritation and redness.
Quickly alleviates rashes, resulting in instant relief.
Has anti-inflammatory properties that heal rashes quickly.
The mild formula helps soothe and prevent rashes.
9. Eye Nutri Balm
Our eyes, like our lips, have sensitive skin. Your eyes tend to get dry and damaged more easily than other parts of your body. Treating it effectively is the best way to take care of it. The eye balm for fine lines and fatigue is a part of SNAANA's range of products and is made with rose water, marigold water, and vetiver water. The formula is made with 100% pure natural ingredients, free of synthetics and preservatives.
Benefits
Evens out skin tone and reduces dark circles.
Defining and firming the skin around the eyes.
Penetrates deeply into the skin to keep it hydrated.
Keeps the skin under the eyes soft and radiant.
Improves the appearance of puffy eyes.
10. Beard Oil with Argan Oil and Hemp Seed
We won't let you down, men. This brand has something for everyone, as we've said before. We love the non-greasy nature of this beard oil, as well as how quickly it absorbs. Additionally, it is chemical- and preservative-free. Formulated with essential oils, this beard is a one-stop solution for all beard-related problems for men. You can feel the difference after using just a couple of drops of this oil for a few weeks.
Benefits
Reduces inflammation, itching, and redness.
Treatment for dandruff, dryness, and acne.
Eliminates a messy appearance and provides a trim look.
Enhances hair growth and smoothes beard hair.
Besides having a relaxing aroma, it hydrates and nourishes completely.
How to Get SNAANA Products on Discount?
If you enter our exclusive code – THEBEAUTYHOLIC while checking out, you'll get an instant 25% off your order.
Final thoughts
The Ayurvedic brand, SNANA, is a pure, safe, and eco-friendly option for the holistic healing of skin and body. This product is a great choice if you prefer natural brands. Choose any of the top SNAANA products based on your skin type to get the desired results.