I was the person who didn't really care about my skin at all. As soon as I started college, I saw girls doing makeup. I liked what other girls did and watching them, and I started applying basic makeup for college.
But soon, my face was full of acne and pimples because of which I never did make up all I use to do was apply lipstick and go out.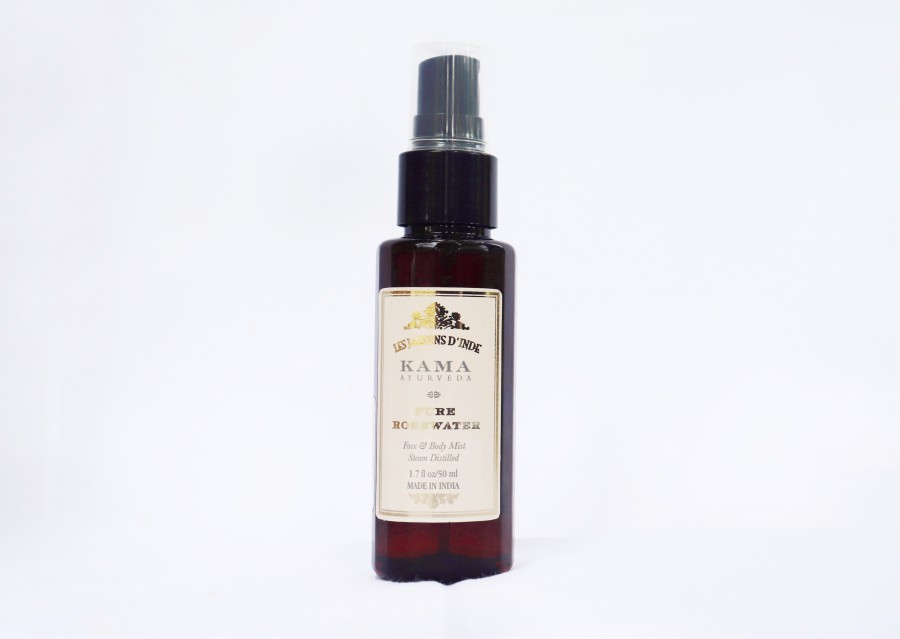 One day I was going through my friend's IGTV of a makeup tutorial, and there I discovered this face toner called Kama Ayurveda Pure Rose Water which she applied before makeup. She even described that it keeps the skin healthy, moisten, and other factors. So I did buy one for myself.
About the product: Kama Ayurveda Pure Rosewater is made from the roses of Kannauj, a region in North India. Roses from Kannauj are considered unique as they are similar to the Bulgarian rose. The steam water distillation processed rosewater ensures a high level of hygiene and matchless purity.
Price of Kama Ayurveda Pure Rose Water: Rs. 275/- | Buy it from Amazon or Nykaa
Quantity: 50 ml (also available in 200 ml)
Kama Ayurveda Pure Rose Water Review
The toner came in a brown medium size bottle with a sprayer attached to it and closed with a small transparent cap.
After washing my face with water or any other face wash, I never forget to apply this toner as it keeps my skin fresh. I have faced the problem of acne and pimple. This toner has helped me to reduce these problems by tightening the pores of the skin.
I have been using this product for five months, and I am so happy with its result. The acne problems I faced earlier is no more. Now I can easily apply makeup for any function without thinking twice. This Ayurvedic formula of water distillation is beneficial as its chemical-free, pure and natural. This makes my skin happier, and after using this product, I never thought of giving a try to any other brand.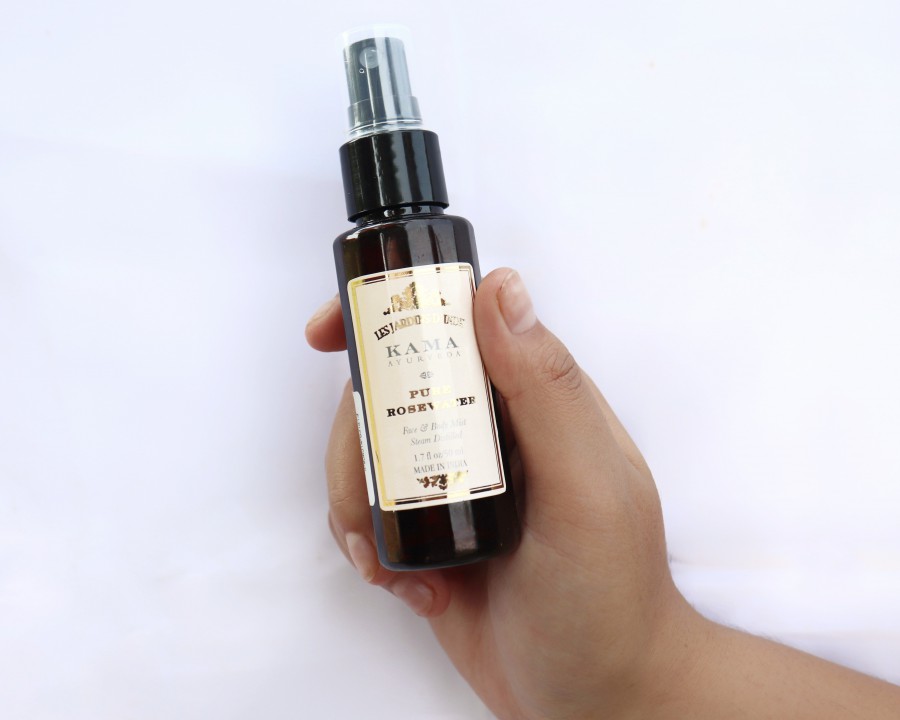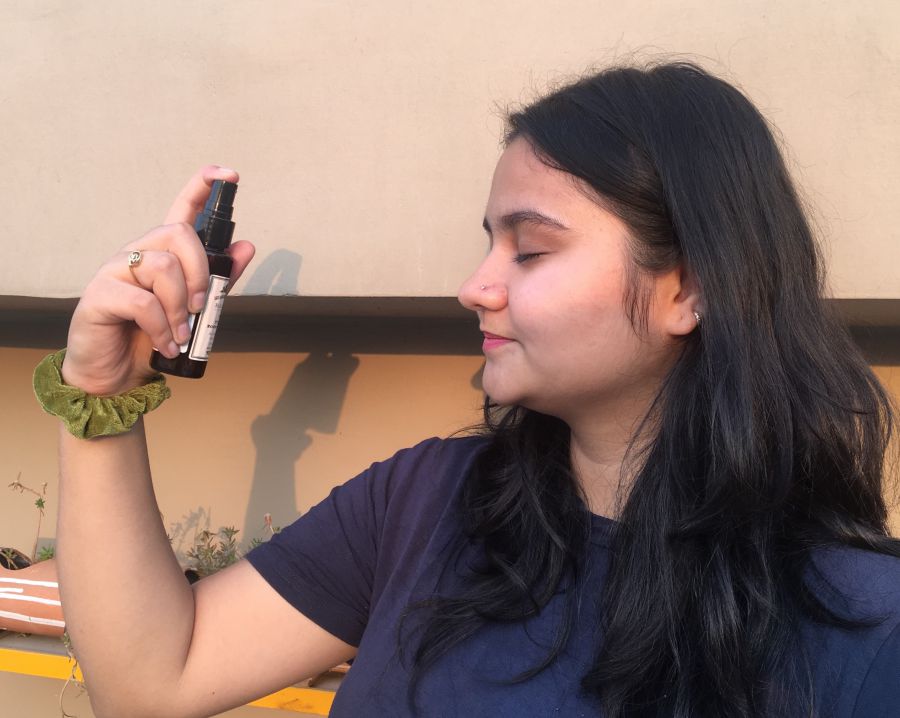 Currently, I am using this toner in the variant of Rose, but you can also go for Lavender, Mogra, or Vetiver. The choice of fragrance entirely depends on your choice of smell, as four of them gives you the same result. I even use this toner during the day apart from applying it in the morning after washing the face because it gives me refreshed look plus I even love the smell of the rose. The scent is not overpowering, its just so calm like natural rose smell. The best part about is it is suitable for all types of skin.
There is one amazing fact about this toner. My dad was shaving and fell short of his aftershave, so I gave him my toner and afterwards he told me this toner is excellent and one can use aftershave also. When I asked my father what felt him made happy using it, he explained to me that aftershave, which is usually bought by men contains alcohol and perfume which damages the skin while this toner would not damage the skin because of its ayurvedic formula.
So, it can also be used by MEN as an aftershave.
What does toner do?
Toner is a natural astringent. It balances and restores the skin's pH level and helps tighten pores. Kama Ayurveda Pure Rosewater is also an excellent non-alcoholic toner that helps remove the residue of the previous cleansing procedures, such as removing makeup. This toner refines the pores and tones the skin making it ready for a moisturizing treatment.
How I apply toner?
Hold the toner spray about half an arm away and let the product fall onto your face naturally.

Let it dry for a minute.

After spraying massage with your fingers for a better result (optional).
OR 
Spray it on a cotton pad and apply it with the help of it.
Pros:
Natural astringent

Balance pH level

Tighten pores

Non-alcoholic

Travel-friendly

Used by all skin types

No irritation
 Cons:
As the toner is made up of Ayurvedic formula so no doubt that there will be any consequences.
 Tips:
For soft skin, apply lotion or moisturizer once you are done with spraying toner.

Never forget to apply before makeup, as it gives you a perfect glow.

Try using three times a day for better results.

As it not costly, one should not stop using it until you get a better formula than this.
Kama Ayurveda Rose Water
Final Word
It is the purest rose water I have ever used! This toner is my go-to skin freshener which leaves my skin soft and hydrated without making it oily. The scent it has is natural and not overpowering. It works not only as a skin toner but an aftershave too! If you are looking for a gentle, good-smelling and refreshing toner for your skin, I recommend it.
After reading the review of Kama Ayurveda Pure Rose Water, what are your thoughts on it? Let us know. 🙂