Beauty may be in the eye of the beholder. But for centuries, the humble watercress has graced salads, soups, and stews around the world.
There's little that tastes as fresh as watercress, a peppery, dark green leafy vegetable that can easily be found at the local supermarket.
It's a vegetable that's often overlooked, but it's got many uses. This miracle green is as good for beauty as it is for your body, so we've put together some beauty benefits of watercress.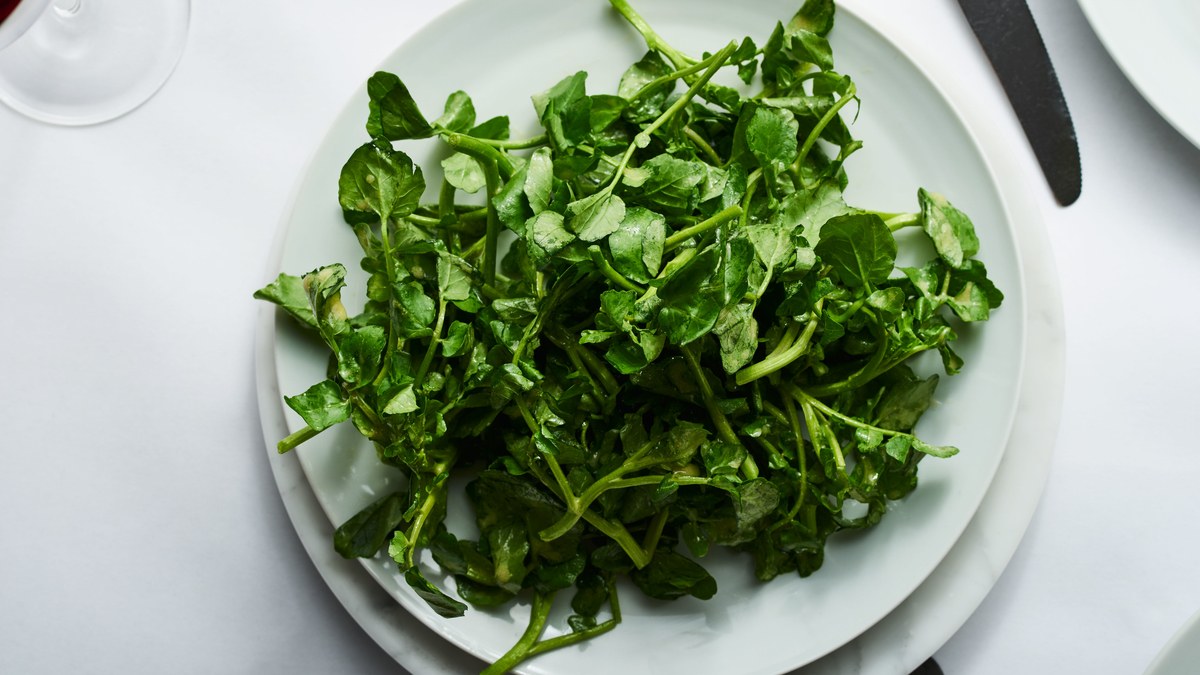 What is Watercress?
Watercress is a leafy green that has a mild, slightly peppery flavor. It is a close relative of cabbage and arugula. It has a light taste that complements almost any dish.
Watercress originates in the Mediterranean region but is now grown worldwide. In the UK and United States, it's used as a green in sandwiches and subs.
Fresh watercress has a crisp, tender, and mild flavor. The leaves can be slightly peppery if eaten raw.
You can steam, boil, grill, or sauté fresh watercress. It's a great garnish for salads too.
Benefits of Watercress for Skin
Despite its simple appearance, watercress has a wide range of beauty benefits that make it worth including in your diet. Here are those benefits:
1. Boosts collagen production
The loss of collagen is an inevitable process of aging, resulting in skin wrinkles, dull complexion, and sagging skin.
A scientific study by Shiseido in 2018 has proven that watercress, one of the world's most abundant leafy greens, can help speed up collagen production.
According to the study, watercress extract works on the dermal cell to improve collagen production.
When consumed regularly, watercress can help the skin to correct itself in areas that have been damaged because of a lack of collagen.
2. A potent anti-inflammatory
There's no denying that watercress is good for you – it's low in calories, high in fiber, and full of vitamins and minerals.
But very few people know that watercress is also an anti-inflammatory.
Watercress is packed with dietary nitrates, which have been shown to lower inflammation and stiffness in blood vessels, and can help with skin problems like acne, warts, psoriasis, and eczema.
3. Skin-healthy source of vitamins
This leafy green superfood is high in vitamins A and C and include over 100% of the daily recommended amount of vitamin K.
Vitamins shield the skin from oxidative damage and photoaging.
Watercress provides 72% of the daily requirement for vitamin C that protects your skin from wrinkles and fine lines. Plus, you'll look younger and wrinkle-free.
Vitamin K keeps dark circles under your eyes away, and vitamin A promotes elasticity.
Furthermore, watercress has folate, manganese, pantothenic acid, thiamine, calcium, iron, sodium, magnesium, and little vitamin E. These nutrients help you reap the maximum benefits of watercress for skin.
The next time you think a salad is dry, boring, or not worth eating, consider making watercress your go-to greens.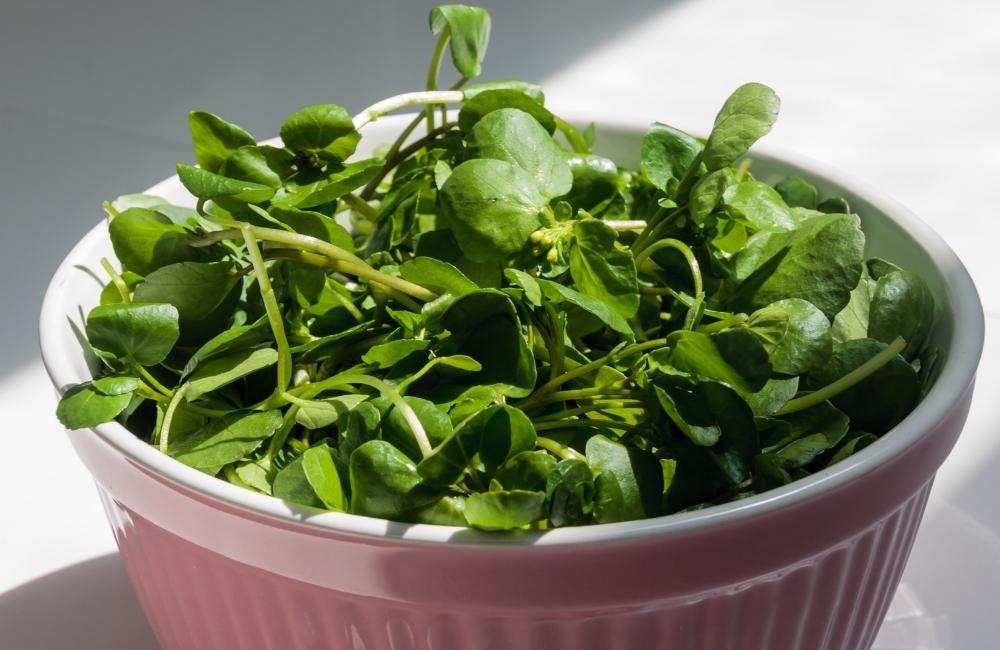 4. Calms acne-prone skin
You already know how powerful Watercress is. Did you know it has more vitamin C than an orange? It's why applying it to your skin, or eating it, might be a smart move.
By reducing redness and inflammation, it promotes new skin cells and reduces stubborn scarring.
The watercress in your diet will also help you build your immune system. It helps fight acne-causing bacteria and prevents future outbreaks.
5. Gets rid of that extra weight
Do you want to eat less, but no other greens appeal to you? Switch to watercress instead.
Despite not being studied specifically, watercress might help with weight loss.
You can't beat it for nutrition – one cup (34 grams) has only four calories, but it has a whole bunch of nutrients for shedding pounds, detoxing, and cleansing your liver.
You can fill up on watercress for very few calories and extra nutrients, which may help you lose weight.
6. Gives you gorgeous hair
Watercress balances hormones that encourage hair growth.
Drinking watercress juice or rubbing the extract on your scalp can help promote hair growth. It can reduce breakage and improve scalp health.
Before you wash your hair, apply watercress extract to your scalp for an hour or two. Following this, massage your scalp lightly to stimulate blood flow. Trying to get thicker eyebrows? Do it on them too!
7. A skin blessing, watercress oil
Watercress oil comes from the seeds of the plant and is extracted through the process of pressing.
You've probably heard that watercress oil is great for your beauty routine, but do you know how it actually works?
Watercress oil contains two powerful antioxidants: lutein and zeaxanthin. Because they're both carotenoid and lipid antioxidants, they're powerful antioxidants.
Carotenoid antioxidants help protect us from harmful free radicals, while lipid antioxidants help the body use carotenoids better.
Linoleic acid, a type of omega-6 fat, is present in this oil in generous amounts, as well as nutrients and other vitamins. Plus, it's got vitamin B1, which helps keep skin and nails healthy. These ingredients nourish skin, allow it to heal, and combat aging signs.
Watercress oil gives you all the benefits of watercress, but without all the fuss. Simply apply this oil to your skin, hair and nails and you'll reap the benefits of watercress oil.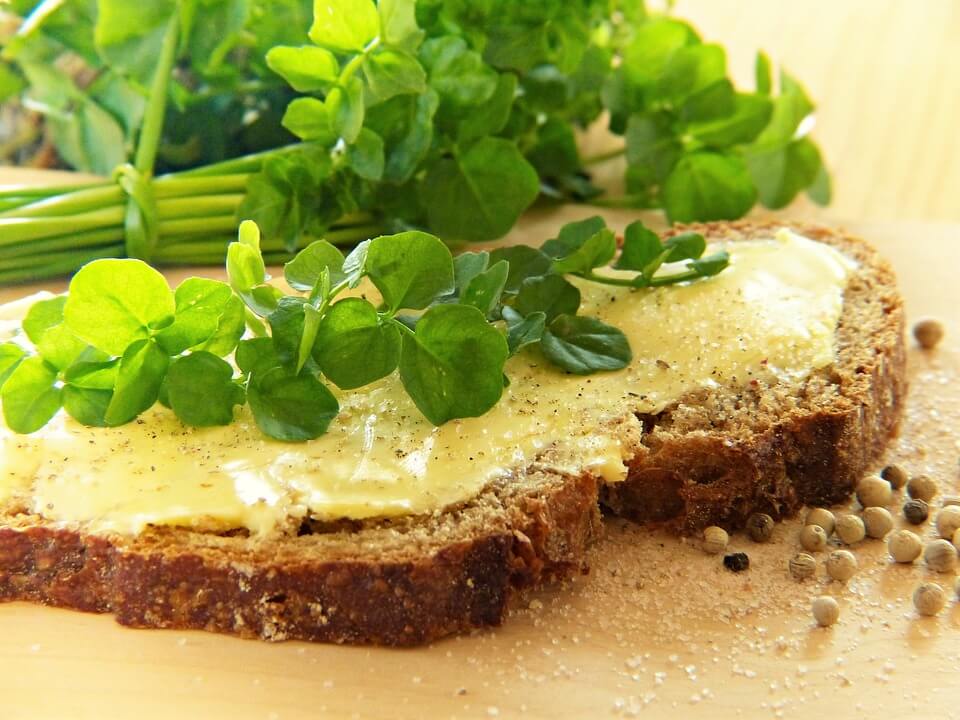 Ways to add watercress into your beauty diet
The leafy green is nutrient-rich, delicious, and versatile. Here are some ways to enjoy this magical green:
Salad topping: mix watercress with other ingredients and enjoy it as a light, refreshing meal, side dish, or recipes like pesto, soup, or sauce.
Condiment for meats and seafood: add watercress to your favorite dishes for an extra dose of vitamins, minerals, and antioxidants.
Natural detoxifier: drink fresh watercress juice to help cleanse your system of toxins.
Energizing tea: steep watercress leaves in hot water for a refreshing cup of tea that will help you recharge after a long day.
Vitamin booster: add watercress to your diet to boost your immune system, reduce inflammation and prevent colds and flu.
Fresh watercress with crisp, moist stems and bright green leaves is the best. Remove yellow or wilted bunches.
Put it in a pot of water with the stems dangling in it like flowers, cover loosely with plastic wrap, and place in the refrigerator. Do not keep it for more than 3 days.
DIY Watercress face masks for the skin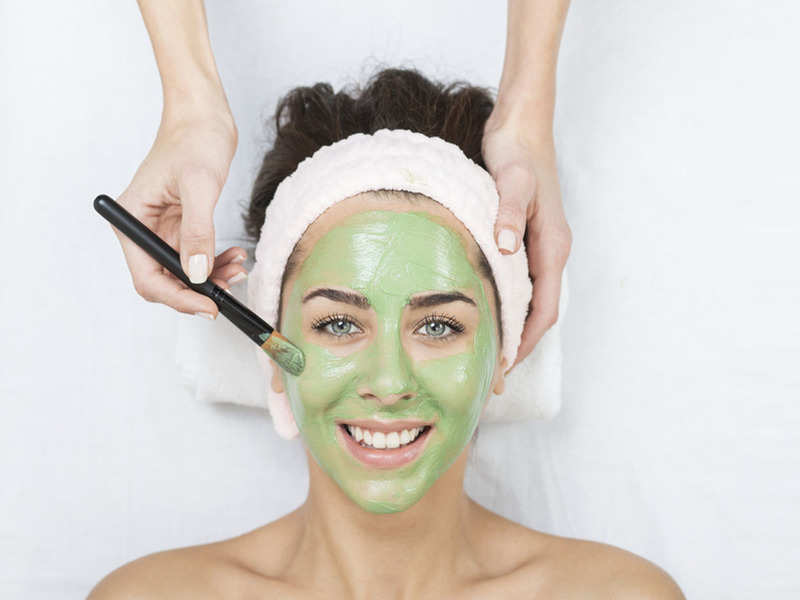 Banana lemon mask
Mix one banana with half of the lemon juice, one teaspoon of honey, and two drops of watercress extract. Whisk together. Let it sit for 15-20 minutes, then rinse it off with lukewarm water.
Banana exfoliates the skin and rids the surface of excessive sebum. It also provides the skin with vitamins E, C, and potassium, which promote a glowing complexion.
Aloe Vera turmeric face mask
Add 1 tablespoon of aloe vera gel, 1 tablespoon of milk cream, a pinch of turmeric, and 2 drops of watercress extract. After 15-20 minutes, wash the pack off with lukewarm water.
Aloe Vera is a great moisturizer for oily skin. Besides treating damaged skin, it repairs and reduces dark spots and acne scars. Additionally, it has anti-aging effects that reduce wrinkles and fine lines. Also, it makes your skin glow.
Tip: You can use watercress oil or fresh juice for these face mask recipes. Simply grind a handful of watercress leaves in a mixer to extract the juice. Place the leaves using a spoon on a strainer. Gently press the leaves to extract their juice.
Yogurt lemon face mask
One teaspoon of yogurt, one teaspoon of fresh lemon juice, a few drops of rose water, and two drops of watercress extract are all you need. Stir together well. Apply to a clean face. After leaving it on for 15-20 minutes, rinse it off with lukewarm water.
Yogurt reduces fine lines and wrinkles, combats acne, and moisturizes the skin. Lemons have amazing skin-brightening properties. Rosewater balances the pH level of the skin and removes excess oils. With anti-inflammatory properties, it reduces redness, plus rose water clarifies pores.
Watercress Recipes for Skin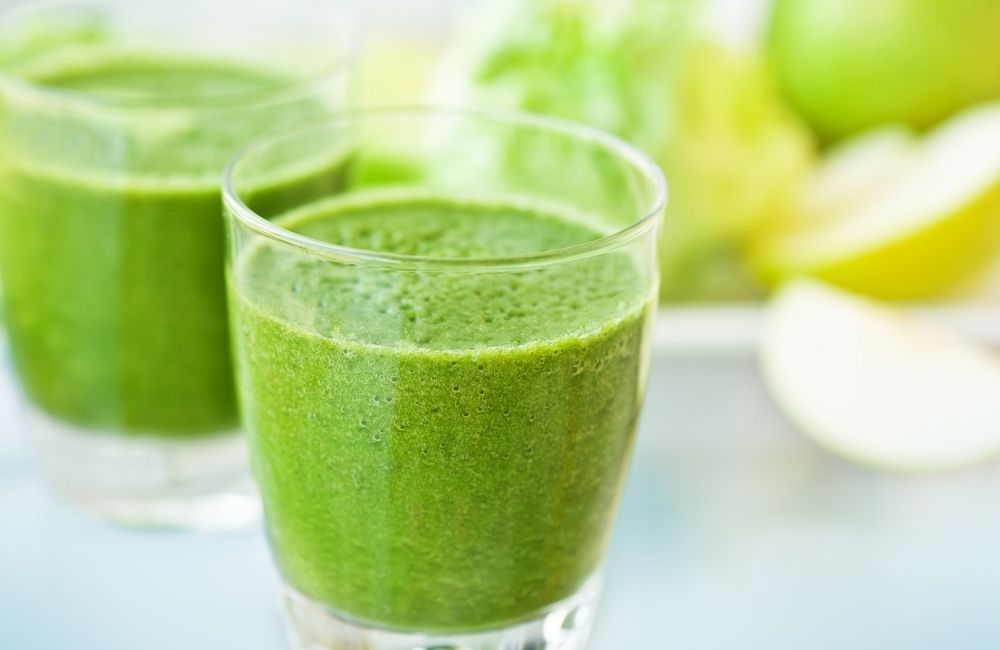 Watercress Lime Smoothie
You'll need:
1 small avocado peeled and seeded
80 grams of watercress
1 lime whole
A small handful of mint leaves
200 ml chilled plain or flavored water.
Steps:
Using a blender or smoothie maker, combine all ingredients and blend until smooth.
Add more water to achieve desired consistency if necessary.
Serve immediately or keep in the fridge for up to three days.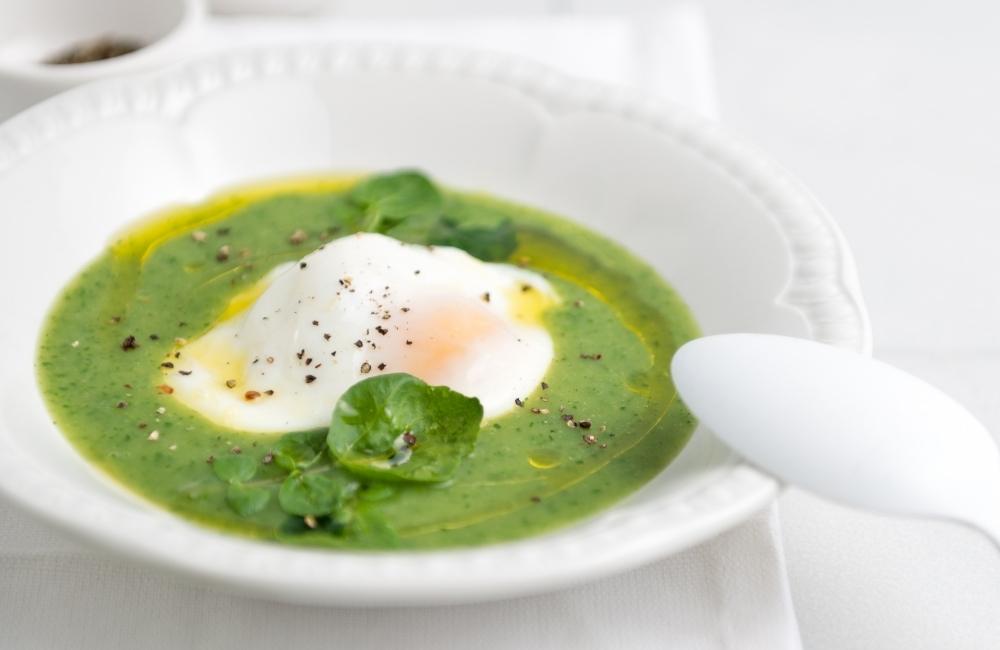 Watercress Soup with Poached Egg
You'll need:
1 diced onion
1 clove peeled and crushed garlic
180 grams watercress
2 medium peeled and sliced potatoes
30 grams of unsalted butter
1 tablespoon olive oil
2.53 oz double cream
50 oz boiling water
Salt and pepper according to taste
1 large egg
Steps
In a large saucepan, heat the olive oil and butter together.
Add the onions and garlic to the butter when it begins to foam up, and fry until soft and starting to caramelize.
Pour the water into the pan, then add the potatoes. Bring to a boil, then simmer until they're done.
Add the watercress right away and bring to a boil. Continue simmering for 30 seconds, then strain.
Remove the watercress, onions, and potatoes from the sieve and slotted spoon, then put them in a blender, adding blocks of hot stock as needed.
If you blend everything at once, the soup may become thin. Completely blend it.
In the final batch, mix together the cream and butter.
Sprinkle with salt and pepper and garnish with a poached egg.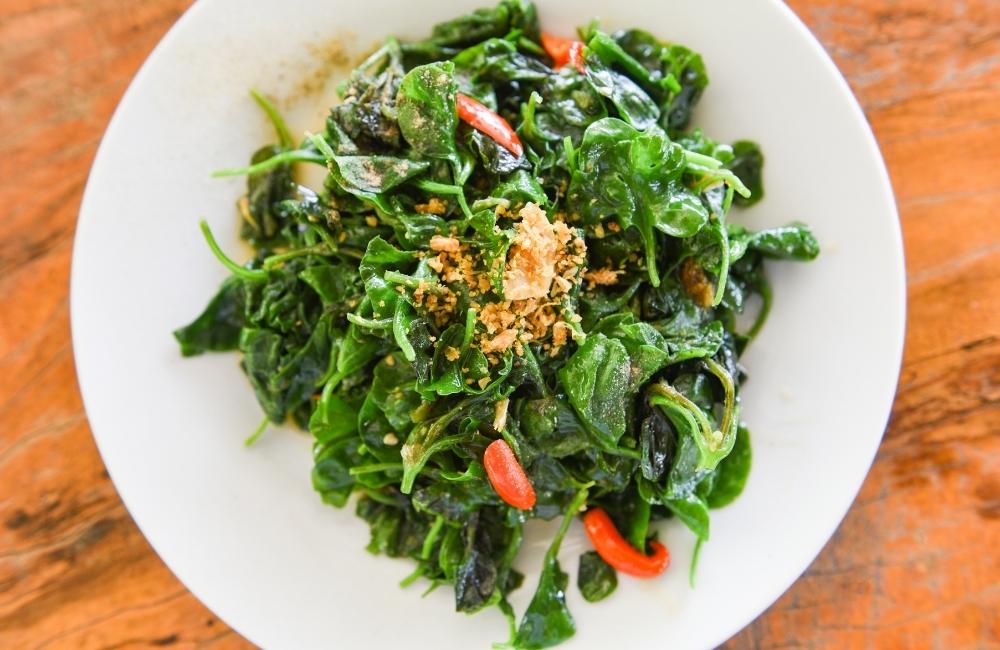 Watercress Chicken Salad
You'll need:
2 bunches of coarsely chopped watercress
2 tablespoon extra-virgin olive oil
half teaspoon freshly ground pepper
2 tablespoons of white vinegar
half teaspoon of coarse salt
Steps
Clean the leaves and soft stems thoroughly and dry with a salad spinner or towel. Discard leaves that are yellow, wilted, and spoiled.
In a salad bowl, combine salt and pepper.
Stir in the extra-virgin olive oil slowly.
Pour the vinaigrette over the watercress and toss to evenly coat.
Add chicken to the top. All sorts of chicken breasts are welcome here, whether they're grilled, shredded, rotisserie, or simply leftovers.
Serve right away.
The bottom line
The answer to your question – is watercress good for you and your skin – is 100% yes.
As much for its taste as for its alleged health and beauty benefits, watercress has always been the darling of foodies.
And it's not just for the greens. The leaves, shoots, and even the stalks are edible. And not lacking for taste, either.
Watercress is a superfood that packs a powerful punch when it comes to skin health and studies have proved that. You can find its extracts on some beauty products.
The benefits of watercress for skin can't be beaten, so make it a part of your diet and of course, beauty regime.