These days I'm focusing a lot more on keeping my skin tone even and free from blemishes.  So, I'm on a constant lookout for face washes, serums, and creams that would make a difference to my skin tone. I have oily, acne-prone skin, which has few spots and little acne scars.
As I was scrolling through the articles related to skincare, I came across the benefits of Vitamin C serum for pigmented skin. Then came a perfect time when I was offered Vya Naturals Vitamin C Serum from Vya Naturals to try out.
Now it's been a month of using it, and I'm here to share my review with you!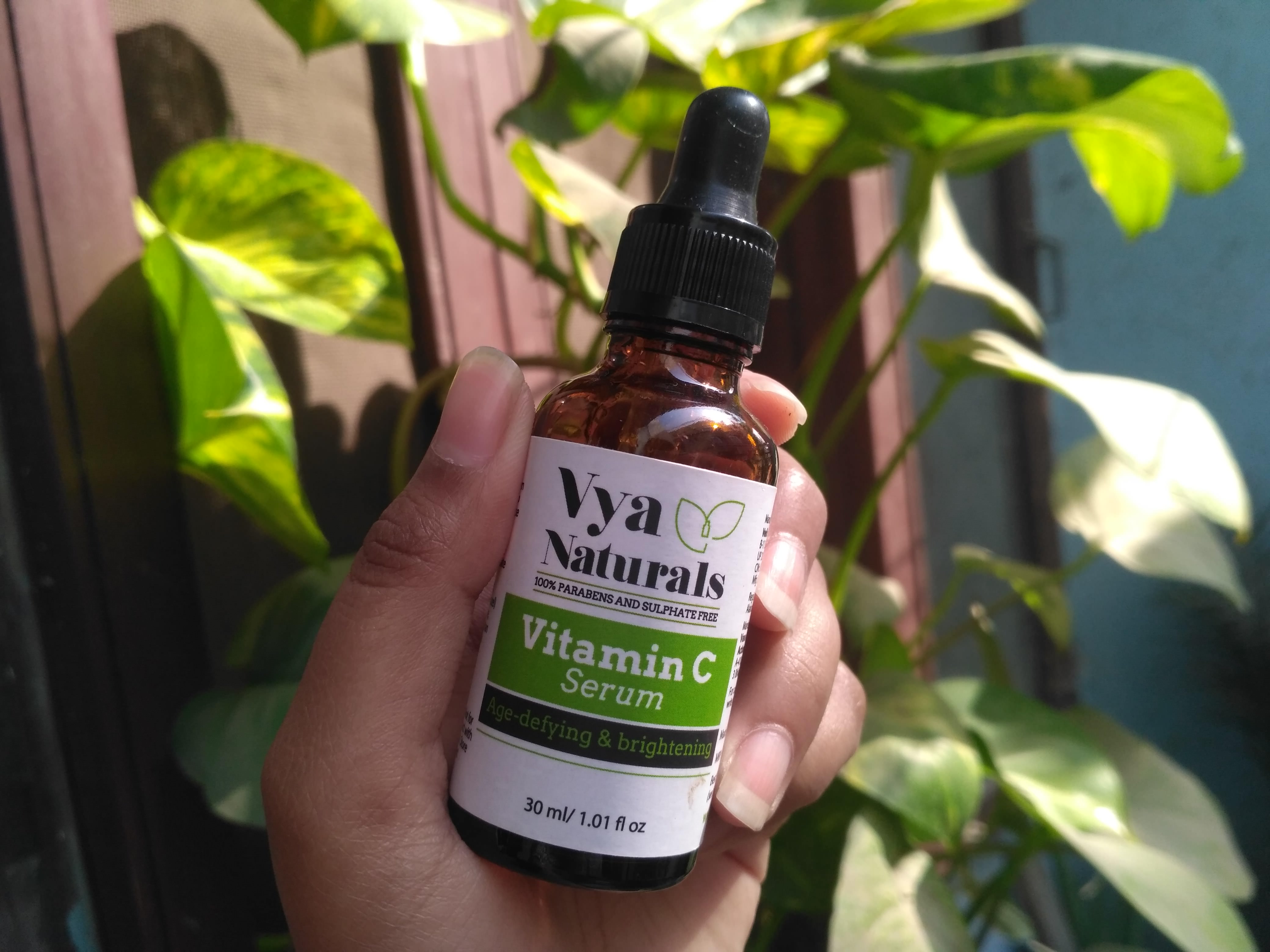 About Vya Naturals Vitamin C Serum: Vya Natural's Anti Aging and Skin Brightening Serum contains 20% Vitamin C to reduce uneven skin tone, dark spots, and hyperpigmentation.
About the brand:
Vya Naturals products are formulated using natural ingredients that are not only safe and non-toxic but also effective. All formulations are original, created by the brand, and tested on people, not animals.
Vya Naturals uses therapeutic-grade essential oils, natural plant-based butter, natural clays, and plant-based waxes. And they definitely DO NOT use parabens, sulfates, artificial colors, artificial dyes, mineral oils, formaldehyde, animal ingredients, artificial scents, phthalates, chemicals, fillers, mineral oils, or petroleum.
The brand name stands for
Vimal (pure)

Yajus (reverence)

Ayush (healthy life)
Vya is reverence for a pure and healthy life.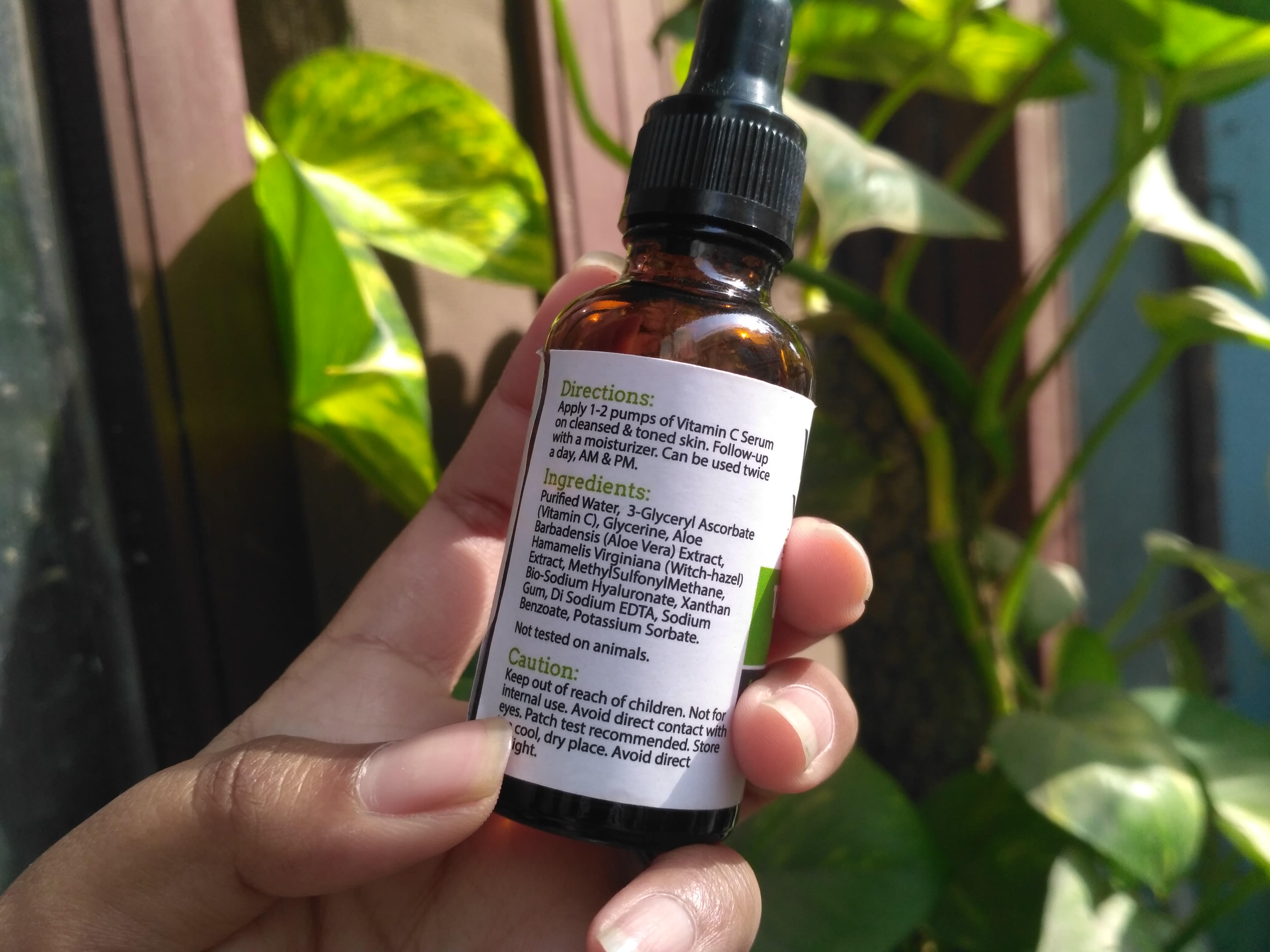 Readers like you help keep The Beautyholic running. When you buy through links on our blog, as an Amazon Associate, we earn from qualifying purchases at no extra cost to you.
Price: Check at Amazon
Shelf life: 18 months
Vya Naturals Vitamin C Serum Review
To begin with, this serum comes in a dark, glass bottle packaging like any other serum. It has a dropper that picks up some drops and dispenses the right amount. It has a non-existent fragrance that never irritates my nose.
The color of the serum is transparent. It is very lightweight, so it doesn't feel heavy at all.
I always use this after cleansing and toning my face. Usually, I take 2-3 drops on my palm and apply them by dabbing them onto my skin. I don't rub vigorously. Just lightly pat and sink in that way.
It doesn't cause any stinging sensation. I let it on my skin for 2-3 minutes before I apply moisturizer or sunscreen.
It has such a feathery texture that it doesn't feel like I've applied anything, so I can bet that it will suit all skin types.
I use it twice a day, morning and night before bedtime. And I genuinely feel that it nourishes my skin and hydrates it.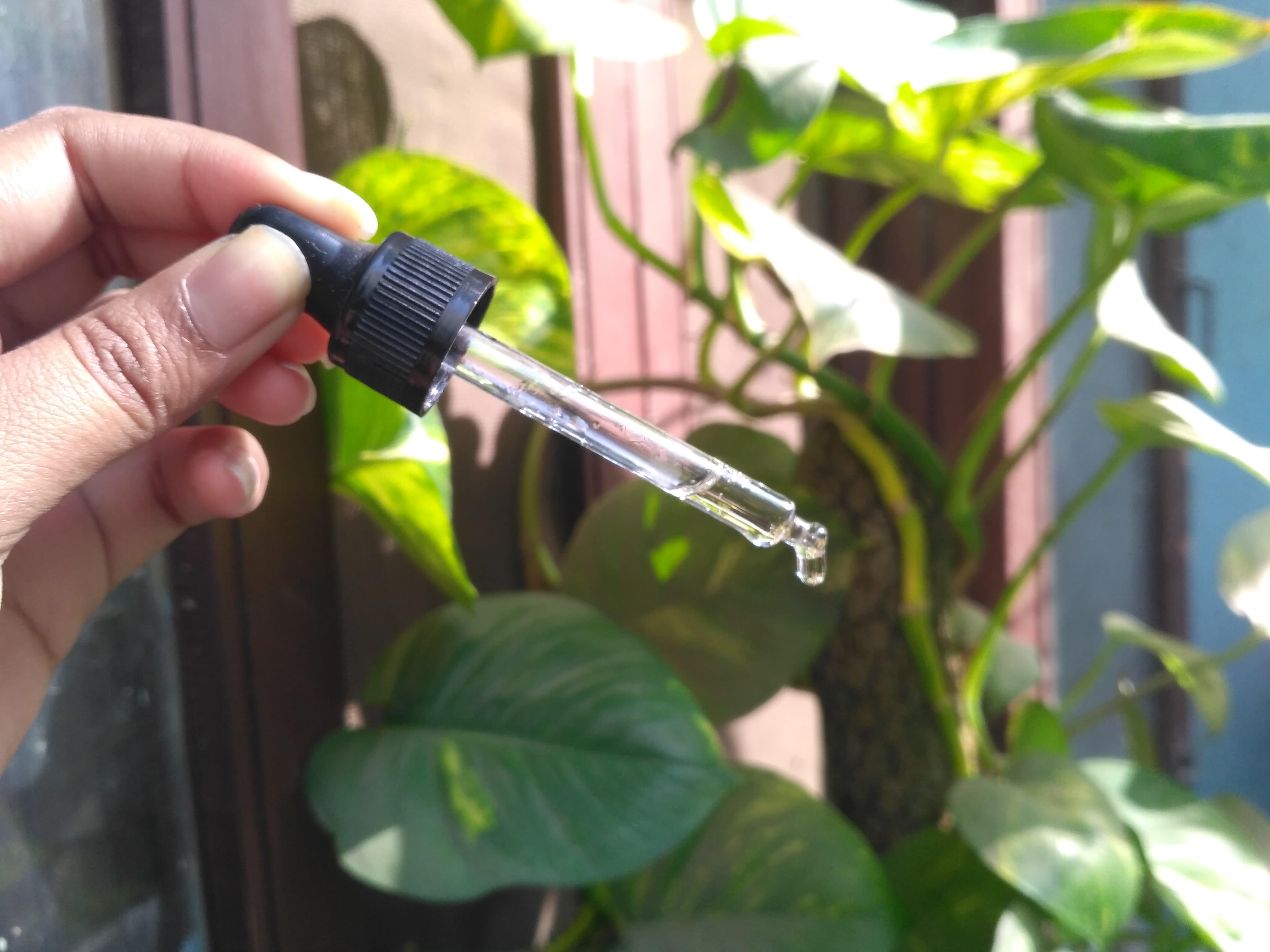 It is almost 3 weeks since I've been using this serum religiously, and I have noticed that it faded my pigmentation to an extent, although if not fully. It also made my skin brighter and healthier. Furthermore, my skin looks plump and hydrated. It feels soft upon touching, so I'm going to use this until the last drop.
Since it has 20% of Vitamin C and might cause UV sensitivity, I always make sure I use a sunscreen of at least SPF 40, and that way, I get sun protection. However, this serum is said to be used in both AM and PM. By all means, store it in a dark, dry place to avoid it from direct sunlight.
Pros:
All-natural ingredients

Paraben and Sulphate Free

Not tested on animals

Fades pigmentation 

Brightens complexion



Cons:
I couldn't find any!
Vya Naturals Vitamin C Serum
Final Word
This is my favorite serum to date. Since day one, I'm using it regularly, my skin is getting brighter and free from blemishes. Due to its light, watery texture, sinks into the skin in no time and I like that it can be used in the daytime as well. However, sunblock is a must! It makes my tired skin look lively and hydrated. It will suit every skin type. If you're looking for a good quality vitamin C serum, I highly recommend it!
Have you used this serum by Vya Naturals? I did and absolutely loved it for making my skin smoother, brighter, and softer!
Related Posts